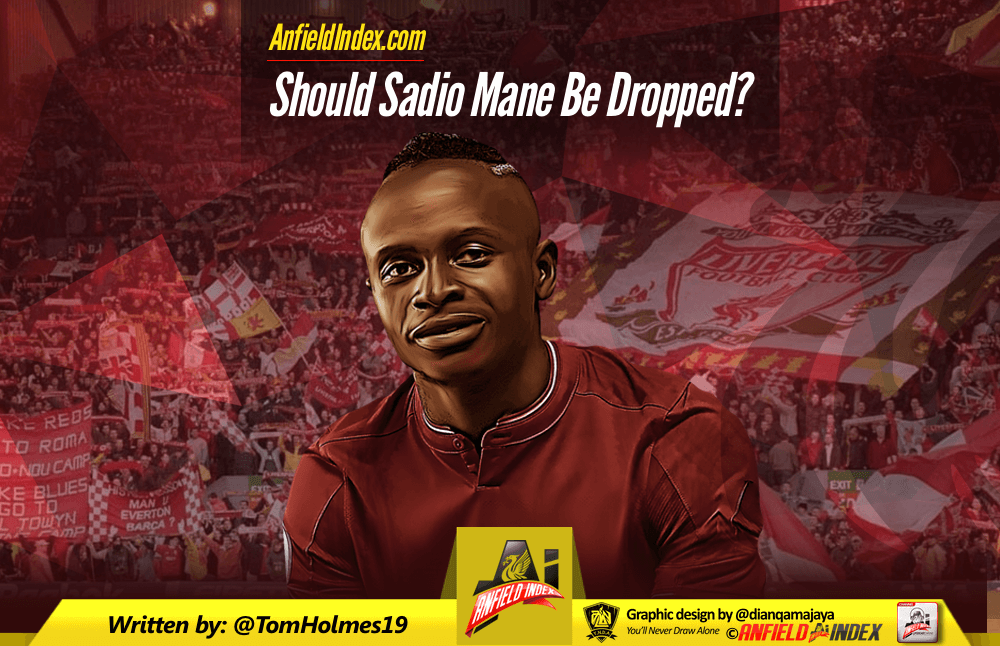 Should Sadio Mane Be Dropped?

Alright, so two caveats before we even get into this debate. The first is that rotation means Mane will get less game time than he might have otherwise in the next few weeks anyway. So this isn't so much a: 'should Mane play in X or Y game specifically', but more of a 'should Mane be first choice when the next big game comes along'? And so realistically he's going to get more chances and some rest in the next few weeks, regardless of whether or not Klopp would drop him.
The second caveat is that I am going to try and address this as objectively as possible. I went into this article hoping that the numbers and arguments within it would persuade me either way. I personally favour the argument of you play your best players whenever you can, and Mane is one of our best players, but there's certainly a counter-argument to be made that you play your in-form players instead. Whether Mane is in worse form than the other viable options available is part of what this article will look at, as well as whether or not Oxlade-Chamberlain deserves a run in the side.
The Case For Dropping Mane
The first thing to look at is, do Liverpool perform better with or without Mane in the side? Over the course of the year and a half he's been at the club, the answer is overwhelming that Liverpool perform better with him in the side. However, narrowing the focus to this season suggests that the addition of Mo Salah has changed this dynamic.
This season, Mane has started 17 games for the club. In those games, Liverpool have won eight, drawn eight and lost one, giving the Reds 32 points from 17, or 1.9 points per game (extrapolating the two Hoffenheim wins to three points). Without Mane, in the UCL and PL, Liverpool have played 10 games, winning six, drawing three, and losing to Spurs. This works out at 21 points from ten or 2.1 points per game. I included the 1-1 draw with Chelsea in the latter column since Mane only played one minute of that, and I excluded the EFL cup game against Leicester entirely because that's an anomaly, we didn't take it seriously. If you wanted to include it, then the numbers would change to 1.9 points per game without Mane.
So the evidence suggests that Mane has had nowhere near the same impact on results this season that he did last year, with the Reds performing marginally better without him this season than they do with him in the side. However, there isn't enough data to make a convincing conclusion either way. Nevertheless, we can clearly argue that Mane's impact on the side is diminished from last year.
So looking at his goal contributions, there are some interesting numbers to be looked at here. Mane has scored seven goals and contributed five assists in 1419 minutes of football. That works out to 118 minutes per goal or assist this season.
This is comfortably the weakest of Liverpool's so-called "fab four". Mo Salah averages a goal or assist every 84.5 minutes in comparison, Bobby Firmino 91.5 and Phil Coutinho a staggering 74. So if Klopp was looking at which of his four attackers to drop in order to solidify his midfield, Mane would be the one to look at.
Moreover, looking at xG and xA in the Premier League, Mane's contributions again fall slightly short of his teammates. In terms of xG compared to goals scored, he's the only one in the negative. Bobby has scored seven goals from an xG of 5.26, a ratio of 1.33; Phil has six from 3.2, a ratio of 1.875, Mo has 15 from 11.86 for 1.26 and Sadio has just four goals from an xG of 4.48, a ratio of 0.89.
Moreover, both Bobby and Mo have been unfortunate in terms of assists, contributing higher xA than actual assists (4.54 to four in Bobby's case and 3.69 to three in Mo's). Phil has been slightly fortuitous with five assists from 4.06 xA. Sadio meanwhile has massively overperformed in this area, securing three assists from an xA of just 2.08.
Overall, if we look at how the fab four's overperformance in terms of combined xG and xA per 90, compared to goals and assists per 90, again Sadio doesn't come off favourably. Salah has the highest xG+A/90 at 0.96, and is contributing 1.12 G+A/90. Then Mane has an xG+A/90 of 0.69, and is contributing 0.74 G+A/90. However, despite only having an xG+A/90 of 0.68, Phil Coutinho is contributing 1.06 G+A/90. And Bobby Firmino also fares well, with the lowest expected contribution at 0.65xG+A/90, yet holding his own in terms of G+A/90 – also with 0.74.
So all the evidence suggests that Mane is the least performing member of the Fab Four at the moment. So what are Klopp's other options? Well here is where I make the case for Alex Oxlade-Chamberlain.
We'll come to Ox's numbers in the "Against Dropping Mane" section, so here I want to advocate Ox's general play and the mitigating circumstances of why his numbers are so low. Ox has only started six games in the PL and UCL for the Reds, making 14 sub appearances and amassing just 840 minutes. So any analysis of Ox has to factor in his limited opportunities and large amounts of sub appearances.
Moreover, Ox has proven that he's very good at the Lallana role, pressing effectively, and contributing to Liverpool's general play without necessarily having the end product just yet. It's taken him time to bed in at Liverpool, and every time he's started a game, he's improved on what has come before.
There's a fair argument to be made here that Oxlade-Chamberlain has earned the right to make a long run in the side. And that argument could also be focused on Mane's poor form in the last couple of weeks, with costly misses against Everton and Arsenal, two games in which he has looked tired and off the boil. Perhaps he could do with a spell on the sidelines, and be made to fight to earn his place back, rather than be handed it simply through being a superior player.
The Case Against Dropping Mane
The first thing to note is that whilst comparing Sadio's performance to the rest of the Fab Four is indicative, it's not necessarily fair. After all, both Coutinho and Salah are having absolutely extraordinary seasons so far, with Bobby Firmino expected to score more goals as the centre-forward. So whilst Mane has had the lowest contribution of the four, that doesn't mean that he's had a bad season at all, simply that the other three have all been exceptional.
This is backed up by the fact that despite having the highest mins per G/A of the Fab Four at 118 minutes, that's actually lower than Mane's G/A contribution in the league last year, which was 124 minutes. So it's not that Mane is necessarily performing worse than last year, but Salah's addition has meant that Liverpool are less reliant on him, whilst Coutinho and Firmino have both found new levels.
Moreover, Mane's output shouldn't be considered compared to the three best attackers in the team but compared to the players who would take his place if he was dropped. And whilst Daniel Sturridge has 85.5 minutes per goal or assist, he has only one goal and no assists in the five games that he's started, indicating that he may be best utilised as an impact sub.
Comparing Mane's output then to the other player who has played his role this season, or indeed who offers something a little different, Alex Oxlade-Chamberlain. And as hinted at above, Ox's numbers are nowhere near Mane's. Oxlade-Chamberlain has a goal or assist every 205 minutes, and whilst these numbers are affected by starts, he's only contributed one goal and two assists in his six starts.
Moreover, in terms of xG/xA, Ox doesn't fare any better in the Premier League, having secured his one goal off an xG of 1.42 and his two assists off an xA of 1.44. He too then is slightly overperforming his xG and xA per 90 of 0.42, with 0.43 G+A/90, but again this number pales compared to Mane and the others.
As such, if we're looking for an attacking player with end-product, Ox doesn't appear to be a viable alternative to Mane. And what about big Dominic Solanke? He fares even worse, having contributed just one assist in his 370 minutes. So if Liverpool want a dangerous, goalscoring option to replace Mane, they don't really have one.
Moreover, it's certainly the case that talk of Mane's poor form has been overstated. Whilst he didn't turn in his best performances against Arsenal and Everton, he still created eight chances across those two games and was only selfish on one occasion, whilst admittedly missing a couple of great chances.
Nevertheless, is there any guarantee that Ox would get himself into those scoring situations, given that Mane's xG/90 is over twice as high as Ox's, it's fair to point out that Mane is much more dangerous when it comes to giving himself chances to score. Yes, he's in a small sticky patch, but it was only a few weeks ago that he scored that wonderful volley as Liverpool beat Spartak 7-0. He more than deserves to be in the team.
Conclusion
There are certainly reasonable arguments to be made on whether or not Sadio Mane should be given a place in Liverpool's starting eleven, but my opinion on that fact has not changed massively in writing this article. I'm slightly concerned about Mane's current form and encouraged by the form of Ox, but that doesn't mean that I'm ready to accept Ox has earned the right to start ahead of Mane.
As I said at the start of the article, there will be time for both of them to make their cases over the next couple of weeks as Klopp looks to rotate, but come the Man City game on the 14th, I would be thoroughly expecting Mane to start if he is available.