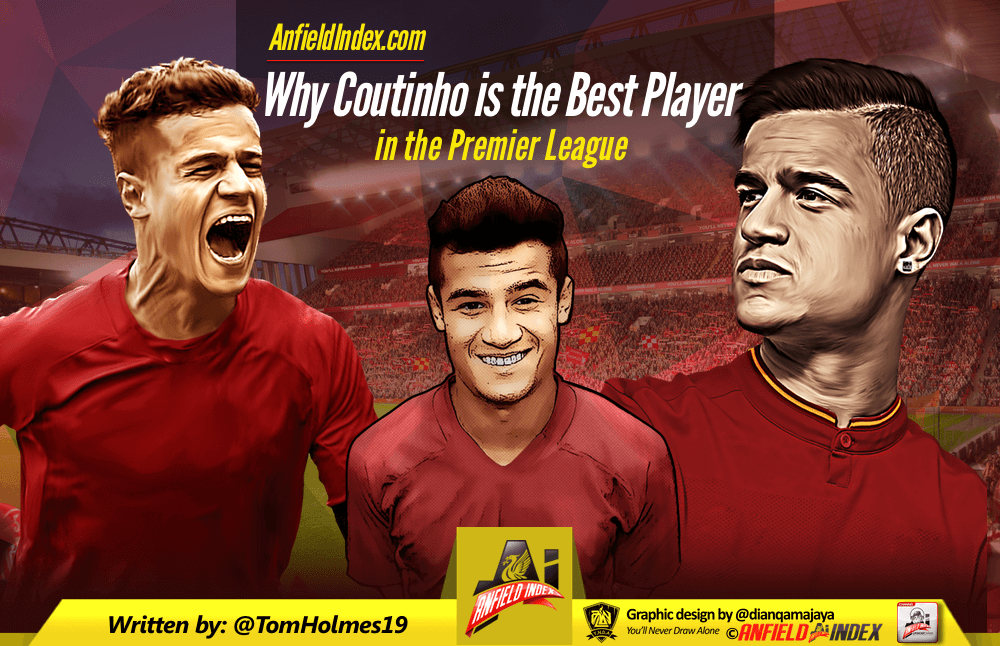 Why Coutinho is the Best Player in the Premier League

Yep, you read that title right. I'm going to argue Phil Coutinho is the best player in the Premier League this season. I have numbers, I have intuition and I have absolutely no fear of the backlash.
First of all, I appreciate there will be two instant reactions to this. The first is: he's not even the best player at Liverpool! This is something I myself have been arguing in favour of Mo Salah even last week, but really, Phil's contributions are just so good that they can't be ignored. Secondly, Kevin De Bruyne. Now I appreciate that stats alone are not going to be enough to argue that Phil is better than KDB, so I'm going to have my work cut out on that one.
So let's jump straight into the stats, or as I call it, the easy bit. In terms of the Premier League, Coutinho has six goals and five assists in 11 starts, or 937 minutes. That works out as a goal or assist every 85 minutes. Let's compare this to Coutinho's main attacking midfield competitors. De Bruyne manages one every 116 minutes, David Silva every 117, Mesut Ozil every 142 and Christian Eriksen every 179. So in terms of end product, it's not even close.
But of course, attacking midfielders are expected to produce more than just goals and assists. Or rather, assists aren't necessarily the basis of creativity. So looking at the underlying creative stats, we can see that Coutinho still fares well. In terms of chances created per 90 minutes played, Ozil leads the way with 3.85, then Phil with 3.19, KDB on 3.06, Silva on 2.43 and Eriksen on 2.42. And translating that to xA, Ozil again edges it with 0.4 xA/90, compared to Phil 0.38, Silva 0.38, KDB 0.34 and Eriksen 0.24.
But where Phil has the edge over his fellow creative or attacking midfielders is goals, and comfortably so. Whilst Coutinho manages 0.58 goals per 90 in the PL, KDB, manages just 0.33, Silva 0.30 and Eriksen and Ozil 0.28. Another area Coutinho excels in is dribbling, with 2.99 successful dribbles per 90, compared to 1.73 for KDB, 1.42 for Silva, 1.26 for Ozil and 0.79 for Eriksen.
What is remarkable about Coutinho is his consistency. He's one of the best passers in the league, one of the best dribblers in the league, one of the most creative players in the league, he's one of the very best distance shooters in the league too, with nobody who's played more than 500 minutes scoring as many goals from outside the box.
So statistically, Coutinho is the best all-around contributor to goals and assists amongst the elite attacking midfielders, the second best creatively, the best dribbler and the best long shooter. But is he better than Mo Salah?
This is an interesting debate. Certainly, Salah has more goals, and in the Premier League specifically he has a better goal and assist contribution, 80 compared to Phil's 85. But in all competitions, Phil has contributed more, a goal or assist every 74 minutes, whilst Mo's is actually down in all comps, at 84.5.
But moving beyond numbers, Coutinho is far more creative than Salah, comfortably a better passer, a better dribbler, a better range-shooter and offers more in terms of defensive contribution. Salah's role is far more goal orientated than Phil's, and as such he's scored a lot more goals, but what Coutinho brings to the team is far more than just that.
Now then, the crux of it. Kevin De Bruyne is widely considered the best player in the league and by all accounts is having an absolutely phenomenal season. Many will justifiably argue that De Bruyne's contribution goes far beyond stats and numbers and that his role has been absolutely instrumental in City's title charge.
And certainly, there's something in that. De Bruyne's level of control over City's midfield and the level of skill in his passing is absolutely different class. But there's a reasonable counter-argument that De Bruyne has been allowed to excel by playing in a team with far superior players around him to Coutinho. Combined, Silva and De Bruyne can do far more than Coutinho can alone, which is why City are lightyears ahead of Liverpool. But taken on their own, is De Bruyne better than Coutinho?
I also take the notion that the quality of De Bruyne's general play is much better than Phil's to be a little bit of an exaggeration. In terms of the quality of his goals, the quality of his passing when he gets it right and his skill on the ball, Coutinho is an absolute gem. When he plays at his best, there simply is nobody better in the entire division at what Phil does.
I'd implore anyone to sit back and just watch Coutinho's passes that don't necessarily lead to goals. Against Arsenal, Coutinho's passing, ball control and ingenuity were absolutely insane. There have been so many games this season where Coutinho has been absolutely unreal.
In fact, the main case you could make for De Bruyne instead of Coutinho is that Coutinho has missed too much time this season through injury, and this certainly is a fair argument. De Bruyne has featured in every single one of City's games, amassing 1622 minutes, whilst Coutinho has just 937, and as stated, started just 11 games.
When the dust has settled at the end of the season, and Coutinho has featured, hopefully, more prominently in the back half of the season, hopefully, his numbers, his skill, his phenomenal performance levels, will have shone through, and this debate will look more favourably upon him.