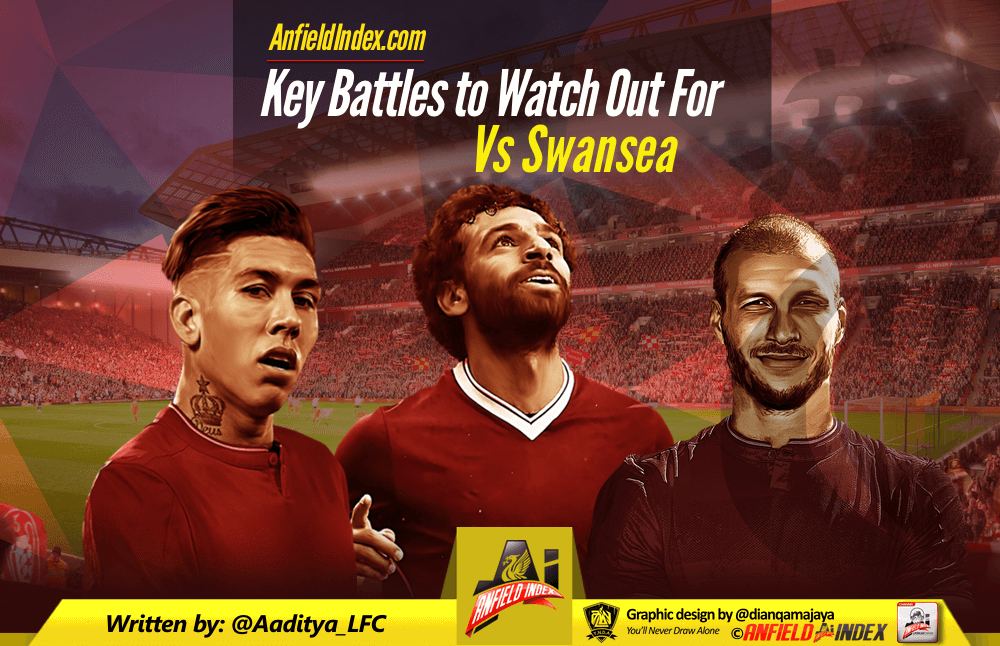 Liverpool v Swansea City Preview - Key Battles

After a bizarre night at the Emirates when Liverpool oscillated between the exhilarating and the exasperating, it is back to Anfield on Boxing Day, as the Reds welcome bottom-placed Swansea City in a game they should be hoping to take three points from.
Liverpool's familiar problems with the goalkeeper and the defence resurfaced in five terrible second-half minutes that saw the Reds concede three goals, arguably all of which were avoidable.
Swansea's season appeared to take a turn for the better when they got their first win in almost three months against West Brom, but they haven't won their three games since, and have also seen manager Paul Clement get the boot. Leon Britton will continue to hold the reins for them as they look to heap more Anfield misery for Jurgen Klopp's side, who have drawn more Premier League games at home than they have won.
Skipper Jordan Henderson is ruled out, but that aside, the Reds have a clean bill of health aside from the long-term absentees – Alberto Moreno and Nathaniel Clyne – and the rotation could come into full force as the Reds play their second in a run of four games in ten days.
Here are the key individual battles that could decide the outcome of the game.
MOHAMED SALAH v MARTIN OLSSON
The King of Egypt. Need we say any more about Salah at this stage? 21 goals in the season so far, and there is half of it still to go. He had among his more forgettable displays in a red shirt at the Emirates, but he still ended the night with a goal and a "fake" assist.
His pace, his power, his shooting, his strength to hold defenders off and more importantly, his understanding with the rest of the Liverpool attackers, mean that Olsson will have his task cut out. The Swede will have happy memories of Anfield, as he was one of the Swans' best performers in their shock 3-2 win earlier this year.
For Salah though, he has shown that no reputation fazes him, and he has also shown that if anything, he has induced fear into oppositions, rather than the other way around.
Needless to say, he will be the man the Reds look to for goal-scoring inspiration, and that is a position that most teams in the world would want to find themselves in, at this stage.
There was a notion a few weeks ago that the Reds were becoming over-dependent on Salah but that has been emphatically put to bed in the last few games. But it is no secret that Salah's pace is now the preferred weapon of choice, so it is important for Jurgen Klopp that his big summer acquisition spreads some more cheer on Merseyside on Boxing Day.
ROBERTO FIRMINO v ALFIE MAWSON
We need a 20-goal-a-season striker. Firmino is not a no. 9. 2017-18 has given us responses to both. No, and no. Firmino is the most important player in this system, and he has the numbers to back up the fact his end-product has considerably improved this season as well.
Mawson arrived in the Premier League with a bang and had a stellar season for the Swans last term, but much like the whole team, his form too has tapered off.
Swansea's problems this season have been more at the other end of the pitch, with as many as 11 other sides having conceded more goals than them this season, but confidence is low and that can never be a good sign for any team before facing an attack as potent as the Reds'.
Firmino was sensational against Arsenal, with the intensity, the pressing, the passing, all on point. Salah's goal in that game just typified the importance of Firmino being in that no. 9 role.
His movement and understanding of when and where to vacate spaces for the quicker men to run in to has been one of the striking features of his play, and that goal exemplified that, along with his ridiculously good ability to see a killer pass.
Swansea are likely to sit deep and be well organised, with the intention being to hit Liverpool on the break. That kind of a system needs strong centre-halves, and on their day, both Mawson and Federico Fernandez can prove to be that. With the relegation dogfight being a little more crowded this season, it is time for the Swans to start picking up some points, and Anfield won't be a bad place to start for the team, and for Mawson to kickstart his season.
RAGNAR KLAVAN v TAMMY ABRAHAM
Abraham has blown hot and cold for Swansea since his loan move from Chelsea, with his promise enough for Gareth Southgate to give him an England debut last month.
But in the stage that Swansea are in, just potential is not good enough. The goals have got to come from somewhere to kickstart the Swans' season. They have only scored 11 goals in 19 games, the lowest in the Premier League.
For Klavan, he is in the middle of what you could call a purple patch. He's barely put a foot wrong since coming into the side after Joel Matip's injury, and his demeanour on the pitch has shown that he is playing with confidence.
Klavan and Dejan Lovren both played well for most of the game against Arsenal, and seem to be developing an understanding between themselves, but they will hope that the overall number of individual errors the Reds are committing is reduced.
It is no good defending well for 85 out of 90 minutes when it all collapses for 5 minutes as it did at the Emirates. That is going to be a challenge for both Klavan and Lovren, especially if Matip doesn't come back any sooner.
Playing 4 games in 10 days is a challenge, even for a centre-back, and physical tiredness could often lead to lapses in concentration and poor decision-making.
One can only hope that Klavan rides on the confidence of strong recent performances and ensures that the man behind him – whoever it is – doesn't have much work to do, because there hasn't been much from the man between the sticks to inspire confidence for Reds fans.