It took some doing for Liverpool to best their most ridiculous performance of the season, but somehow they managed to do it. Unlike the Sevilla fixture though, Liverpool only surrendered control for a brief handful of minutes: but that was more than enough for Arsenal to sweep in and turn the game on its head. Yet, were it not for a few moments of madness, we would likely be here, hailing a magnificent performance from Liverpool, once again.
xG map for Arsenal – Liverpool. The Gunners did pretty much nothing outside those five minutes, but ain't no one going to forget those five minutes. pic.twitter.com/sk8abcwBMD

— Caley Graphics (@Caley_graphics) December 22, 2017

— Goal Charts (@GoalCharts) December 24, 2017
In this piece, we'll be focussing tactically on how Liverpool chose to attack – and with considerable success – alongside some positional analysis.
What Klopp did particularly well in the 4-0 victory against Arsenal at Anfield, earlier this season, was target the Arsenal full-back channels. In that game, Arsenal played with a back 3, meaning there were gaps between the wing-backs and centre-backs which would allow for the Liverpool wingers to attack the L/RCB one-on-one. However, in this game, Arsenal went with a more traditional back four, and two CMs ahead of them in a rough 4-2-3-1. But this shape from the outset was not reflective of how they would play, with Maitland-Niles playing exceptionally conservatively – mindful of Salah – while Bellerin bombed forward, as a distinct offensive outlet.
Maitland-Niles' average position is a result of two things: either his/Wenger's decision to play defensively, or him being forced to play so deep because of Liverpool's forwards pushing him back. Liverpool played in the same tactical vein though as they did against Bournemouth, with a particular emphasis on attacking out wide, rather than down the middle – as they do in games where the attack is stagnated: a disproportionate (this is good) 39pc of Liverpool's attacks came on the right-side, with 33pc centrally, and 29pc on the left.

(Arsenal left, Liverpool right)
Bellerin's positioning was to become a problem for Arsenal, as Liverpool's front four were able to take on the Arsenal defenders one-on-one on a number of occasions.
A number of the frames below illustrate not only Liverpool's attacking patterns, but also the high line that Arsenal employed – giving Liverpool countless opportunities to break in behind, as Mané and Salah relish in doing.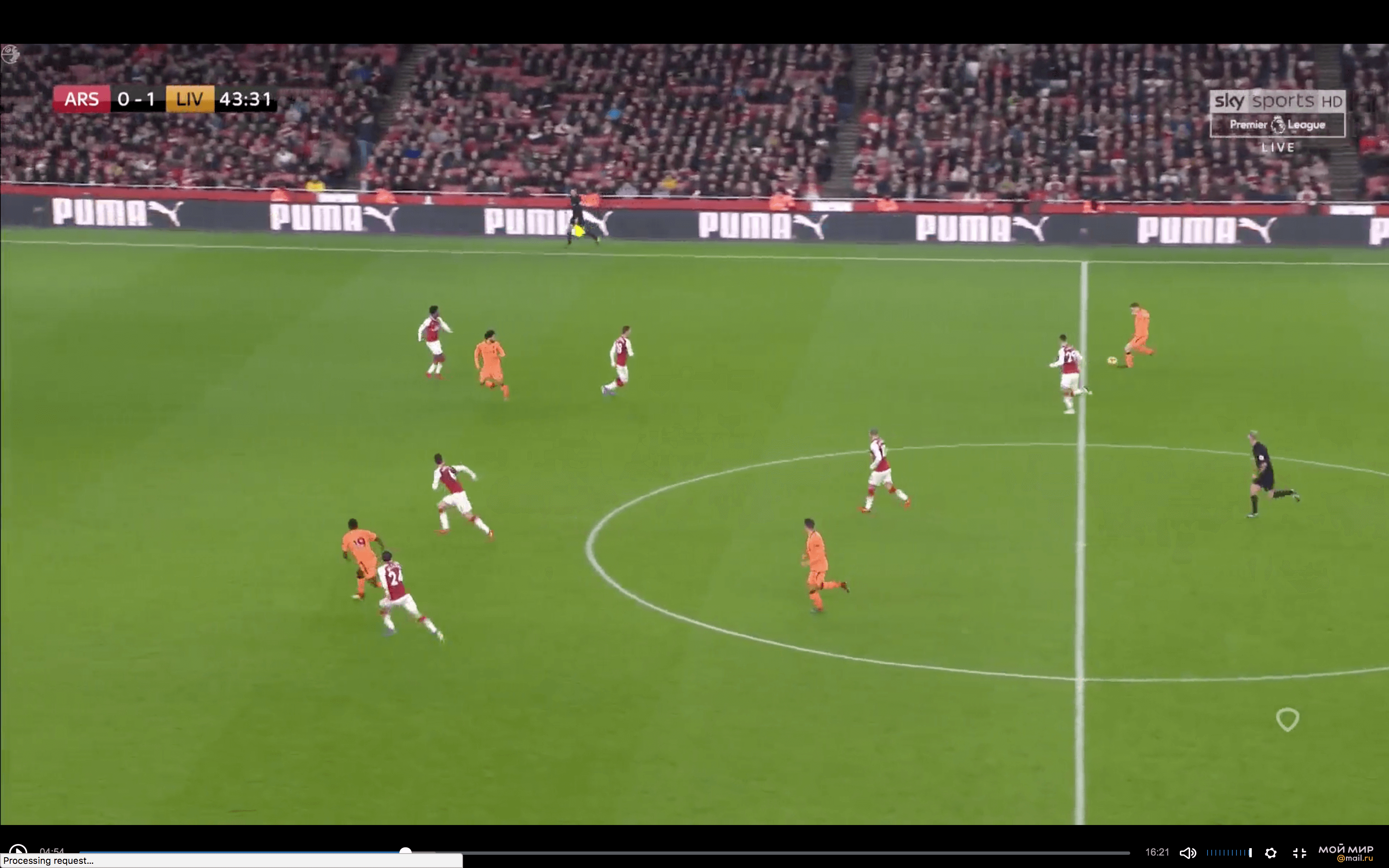 Compacting the opposition defence, and switching the play has been a classic ploy which Liverpool have used a number of times this season: but both the Coutinho cross to Mané and Firmino's assist to Salah illustrate this best of all.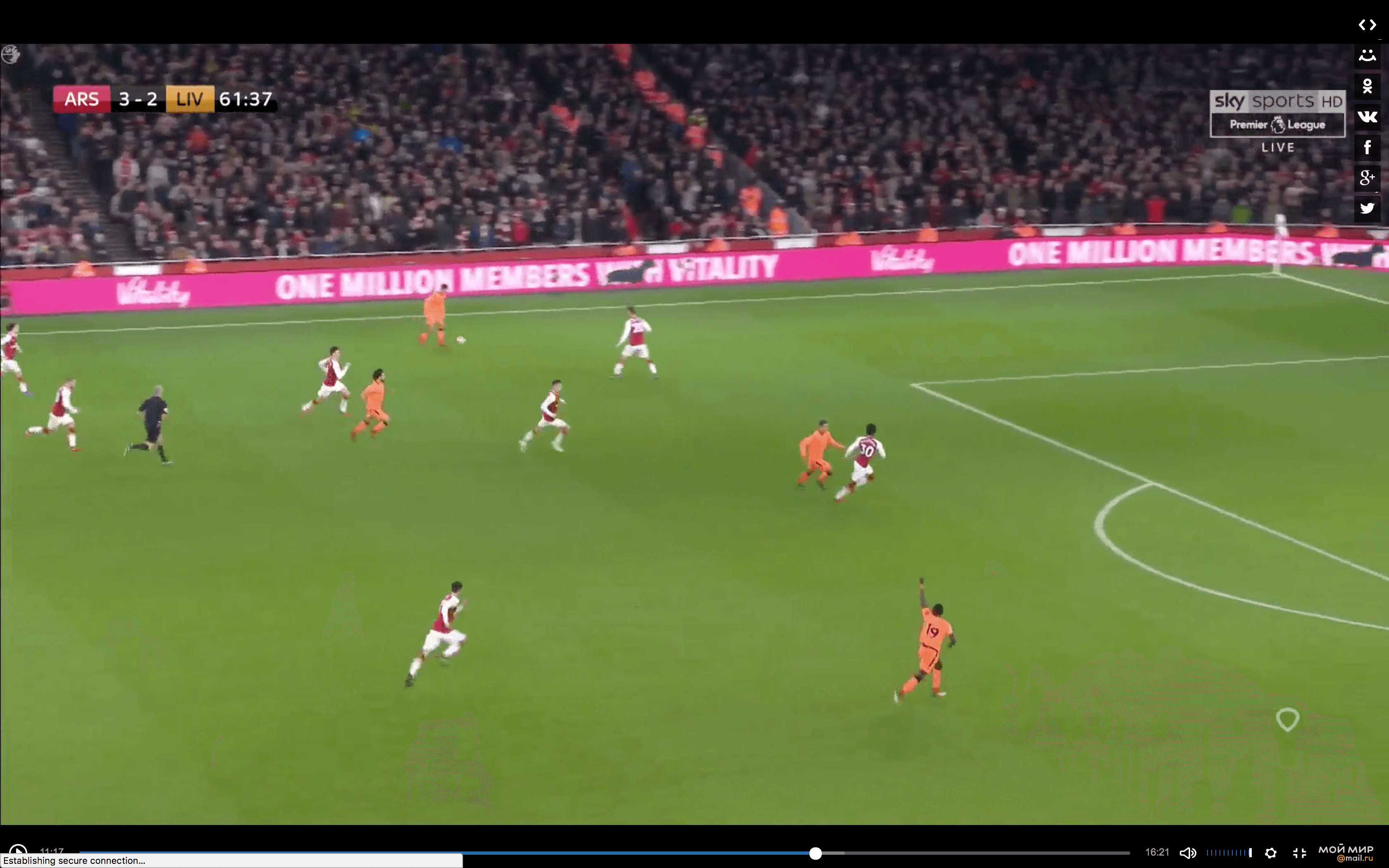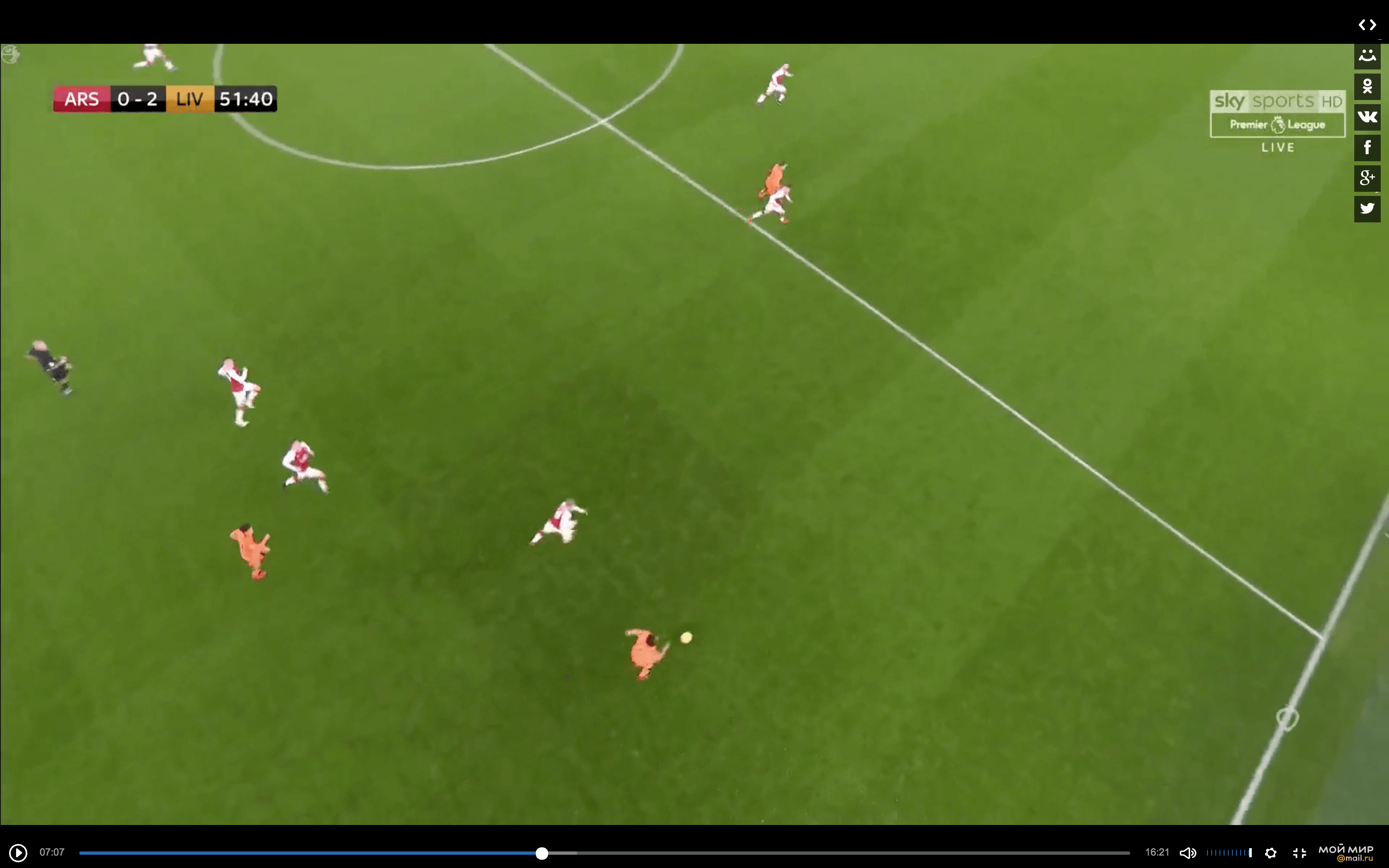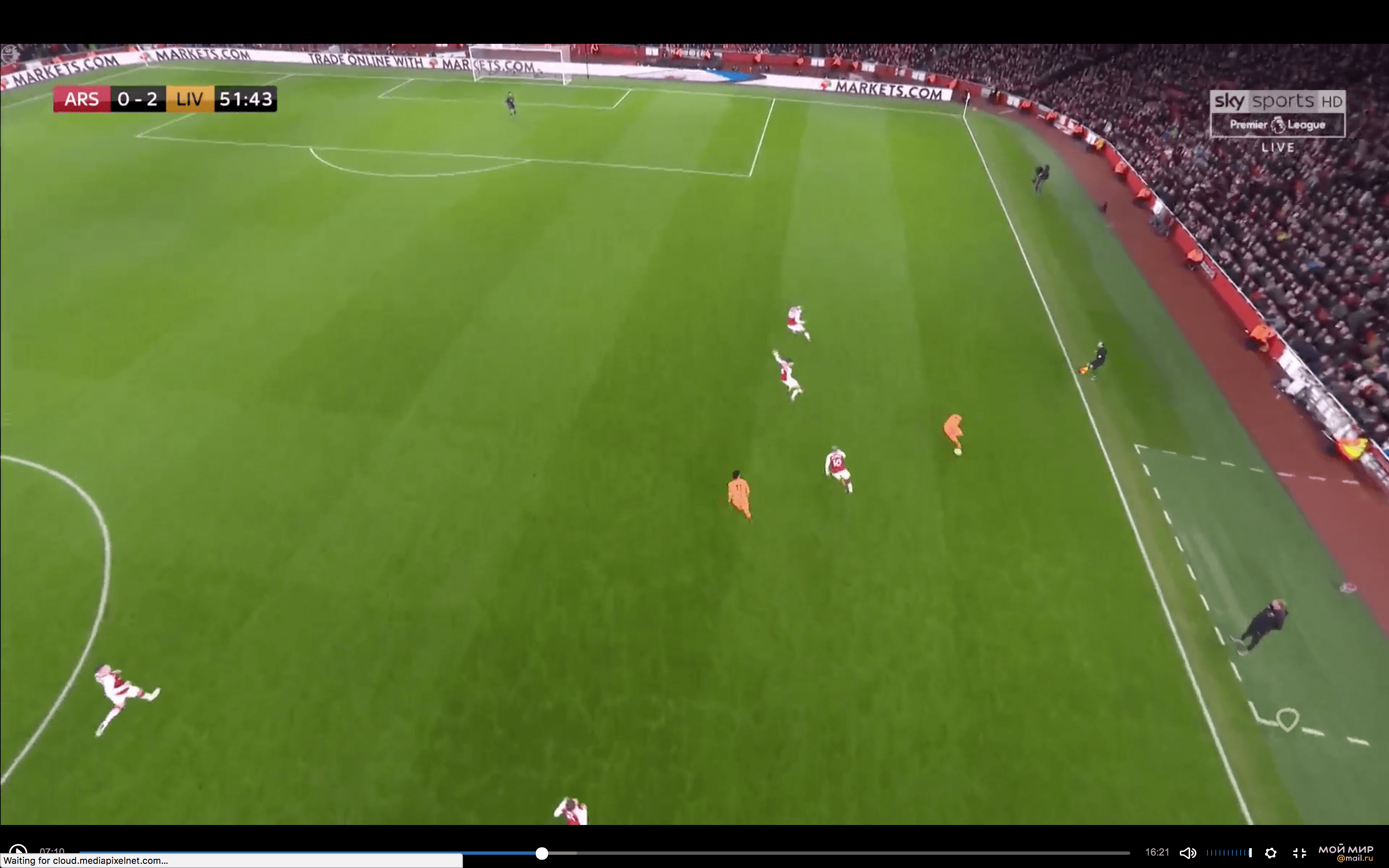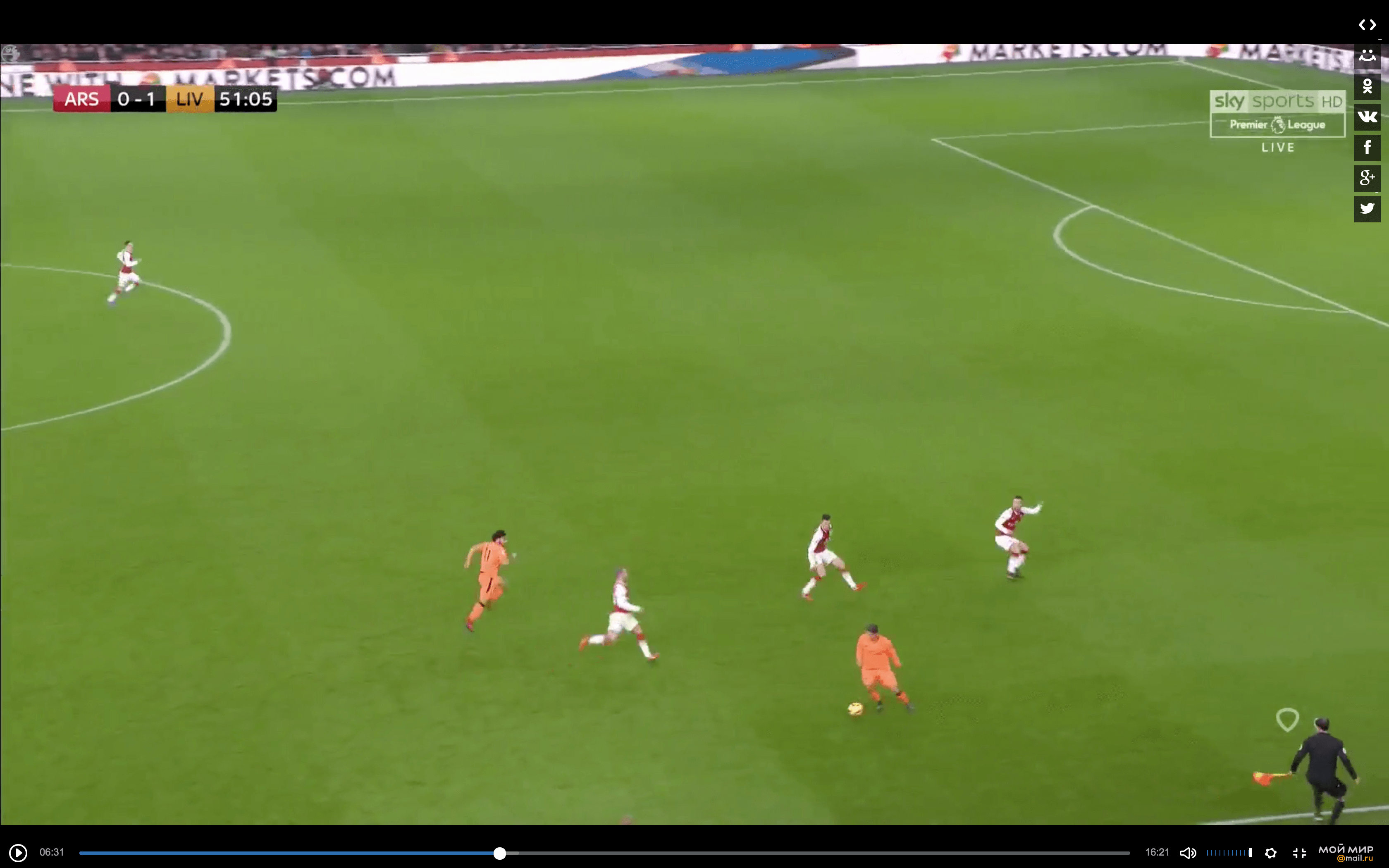 Both Liverpool and Arsenal shared a number of similarities in their attacking play in this match, but Liverpool's setup was more akin to a counter-attacking side (46.5pc possession), as you would expect, likewise, Arsenal's attacking style focussed on overloads out wide in forward positions – whereas Liverpool attempted to create overloads in situations in order to exploit and expose the midfield from deep: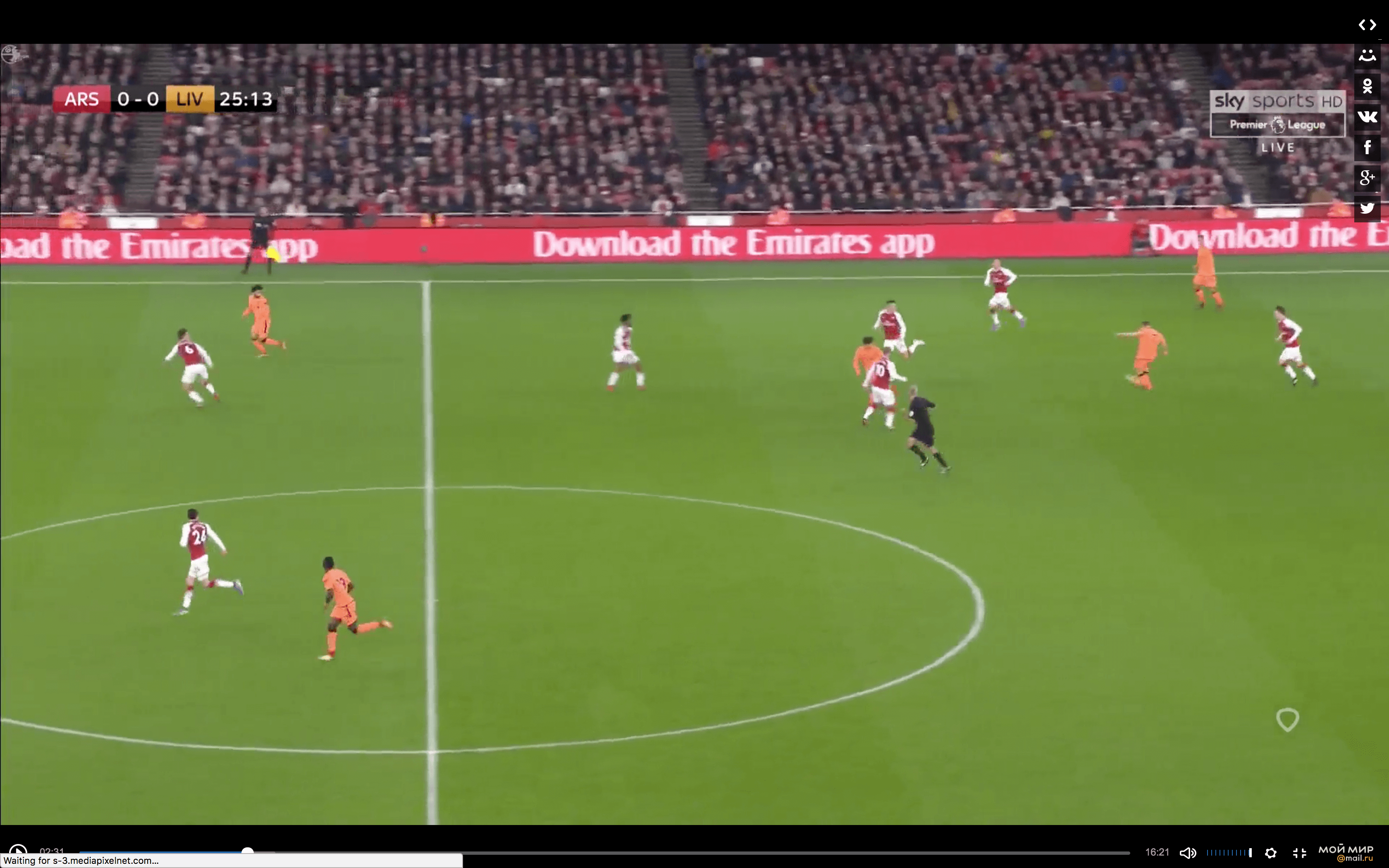 That being said, for all the wonderful attacking play, there was some truly atrocious defending from both sides: Koscielny had a torrid game for Arsenal, with Firmino and Salah dragging him all over the pitch. Indeed, as the images illustrate, Klopp has got Liverpool making offensive movement patterns which only Guardiola's Manchester City can better. The dynamism and speed of them though certainly rivals City in some respects, with Liverpool's slower build-up play the only aspect that lets them down – but as we saw against Bournemouth, with Coutinho's goal, there are clear signs of improvement across the board for the variety and strength in Liverpool's attacks.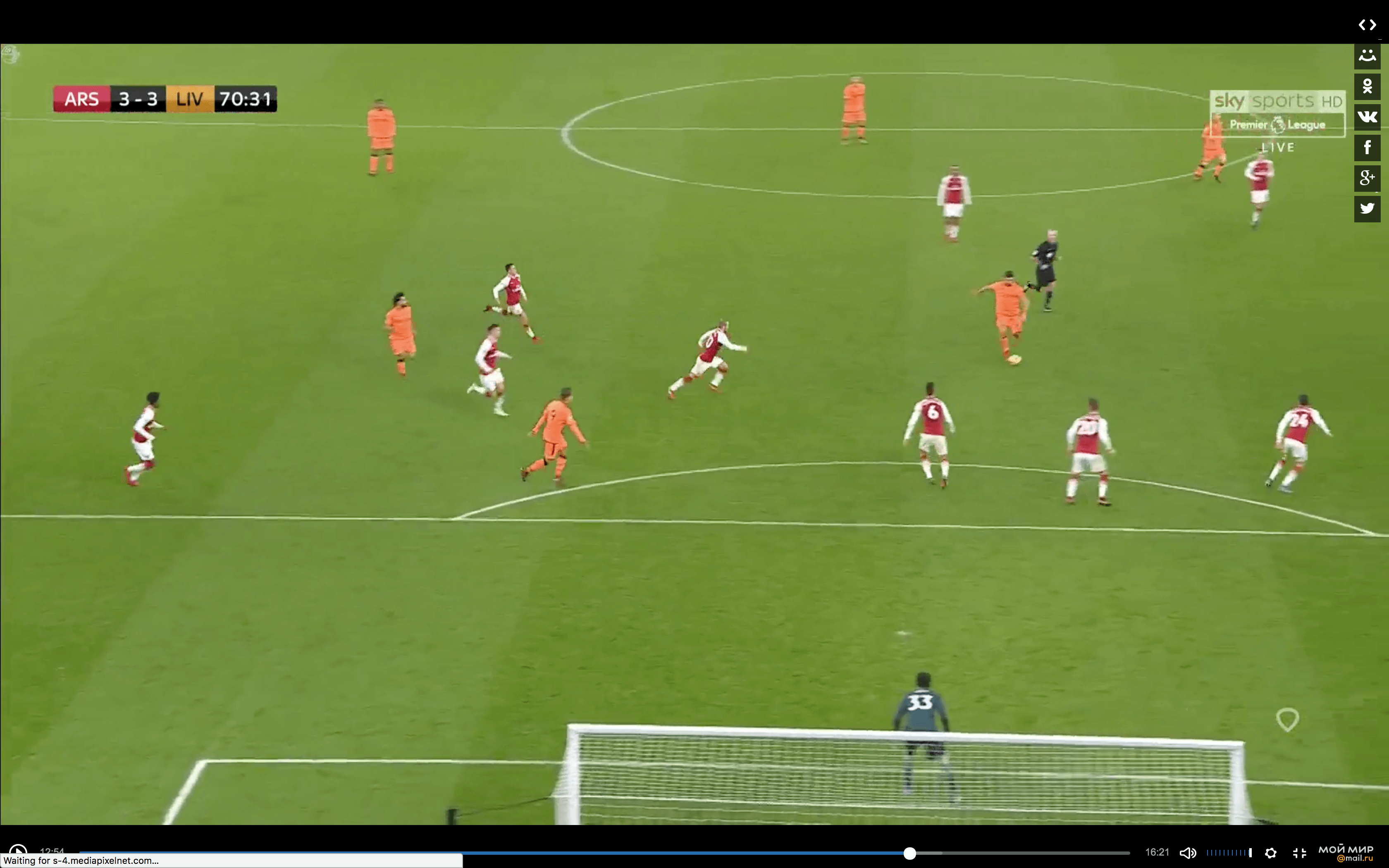 Nonetheless, we're going to address some defensive and goalkeeping positional deficiencies, which cost Liverpool two points, in a game that really should have delivered three.
For the first goal, there are two main errors: the failure to close down the cross, and Gomez's awareness of Sanchez. It's a similar error to the one Gomez made against West Ham, and it seems he wants to let the ball run across him, so he can pick it up and pass it forward from the right flank, however, once he's aware of Sanchez's run, he attempts to react, but his positioning is all wrong, and he ends up leading with his foot, from a position where he is off balance.
While we do not expect Gomez to be flawless, learning from mistakes is something which he needs to do. And in this instance, he has not quite learned the lessons of the Lanzini goal – nevertheless, against a player as sharp as Sanchez, and against a side as good as Arsenal, we can give credit to them for forcing the move, and seizing the opportunity.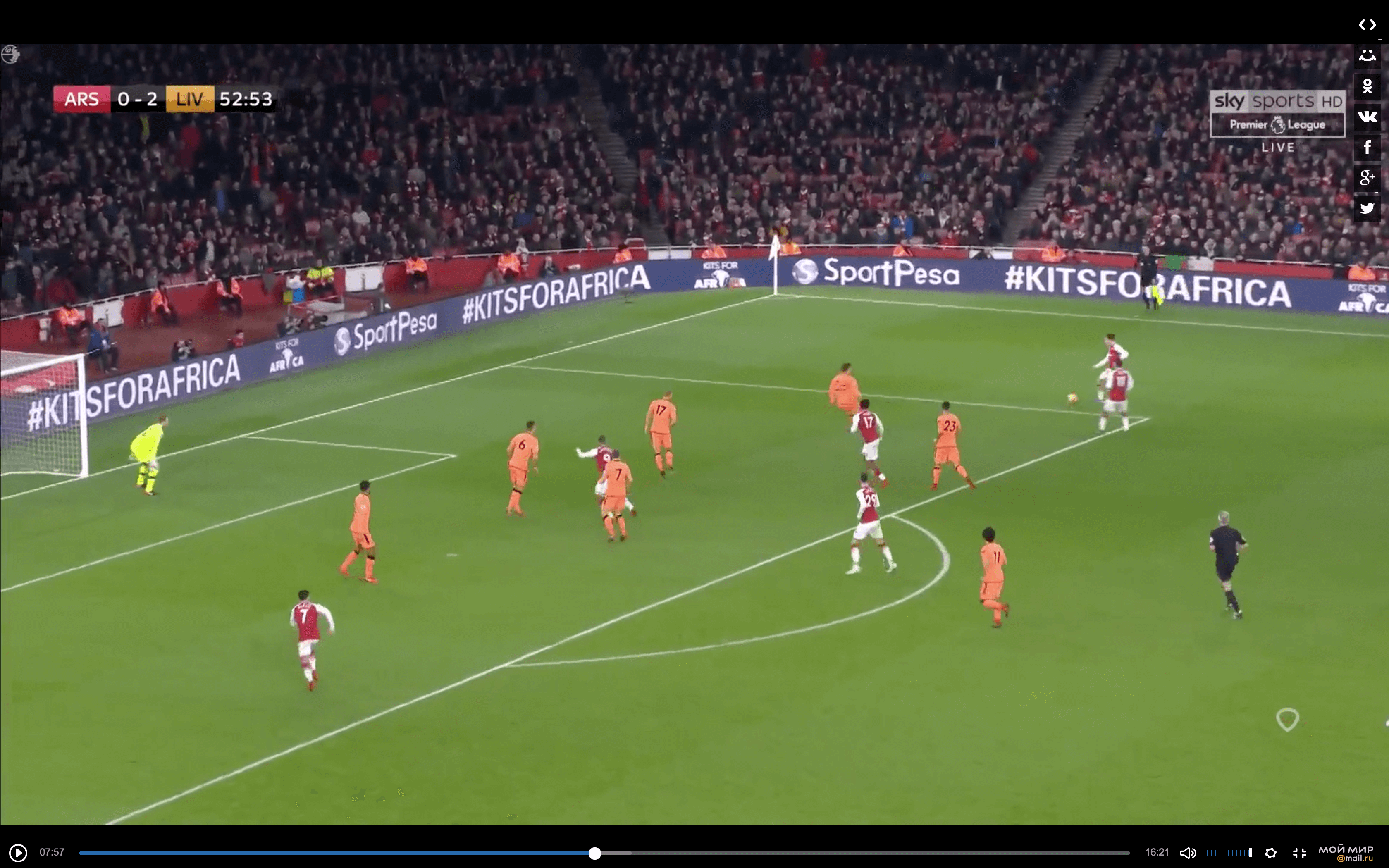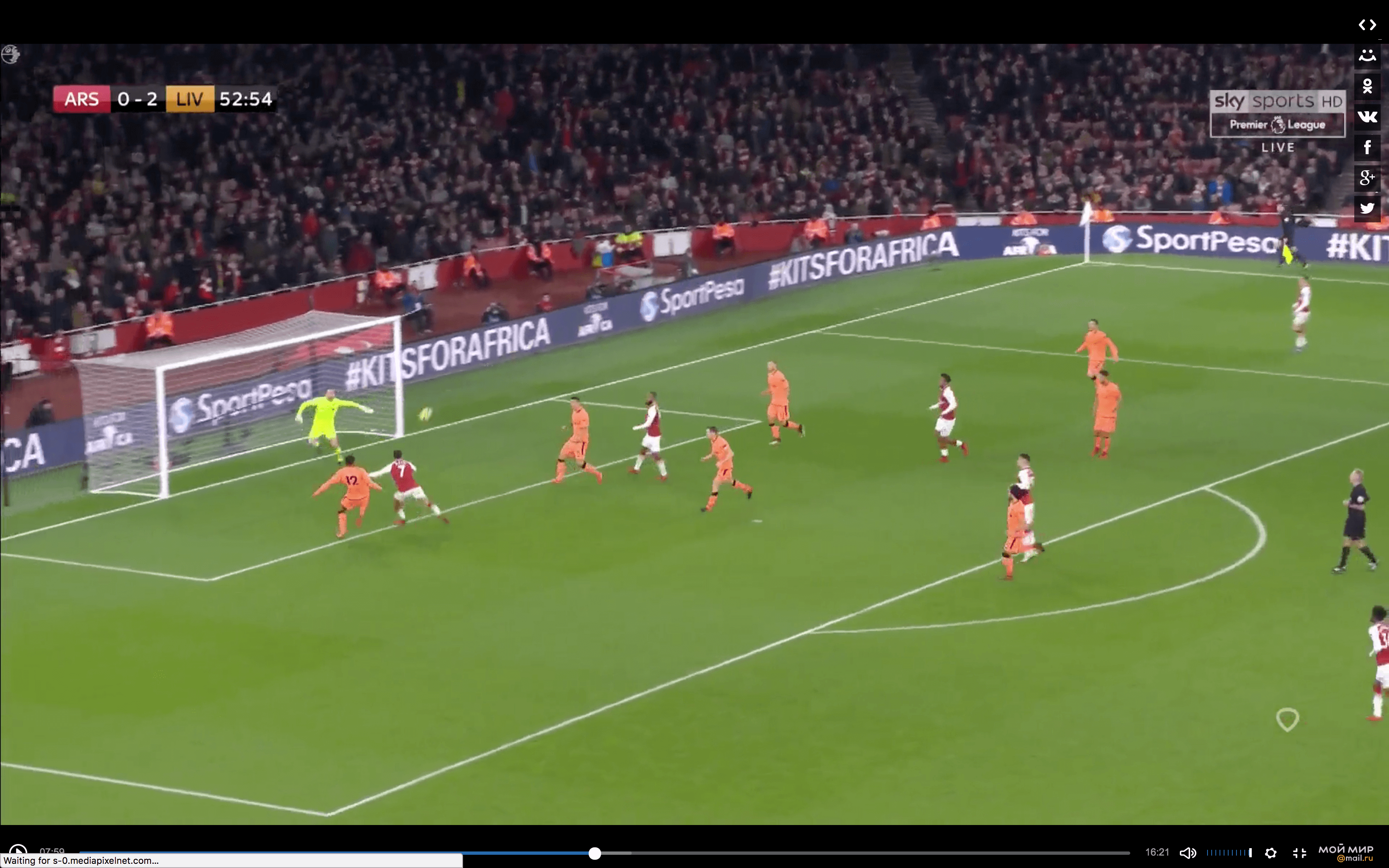 For the second goal, there are two major positional concerns prior to Xhaka taking his shot, which should certainly be saved by Mignolet. First is the two free men – Özil and Sanchez – on the outside of Gomez. The other is the considerable amount of space Xhaka has in front of him – with Can in an unnecessary position, just outside of the box, and Milner realising too late – just in front of Iwobi.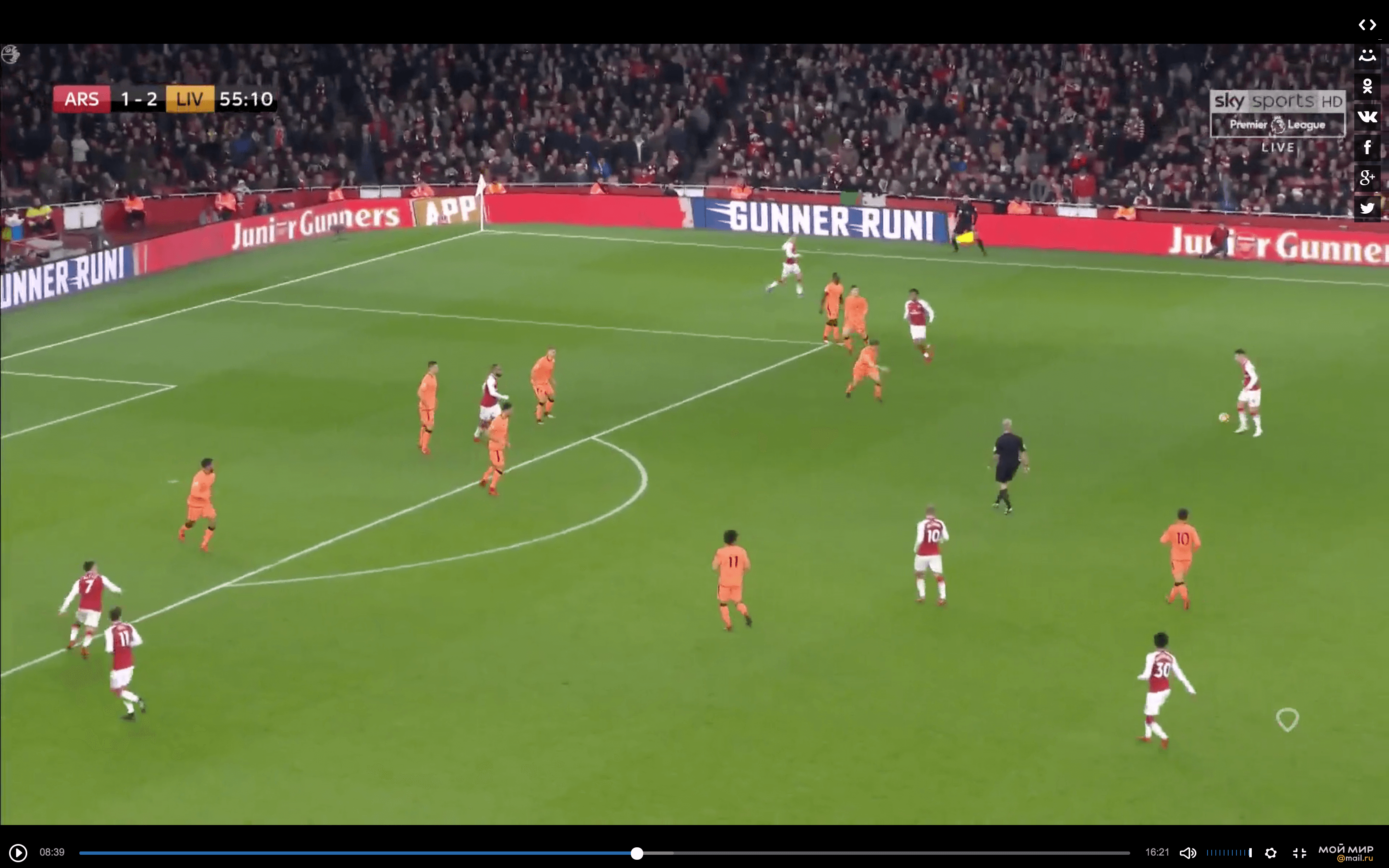 The third starts with a poor pass into Robertson, and an even poorer touch by him, which takes him backwards, and is seized upon by Arsenal, who move forward with pace.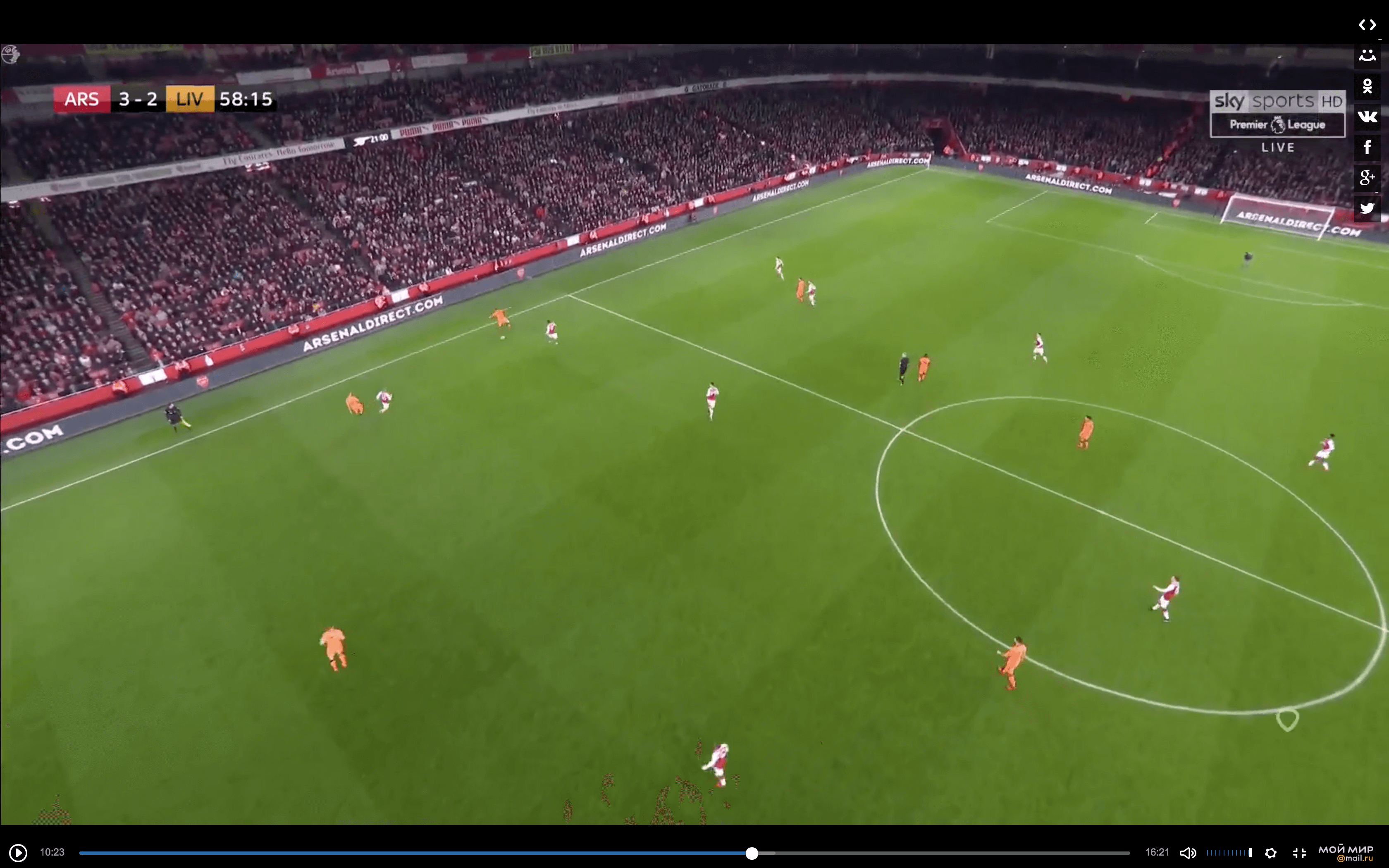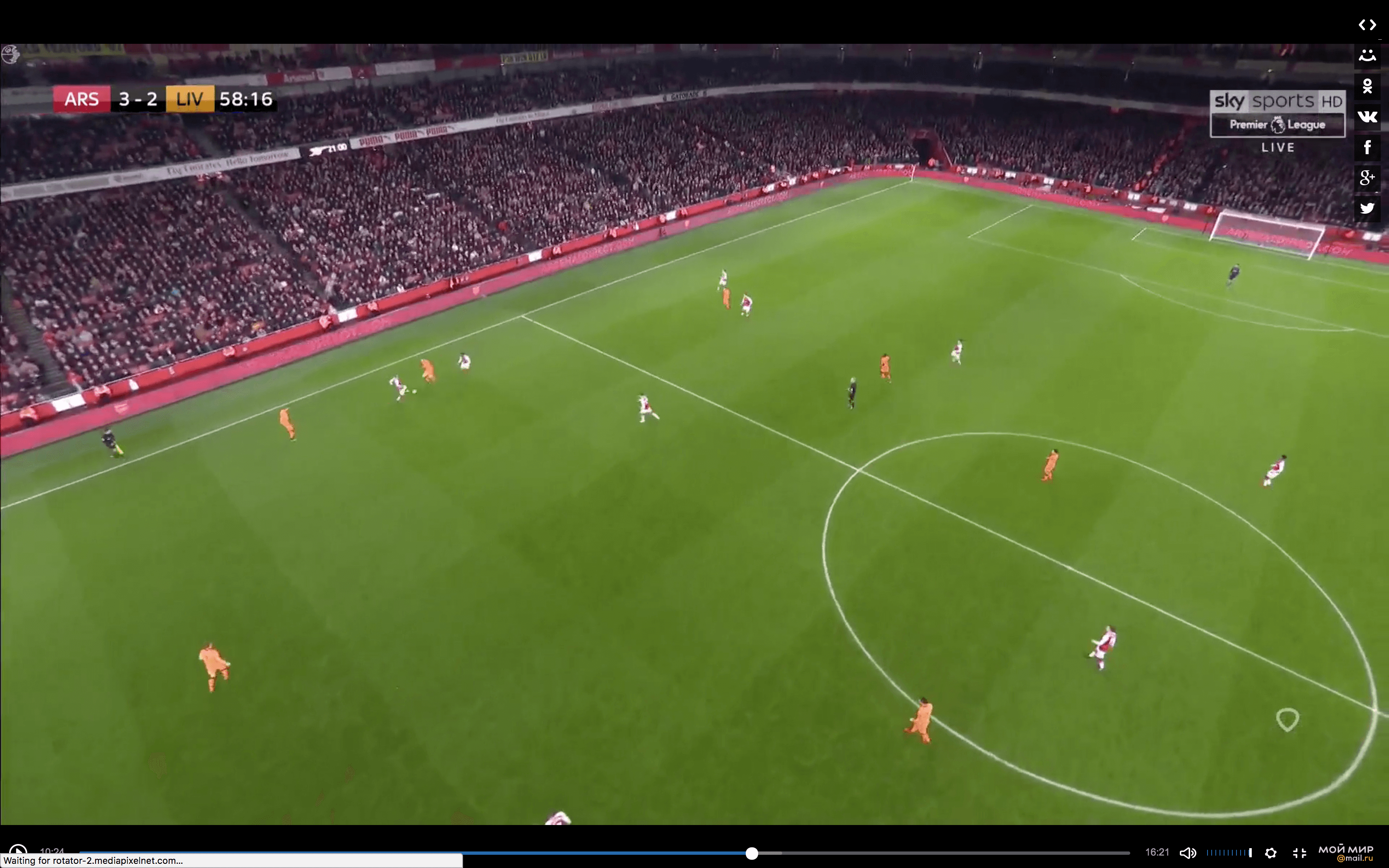 But as Arsenal make their way into the box, there is some fantastic passing work, with Özil, one of the players of the season, central to it, moving brilliantly, and working with Lacazette. Sanchez, on the left, pulls Gomez, creating space for Özil to run into, and Lacazette's return pass is fabulous. Can should track Özil, but loses him. And Özil scores with a stunning finish, which he seems to strike into the ground, yet float simultaneously. But Liverpool are by no means absolved of blame here, with Simon Mignolet's positioning in particular questionable.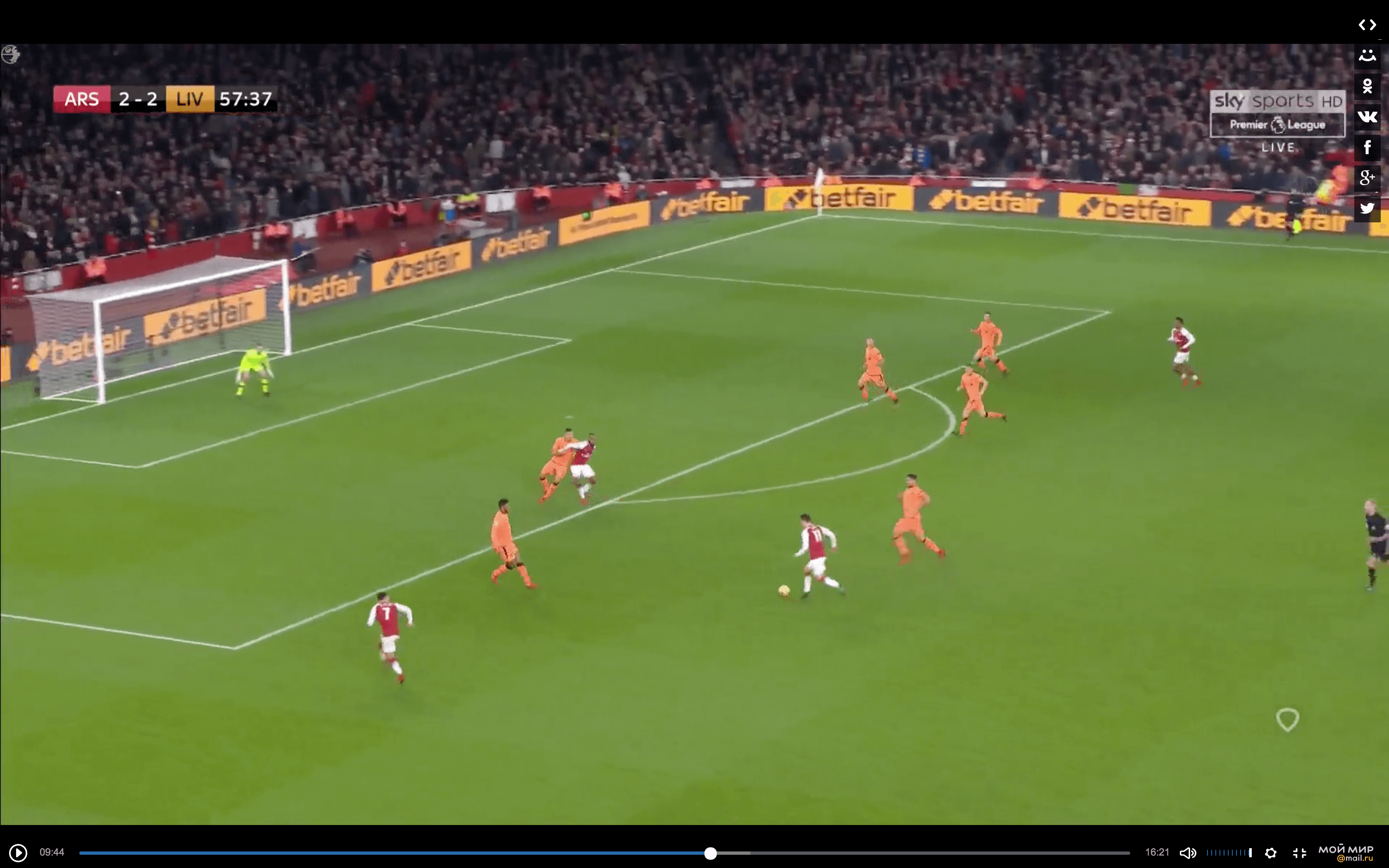 Unfortunately, the camera angle is exceptionally unforgiving to Mignolet, and makes it appear as if he is actually positioned to the far-side of the goal. However, he is actually positioned centrally. But given the situation, Mignolet is perhaps one large stride or two small steps away from the ideal position.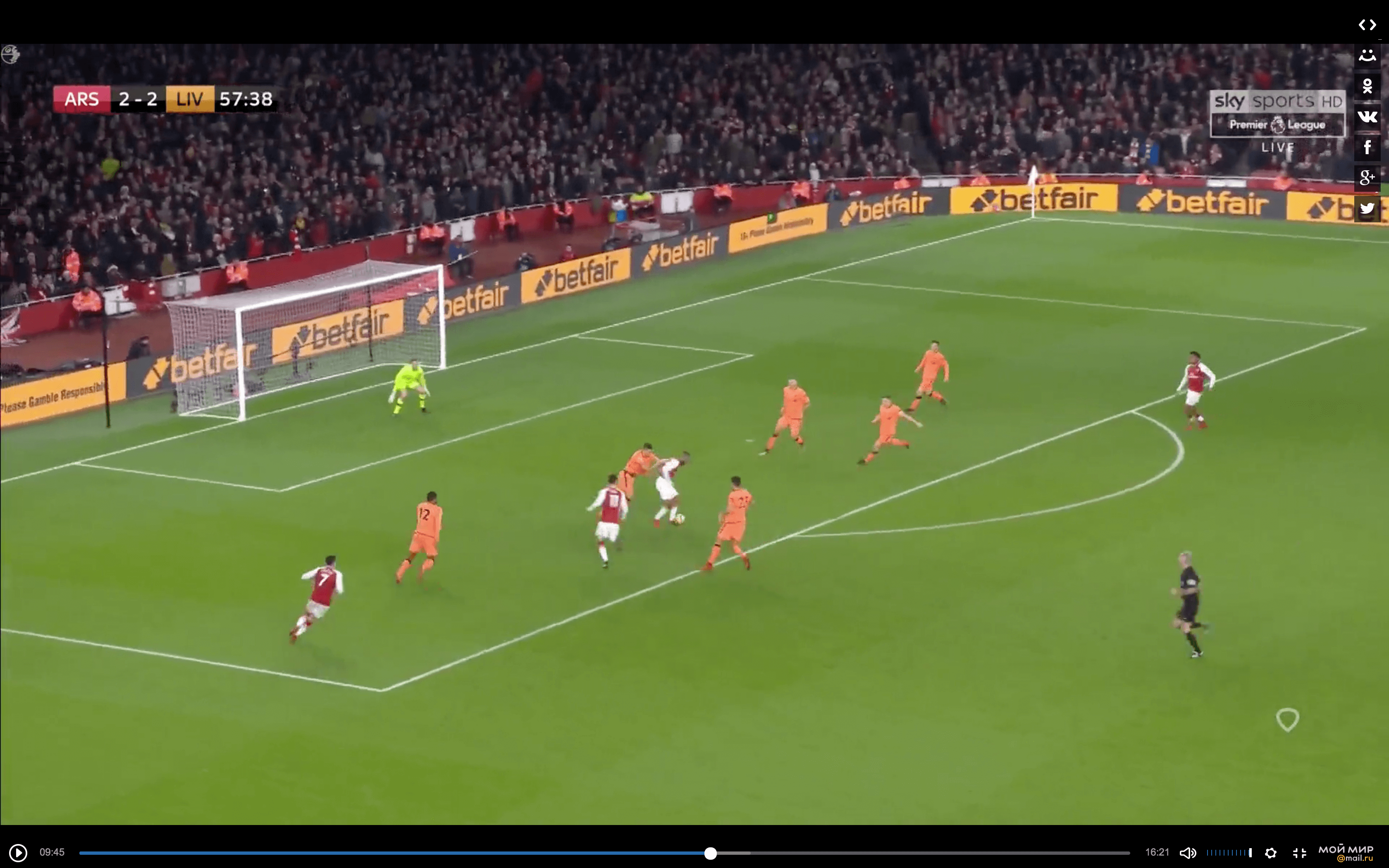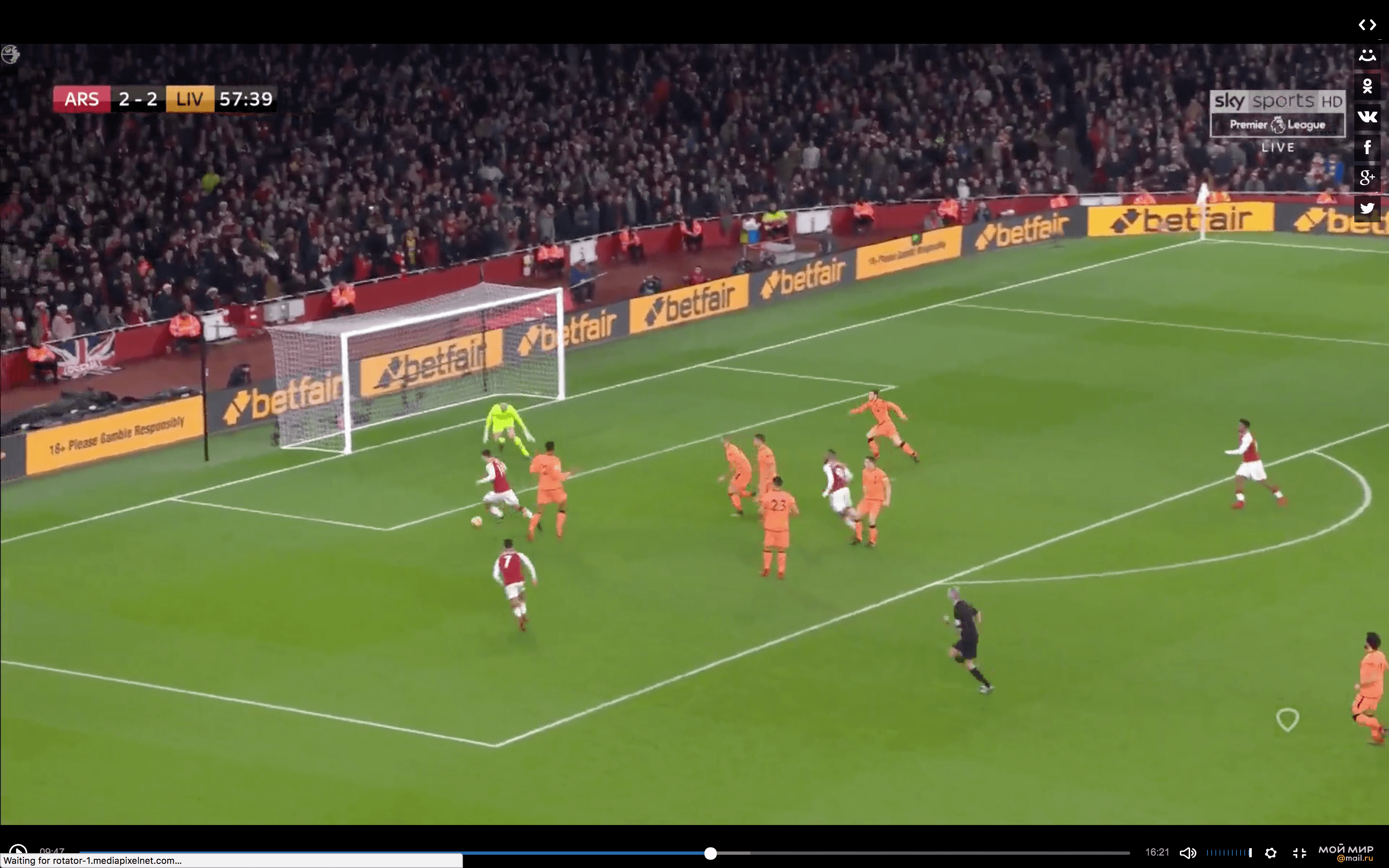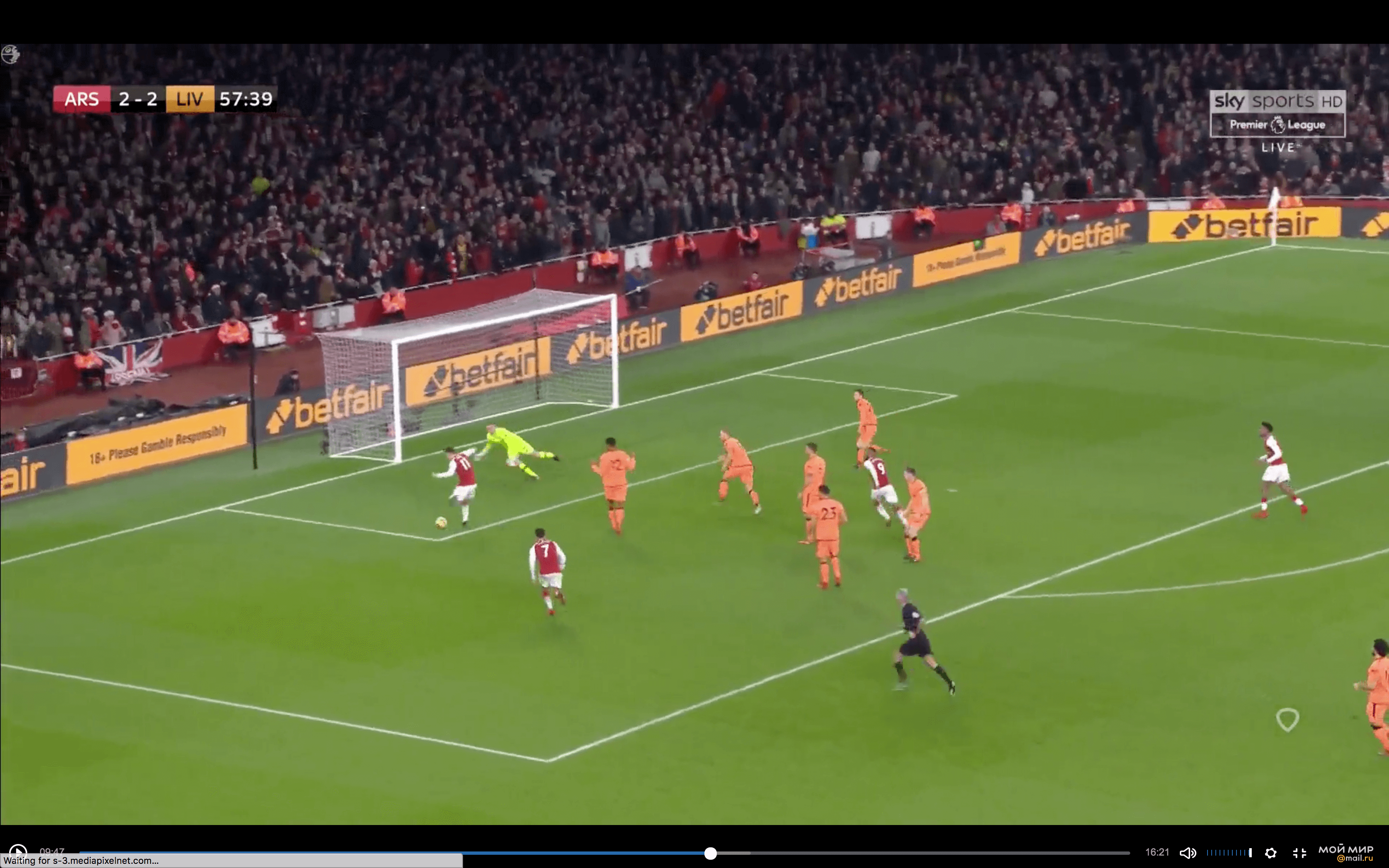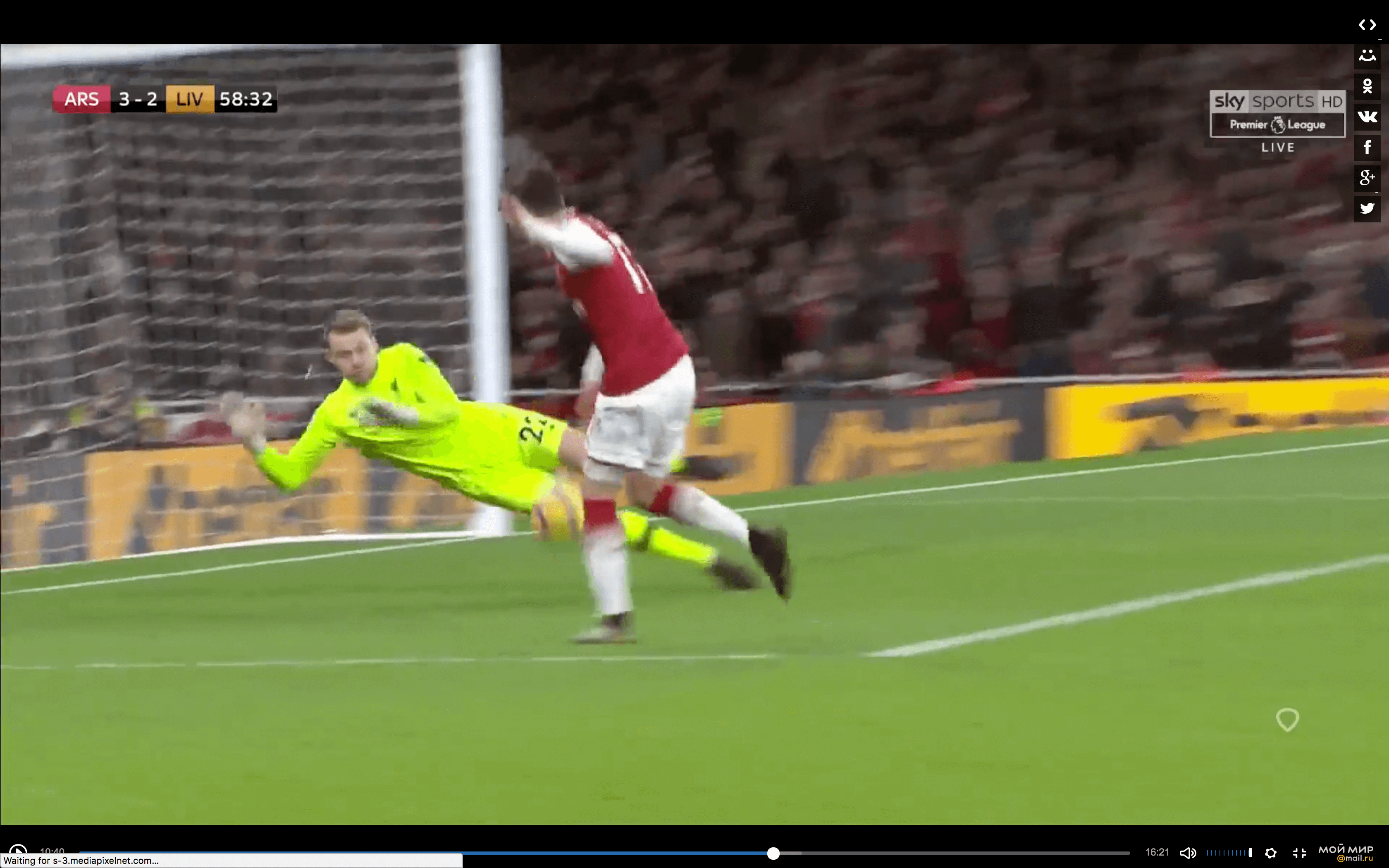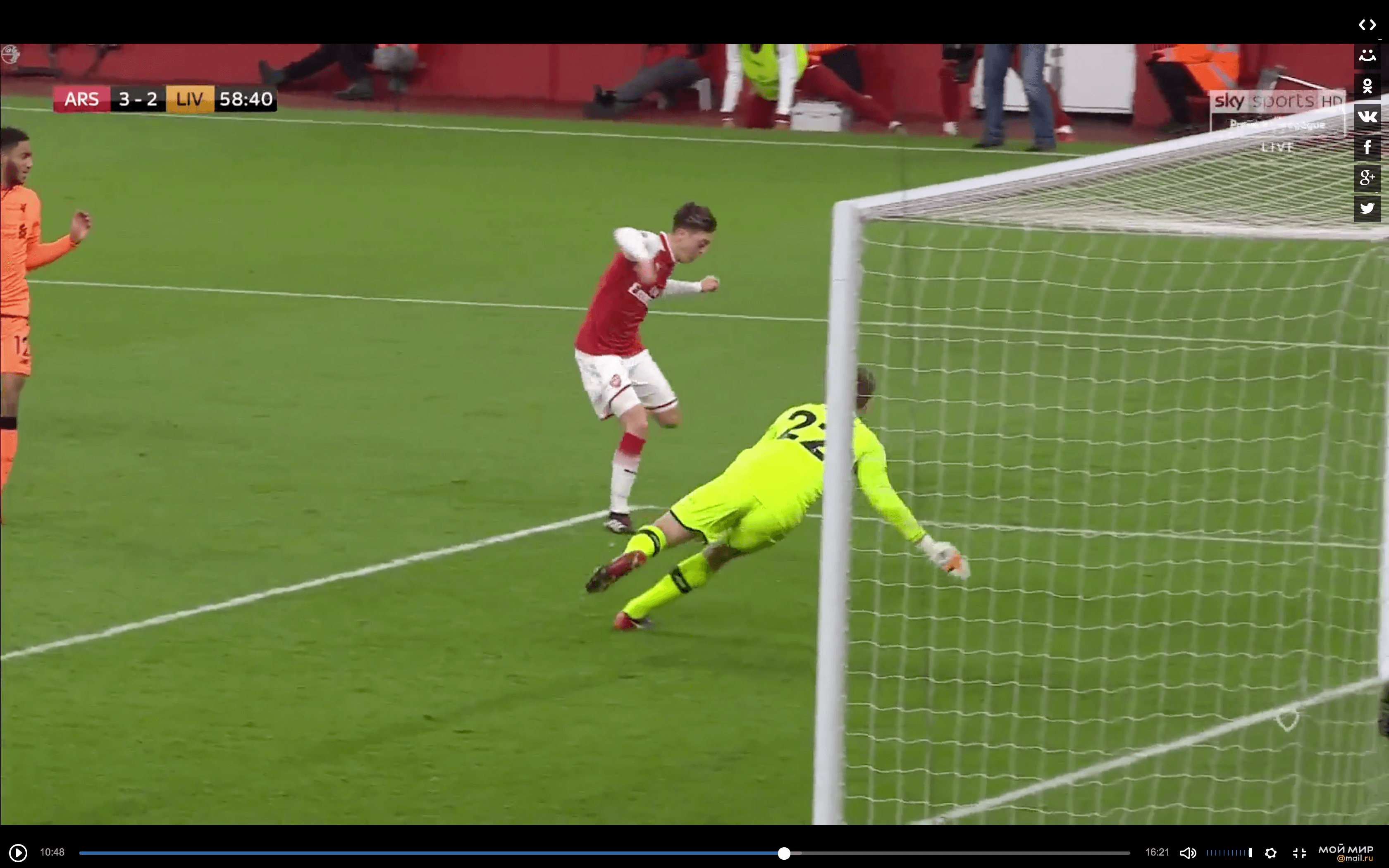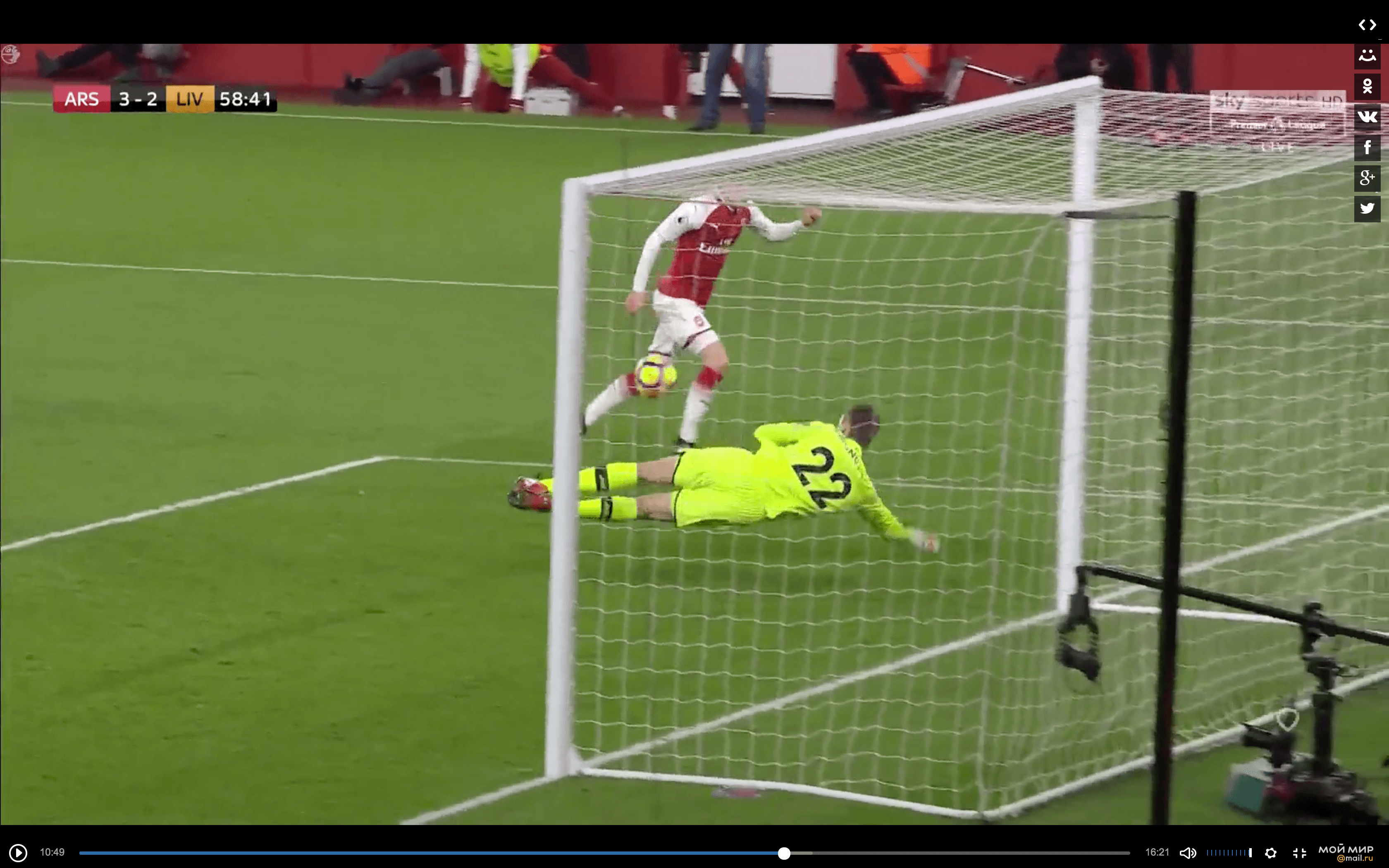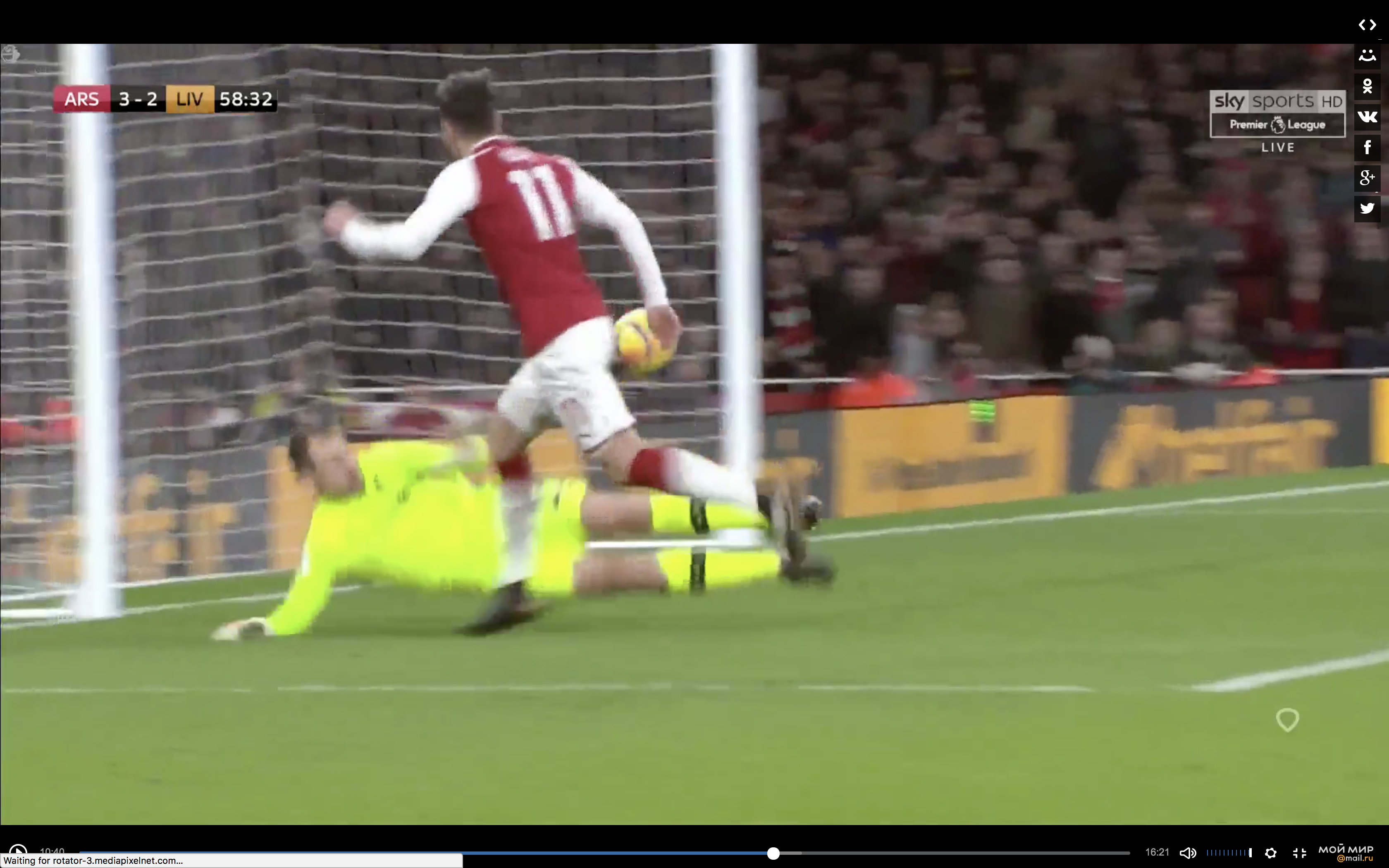 Because of his initial positioning Mignolet attempts to compensate, and dives to cover the nearside. However, if he was in the correct position, he would have simply had to stand his ground at the near post. As a result of Mignolet's dive, Özil dinks the ball over him, into the far corner – an angle that really should not have been an option.
It seems Mignolet's error for the second goal was on his mind, and affected him in this situation – a shame, considering he is known more for his shot-stopping ability, rather than his handling or kicking.
In a few minutes of madness, Liverpool had thrown away a hard-earned 2-0 lead. But, if we were asked, prior to kick-off, whether we would accept a point at the Emirates, the answer would likely have been yes. Indeed, Arsenal had only lost one game at home this season – and that was their strange encounter with Manchester United, and perhaps David De Gea's greatest individual performance. But having been 2-0 up, and with chances aplenty to have made it 3-0 or 4-0, this draw is a hard one to swallow.
With 5 big chances too, Liverpool's forwards were actually wasteful in a number of key instances. But, having scored three, and consistently over the past few months, the blame can hardly be placed with them.
Liverpool's Fab Four have all featured in nine matches this season.
The completed record: pic.twitter.com/3Ioy2gbzmc

— Andrew Beasley (@BassTunedToRed) December 23, 2017
I shall end with a simple documentation of this game in the mould of Lord Acton, with the facts served unseasoned, and cold.
Arsenal vs Liverpool

22-12-2017@StrataBet Match Review: https://t.co/wSaQggNjM9#PremierLeague #xGplot #GoalCharts #autotweet pic.twitter.com/YmibcfIwRl

— Goal Charts (@GoalCharts) December 24, 2017
Arsenal (orange) 3-3 Liverpool (blue). A shot map story in three parts. pic.twitter.com/bTgwQq21RV

— Andrew Beasley (@BassTunedToRed) December 23, 2017
Liverpool after 19 games in the PL era. This has been the 8th best season to this point. pic.twitter.com/bySHJqLq5d

— Andrew Beasley (@BassTunedToRed) December 22, 2017