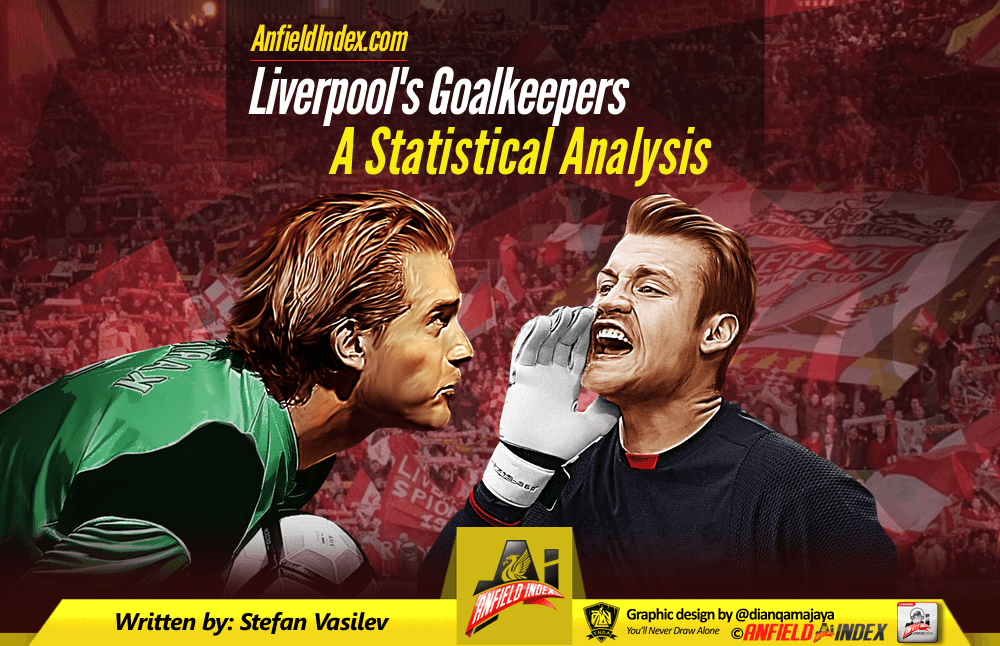 Liverpool's Goalkeepers - A Statistical Analysis
You probably won't believe me but I had the idea for this article way before the Arsenal game. I had even started gathering the stats from the different sites before the game started. The article was due last Thursday but I decided to postpone it for this week so I get a sample size that is a little bigger. And then Simon Mignolet allows a goal that he could have realistically saved with a header – the ball was that low and that central. All of a sudden the narrative changes, or at least we start recycling an old one. When Lovren, Henderson or Mignolet (maybe Wijnaldum) have a bad game or have a what can only be described as a brain fart, supporters and the pundits start using them as an example of how the LFC squad is not good enough. I don't like narratives – I just don't see how they are helpful in any situation. It's better to take a step back and look at the bigger picture. The aim of this article is not to bash or defend Mignolet, it's just presenting the numbers of all premier league goalies from this season and comparing them with Liverpool's. Since the sample size for Loris Karius is way to small I added the 10 games he was in goal last season.
Shot stopping
By now you have all probably seen the saves per goal allowed stat. However that numbers needs context, simply because not all saves are equal. If a team is good defensively and plays a low line they don't allow high quality shots, even if the volume is big. A team that has most of the possession is vulnerable to counter attacks, which produce high quality shots in small volumes . And obviously defensive mistakes lead to high quality shots.
This graph shows the correlation between the shot on target quality and the save percentage of all premier league goalkeepers, who have played in more than 5 games. LA stands for league average, T6 stands for top 6 average (the keeper you can't see behind Rob Elliot is Jordan Pickford and Hugo Lloris is hiding behind Kasper Schmeichel). The best use of this table is to look at Ryan and Fabianski – they faced the exact same average xGA per shot on target, Fabianski has saved 75% of the shots on target compared to 72% for Ryan. Note that xGA measures the quality of the shot, not the quality of the situation. For example Joselu's goal for Newcastle against us has an xG of 0.07 (because it was a fluke shot), while Phil Coutinho's mostly unstoppable screamers rarely have an xG over 0.1. That being said if a keeper constantly concedes goals from outside the box the problems is in the goalie and that's why those shots have a low xG.
Looking and Simon Mignolet and Karius (again this season and last season) – no keeper has faced tougher shots on target than the Belgian, an average of 0.26 xGA per shot on target and naturally no keeper has a lower save percentage – 56%. This in a way explains the horrible stats that have been all around social media after the Arsenal game. But, and it's a big but, an above average keeper will do better. Karius' numbers on the other side just looks average, granted most of the sample is from last season and he didn't really set the world alight in his 10 game spell as the starting goalie.
The trend line is pretty visible with a few exceptions – Ben Foster, way below it and David de Gea and Nick Pope – way above it. De Gea is clearly the best keeper in the league. After doing the research for this article, as much as it pains me to write it, he should be considered for player of year. Without him the other team from Manchester would most likely be mid table. The Spaniard is the only keeper in the league so far to not concede a goal from a shot with an xG value below 0.1, Xhaka's goal last weekend had an xG value of 0.02. Pope is a very curious case. Up until Burnley got hammered by Spurs over the weekend he had the easiest job of all keepers. Sean Dyche's side is brilliant defensively and the young English keepers doesn't really face a lot of good shots. Most good chances created by Burnley's opponents either miss the target or get blocked – the game against Spurs was the first one in which they didn't. Arsenal fans have had a lot of complains about Petr Cech but there is a reason he will get his 200th Premier League cleans sheet this season – only Mignolet and Gomes have had a tougher task in terms of shot stopping and yet Cech is close to league average in terms of save percentage.
All other top 6 goalkeepers have a way easier task – facing the lowest quality shots. Chelsea, Spurs and Manchester City's outfield players make the jobs of the their goalies as simple as possible in contrast to the Reds, Arsenal and the other team from Manchester. This is best illustrated by the fact that David de Gea saved more total xG in the game against Arsenal alone than Ederson has all 19 games.
After adding some context here is the table you have all seen (or variants of it depending on the source):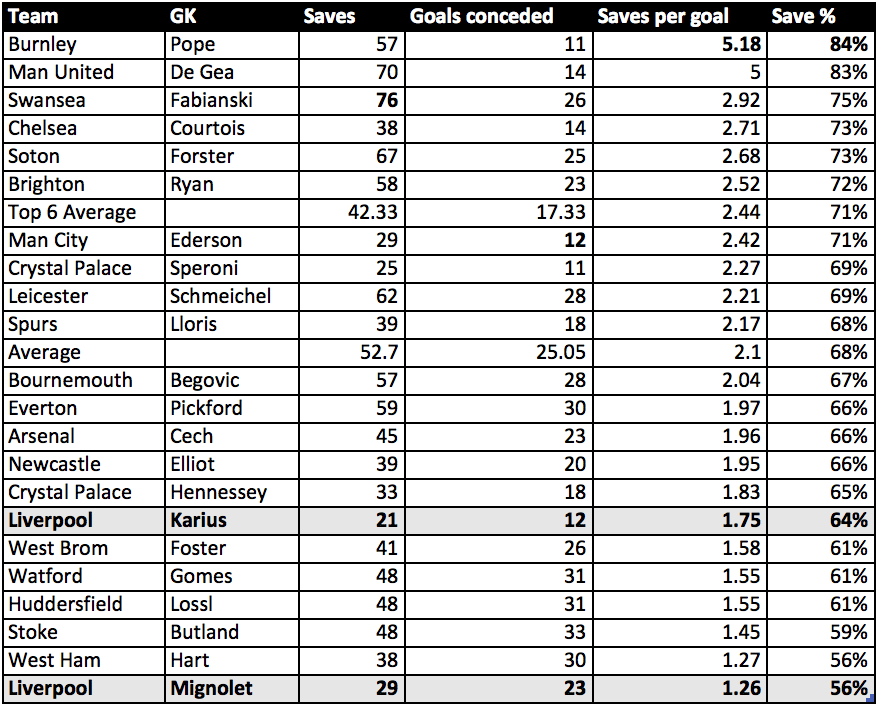 Shot stopping is supposed to be Mignolet's bread and butter. So even with the excuse that the outfield players (I'm not going to say defense) are letting him down, being last is simply not good enough. Some of the blame for the disorganized defense should also land on the Belgian. He is 29 years old and is not going to improve. Karius doesn't look much better in terms of shot stopping numbers and has conceded some savable goals. He is 5 years younger and one can argue has not hit his peak yet. The German had a brief 10 game starting spell last season that ended in vain however as we have seen through the years first year keepers tend to struggle in the premier league for a variety of reasons. The former Mainz man didn't even get a full season so patience might be key for him to show the potential he was brought to Anfield for, should he get the chance to do so.
Passing and sweeping
Passing has become an essential for any top level keeper. The numbers in raw format: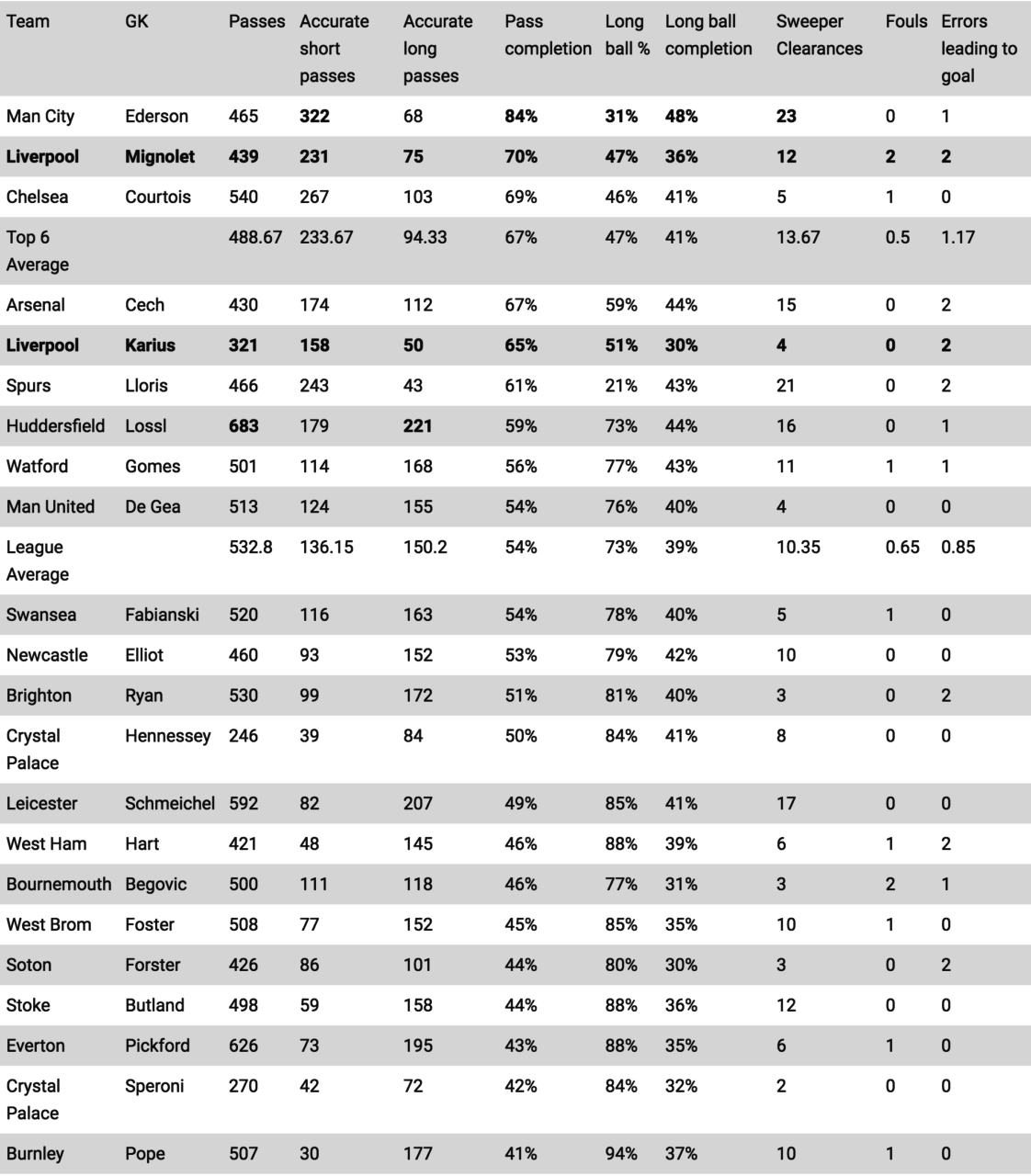 Karius looks like the better one at sweeping. The German is yet to commit a foul in the league and just looks quicker and more athletic. His decision making is still suspect but with more experience he should become more decisive, which is something we can't say about his Belgian teammate. The former Mainz man's distribution isn't as good as Mignolet's but the sample size is small so it may not show the full picture. The conclusion here is the same as in the shot stopping paragraph – we know what we are getting the Migs and it's not good enough (even though it's as bad as people make it out to be) and there is little to no chance of the Belgian improving. Karius on the other hand has shown enough, even in limited time, to assure as that he is not going to be worse than Mignolet.If you just gloss over the percentages, you might be fooled into thinking that Migonlet is a good sweeper keeper. The devil is in the details however – 2 errors leading to goal and 2 fouls – no other keeper has more. The fouls in question are the penalty against Leicester (which credit to the Belgian, he saved) and the foul against Stoke (which should have been a red card), so Mignolet got away with it in a way both times. The Belgian has 12 successful sweeping clearances, which makes his failure rate 14% (2 out of 14), for both fouls he was late to sweep the ball. The long ball completion percentage is pretty low but to be fair to Migs his targets aren't exactly giants for Premier League standards.
A quick look on the rest of the teams. Ederson is the best sweeper keeper in the league, even his long ball completion percentage is the best. De Gea is the only top 6 keeper that has a clear preference for long passes (or should we say Mourinho is the only top 6 manager with such a preference). Nick Pope boots the ball up the field literally every time. Huddersfield are the team that passes back to their keeper the most. Southampton go all the way back the least.
Conclusion
There is a lot to goalkeeping that can't be measured by stats – leadership, ability to organize a defense and even the affect a goalie's presence has on strikers. And there some aspects of it that are hard to quantify with publicly available stats like dealing with crosses. However we have watched Simon Mignolet for years now and I think it's safe to say he is at best average in all of the above. And frankly with all the stat digging and video watching I did for this article I found only one thing I can safely say he is very good at – saving penalties. That skill may come in handy at one point in the Champions League this season, who knows. Jerzy Dudek wasn't the best keeper in the world, probably wasn't even the best keeper in Merseyside at the time but a penalty save at the right time made him a legend. There is a reason Rafa Benitez brought Pepe Reina the very next summer and benched the hero from Istanbul. Saving penalties and having and making an incredible save here or there is not good enough. Good goalkeepers are consistent for years. Mignolet isn't as bad as he is being made out to be but he isn't elite or even very good at most aspects of goalkeeping and at 29 he won't improve. It's fair to say he has been consistently average and below the standards for a Liverpool goalkeeper.
Karius on the other hand is still largely a mystery. He hasn't done enough to convince anyone that he is can even be top keeper. But we know he is at the very least around Mignolet's level. As many (maybe even all) LFC supporters I don't see what is there to lose by giving the German a chance. After all he was dropped in similar circumstances last season.
*All stats courtesy of of  understat.com, whoscored.com, premierleague.com