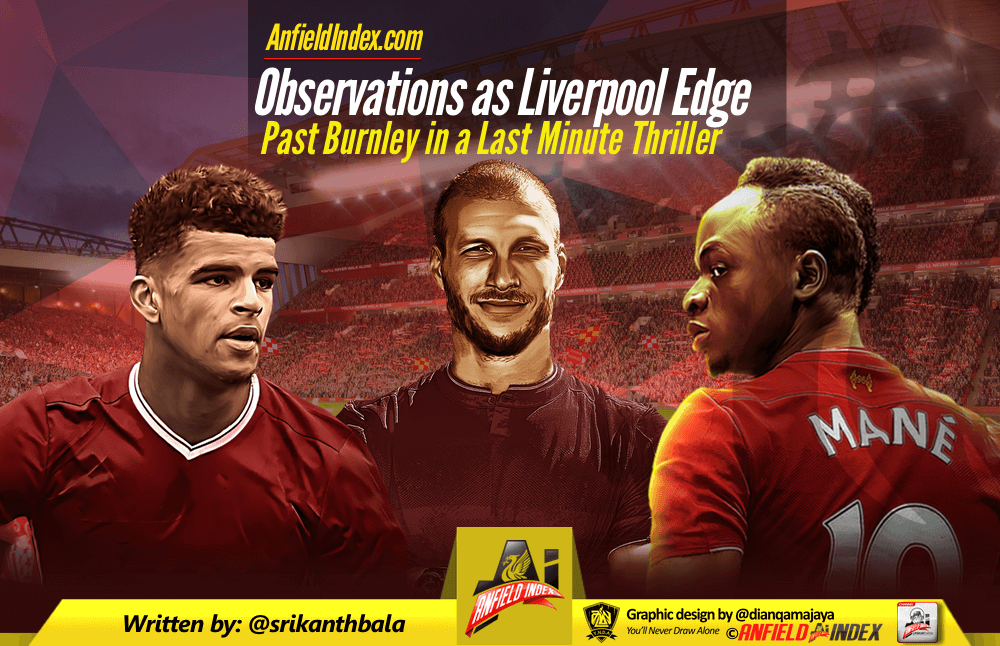 Observations as Liverpool Edge Past Burnley in a Last Minute Thriller
Liverpool and Burnley woke up from their first-half slumber to produce a thrilling second half, and it was The Reds who walked away with all of the points scoring as late a goal as any thrillseeking supporter could hope for.
The key observations from the game below:
That First Half
Watching Paint Dry. Reading yesterday's newspaper. Washing an already ironed shirt. The first half. List the most pointless things one can recollect. Liverpool made seven changes, with a new look attack and it was apparent as they struggled to link up with each other. Lallana was making his first start of the season, while Mané was hoping to recollect a bit of his threatening form. The first half was bereft of any moment worth discussing though as it ended in a stalemate.

Too Soon for Dom?
Big Dom got the chance to lead the line once more for Liverpool, but unfortunately, it did not go well for the World Cup winner. A couple of potential opportunities were let down due to his poor first touch, and in general seemed to struggle to exert influence on the game. One thing though, the youngster did not let his head drop and kept trying until the last minute.
Mané seizes the initiative
Considering the fact that 3 out of the 'Fab 4' were out of the starting line up today, Mane was the cynosure of all eyes today. His form had been iffy coming into the game compared to his exhilarating form of last season. The first half only affirmed that narrative. But Mané showed his brilliance with his first touch making something out of a nothing cross and rifled his finish into the top corner. A big opening goal in a tight contest
Perseverance Pays
Liverpool yet again conceded a late goal off a cross, as Gomez was late to react at the back post (Not for the first time, nor the second time…). We have seen such sequences unfurl in front of us before as the game meanders into a draw. Luckily for Liverpool, today was not the same. Liverpool kept trying until the last minute and Can's run won Liverpool the free kick. The rest, as they say, is history (Literally, as Klavan became the first Estonian to score in the Premier League). Six points from two games in 48 hours must be something which even Klopp might not have budgeted for.