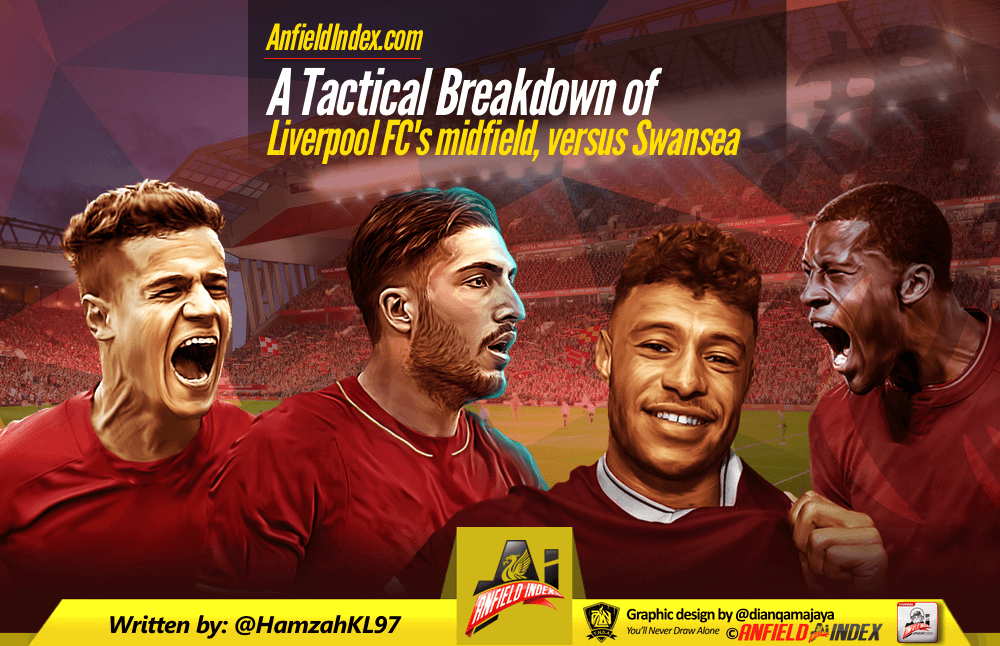 A Tactical Breakdown of Liverpool FC's midfield, versus Swansea
45 minutes into the match, and apart from Coutinho's rip-roaring wonder strike (another one), and a squandered chance for Firmino, it seemed a drab affair for Liverpool, against current relegation favourites: Swansea City. As I sat watching the game, I thought the only logical conclusion to draw was that Liverpool can't blow every team away and that this was just the law of averages kicking in. But after half-time, Liverpool shaped up differently, tactically, and once the team scored their second, courtesy of a set-piece, the floodgates opened, and Liverpool ran riot.
xG map for Liverpool – Swansea. The Reds are in some kind of damn form. pic.twitter.com/GSWfm6OHMj

— Caley Graphics (@Caley_graphics) December 26, 2017

The beauty of these articles is that we get to look at the important tactical, or individual or statistical factors at play within each game and because no game is identical, we don't need to adhere to a set structure; so for today, instead of looking at the goals, which we've done many a time over the season so far, we'll be looking at Liverpool's midfield shape, both on and off the ball, and how it worked to both Liverpool's advantage and disadvantage at different points within the game.

Liverpool set up with two up front, and two CMs, but two fluid AMs – Coutinho and Oxlade-Chamberlain.
Can sat as the CDM, with zero opposition lines between him and the centre-backs, whilst Wijnaldum was poised just behind the first Swansea line, the two frames below illustrate this best: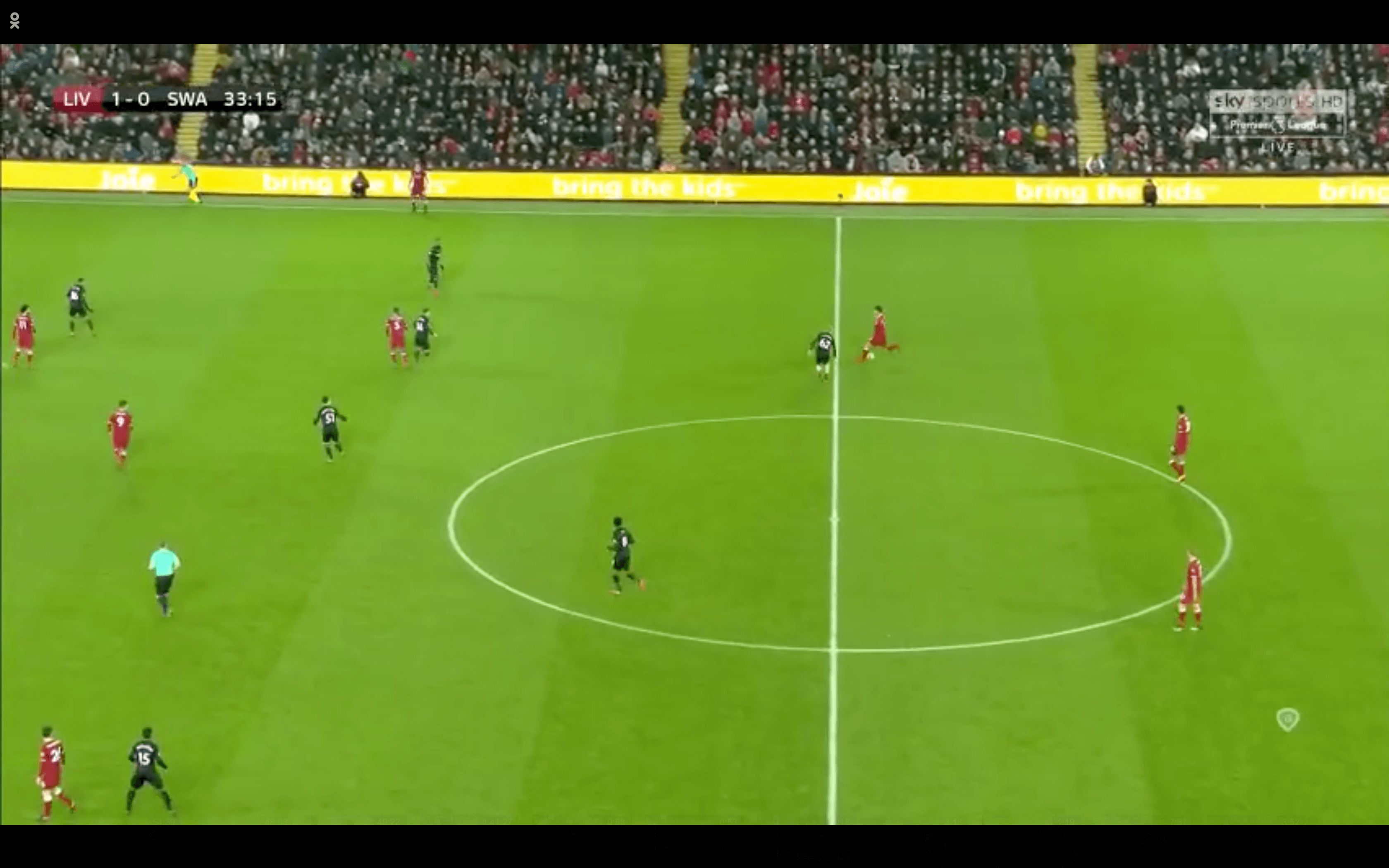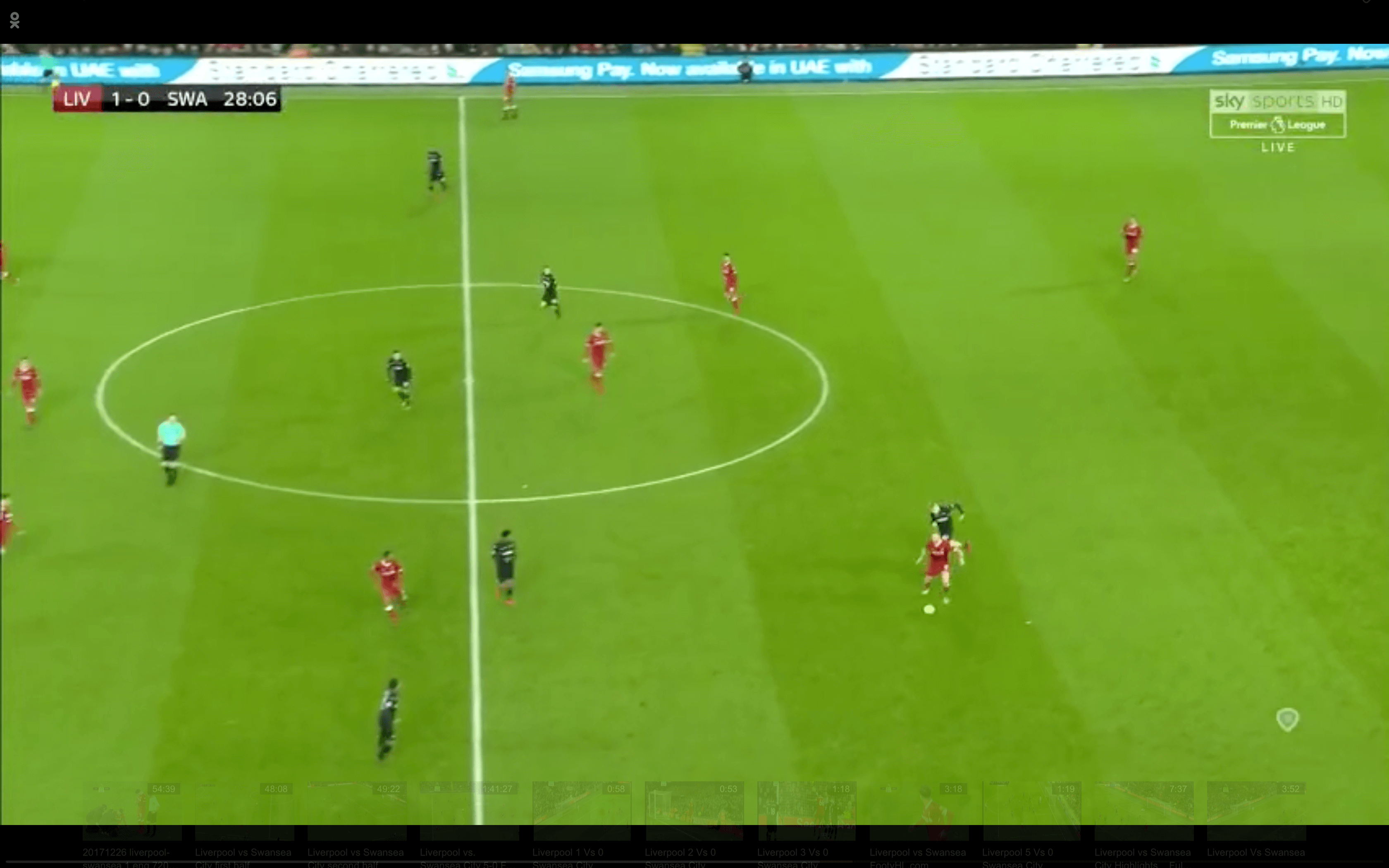 The advantage of this setup was that it allowed Wijnaldum to join attacks, as we see below, but also, prevents an extra man pressing the Liverpool centre-backs and central defensive midfielder. In this system, Wijnaldum functions as a bridge between the midfield and forwards, and through his positioning (rather than receiving and passing on) he facilitates passes beyond him, into the forwards.
Oxlade-Chamberlain's role was, like Coutinho's, best described as a free one, albeit a bit less free than Coutinho. Chamberlain, started off on the left as part of a midfield three, in what could be described as a 4-3-1-2. With Coutinho acting as the one, but one with the freedom to roam from side to side. But this changed, especially off the ball, where the team shifted into a 4-2-3-1, where Chamberlain was the 10. In this role, his pressing thrived: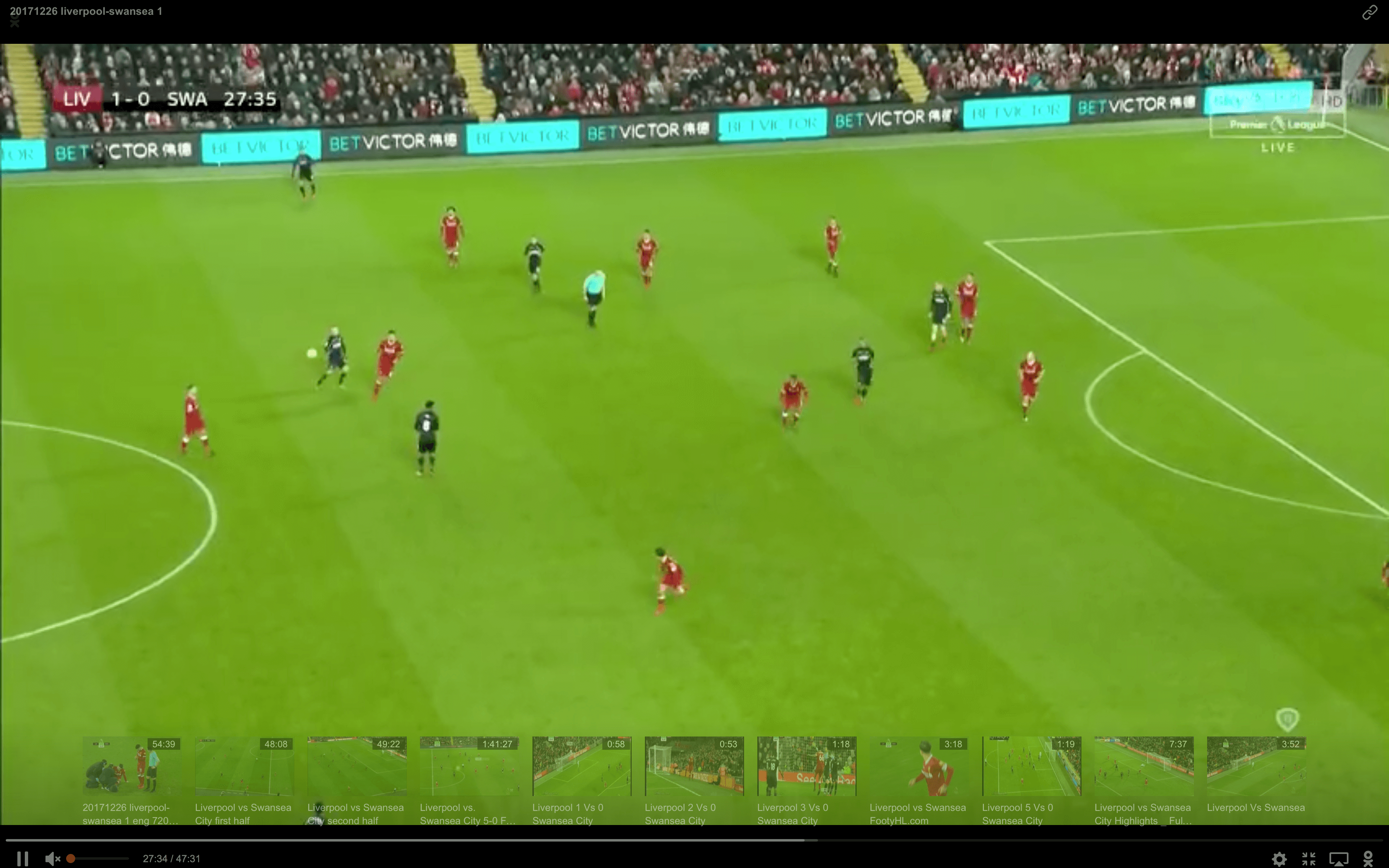 But the midfield shape had a defensive tone that was evident throughout both the first and second-half: take the attack below, where Emre Can presses, as the deepest midfielder, and joins the eventual attack. Instead of following his run, Chamberlain peels off, and sits, alongside Wijnaldum, ready for a counter-attack down the centre, and providing cover for Klavan and Matip.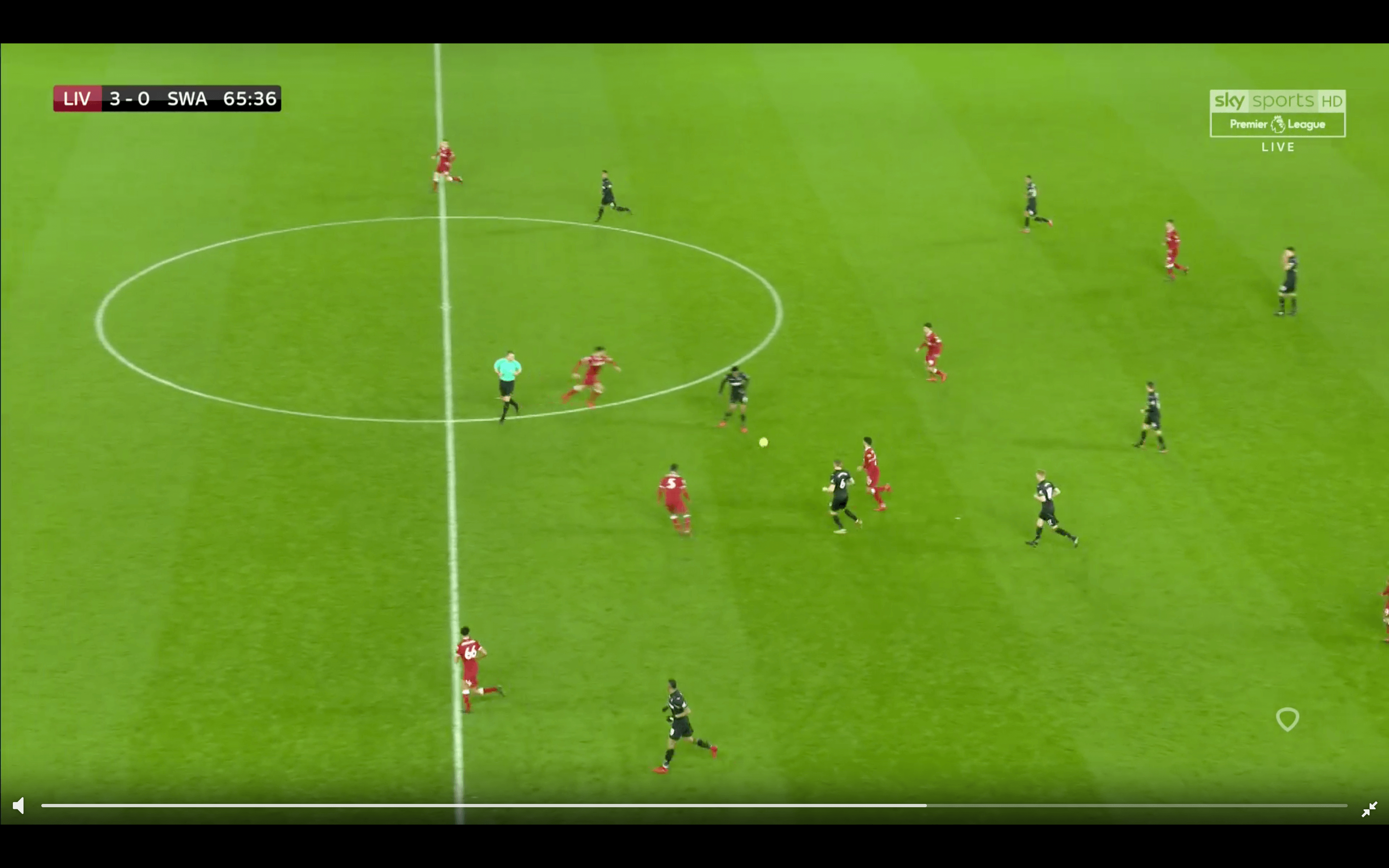 Similarly, Chamberlain rotated with Salah, at times, to allow Salah to run from deep, into space. Space which Chamberlain created, by pulling a defender wide.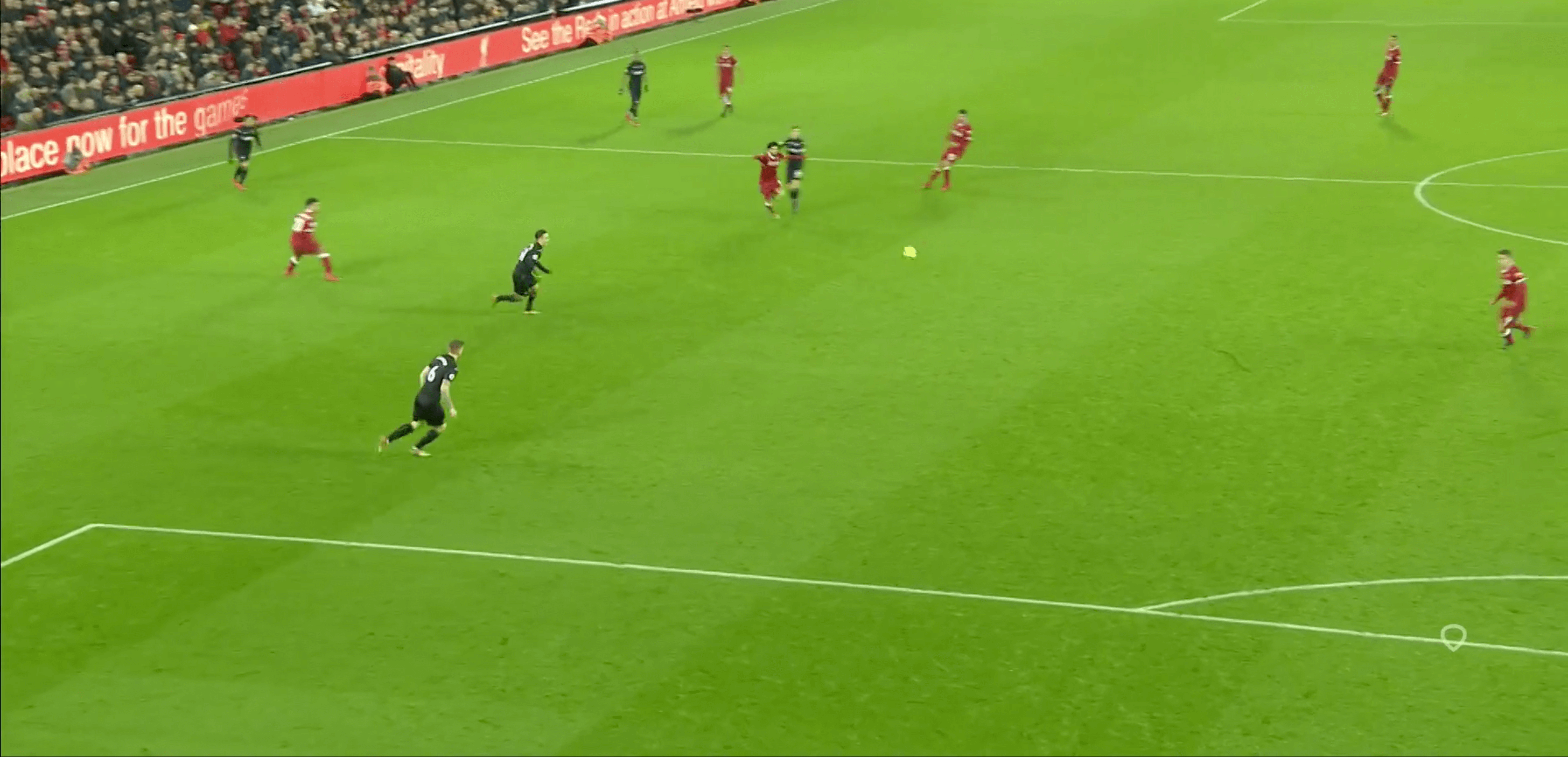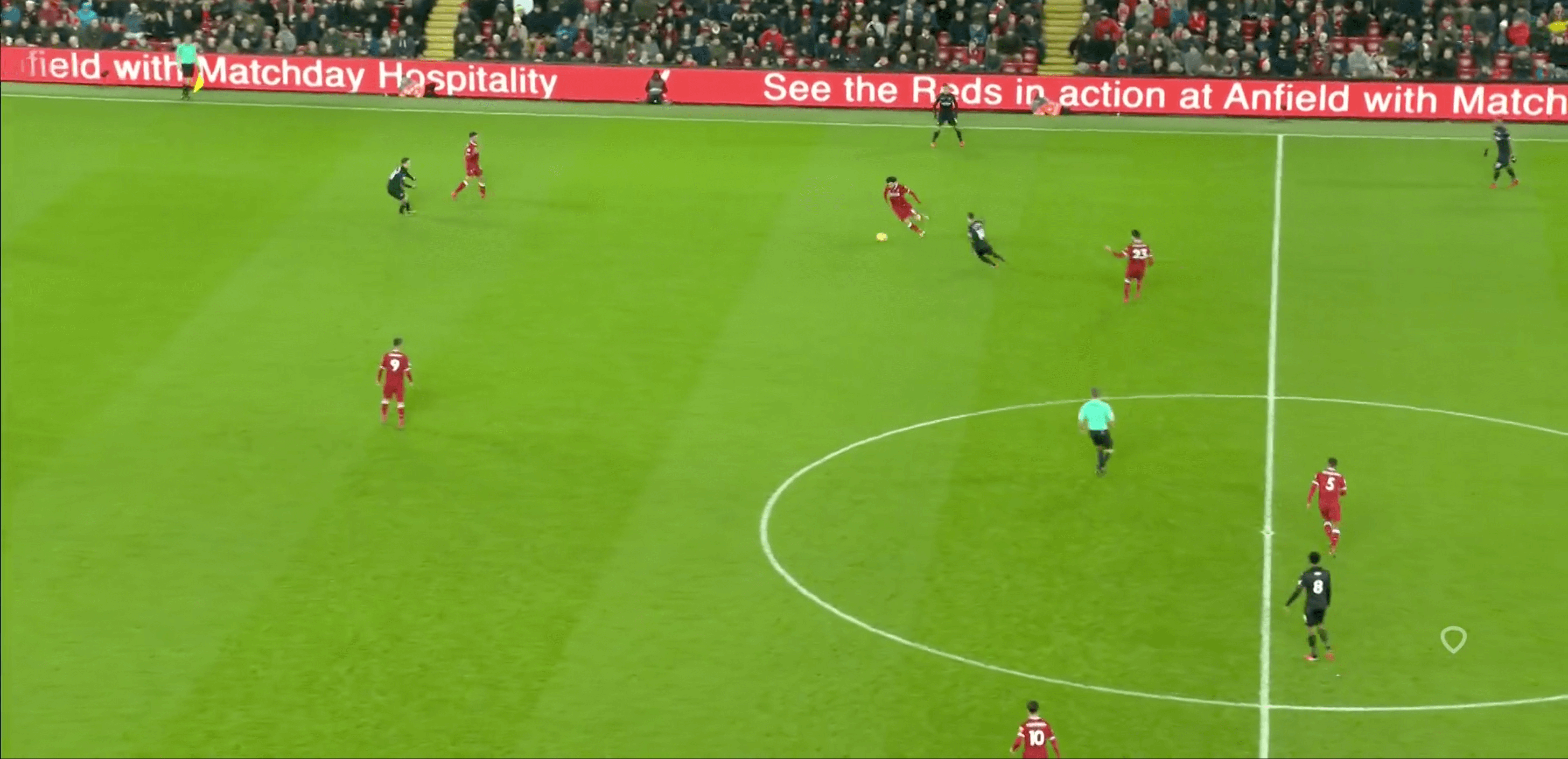 But, the defensive tone I referred to earlier was still present, even when Liverpool were quite comfortable. In the frame below, Liverpool's full-back, and forwards are all in and around the Swansea box, but here we can see Wijnaldum filling in on the left-channel for Robertson, but in an advanced position, in order to support Can, should Swansea regain the ball, and counter.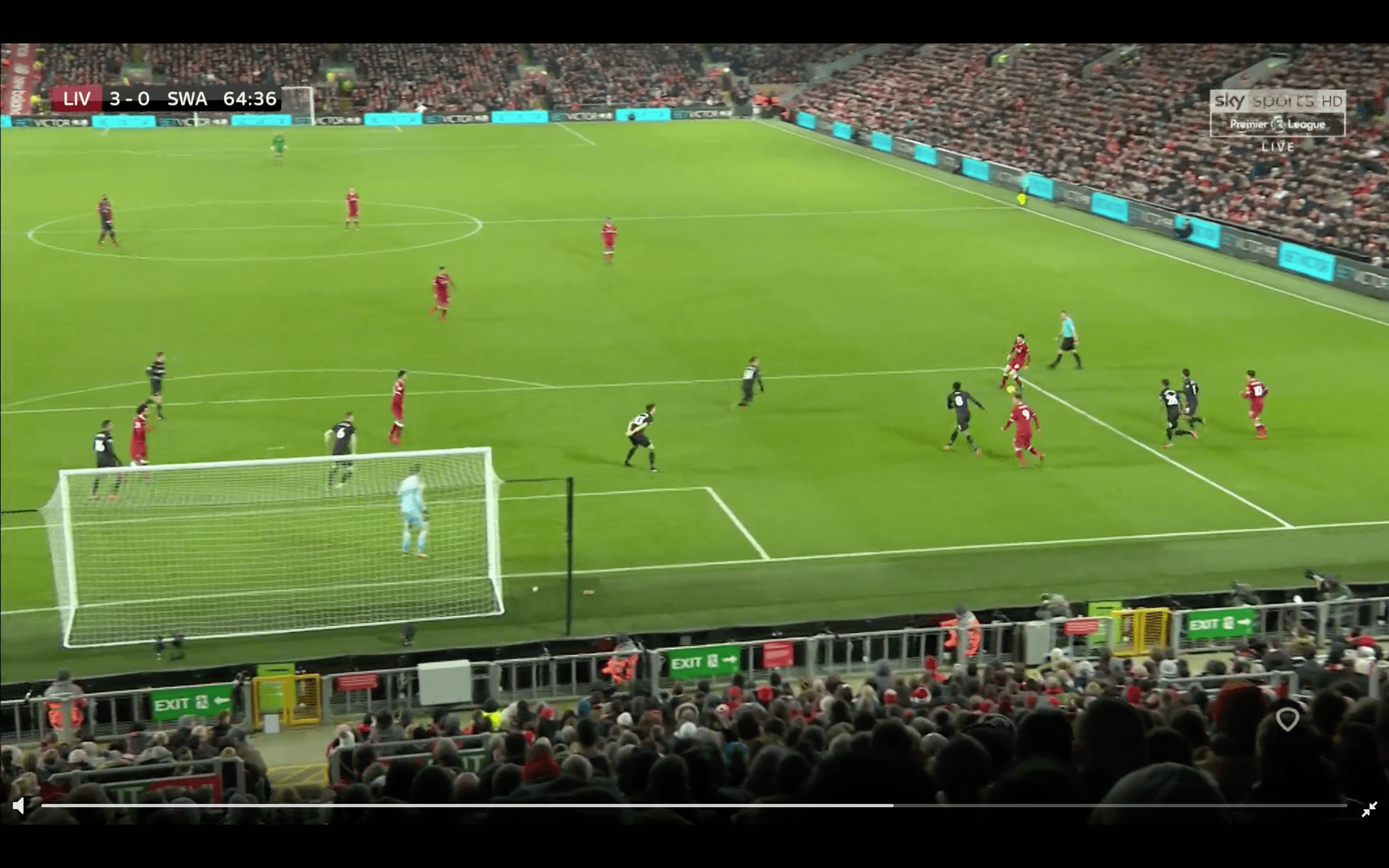 For all of this fluidity though, Liverpool looked very poor for the majority of the first half. But there was a considerable difference between Liverpool's offensive approach in the first-half, and for a great deal of the second-half, compared to previous strong offensive displays – such as the Arsenal game. Liverpool were attacking excessively down the centre of the pitch:


Against Arsenal, 39pc of attacks were down the right-side: Salah's side, and his 17 passes, and 1.7pc of total possession reflect his significantly reduced time with the ball, and attacks down that particular side.
But the half-time break saw a slight tactical tweak, as Wijnaldum freed himself up more, and drove with the ball – making 5 dribbles, the joint most (with Coutinho) of any Liverpool player. Chamberlain's move to a more forward role suited him far better too – his pressing was fantastic from deep, but once he moved forward, his possession play and influence with the ball increased greatly.
But key to Liverpool's second-half resurgence was Philippe Coutinho, whose 5 key passes, and quick feet, recycling and dynamism from both deep, and in wide positions around the box, prevented Liverpool from being static, and Swansea from setting up in a strong defensive shape.
It seemed Liverpool were struggling because of how disciplined Firmino and Salah were, in keeping their positions up top – usually Firmino drops a greater deal, to connect the midfield and forwards, but as Liverpool were able to run into space, and attack with numbers, this became less of an issue, and instead a benefit, with Firmino and Salah's advanced positions pinning back Swansea defenders, and also allowing Firmino to exploit goalscoring opportunities. Coutinho took up the central role though, and thoroughly dominated the game:
https://twitter.com/BrazilStat/status/945739631441702913
Passmaps & xGplot for Liverpool against Swansea. #passmap #xGplot #autotweet pic.twitter.com/7is0r4UyKY

— 11tegen11 (@11tegen11) December 26, 2017
It was surprising though, even with reduced ball-time, Mo Salah did not score again (much to my FPL anguish), indeed he has a sizeable 0.61 xG. Nevertheless, he still impressed in other ways – contributing with two assists:
Mo Salah had 1.4 xGChain
He has the highest involvement of any Liverpool player by >30% this season

— SimonBrundish (@SimonBrundish) December 26, 2017
His xG chain of 1.4 was followed up by Firmino's 1.1, and substitute, Solanke's 0.83. Without even needing to bring on Mané, Klopp's side closed the game out not only with ease but with verve and style, putting Swansea to the sword, as Salah came off for Lallana.
Liverpool's top ten players for frequency of goal contribution this season: pic.twitter.com/ugnFwajQAf

— Andrew Beasley (@BassTunedToRed) December 26, 2017
Without being particularly brilliant, Liverpool dispatched Swansea, after a rather perplexing setback against Arsenal. I hope this particular piece, in which we looked at some midfield positioning was a bit more interesting than just breaking down the goals, and in January I'll try to have a look at a certain Virgil Van Dijk in this sort of fashion too. Anyway, I leave you, for the first time, with one of my own tweets, summarising the game:
Scoring 3 low(ish) chances, in terms of probability, and not scoring 3 (high probability/convertibility) chances. Remarkable to think #LFC did so, and won 5-0, without even playing outstandingly well, while not scoring some of those big chances. https://t.co/qvQW9hlEG2

— Hamzah (@HamzahKL97) December 26, 2017