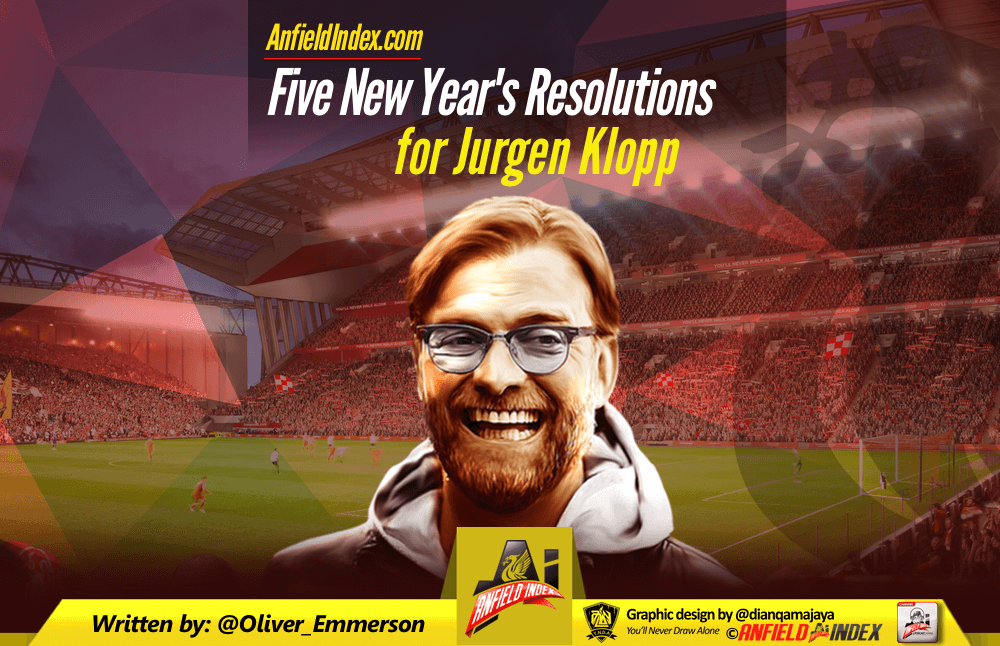 Five New Year's Resolutions for Jurgen Klopp

The New Year. A time for reflection, but also time to look forward. Forward for the Reds, forward for Jurgen Klopp.
I doubt the beautiful German will have 'go to the gym more' or 'catch up on the soaps' on his resolutions list, but here are a few Liverpool related issues he might want to consider as one year becomes another.
Keep smiling
I'm not going to lie to you. I had 'Operation Virgil' down as my first resolution. Klopp's only gone and done it before New Year's Eve. My mood has increased considerably, perhaps I should have been nicer to him in number five.
So, here's me scrambling for a different resolution. This one is a little soft, soz abar that. However, it's important. The Liverpool fanbase is a mad one. We're a beautiful bunch of followers but we don't half put the man leading us under stress.
Jurgen Klopp has done much more good than bad since taking the reigns in October 2015, but some of the bad moments has been very bad. He's pretty much nailed his response to each of them, doing so with a smile.
Much of what makes Klopp the manager he is, comes from his persona, he's a positive guy, he wants to play positive football and implements a positive mentality. It's important for that to continue in 2018. Keep smiling, Jurg.
The goalkeeper
It's in vogue to criticise Simon Mignolet after his Arsenal blunder, but most Liverpool fans would admit that the goalkeeping issue has remained an issue throughout 2017.
Klopp clearly doesn't have complete confidence in either Simon Mignolet or Loris Karius, or there would be an established first choice. Mignolet has reverted back to being average after a stunning start to the year, whilst the feeling is there that Liverpool dominated their Champions League group in such a way that we still haven't truly seen what Karius has to offer in a Liverpool shirt over a sustained spell.
In 2018, something must give. I wouldn't make Mignolet the outright number one, but Klopp could. If Karius is going to stay at the club, he needs 20 straight games to evaluate whether he's truly at the level required. A new 'keeper could be bought, with Mignolet and Karius sold. "What about Danny Ward?" I hear you ask.
Who knows? Whichever way, Liverpool must end 2018 with an outright first choice capable of playing for a title-winning side. It's up to Klopp to judge if they have that now.
Back-up striker fiasco
Not as much of a pressing issue as the aforementioned pair, but still an excruciating one. Roberto Firmino is now Liverpool's first choice striker, and he's scoring more than many of the 'proper strikers' out there, silencing the 'buy a Harry Kane' crew.
Who remains his second choice is a mystery.
Despite being fairly impressive whenever used over an extended spell by Klopp, Divock Origi was sent to Wolfsburg in search of game-time. He may return to these shores, he may not. Would Liverpool fans be that bothered?
Dominic Solanke is there and thereabouts, he's looked impressive when used this season but were Firmino to sustain a long-term injury, can Liverpool place their striking hopes in the feet of a 20-year-old with a handful of Premier League appearances under his belt? If Solanke is to progress to be a perfect second choice striker, he needs the minutes he's getting now plus the minutes of…
Daniel Sturridge! I love him and so do you, probably. But, being honest, what is the point of him anymore? At Liverpool, I mean. For a striker of his obvious quality, are we doing him an injustice to keep him here, sacrificing some of his minutes to Solanke and patting him on the back for being a 'team player' and scoring in routs against Arsenal, Maribor and Huddersfield?
Sturridge has good years left in his career, but he won't enjoy them at Liverpool. The general feeling is that Sturridge has given all he can to Liverpool, with Liverpool giving all they can for Sturridge. For the sake of both parties, a move to somewhere sunny may be the move perfect for Daniel.
That could leave Solanke as the undisputed second choice, maybe Origi, perhaps someone is bought. There's a few of you in the wings chatting about Rhian Brewster.
In 2018, Klopp needs to decide who his Michy Batshuayi is. Who his Fernando Llorente will be, or even his Zlatan Ibrahimovic.
Competitive progress
Yes, yes. I want Klopp to improve all these aspects of the team, and it must be for some purpose, that purpose being on-field progress. Everyone wants Liverpool to win the league. Most know that there is progress to be made without winning the league.
When Klopp arrived Liverpool had finished in the top four once since 2010. That was ticked off. There had been no Champions League last 16 in this decade, that has been overturned.
Record goals are being scored, impressive points tallies are set to be totted up and the natural progression under Klopp's side is clear to see. 8th to 4th, perhaps 4th again but with a Champions League run, maybe even an FA Cup trophy?
That needs to continue into 2018. The high's and low's of the Brendan Rodgers era gave Liverpool 2nd the year after it had provided 7th, but then they were back down to 6th. There was no consistent progression in playing style, players or even league finishes. That's what Klopp has got going for him, and what he needs to continue with next year.
But if natural progression leads to an earlier than expected league win, we'd all be fine with that, Jurg
Game management
Klopp has done many good things this year, managerial wise. He tightened up the defence when it was needed to secure a top-four finish, he's blended fantastic attackers into a system that gets the best out of all of them, whilst coming up with new formations in the latter stage of the year to counter opponents and keep the wins coming.
One thing that fans feel he's disappointed in, is his game management.
Having trust in your players is excellent, but there are times where changes need to be made and they've simply come too late. Chelsea at home for example, Antonio Conte's inclusion of Cesc Fabregas seeing Liverpool pegged back to the extent that nobody was really surprised at Willian's cross looping into the net. Klopp hadn't been pro-active enough.
The Reds have lost more points from winning positions than any other side in the league this season. Part of that is because they score so many goals, they're always getting into winning positions. However, part of it comes down to game management, James Milner alluding to it after the 3-3 against Arsenal, suggesting Liverpool need to know when to slow things down more than they do now.
If all the winning positions can be converted to wins next year, we'll be laughing.