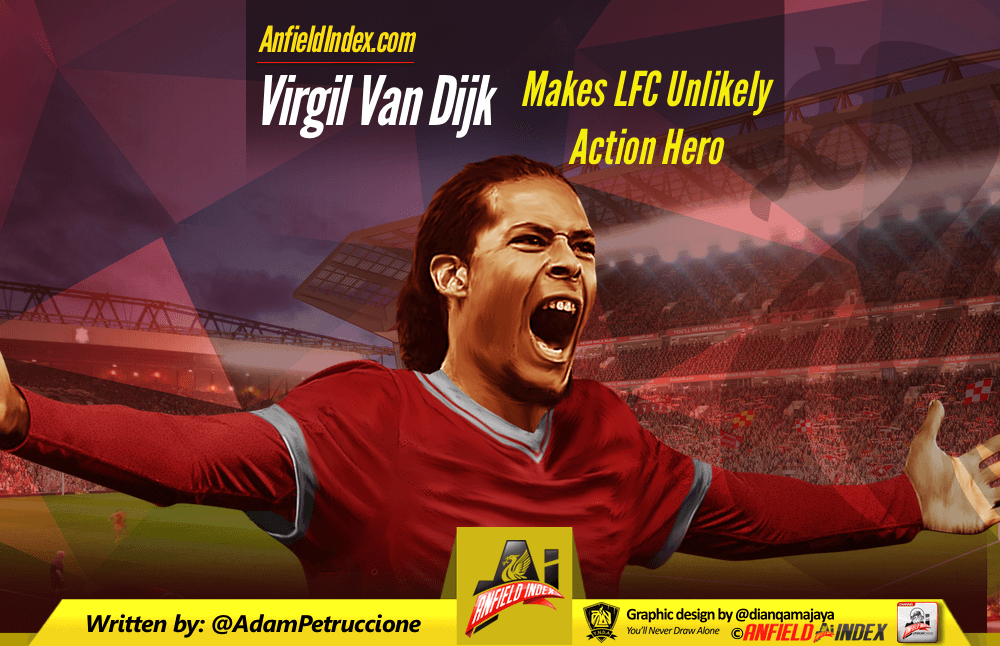 Van Dijk Makes LFC Unlikely Action Hero
Why do we watch Liam Neeson action movies? On the surface, it doesn't make much sense. He's not exactly Jason Statham or Dwayne Johnson, but after wrestling a few wolves and using his particular set of skills he's somehow an action movie guy.
Liverpool supporters have been telling anyone who would listen that The Reds are one of the top clubs in the world. One minor problem; the club couldn't attract or retain top players. Their targets would slip through the club's fingers transfer window after transfer window. Liverpool had done a lot of monitoring, but not a lot of signing when it came to the top level talents.
Like Liam Neeson, the football world is now craning their collective necks towards Liverpool, thinking to themselves, this old bastard is willing to fight off wolves with broken bottles to get home to his family… or something to that effect.
THE CHASE
As early as May, Liverpool's intended targets were known to the Twittersphere. Mo Salah, Naby Keita, Alex Oxlade-Chamberlain and Virgil Van Dijk all took a bit of a battle, a lot of money, plenty of determination and some serious cojones to get over the line. In hindsight, the path from rumour to confirmation was exciting, now that they're all safely in the squad. As the dog days of August ticked off the calendar though it was stressful stuff for any supporter following the daily developments.
All of these players will be key to Liverpool's future through their performance on the pitch, but their transfers may have a more important impact off of it. Liverpool are now cementing a reputation in Europe of a club that has a specific style of play, designates targets early and will go to the ends of the earth to get the deal done. The Reds won't move on to easier targets when the going gets tough. They won't look elsewhere when the manager or the club's "brand" is damaged. If you're on top of a spreadsheet in Michael Edwards' laptop they will just keep coming for you regardless of the obstacles.
If Ryan Sessegnon were bundled into a black van while walking down a London sidewalk this afternoon his reaction would probably be, "what took you so long?"
For today's footballers, there are only so many chances, so many windows to make a big move in their career. If they put their faith in a club coming for them and an unexpected hurdle trips up the deal they may never get the opportunity again. The fact that agents and players know that Klopp will be at Liverpool for the long term and believe that once you have his promise that the club will stop at nothing to complete the deal… that has to be a major benefit for future business.
THE NEXT TARGETS
The latest ITK rumblings (and who would doubt them now?) are that Leon Goretzka could be the next with Roma keeper Allison close behind. Liverpool are building serious momentum having closed these mega deals, keeping key players in the fold and most importantly with their success on the pitch. It shouldn't be a surprise to anyone at this point if players like Goretzka, after being recruited by half of Europe, choose Merseyside.
Had the club moved on from Van Dijk to close an easier deal for Davinson Sanchez in the summer they might have saved some supporter stress, but they wouldn't have the same credibility that they now enjoy. Whoever the next starlet is that lights up LFC Twitter, Liverpool's supporters, rival fans, players and agents now know that if Klopp and Edwards say they're going after them, they'll eventually get their man even if it requires a near-comical series of pitfalls involving private planes, Mercedes vans and Blackpool rollercoasters before a contract finally is signed.
The January transfer window is nowhere. God knows what deals this rejuvenated Liverpool are capable of, but it looks like it will be worth the price of admission to find out.