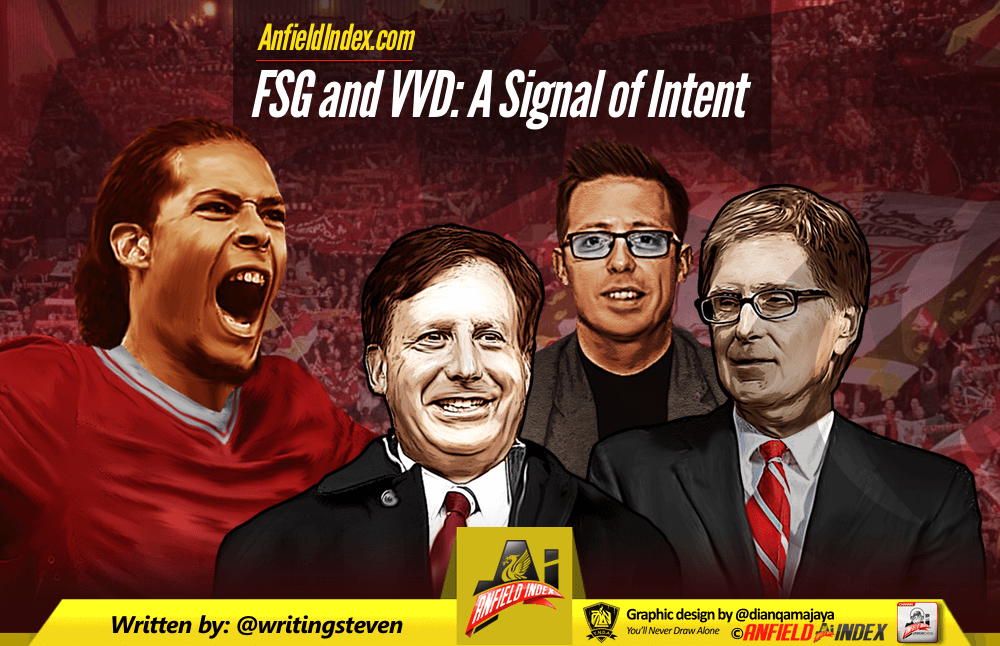 FSG and VVD: A Signal of Intent
As signals of intent go, it doesn't get much bigger than Liverpool's signing of Virgil Van Dijk from Southampton. On multiple levels, the transfer for the Dutch international defender states firmly and unequivocally that Liverpool are no longer messing around in the transfer market. They're ready to compete.
Firstly, there's the fee itself, a reported £75 million. It's the third highest fee ever paid by an English club (Manchester United, who "haven't spent enough" occupy the first two spots, but let's not go there). It's also a world record transfer fee for a defender. Yep, Liverpool Football Club have gone and shelled out more money on a defender, than any club in world football ever has before. A club that's happy with Champions League qualification alone, doesn't do that.
If you want to be a team that wins things, you have to look for the best players. By making Van Dijk the world's most expensive defender, Liverpool have shown that in the eyes of the club at least, he is viewed as the best available defender on the planet for this team. You don't buy the third best available (and I'm going to keep stressing available because it's important) defender, for a world record fee. World Record fees are reserved for the world's best players.

The fee is also an indication that Liverpool's owners – the at times much maligned Fenway Sports Group – have changed their entire recruitment model. Gone are the days of youth only recruitment and bargain hunting. The desire to make only signings that will bring a return and profit on the original fee has been discarded, placed in its stead is the realisation that to compete with the big boys, you have to do just that, compete. Both on and off the field. You have to break your record transfer fee.
This is a concept that FSG seem to have embraced wholeheartedly. You could go so far as to say they've taken it to extremes that many supporters did not think possible. Extremes like breaking your record fee four times within a six-month timeframe. Let that sink in for a minute. Four times, in six months. Mo Salah, Alex Oxlade-Chamberlain, Naby Keita and now Virgil Van Dijk. The club that had previously gone six and a half years between Andy Carroll and Mo Salah without a new record fee, has now gone and done it four times in SIX MONTHS! As of next season, they will also possess the three most expensive African footballers in history.
The transfer has also demonstrated other changes in the FSG model of recruitment, away from fees alone. It's shown a desire to pursue and attain your number one target. To address the glaring issues within your playing squad. In the past, this kind of determination has been sorely lacking. The club seemed to have a list of players that it would slowly but surely make its way down, failing to sign its top targets along the way and eventually settling for signings who can be graded 'lower tier' at best. Hi Mario Balotelli.
Everybody in football knew that Virgil Van Dijk was the man that Jurgen Klopp wanted above all others. It was such common knowledge that the club were reported to the Premier League by Southampton for tapping up their prized asset. It would have been incredibly easy for the club to wash their hands of the whole thing and cast their gaze elsewhere. Stick it in the 'too difficult' box and move on. But they didn't. Klopp wanted Van Dijk. So they were going to give him Van Dijk.
The relationship with Southampton was repaired, with the ever elusive Mike Gordon supposedly at the centre of it all. And make no mistake, this was no easy task. Much acrimony existed between the clubs and any Southampton fan will tell you that the club they least last wanted to sell their latest best player to, was Liverpool. They didn't want Van Dijk to go the same way as Clyne, Lovren, Lallana and Mane before him. But that's where he ended up. Despite the interest from other top clubs.
If the newspapers are to be believed, Manchester City and Chelsea were both in the hunt for the big defender, both in the summer and now. Two clubs who have in the past spent monumental transfer fees of their own and snatched Liverpool's prized asset (Raheem Sterling) and transfer targets (Willian and Mo Salah MK1) away from the redmen. But this time around, Liverpool were doing the snatching. As evidenced with Naby Keita in the summer, Liverpool demonstrated a willingness to pay a premium to ensure that they captured their chosen target ahead of their rivals.
Finally, any conversation around Liverpool signings would be remiss not to mention the pull and influence of the manager, Jurgen Klopp. Yes, money talks. But if the player doesn't want to play for your manager, the fee you're offering goes out of the window. Hi Alexis Sanchez. In their feisty German manager, Liverpool have a personality that draws players to the club. Much has been made of Van Dijk's desire to play under Klopp. To be a part of what is being built at the club. FSG have been smart enough to not only trust their manager but to capitalise fully on everything that he offers.
So let's give credit where credit is due. FSG have learned their lessons, splashed the cash and given the biggest signal of intent yet. Liverpool Football Club is ready to compete. On and off the field.