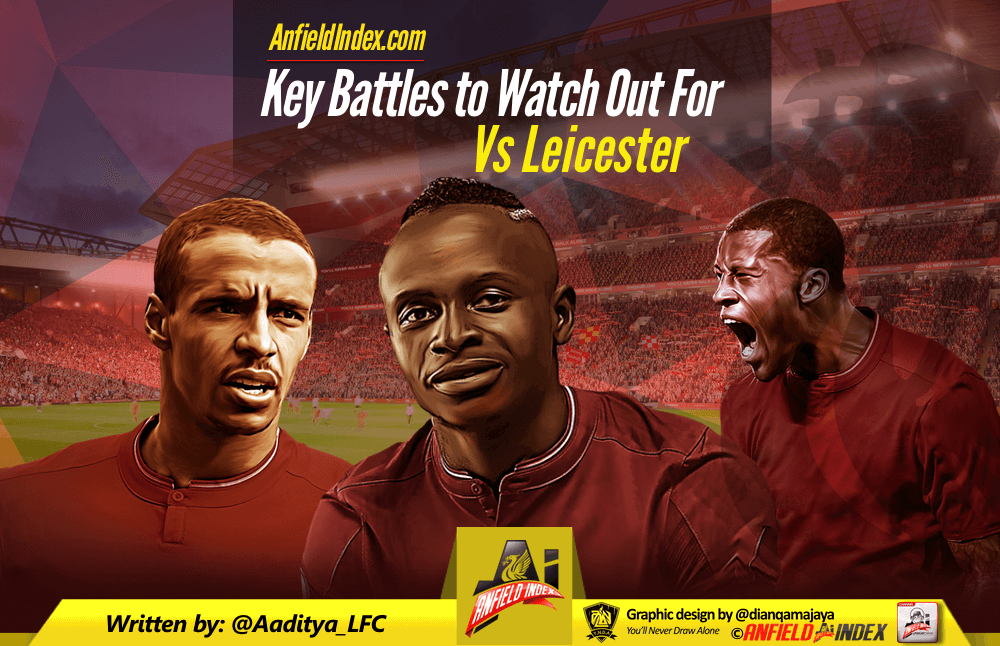 Liverpool v Leicester Preview - Key Battles
Alright, it's time for the euphoria to die down. Liverpool have got Virgil van Dijk, but now, it is time to focus on more important business – racking up the Premier League points and keep ourselves firmly in the race for the Premier League top four.
Leicester City are the next visitors to Anfield, as the Reds look to end 2017 on a winning note, before heading to Burnley on New Year's Day.
Leicester have resurrected their season under new manager Claude Puel, but come into the game on the back of a 2-1 defeat at Watford, with a Kasper Schmeichel own goal condemning the Foxes to defeat. Liverpool, on the other hand, handed cellar dwellers Swansea a hiding on Boxing Day, to extend their unbeaten run across all competitions – the Reds are unbeaten since losing to Tottenham Hotspur in October.

Drawing at Anfield has been a repeated theme in the Reds' season so far, and it has ensured Liverpool aren't higher in the table than they actually are.
Jordan Henderson is ruled out of action until February, meaning Klopp has one option less, when it comes to his rotation.
Here are the key battles that will decide the outcome of the game.
SADIO MANE v CHRISTIAN FUCHS
Mane will definitely come back into the Liverpool side having sat out the game against Swansea, and it is an ideal opportunity to prove that his form is no worry for Klopp and Liverpool.
Since the derby earlier this month, Mane has looked a little bit off the boil though. He has made questionable decisions in games, and it looks like he isn't operating at full throttle.
However, it is reassuring that he has been getting into goalscoring positions and would have had a few more goals to his name had he made the right decisions in those instances.
His form should be the least of Liverpool's concerns though, only because he's still been involved in the thick of Liverpool's attacking play even if he hasn't been netting the goals. That is just a confidence thing, and he just needs one moment to turn this supposed bad form around, because his overall play has not been a concern just yet.
It is very likely that all of the Fab 4 won't start, and in that case, it will only put more responsibility on Mane's shoulders. Mo Salah might well be rested, meaning Mane will be able to operate from the right wing position that he played with aplomb, for all of last season.
Fuchs didn't play the game against Watford, and he will be aiming to use his experience to shackle Mane and play on his lack of confidence. The Austrian isn't the quickest across the turf, so it will be important that Liverpool are able to get Mane playing on his shoulder and releasing balls in behind the Leicester defence.
JOEL MATIP v JAMIE VARDY
Vardy has scored in each of his last 4 appearances against Liverpool, and while some of his goals have been gifted to him, some have been scorchers.
The Reds have certainly been charitable to him very often, but that is what Matip will look to stop on Saturday. It will be one of the last games for Matip as the "leader" of the back four, with van Dijk almost certain to take over that mantle once he starts playing in January.
Having just returned from injury, Matip could not have hoped for a much easier way to get himself back than the game against Swansea, as the Welsh club barely threatened Simon Mignolet's goal.
It will be important that Matip and the others around him do not switch off for even a second. With Vardy's pace, the counter-attack is only one pass away, which means that Liverpool's defensive line cannot afford even a momentary lapse.
Both Joe Gomez and Andy Robertson have, at times, been guilty of dropping one step too deep and playing everyone onside. Such mistakes will be fatal against someone of Vardy's calibre.
Riyad Mahrez has found his touch for the Foxes again, and if the Reds can block off Mahrez's route to Vardy, that is half the job done, but for that, it is important that the entire defensive unit is in sync with each other.
That is where it will be important that Matip is loud and vocal, to get everyone on the same page to nullify Vardy. Otherwise, another goal against his favourite opponents might not be too difficult for him.
He will also be looking to make amends for his missed penalty that cost Leicester two points when the two sides faced off at the King Power Stadium earlier this season.
GINI WIJNALDUM v WILFRED NDIDI
Wijnaldum didn't have a great game against Swansea, but as usual, he covered a lot of ground. At times, he also carried the ball a fair distance up the pitch, albeit without really having anything significant at the end of the run.
Given the amount of stick Jordan Henderson and Emre Can seem to be receiving, it is surprising that Wijnaldum's average form has not come under the radar a little more, but with Henderson ruled out and Wijnaldum having not started against Arsenal last Friday, it is highly likely that he will start again against one of the most promising young lights of the Premier League.
Ndidi really has got all the ingredients to be a top-class midfielder and is the one that Puel looks to, to pull the strings in their midfield. So one can be assured that Wijnaldum is not going to have an easy outing.
One glaring flaw in Wijnaldum's game is how little he seems to be involved in the play – in terms of passes and touches, which are consistently low. For a midfielder, the first thing to do is to make yourself available for others to play simple passes to you, and he doesn't seem to be doing that enough.
But, with the game at Anfield, history would suggest that he has a better chance of actually having an impact on the game. He's been in the Premier League for 27 months now, and still does not have a goal away from home – one of the most curious stats I've ever seen in the Premier League.
With his fellow Dutchman touted to be in the stands on Saturday, there is just that little-added incentive for Wijnaldum to end 2017 with a strong performance, the likes of which have been few and far between so far this season.
Wijnaldum ended 2016 at Anfield with a winner against Manchester City. An encore would not be a bad way to end 2017.