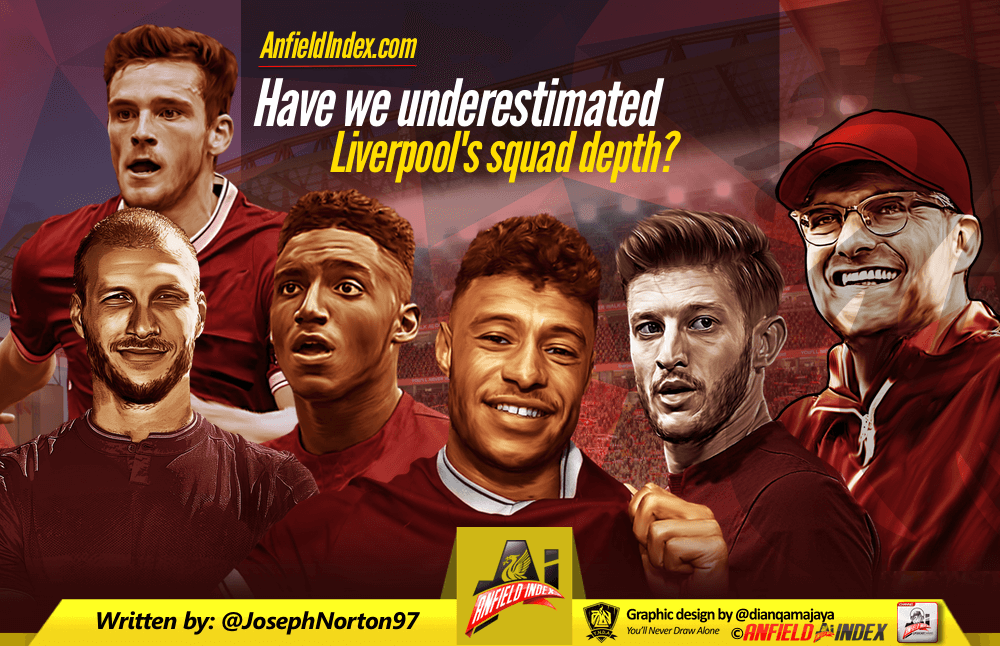 Have we underestimated Liverpool's squad depth?
Over the last month or so we have seen Jurgen Klopp increasingly trust his squad which has seen him rotate a number of his first choice eleven in and out of the side. With the added demands of European football, it was clear Klopp was going to have to utilise his squad players a lot more this season but it should also highlight to us all how the German is building a team which is capable of challenging on all fronts. In pretty much every game since Sevilla we have seen the boss make changes to what we would perceive to be his preferred eleven, however, results and performances have continued to be pretty good. Not only do we have players coming into the side that have quality but they also possess similar attributes to the ones they are replacing. Much has been made of the quality of our first eleven but is it about time we properly recognised the impact of those who have come in and replaced them?
Had Nathaniel Clyne been fit for the start of the season there is little doubt he would've been first choice at right-back, yet even without him we still find ourselves with two very good players in this position. Joe Gomez has continually grown into this role since the start of the season, aided by the way Klopp has evolved it complimenting the physical and defensive attributes Gomez possesses. Because the England international is coming off the back of two serious injuries his game time has had to be managed which means Trent Alexander-Arnold has been given the opportunity to impress. At just 18 years-of-age Trent still has a lot to learn, particularly in a defensive sense, however, his quality is there for all to see. Because of Trent's attacking instinct, Klopp has carefully chosen the games to bring the youngster into which has meant he has been able to play his natural attacking game without being tested in high-pressure situations defensively. As a result, we haven't seen Matipa drop off in performance at right-back despite Liverpool's first choice for the position at the start of the season remaining sidelined which is testament to the development of both players.
Although Liverpool currently lack real quality at centre-back, this will hopefully all change now Van Dijk has signed, the Reds haven't suffered too much when it comes to a lack of depth. Joel Matip is our best defender with Dejan Lovren, Klopp's preferred partner for him, however, when either one of these has been injured or particularly in Lovren's case out of form Ragnar Klavan has come in and done a good job in defence. We all know the strengths and weaknesses all three possess but with the imminent arrival of Virgil Van Dijk hopefully, we are seeing one of the Reds major weaknesses of the last five to six years being addressed. It is likely Van Dijk and Matip will be Klopp's preferred partnership going forward with Lovren and Kalvan only playing when desperately needed which although isn't the perfect situation is a lot better than this time last year when Lucas Leiva was having to fill in and at times was our best defender. The evolution of Liverpool's centre-halves hasn't been quick enough but I think we are very close to seeing major upgrades in our back-line.
Despite serious questions being asked of his future, Alberto Moreno's performances this season have been largely brilliant. He's not perfect but he has all the attributes to be a great left-back in Klopp's system and if he continues this development I have no doubt he will fulfil his potential. Now more defensively aware, Moreno's attributes of being a front-foot, all action, attacking full-back are really shining through to the benefit of the team. Some of his development could be put down to the competition summer signing Andy Robertson is providing – the player who many expected to be the Reds first choice left-back for the season. When Moreno has needed resting or in more recent weeks been injured, Robertson has come in and been very solid. He may not have all the physical attributes of Moreno but the Scottish international has hardly put a foot wrong when he's played and is now developing his skills which are making him a very effective left-back in Klopp's system. Having two left-backs who are defensively sound but also carry a threat going forward means that the Reds have this side of the pitch well covered whatever opposition they come up against. We also know the job James Milner can do in this position but having two left-footed players in this area of the pitch means whether Moreno or Robertson plays the dynamic of the team largely remains the same, a huge positive.
Central midfield is probably the position Liverpool have the most cover in, from players who can play in the 6 to box-to-box midfielders and creative midfielders the Reds have pretty much every area covered. Although there can be debate as to whether Emre Can or Jordan Henderson is best in the 6 what can be said is that both do a reasonably good job in it and we haven't seen a big drop off in performance when either one has played there. With Henderson out injured for several weeks and numerous games coming up, people could be concerned about this position, however, Klopp's tactical flexibility to play a 4-2-2-2 when required means if Can needs resting he can revert to a more conventional two-man midfield which means he doesn't need a number six. Excluding Henderson and Can who can both play in a two-man midfield, anyone of Gini Wijnaldum, Alex Oxlade-Chamberlain or James Milner can fulfil this role to the level we need against teams in the Premier League. There may have been question-marks as to whether Ox could play in a two-man midfield a couple of weeks ago but his performances in recent times seem to suggest he could be extremely effective in this role as he possesses the physical and technical attributes as well as the defensive awareness required.
Liverpool's two creative midfielders are Philippe Coutinho and Adam Lallana, both are completely different players but provide that creative spark from midfield. We all know the quality Coutinho has, he's simply magic but Adam Lallana offers this Liverpool side something very unique. His ability in tight spaces means he can operate and link play in the half spaces which is extremely difficult to defend against even when teams are playing in a low block. The work rate and pressing he brings to the team cannot be underestimated either. If the Reds continued to persist with a rigid 4-3-3 formation like they did last season then questions may be asked as to whether we have enough cover in this position, however, Klopp's use of the 4-2-2-2 formation means there's been less pressure put on these attacking midfielders to link the midfield and attack together which has meant Lallana's absence hasn't been as detrimental as it could've been.
Mo Salah and Sadio Mane have been the Reds two main wingers this season, with both being very effective especially Salah who has been magnificent. Having two of the best wingers in the league mean Liverpool's attacking force is as good as it has been since 13/14, at their dynamic, fluid best this frontline really is irresistible. When either one has been rested it has been Coutinho who has moved to left-wing and the impact of this to the team has understandably been fairly insignificant as you would expect when a player of Phil's quality makes this transition. Although Oxlade-Chamberlain can play out-wide it is becoming more apparent that Klopp sees his future in a more central role as he doesn't seem to have the productivity needed to be effective in this position. Having said this, when Klopp has reverted to a 4-2-2-2 formation Ox has performed well on the right-hand side as there is less emphasis on him scoring and creating goals than a wide-man in a 4-3-3. This allows the Englishman's physical attributes to shine through helping to balance the midfield. Looking ahead to the summer I do believe Liverpool will have to sign another winger who is on a similar level to Salah and Mane if we want to challenge for the league and Champions league next season, ensuring Klopp has real quality in this area of the pitch even when Mane and Salah aren't playing. For the remainder of the season, however, Liverpool have more than enough quality on either flank to achieve their objectives.
The final position we need to look at is, of course, our striker's, Roberto Firmino has been largely brilliant this season scoring 9 goals and assisting 4 in the league which for a player who is often criticised for not scoring enough is fairly impressive. There is no doubt that the Brazilian could be more clinical at times but his work rate, ability to link the play and all-around technical ability means he is the perfect centre-forward for this side. Because of his continued injury problems and illness in recent weeks, we haven't seen much of Daniel Sturridge this season and the reality is we probably won't see much more of him in a Red shirt as he just can't be relied on and isn't the all-round player he once was. Sturridge's absence has presented Dom Solanke with the opportunity to cement his place as Liverpool's second choice striker. It is clear to see what Klopp likes about Solanke, his work rate, movement and technical ability all seem very good buts his end product isn't quite there at the minute as we've seen from his two starts in the league against Stoke and Everton. When our first choice striker is missing we need someone who not only possesses similar attributes to him but as importantly can be relied on to score goals and unfortunately Solanke isn't that player yet. I have no doubt the Englishman will remain at Liverpool for many years and develop into a very good squad player and at the minute he is doing a reasonable job to help the team. Having said this, centre-forward has to be a position Liverpool should be looking to sign a player in this summer. We clearly don't need someone to replace Firmino but we do need a player who can compliment Firmino and take the pressure off him when he isn't scoring. Of course it won't be easy to convince a player with similar attributes to the Brazilian, but is also clinical in front of goal to come to Anfield and be in rotation with Firmino but if the Reds want to compete with the likes of Manchester City in the league and Real Madrid, Barcelona and PSG in the Champions league then they must have the complete squad.
There are of course players such as Marko Grujic, Ben Woodburn and Danny Ings who are on the fringes of the squad that I haven't mentioned but because we are yet to really see them feature in the Premier League or Champions league I have decided to leave them out with a few if not all three quite likely to leave in some capacity this January. What this article does show is that although Liverpool may still be three or four top quality players away from being challengers in the league and Champions League, Klopp is slowly building a very well rounded squad. Despite a lot of rotation in recent weeks in all positions, the impact of the team's results and performances have been very minimal which is testament to the strength in depth we now have in the team. As mentioned we're all well aware of the improvements we need to see which will take us to the next level but it is about time we recognised the impressive work Klopp is doing as he attempts to create a side capable of challenging on all domestic and European fronts. If you look around the squad's of the other top teams in England you'll find it difficult to find anyone with as much strength in depth as we have. Jurgen Klopp is building something very special.