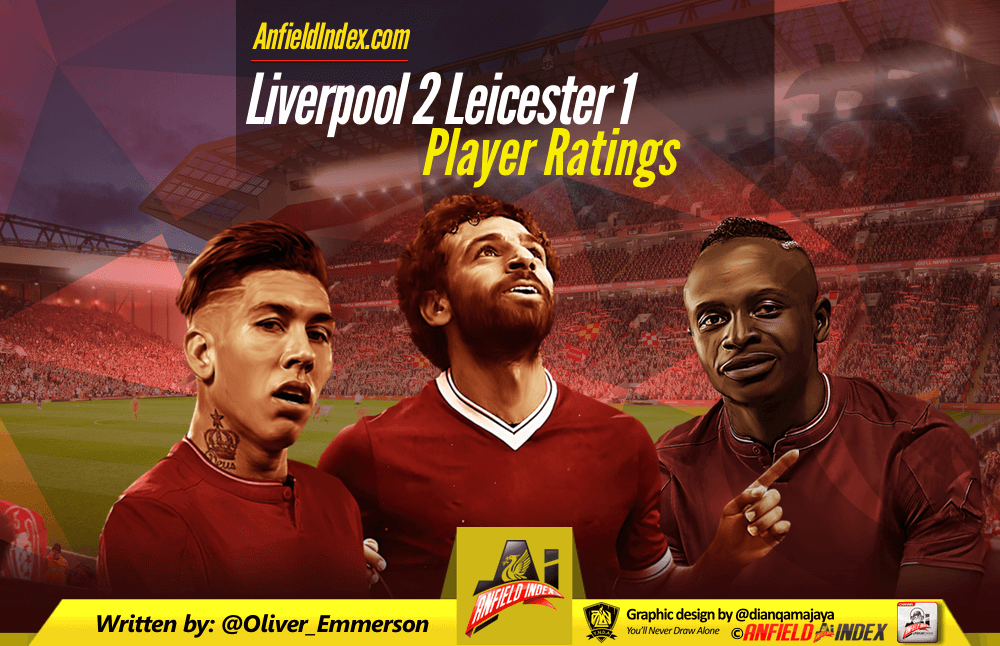 Player ratings as Liverpool hold off the Foxes
YESSSSSSSS! A 2-1 victory against Leicester City on December 30th isn't one that's going to go down in the record books, but at this moment in time, it feels like a big one.
The Reds went behind to Jamie Vardy's goal but came back strongly in the second-half. That man Mohamed Salah provided a beautiful brace to secure three points and set us up perfectly for a big top-seven clash against Burnley on New Year's Day!
How did everyone rate individually? Let's have a look.
Starters
Loris Karius (6): Liverpool haven't lost a game he's played this season, think on that. He's played eleven. Seven wins, four draws. Anyway, he was good today. Could do nothing about the opener, didn't have much to do after that but was nice and pro-active, such is his thing. Mis-judges one last cross where he punches Klavan but it looked very windy and I type this in front of a nice roaring fire, so who am I to judge?
Joe Gomez (6): A very 6/10 performance, which is fine from right-back. Good enough at the back, I'm not expecting him to pull up many trees going forward in terms of quality but could brush up a little on his decision making. The young defender crosses or dribbles a couple of times when there's a cut-back on to a more talented attacker.
Joel Matip (5): It's a terrible mistake and on another day it's punished. Passes the ball to Leicester, that's an issue. Did okay apart from that but I'm not letting him off the hook.
Dejan Lovren (6): I'm thinking of giving him a 7/10 for a solid performance, won most of his duels etc etc, then I catch another replay of the Leicester goal and see him strolling around the park as Vardy taps in. Minus one, but if everyone's auditioning for a place next to Van Dijk then he did okay.
Andrew Robertson (6): Weird one. First-half he's not great at either end, the one good ball he puts in gets whacked into the net but it's offside. Second-half a better one and he makes a couple of great challenges in the final minutes to keep Leicester out.
James Milner (6): Giving him a six as I can't think of anything bad he did but honestly it's painful watching him in a midfield pivot. Can't position himself with discipline, gets a silly yellow early on, not great at defending when people are running past him. But then he doesn't make a costly error and shows some neat stuff when he gets further up the pitch, so it's alright. Decent for the second goal.
Emre Can (7): He had a very six out of 10 performance. Then he's fantastic in the most crucial minutes when Liverpool are looking to hold on, so I bump him up one. You'll probably disagree. He's in that unfortunate position whereby people aren't bothered about anything good he does as he's leaving, but because he's leaving anything bad he does is met with sharpened knives. Lots on the Twitter saying he doesn't care and is playing poorly as a result, I didn't think he played poorly nor did I think that a lad wrestling Harry Maguire to get the ball back when we score "doesn't care".
Philippe Coutinho (6): A decent performance from Phil, nothing spectacular but that doesn't always have to be the way. Lovely pass to Mané for that disallowed goal, catch that on Match of the Day tonight. I might be harsh with this rating, but I'm so used to him scoring or assisting. Soz.
Sadio Mané (7): Interesting, I hear you say. The narrative is that he's having a bad month. In front of goal maybe, but elsewhere on the pitch, I'd disagree. Puts two in the net in fairness to him, both offside but it's clear he can still score goals. Would get a six if not for that glorious pass to Salah for the first. Keep plugging away, Sadio.
Mohamed Salah (8): Misses a few, scores a couple. Standard day for the King of Egypt really. The finish for the second goal is so good. Spinning Harry Maguire is enough but then Schmeichel is out so quickly, the finish has to be so good to score in the fashion he does.

Roberto Firmino (7): Industrious, good on the ball, keeps it intelligently late on. Some excellent needle in stoppage time to foul one of their lads in their box, stopping a counter. Comes deep and gets us moving forward for Salah's second, being the man who passes to Milner.
Subs
Alex Oxlade-Chamberlain (5): Shows everyone how not to time-waste by going down when he's barely touched, then tries to make up for it with a fantastically bad tackle on Ndidi. Wasn't unsafe though, so it's fine by me. Going off-topic, Klopp should get Puel drunk after the game and ask how much he wants for Ndidi.
Georginio Wijnaldum (N/A): Meh. Good decision to bring him on. Weird that he doesn't start today but probably will at Burnley.
Ragnar Klavan (10): Going to pretend he wasn't injured in stoppage time and was simply running the clock down. Ace.