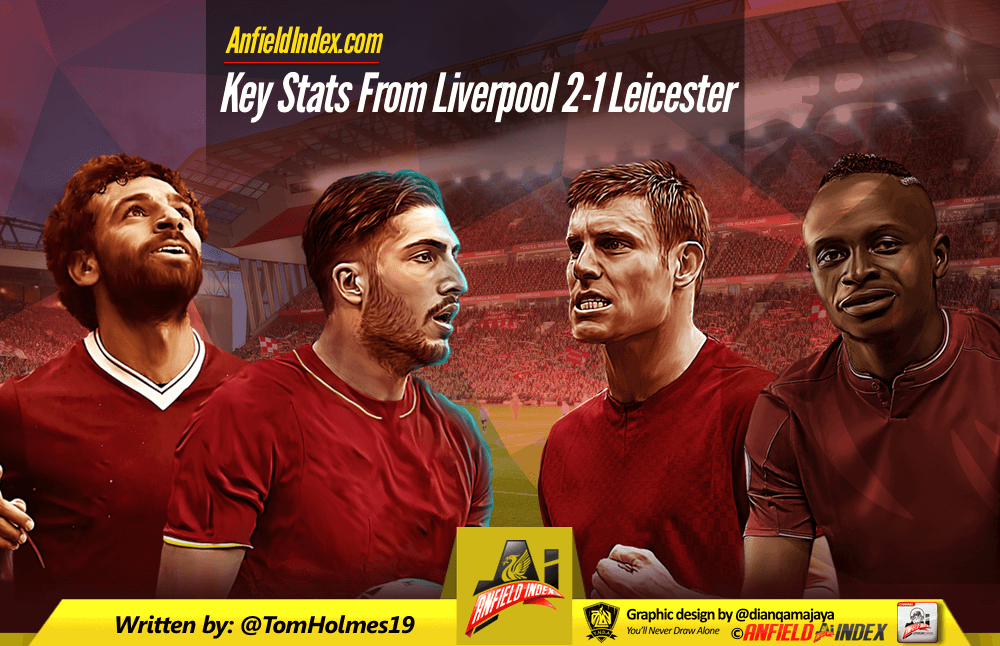 Key Stats from Liverpool 2-1 Leicester
Liverpool ground out a terrific 2-1 win over Leicester, with Mo Salah once again the goalscoring difference. But what were the key stats from Liverpool's big win?
Salah's Goalscoring Insanity
Mohamed Salah is Liverpool's joint-tenth top scorer in a calendar year in the PL era.
He didn't play until 12th August. pic.twitter.com/PsgFJHqQK0

— Andrew Beasley (@BassTunedToRed) December 30, 2017

Mo Salah is an incredible forward, scoring insane amounts of goals. With 17 league goals in 1597 minutes in the Premier League, Salah is scoring a goal every 94 minutes, just about one a game. And then there's the stat above, which contextualises just how incredible Salah's run of form has been, and on current form he could well eclipse even Suarez's goalscoring record for Liverpool.
When the dust has settled on Salah's season, he might well end up being not just signing of the season, but the best signing Liverpool have made in years, if not decades.
The M Factor 
Whilst Salah's goalscoring feats are important, they wouldn't have been possible without the support of Sadio Mane and James Milner, who both were excellent and Liverpool's primary creative forces. Both players created three chances, and both of them nabbed an assist. Mane created two big chances for Salah, managing an xA of 0.87, whilst Milner also created a big chance, with an xA of 0.57. Both players were very good, and both assists were well deserved. If Salah was the man deserving two goals today, these two were the men to assist him.
Emre Lays His Claim
I've talked about Emre Can in the defensive midfield role a few times in recent weeks, but he really is making the role his own, and laying down a come and get me claim to Europe's elite clubs. Five tackles, three clearances, two interceptions, four aerial duel wins, Emre was once again Liverpool's best player off the ball. He contributed on the ball too, but for all the talk of him lowering the tempo of Liverpool's midfield, Liverpool's tempo was good today with him pulling the strings from deep.
The Bogeyman Beaten
Liverpool have lost three times to Leicester under Jurgen Klopp, the most wins any side has secured against Klopp's Reds. Moreover, until today Klopp had never beaten Puel in a game, with the Frenchman frustrating Liverpool last season. This was Liverpool's first come from behind win of the season too, and only their third league win by a single goal. Two of those three have now come against Leicester. This was the sort of game that even a few weeks ago, Liverpool would draw 1-1. Now they're turning games like this into wins, slowly but surely.