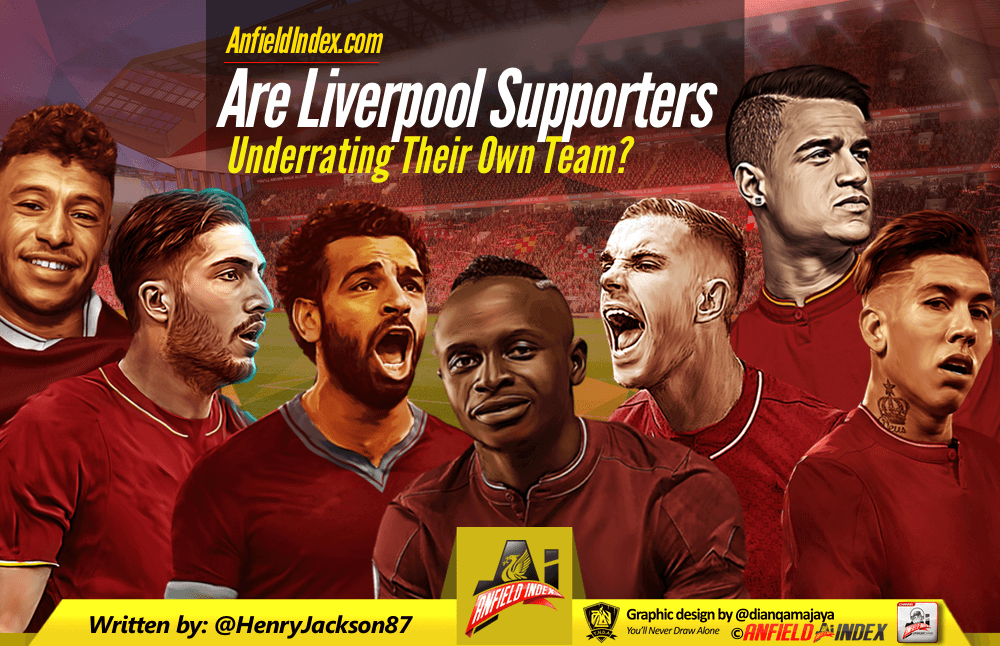 Are Liverpool Supporters Underrating Their Own Team?
As Alex Oxlade-Chamberlain fired home Liverpool's fifth goal against Swansea on Boxing Day, there was almost a flippant feeling of, "oh well, there's another goal to add to the tally" from some.
A 5-0 win in years gone by would have been lauded to the roof, but this has just become the norm under Jurgen Klopp.
It no longer feels special to trounce a fellow top-flight club, or Champions League opposition, for that matter.

We are all well aware of the deficiencies within this Liverpool side, and it is obvious that certain surgery needs to be performed if they are to become a title-challenging side in the near future.
Signing Virgil van Dijk definitely helps.
Reds fans don't half focus on the negatives more than the many positives, though, which is a shame when you look at some of the current majesty on show.
In general, as a collective, we are underrating what is a very good team – one of the best we have seen at Anfield in the last 25 years.
Man City's extraordinary march to the Premier League title isn't helping, in that respect, with records being broken left, right and centre and rivals being shunted away from the spotlight, but just look at the numbers on show by Klopp's men.
Mo Salah's winner against Leicester at Anfield on Saturday made it a staggering 77 goals registered by Liverpool this season, and we've only just reached 2018.
They have played 30 matches in 2017/18 so far, in all competitions, meaning they are scoring at an average of 2.56 goals per game, and the attacking football being conjured up is nothing short of mesmerising.
The Reds are still receiving plenty of plaudits, before this sounds too much like a hard done by tale, but are people fully appreciating just how good they are?
An Arsenal-supporting acquaintance of mine was at the Emirates on December 22 to witness the thrilling-but-frustrating 3-3 draw, and couldn't believe how special the 'Fab Four' of Salah, Philippe Coutinho, Sadio Mane and Roberto Firmino were in the flesh.
Interchanging at will, bringing different attributes and generally causing mayhem against one of their top-four rivals, he said to me, "I hope you realise how good they are".
At a time when fans are more critical of their teams than ever before, it would be a travesty if those whining about individual errors and the lack of a winning mentality were drowning out those simply enjoying watching a superb football team.
Those shortcomings need to be assessed, without question, but the positives are outweighing them quite significantly.
So why should we be so excited about Liverpool's current-day group of stars? Let's put it into context.
They have now scored three goals or more in 16 of those 30 games to date this season, which really is remarkable. In fact, they have scored four goals on four occasions, and five and seven in two matches apiece.
An irrepressible City outfit, who have dropped just four points in the league all season, have managed three or more in just 12 matches, finding the net just once more than Liverpool overall.
These attacks are on a par, which says all you need to know about what a wonderful attacking team Klopp has built when you consider many are calling City the greatest side since the Premier League started.
Liverpool's 2013/14 team is widely seen as the Reds' most aesthetically-pleasing since the 1980s, but even the wonderful attacking unit that featured Luis Suarez and Daniel Sturridge in their prime, and Raheem Sterling and Coutinho, are threatening to be outdone by Klopp's lads.
They scored three times or more in 22 different matches, which is a highly impressive statistic in its own right, but the class of 2017/18 are more than on course to beat that.
The treble-winning side of 2000/01 achieved that feat on 23 occasions, but they did play a mammoth total of 63 matches that season. The ratio (36.5%) is well below that of the current crop (55.1%).
Similarly, Rafa Benitez's 2008/09 team, who had Steven Gerrard and Fernando Torres wreaking havoc in the final third, managed it just 19 times in 55 games (35.5%).
Of course, managers of Houllier and Benitez's ilk were far more defence-minded than Klopp and possessed much better defensive records, but it is still telling.
Creating a superb attack is far more difficult than shoring things up at the back, and it is the German's greatest success since taking charge at Anfield.
He saw Mane and Salah as the ideal men to add speed, movement and goal threat in the final third, and swiftly signed both. While many have called for an out-and-out striker, he has kept the faith in the wonderful Firmino, and it is now paying dividends.
Using Coutinho in a deeper midfield role has also been a masterstroke, as has been deploying Adam Lallana and Alex Oxlade-Chamberlain there.
Some supporters will never be happy, even if goals are flying in, clean-sheets are being kept and trophies are being won, but this Liverpool side are a joy to watch.
Those looking in from the outside actually seem to be appreciating them more, which is an almighty shame.
One day, we'll look back at these goalscoring feats and realise how ludicrous they were.