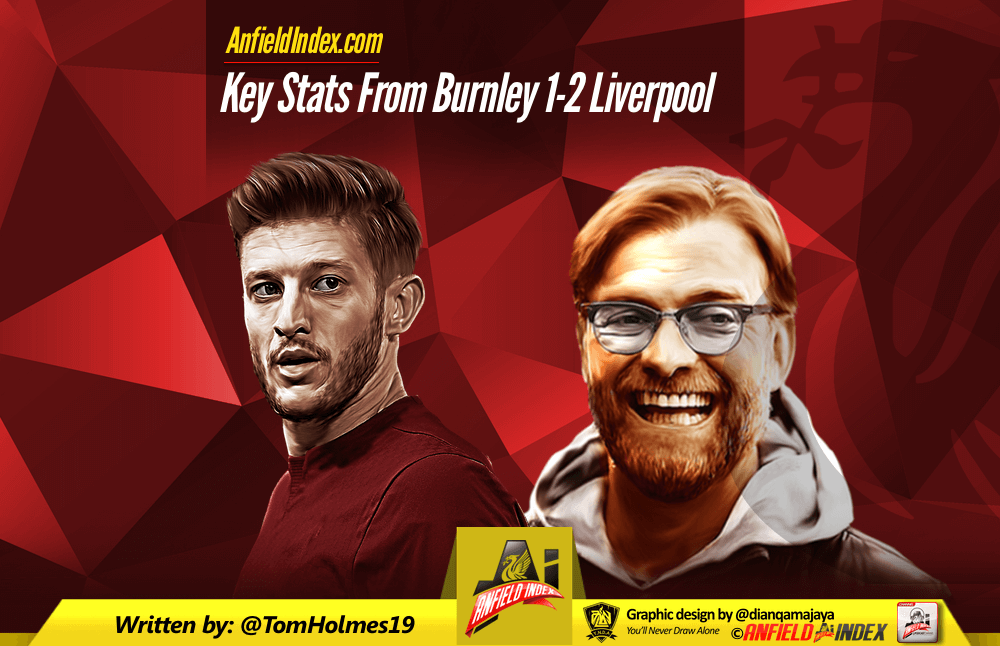 Key Stats from Liverpool 2-1 Burnley
Liverpool pulled out a hard-fought, incredibly sticky 2-1 win over Burnley following Ragnar Klavan's last minute header. But what were the key stats from the Reds' massive win?
Creative Juices Clogging?
On paper Liverpool's xG of 1.63 looks solid enough, especially for a big away game against defensively strong Burnley. But 0.93 of that came from Ragnar Klavan's header at the death, which in turn came from a set piece and resulted in the winning goal. Or in other words, for 90 minutes of open play, Liverpool created just 0.7 xG. Even with Klavan's goal, 1.63 is Liverpool's 4th lowest Premier League xG of the season, with only the two defeats against City and Spurs, along with the 1-1 draw against Chelsea being lower.
Adam Lallana is the perfect example of this. Lallana made five key passes and had five shots, but there was very little chance of anything resulting from those ten contributions. Lallana's five shots totalled an xG of 0.14 and his five key passes an xA of 0.17, meaning that his contributions averaged an xG of about 0.03. Or a 3% chance of resulting in a goal.

Reds Hit Top Form
Liverpool's win takes them to 44 points off 22 games, exactly two points per game. That would equate to a 76 point season, identical with last year's 4th place finish. It's also the highest Liverpool's points per game has been since their 4-0 win over Arsenal in August took them to seven points off three games.
After losing 4-1 to Spurs, Liverpool were on 13 points off nine games, working out at 1.44 points per game (a 55 point season). Since then they've amassed 31 points from 13 games, with nine wins and four draws. That works out at 2.38 points per game (a 91 point season!!). The Reds are in title-winning form at the moment, and if they can keep up this form, they'll be nailed on for top four.
In those opening nine games, the Reds had scored just 14 goals (1.56 per game or 60 in the season) and conceded 16 (1.78 per game, 68 for the season). Since then the Reds have scored 36 (2.77 per game, 105 goal season) and conceded just 9 (0.69 per game, 26 conceded season). So we can see that the Reds have had a season that started below par but has reached a decent halfway point through a sparkling run of form.
Late Goals? No Problem
Scoring late goals and securing points late in games has been a problem for Liverpool all season. But in their last four games, the Reds have scored goals in the last 20 minutes to secure two wins and a draw. First Bobby Firmino's equaliser earned the Reds a point with 20 minutes to go against Arsenal before Mo Salah's goal 15 minutes from time was enough to see off Leicester.
And now today, Ragnar Klavan scored a last-minute winner, the first since Sadio Mane's stunner against Everton, which sent the travelling fans into pandemonium. Liverpool's 2-1 win against Leicester was their first 2-1 win in the league this season. Now that's two in two days. What a start to 2018.