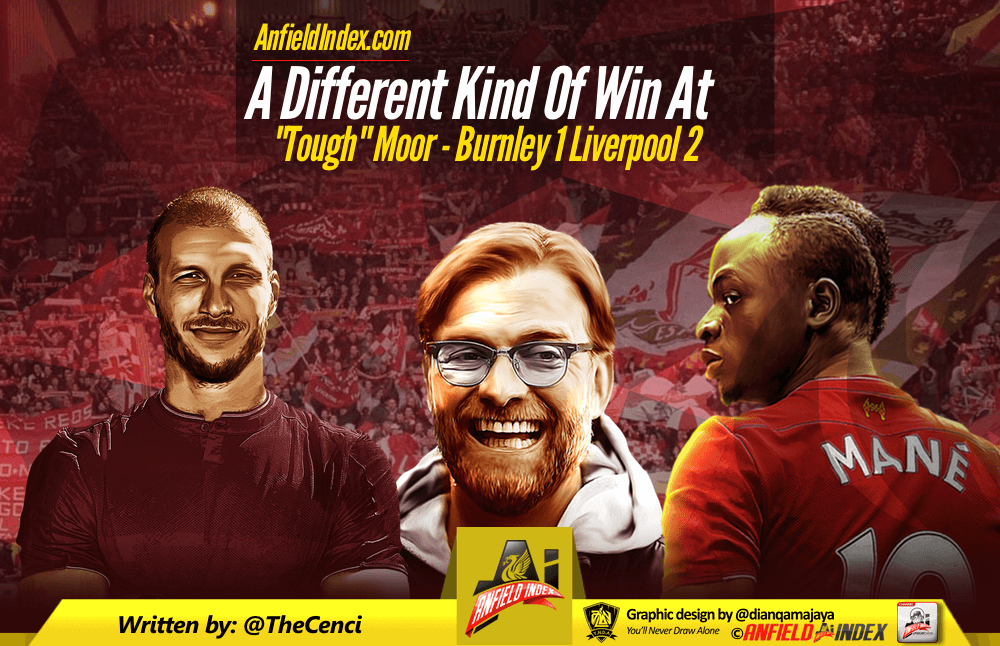 A Different Kind Of Win At "Tough" Moor - Burnley 1 Liverpool 2
You can keep your 7-0s. That was my type of game.
Don't get me wrong, I love a pasting, particularly if it looks on the cards from the outset. I was at the famous 9-0 game against Crystal Palace in 1989 and though it was 'only' 3-0 at halftime there was a sense that this side were there for a merciless beating. The whole ground knew that Palace would want to get off the pitch as soon as possible such was the supremacy of the red machine. To be honest, they got away with nine.
But, this sort of game – and the one at Leicester – will always warm the cockles more. That was old school.

Turf Moor is a horrible ground. That's not a bad thing. It's not designed for comfort. It's designed to make travelling teams and supporters feel that the worst afternoon of their lives is about to happen. Add a biblical storm, the coldest month of the year, Sean Dyche and a side who look like they think sunlight is a bit soft and it's exactly what the Reds didn't want.
The schedule didn't help. Which genius thought that two games in two days was a good idea? Whoever it was I suspect that they're odds-on to win some sort of National Sadism Award now. Leicester and Burnley? Two sides which are happy to run you all over the pitch and elbow you into submission? Played while the bruises are still fresh? Yeah, thanks for that.
I see Spurs got another day of rest though.
Tough. The Reds dug deeper – deeper than we've dug in years – and pulled out six points when most of us would have seen four as a decent return.
Leicester was hard enough. After all, it was hardly an ideal start. A silly goal conceded early followed by 87 minutes of back-breaking labour trying to put it right. We all know that this Liverpool side likes an early goal to sort its head out before it goes on and cuffs the opposition so Vardy's strike looked like the writing on the wall.   Luckily though, the lads weren't having it. We still haven't lost at Anfield since Allardyce brought his Palace side here back in April and we weren't going to relent to the Foxes. Enter a genius with a beard.
Liverpool had to get their shirts dirty and dig out a result against people like Wes Morgan who, though talented, aren't averse to playing alehouse football when the mood is upon them. That was a character win as we had little chance to take the points on quality alone.
So the short hop to Burnley was particularly unwelcomed. We had to rest the majority of the 'Fab Four' and try Solanke once more along with the freshly returned (and massively missed) Adam Lallana. Adam may have a baffling array of hairstyles these days, but he's a nightmare to play against. His close control is often remarked upon, but not his sheer bravery when it comes to decision making. He wants his forwards to make the run which seems silly but ends up being beautiful. Sadly, Dom Solanke isn't at the level to make them yet so the first half was a frustrating one.
A word here about Burnley. It's easy to look at the club and absence of riches and suppose that they've obtained their points purely by long ball and elbows, but that's about as hard a working side as Liverpool can hope to meet this season. True, they're never going to rival City in the free-flowing football stakes, but they press everyone at every available opportunity. Sadio's goal was impossible to defend and I suspect tiredness and a bit of panic led to us winning two headers from Chamberlain's free kick so they can consider themselves hard done by.
Burnley are where they are on merit. A really strong side with a tremendous attitude and one which very nearly took four points off us and United over the festive period.
But back to Liverpool. Sometimes you can only win games by attitude alone and to be a goal down so early to Leicester and then concede so late at Burnley (another Gomez mistake, I fear. He'll have better days) and still come out with two wins is a phenomenal return. Ten points from twelve over Christmas is not to be sniffed at. Bloody Arsenal.
This was a characteristic of Liverpool's final six or so games last season when the squad was paper thin and looked tired. Encounters at Vicarage Road and the Britannia could not be won by playing pretty triangles until Watford and Stoke gave up. No, we had to fight and fight and fight. The fact that we can do that this early in the season is a huge plus for Jurgen's men. We knuckled down and beat them at their own game.
Yes, give me two hard wins than one hammering.
Anyway, we get a whole four days off before the next game. Gawd bless you, Mr Scrooge.
I'll take a 7-0 for that one though rather than a narrow hard-fought win.
I mean, let's not be stupid.