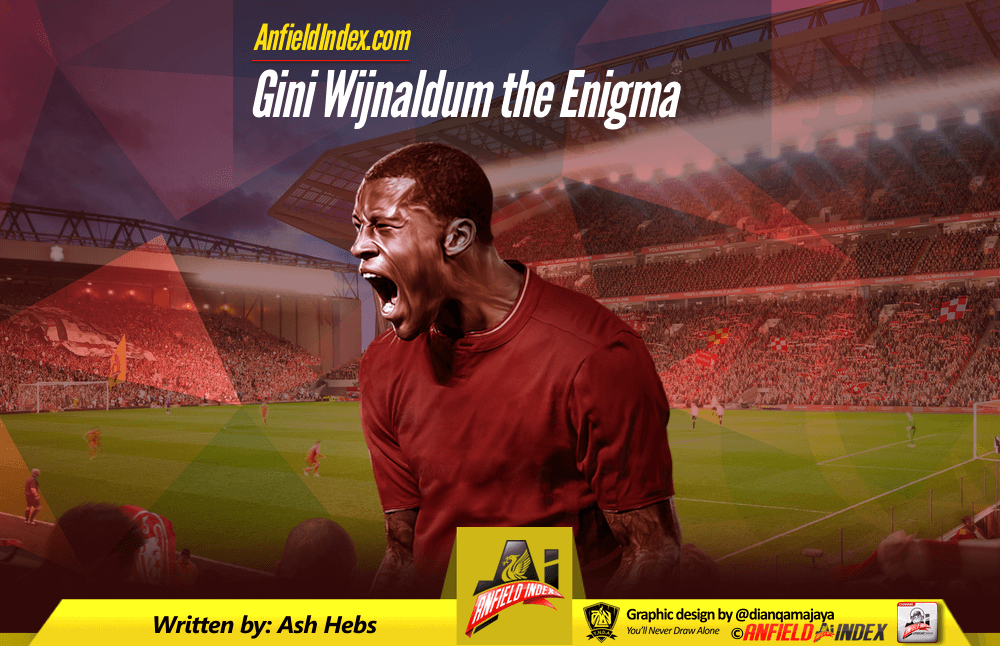 Gini Wijnaldum the Enigma
Gini Wijnaldum is one of the most misunderstood players on the club's books. Most fans will be aware of "the Ghost" and similar nicknames bandied around this season. In spite of the stats often showing little involvement over 90 minutes, the team seems to do well in his presence.
My feeling about Wijnaldum is that he is a tactically intelligent player compromising his natural number 10 game, for the greater good of the team. Having analysed him closely in recent games, I feel his seemingly anonymous performances are down to several factors.
A role in a double pivot makes his responsibilities clearer than in a midfield 3. Gini is therefore more active in the game. In a 433 his skills are better suited to his off-the-ball work, something not always easily detected in the statistics.

Against better opposition, the 433 matches up in the middle of the park giving us strength and cover. Gini is thus more engaged in the game by virtue of his physical attributes and the spaces he can exploit. However, being an attacking player by nature, his defensive work is sometimes lacking.
Against weaker opposition, Gini leaves space for the Fab 4 to weave their magic. This helps to avoid duplicating roles, but can leave him uninvolved in the passing play. It can sometimes leave opposition defenders caught between two stools with no real job. Gini is left unmarked or inactive. This doesn't help his contribution on the kind of passing network diagrams which 11Tegen11 uses.
However, this enables Gini to use his spatial awareness, creating a physical block and control off the ball, which helps cover the number 6. It also explains why the 433 proved successful, when we have played with a bit more caution. Gini's spatial awareness was why he was so effective in a centre back holding role against Brighton, albeit in a different formation.
Gini is still far from the finished article. He still has to learn to exert more influence on the game. With the Fab 4 so competent at their roles, this is quite hard to do at times. Before choosing Gini, team-mates will naturally be more inclined to pass to Coutinho and Salah, for example.
Furthermore, with the front 3 vying with each other to shine and be the match winner, it doesn't always leave much room for the midfielders to make much of an attacking impact. Bear in mind, Coutinho is always driving from deep looking to get on the end of things and shoot as well.
Nonetheless, Klopp does not tolerate passengers easily. If Gini was as anonymous as the stats suggest, then he would not be picked. The reality is that Gini has been a make-shift solution for Klopp in midfield; a player who enables others around him to perform. Ultimately, he is a forward player deployed in midfield.
Gini's strengths are his physical prowess and ability to keep the ball ticking over with quick, one-touch passes. He's useful in a midfield scrap when he can use his lower body strength to hold onto to the ball and relieve pressure. The words that best describe his midfield role are decoy and foil. He allows others to shine through his selfless approach.
Gini Wijnaldum is a bit of an enigma. But he is what he is. And is not what he is not. All the same, he continues to be a useful squad player and will remain so as the squad improves moving forward. Having played his part in the team's recent upturn in form, he deserves credit for that.
The arrival of new midfielders in the summer should hopefully allow Gini to learn from them, thus adapting and refining his own game.