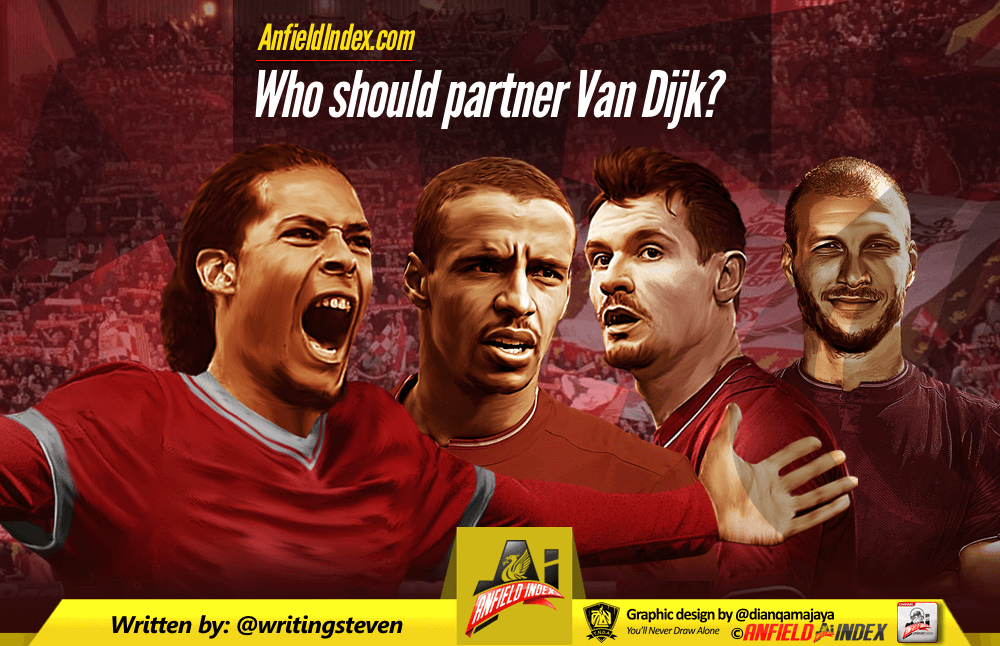 Who should partner Van Dijk?
With the record £75 million signing of Dutch international defender Virgil Van Dijk, Liverpool have taken major steps towards addressing the defensive frailties that have plagued Jurgen Klopp's side throughout his tenure.
Whilst having a world record defender is great, Liverpool can't expect Van Dijk to solve the team's defensive problems alone. Almost every team in history that has had a solid defensive record has built their foundations upon a centre back pairing that remains almost ever-present throughout the season. Many trophy winning Liverpool teams have benefitted from such pairings throughout the history of the club, Thompson/Hughes, Hansen/Lawrenson, Hyypia/Henchoz, and Hyypia/Carragher amongst others.
So who would make the best partner for Van Dijk from the current squad? We'll examine the options below.

Joel Matip
Had Liverpool secured the signing of Virgil Van Dijk at the start of the season as they had hoped, the lanky Cameroon international would surely have been the first choice partner for many fans. Unfortunately, as the season has progressed, Matip has looked less and less assured. The elegance and composure that was shown when he first signed for the club has been replaced with a lack of awareness and tenacity and poor passing.
There have been glaring errors such as against Newcastle when Joselu was allowed to waltz through the centre of defence before scoring, and recently against Leicester where a stray pass allowed the Foxes to take an early lead via a Jamie Vardy goal.
It's not just on the eye test that Matip falls down too. Liverpool concede more goals in the league with Matip in the side than any other centre back – 19 goals in 15 appearances at 1.3 per game. Matip also features in the worst defensive partnership, which is when he plays alongside Dejan Lovren. Together they've conceded 11 goals in 8 Premier League appearances at 1.4 per game, keeping only 3 clean sheets in the process.
Matip's partnership with Klavan is marginally better. As a pair they've conceded 8 goals in 7 appearances at 1.1 per game, keeping 3 clean sheets. However, both were present for the 5-0 mauling by Manchester City when Liverpool were down to 10 men. If you want to be extremely generous and excuse them this result, Klavan and Matip's partnership suddenly jumps to the top of the pile and has yielded only 3 goals in 6 appearances.
But it's very difficult to ignore that 5-0 result for Matip, as he also featured in Liverpool's next worst defensive performance, the 4-1 loss to Tottenham Hotspur. All in all, it's been a season to forget for Joel Matip thus far.
Dejan Lovren
As ever, Dejan Lovren proves to be something of a mixed bag. He has had some typically mad moments such as his self-destruction against Spurs. But on the whole, Liverpool have faired well with Lovren in the side. Recently, he seems to have tempered his over-assertiveness and tendency to try to do too much. He's looked far better when trying to keep it simple.
On an individual basis, he performs better than Joel Matip, as Liverpool have conceded 17 goals in 15 games at 1.1 per game when the Croatian starts in the Premier League.
Last season's best partnership, featuring Lovren and Matip, is this season's worst. However, when Lovren plays alongside Klavan he forms a part of Liverpool's staunchest defence. In their 6 appearances together the pair have conceded only 5 goals, keeping clean sheets in 3 of those games.
All of which indicates that Lovren actually performs better when playing as the right-sided centre-back – as he does when playing with Klavan – despite coming to the club as a supposed left-sided centre back.
Ragnar Klavan
The Estonian has proved something of a steady influence at the back this season. Whilst he doesn't set the world alight and offer up outright dominant performances, he goes about his business in a steady and consistent manner. And that's not to downplay his performances. Steady and consistent are two qualities that go towards making the best centre-backs and seem to be qualities lacking in Dejan Lovren and Joel Matip.
On an individual basis, Klavan outperforms his centre back partners where it counts. Liverpool have conceded only 13 goals in the 13 games that Klavan has started and this is despite him being present for the 10-man 5-0 defeat to Manchester City. If you take that result out, Liverpool have conceded only 8 goals in the other 12 games in which Klavan has played. As mentioned above, his partnership with Lovren has been Liverpool's most solid unit and he's been an integral member of the squad over the hectic Christmas period.
Joe Gomez
It's hard to judge how suitable a centre-back partner Joe Gomez would be for Van Dijk, given his lack of action in his favoured position. Despite his standout performance as part of a back 3 for England in an International Friendly appearance against Brazil, Gomez has played this season at right back.
In attack, Gomez has been better than expected, with 2 assists and 0.7 key passes per game. His delivery has been good and he's shown a willingness to get forward when required. Gomez has displayed tactical versatility at times too, sitting back and tucking in as an ancillary right-sided centre-back when Moreno has bombed forward.
Perhaps surprisingly then, his worst moments have come defensively. He's been guilty of switching off at the back post on a number of occasions that have led to goals – Lanzini for West Ham, Sanchez for Arsenal and in the most recent game against Burnley all spring to mind immediately.
At any other side, you would say that Gomez could have a bright future playing full back. He's certainly got the athleticism and a better than expected delivery from out wide. However, at Liverpool, it's hard to argue this case. When fit, Nathaniel Clyne is a much more solid proposition at fullback than Gomez. There's also the emerging talent that is Trent Alexander-Arnold to contend with. Whilst not as physically strong or defensively minded as Gomez, Trent's delivery from wide areas is exceptional, and he also offers more of a goal threat.
So, long-term, Gomez is going to have to keep his sights on the centre back position and maybe becoming Van Dijk's long-term partner. However, at this moment in time, Gomez hasn't shown enough to make the case that he's ready to step into that role.
Conclusion
Van Dijk is hopefully everything that Joel Matip was supposed to be, at first glance anyway, tall and composed, physically imposing. A leader. All of which only serves to show up how disappointing Matip has been this season. He's been present for the club's two heaviest defeats and always seems to be somewhere around the scene of the crime when Liverpool concede. All in all, he's not done enough to be in the conversation to play alongside Liverpool's new signing.
Joe Gomez has been promising at times whilst playing fullback and he has bags of time in which to improve. But improve he must. He switches off at vital times and rarely comes up with goal-saving interventions. To ask him to play consistently at centre back in a side that wants to achieve Champions League qualification is to ask too much at this stage of his development.
Throughout his career, Van Dijk has played predominantly as the left-sided centre-back. Were he to continue in this role at Liverpool it would rule out the left-footed Klavan from playing as his centre-back partner. Whilst he's been up and down this season, Lovren has still managed to outperform Joel Matip and be a part of Liverpool's best centre-back partnership. So, it must be Lovren, right? Well, actually no.
This season, Van Dijk has played as the right-sided centre-back when featuring alongside Wesley Hoedt for Southampton. Were he happy to consider continuing in this role as Lovren has done, Klavan should get the chance to build upon this season's progress and fill the defensive berth alongside the £75 million man.
As a complementary partnership, they seem to make the most sense. Both players make less tackles per game than either Matip or Lovren, indicating that they read the game better and therefore find themselves in a position where they have to make a tackle, less often. Both players also make more blocks and clearances than either Lovren and Matip. With his height and pace Van Dijk also goes some way to making up for the one area that Klavan falls short when compared to Lovren statistically, aerial duels won, and visually, his ability to get back quickly.