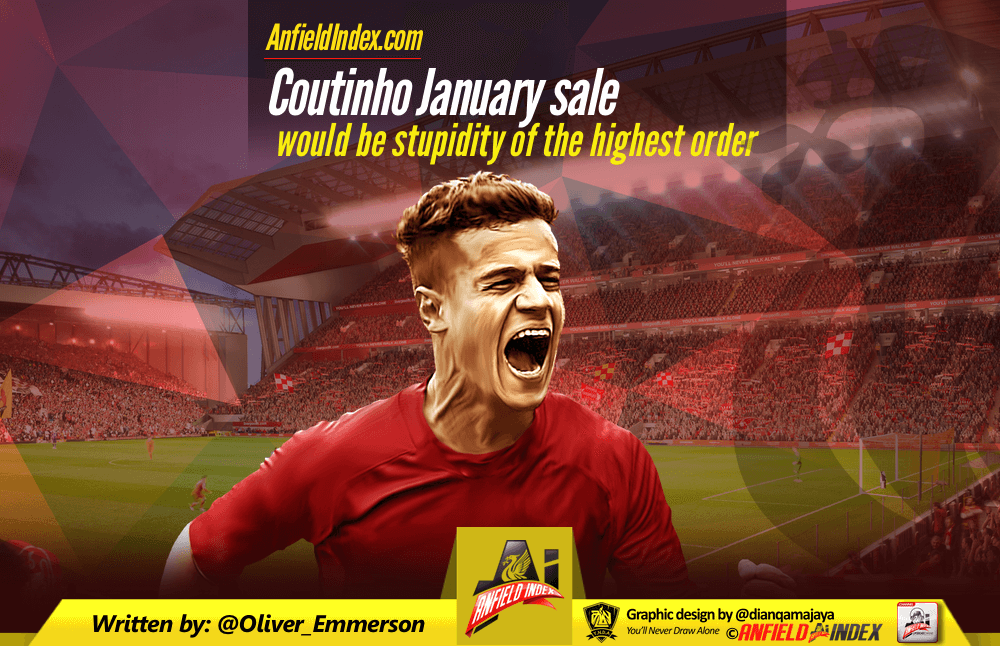 Coutinho January sale would be stupidity of the highest order
Selling Philippe Coutinho in the January transfer window would be a brazen, stupid act of the highest order, even for the standards of Liverpool FC.
After a summer-long saga of the Catalan giants attempting to prize Liverpool's Golden Boy away from the ground where he's picked up repeated Golden Samba's, the Reds stood firm and moved past the autumn transfer deadline with Coutinho in their ranks.
Since then he's embarked on a run of form practically unprecedented on a personal level, securing the Reds a comfortable place in the top four at the turn of the year, with safe passage to the Champions League last 16 confirmed.

Why exactly Barcelona, reportedly looking to shake off any prospects of a potential transfer ban, are so desperate to see their latest superstar arrive this month, remains unclear.
The Catalans are well clear of Real Madrid in La Liga, where there is no need for Coutinho to come in and fire them to the title. As for the European stage, Coutinho has of course already starred for Liverpool this season, thus would be cup-tied for any other team.
However, the bigger question lies over why Liverpool would even contemplate selling the Brazilian this month.
As previously said, the Reds are sitting in a good position. If they end as they are in the table and make it to the Champions League last eight, you can throw in an FA Cup run and call it a good season.
Why threaten to derail that with the sale of a man who has become so key on L4?
Shaking off the "back injury" that saw him miss the opening games of the season, Coutinho would be easily hailed as Liverpool's Player of the Season so far, were a man called Mohamed Salah not roaming around.
Scoring or assisting every 73 minutes in the league and Europe so far, Coutinho is set to easily put up his best ever figures – productivity wise – over the course of a season.
Things are going well for him and Liverpool, who are demonstrating growth off the pitch as well as on it by holding down Coutinho in the summer, in-tandem with the signings of Salah and Naby Keita. Virgil Van Dijk was the next man ticked off the list, Liverpool should be looking to partner to the two, not profit from one – yet.
There are legitimate reasons to wave Coutinho off to Barcelona with a big cheque coming the other way, but not in January.
In the summer, Liverpool can build a better team with the 'Coutinho money' plus other cash that's been kept in reserve for the window ahead of 2018-19.
A goalkeeper, another centre-back, plus the Coutinho replacement are all attainable for the money Barcelona could pay. Put some more cash aside for another attacker plus a Naby Keita partner, and the Reds are truly in business.
Attempting to negotiate all of that now though, would be near impossible. Add in the settling in period you look to give new players, and whoever Liverpool could draft in would offer no obvious benefit over the next six months compared to keeping Coutinho.
And what a big six months it is!
Liverpool are doing well so far, but a drop-off in form could see them drop out of the top four and put a huge dent in progress under Klopp. Champions League football year after year is a demand, not a wish.
Things have the potential to go the other way too. Manchester City are far and away the best side in England right now, but a second-placed finish in the Premier League is attainable. As far as the Champions League goes, anything is possible. Beat Porto, get a favourable last eight tie, Liverpool could be a couple of games away from the final before they know it.
All of this to be positive about, at a time of relative popularity for owners, FSG, after the Van Dijk deal was done.
There have been repeated questions over the commitment of the owners in terms of making Liverpool a success on the pitch, questions that they have seemed to be answering of late.
Letting Coutinho go this month would throw all that, and more, into disarray.