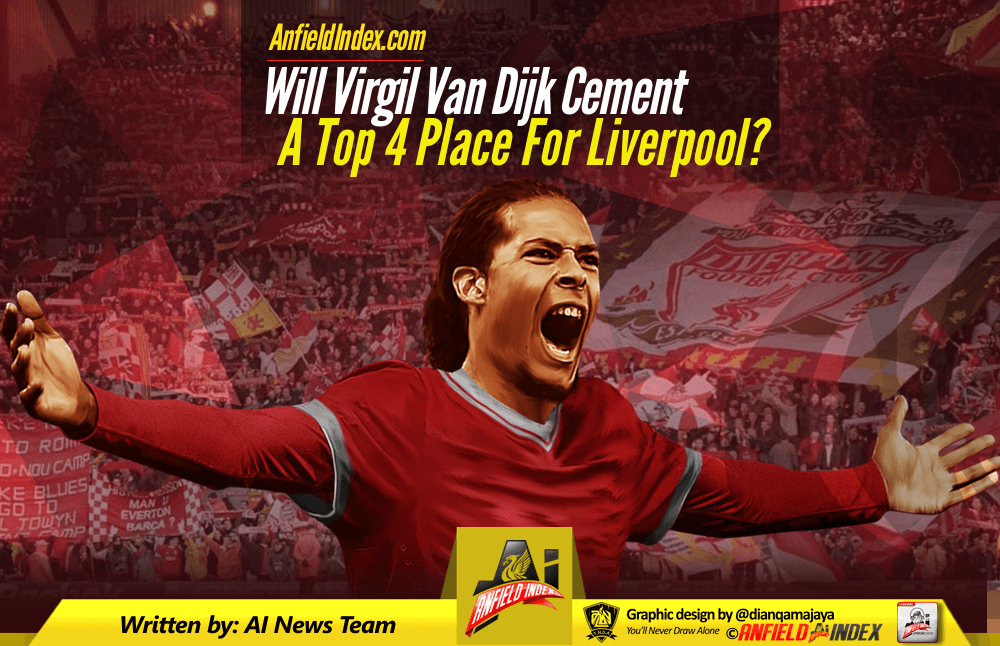 Will Virgil Van Dijk Cement A Top 4 Place For Liverpool?

Two days after Christmas saw an announcement made by both Southampton and Liverpool to confirm that centre back Virgil van Dijk would be heading to Anfield on the 1st of January from St Mary's. The fee is believed to be in the region of £75m, which means the Dutchman will become the world's most expensive centre-half; as he is drafted in to shore up Jurgen Klopp's leaky backline. Will his arrival secure a Top 4 finish for Liverpool though? Or do they still need further additions?
So far this season Liverpool have shown their class on numerous occasions. Mo Salah has been in incredible form at the top of the pitch, with the rest of the Fab Four playing their part too. Offensively they have no problem competing with the best in the league but their back five has often been a cause for concern, not just this season either. Step forward long-term target Virgil van Dijk. His arrival is surely going to give Liverpool more of a solid platform to build from.
The Dutchman is big, standing at 6'4, but still retains a good deal of athleticism. He's comfortable with the ball at his feet too, and most strikers in the Premier League will more than likely endure a tough time against the 26-year-old. The key attributes he will bring to the team though aside from his clear defensive abilities is the fact that he's a leader and an organiser, and this has been a huge miss for Liverpool for a number of years. He will orchestrate the defence and pull people into position to make them a lot sturdier, which will be crucial as Klopp's men play very much on the front foot.
His arrival will be a huge plus for the club going forward but they possibly need to add a bit more to ensure the top 4 is on for them this season. The likes of Spurs and Arsenal will also be looking at 4th place, and thinking they have a good chance finishing there; so it would come as no surprise if Klopp added more quality to his backline. The goalkeeping situation is at a point where they need to act with both Mignolet and Karius unreliable, and they could also do with another top class centre-half, with Dejan Lovren and Ragnar Klavan failing to deliver consistently. Liverpool fans would be well advised to get all latest news on what is happening at Anfield and indeed, the Premier League is Football betting section at Betting.com.
While Virgil van Dijk's arrival may not secure a top-four finish on its own, it will be a monumental boost for the club as a whole and definitely a step in the right direction. Liverpool are going well so far and if they can get the defensive side of their game as finely tuned as the offensive part, they will be on course to finish in one of the coveted Champions League spots. £75m is a lot to shell out on one player but if the pot isn't empty and they can add a top class keeper too, it should be enough to cement a place.