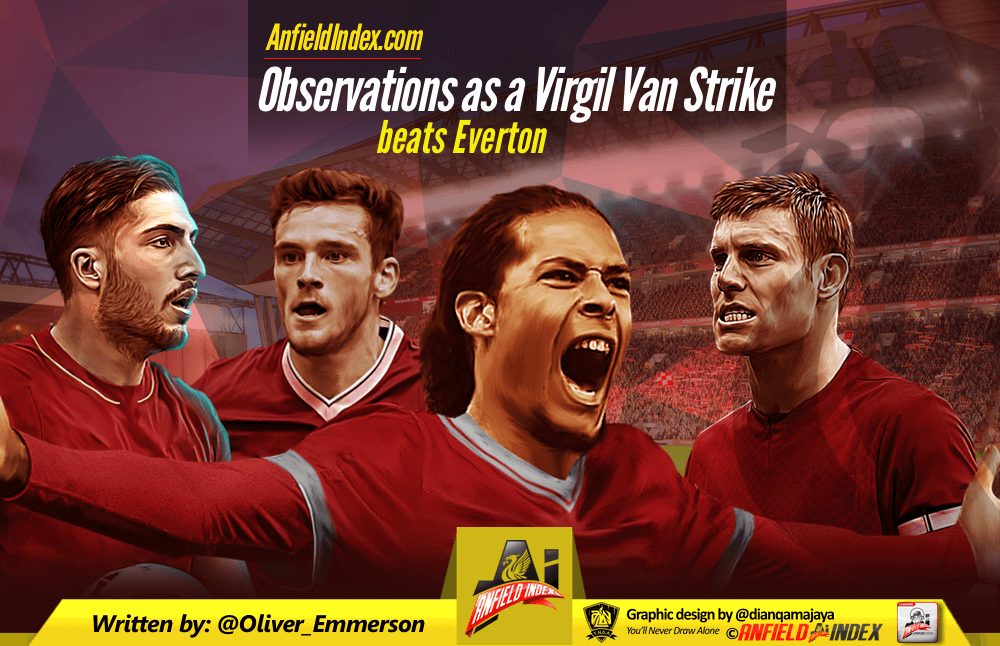 Observations as a Virgil Van Strike beats Everton

TELL YER MA, YER MA,
TO WIPE AWAY ALL YOUR TEARS,
NO TROPHIES FOR 20 YEARS,
TELL YEAR MA, YER MA.
Thanks to big Virgil Van Dijk, Liverpool fans will be able to sing that for another year yet.
It was touch and go at times, especially when the Reds spontaneously combusted defensively to let Gylfi Sigurdsson level up, but in the end, a combination of James Milner's penalty spot talent and Van Dijk's aerial prowess mean that the Reds beat the Blues and progress through as they rightly should.
VVD!
Where else to start? Virgil Van Dijk. Seventy-five million pounds and an absolute bargain there. What a fantastic debut, even minus the winner.
Stronger than an ox in every duel against Dominic Calvert-Lewin, not the toughest striker he'll face in a Liverpool shirt but one swatted aside with sheer ruthlessness. No mistakes, nothing to give the referee a decision about.
An absolute tower in the air but good with the ball at feet, there were one or two 10 yard passes to set Liverpool away in midfield that offered a glimpse of what we can expect in that department.
But minus the good defending, the good passing and the general lovely guy he is, there was the winner.
Not perfect goalkeeping from Jordan Pickford, but Van Dijk has to be there. Bigger than our lads, bigger than theirs. The biggest of them all for the biggest header, the biggest goal.
Welcome to Anfield, Virgil "I had more shots on target than Everton on debut," Van Dijk.
Praise for Andy Robertson
Possibly Andrew Robertson's best performance in a Liverpool shirt so far, and a great night for it.
Was always going to be given a tough test by Yannick Bolasie, Liverpool's kryptonite, and it looked like he might have a long evening based on the first 15 minutes.
However, Robertson stood up to the challenge and went for it full throttle, a high-octane display full of commitment. So many good tackles, on Bolasie and others, that stopped a fairly dangerous Everton side from getting a sniff.
There'd been talk when Moreno got injured that Robertson was going to have to step up his game after an underwhelming start to life in a Liverpool shirt, and he certainly has.
Captain Emre?
Many heads will have rolled at the soon to be departing Emre Can being handed the armband when James Milner trotted off, but I don't see the problem with it, especially given Coutinho has worn it on multiple occasions this season.
Can performed well again. His almost hulk like strength was hard to miss and, despite some poor moments in possession, he never looked troubled by what Everton had to offer.
I've seen some blaming him for the goal, from what I saw Sigurdsson's getting there ahead of him anyway. It could have been stopped far before the ball got to the boot of the Icelander.
Can has looked especially impressive in the latter minutes of games lately and did so again today, taking the mature route of charging the ball into the corner late on, somehow quicker than those around him despite playing more minutes than most of the Liverpool players over this festive break.
Toffees back on the hook
After Liverpool so wastefully let Everton off the hook in the league game at Anfield, the boys from across the park were back on it tonight.
It looked for a while as if they'd shake free once more, with Sigurdsson's equaliser sending the away end crazy. Ha at them.
In storms Van Dijk, in storms the ball into the net, and in storms Jurgen Klopp to put the Blues back on the hook, a 16th Merseyside Derby without loss for the tricky Reds.
Happy weekend, all!
Looking for the best audio content on Virgil van Dijk? Listen to Paul Dalglish & Jan Molby talk about the defender, listen to the journalist Jeremy Wilson discuss on Media Matters give the inside story on how the transfer came about and listen to fan media content all about the player himself! There's much more with Post Match shows, the best stats show in Under Pressure and monthly interviews with Liverpool FC legends! Try it for FREE for 7 days today by joining AI:PRO!