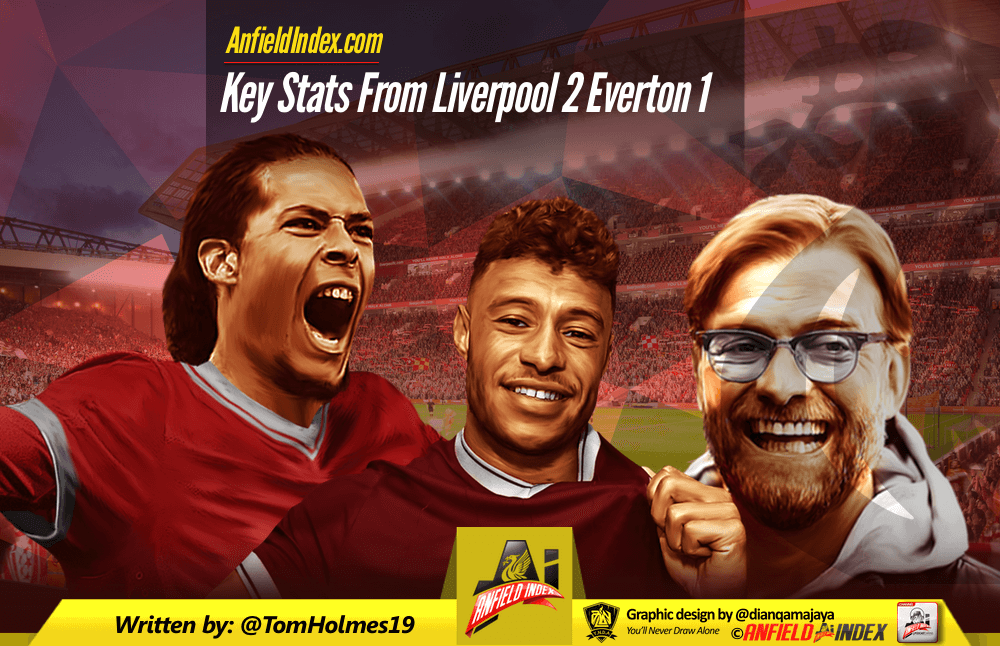 Key Stats from Liverpool 2-1 Everton
Virgil van Dijk made his Liverpool debut and scored a winner in front of the Kop in a Merseyside Derby as Liverpool beat Everton 2-1 in a truly hilarious and bizarre game of football. But what were the key stats from the game?
Merseyside is Red
Everton have now gone 16 games against Liverpool without winning – 8 Liverpool wins and 8 draws. They've now gone 20 straight games at Anfield without a win, a run stretching closer and closer to that magical 20-year mark. Liverpool have won 10 of those games, drawing the other 10. Either way, this is still the longest Everton have gone without beating the Reds. Ever.
In my lifetime, Everton have won just two games at Anfield. In fact, that's two wins at Anfield in now over thirty years. Merseyside. Is. Red.

Chances at a Premium
I talked about Liverpool's lack of creativity without Salah and Coutinho after the Burnley game, and again in this game, it proved a factor. Only one player from either side created more than one chance, and that was Alex Oxlade-Chamberlain. And even then, three of Ox's four chances created came from set pieces, meaning nobody created more than one chance from open play. That's very poor.
But ultimately, it was set pieces that won the day for Liverpool, with Milner's dodgy penalty followed up by VVD's header off an Ox corner. It was appropriate for many reasons, but Chamberlain creating twice as many chances from corners alone as anyone in the entire game from open play is probably the most telling one.
Late Déjà vu
One of the annoying things about writing these articles after every match is that when Liverpool hit upon a trend, I can find myself jumping the gun and hence repeating myself. After the 2-1 win over Burnley I pointed out Liverpool were bucking several trends – late goals to secure points, winners in tight matches, the scoreline 2-1 itself, goals from defenders. And then all of those things again happened as Liverpool won the third game in a row 2-1, with a goal inside the final twenty minutes (the 84th in this one), securing a one-goal advantage with a goal from a central defender. Go figure.
Van Dijks Out
Virgil van Dijk has cost Liverpool approximately £15m per header he's won. He's cost £25m per shot that he's taken. He's cost £25m per clearance, £37.5m per interceptions, £75m per tackle and a slightly less mouth-watering but only just £1.2m per pass. But most importantly, Van Dijk has cost £75m per winning goal against Everton. That my friends is an absolute bargain. Priceless.