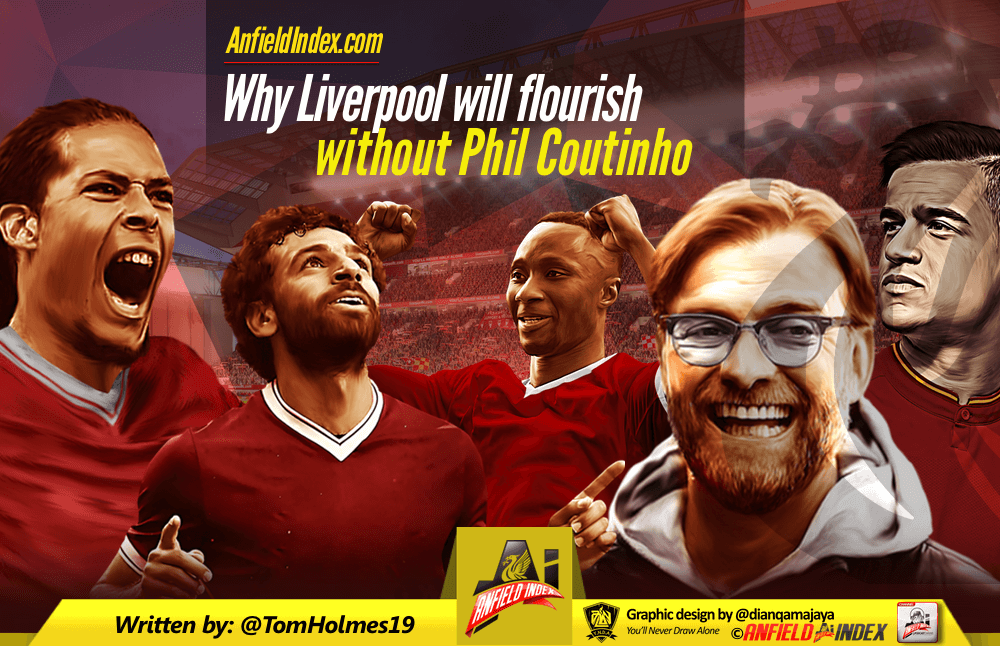 Why Liverpool will flourish without Phil Coutinho
I want to open this piece by pointing out that Phillipe Coutinho was my favourite player at Liverpool. For the last two or three seasons now, Phil has been Liverpool's best player and has developed into a real, real talent. The fact that I wrote an article about him two weeks ago saying he's the best player in the league despite him well and truly losing his spot as my favourite LFC player through his own antics, just indicates how highly I rate him.
My second favourite Liverpool player before the summer was Emre Can so believe me, I am taking their departures in this and/or the next transfer window as badly as anyone.
But we need to be practical about it. There's no point losing our heads, there's no point acting as if the sky has fallen in. We can't pretend that we aren't losing one world class player and one potentially world class player, but we need to do is keep a sense of perspective.

In the summer, Liverpool fans were crying out for a centre-back. Liverpool missed out on Virgil Van Dijk through a combination of their own incompetence and Southampton's stubborn pride. When the window closed, this was seen as the end of the world, and the end of Liverpool's season before it had started. Fans couldn't believe Liverpool hadn't signed someone else instead.
Skipping ahead four months. Liverpool are well in the scrap for second place, have Van Dijk on their roster, having secured his signing before the January window had even begun, whilst Southampton were made to look foolish for holding onto him, in relegation form with a squad in desperate need of a massive influx of cash and quality.
So the failure to sign Van Dijk ended up being far from being terminal and Liverpool have rectified that error. And no sooner had that occurred but Liverpool fans were angry about the next huge mistake Liverpool were set to make, selling Coutinho for £150m.
Alright, so there's no getting around the fact that selling in January is less than ideal, that Liverpool will struggle to find a replacement who can play in the Champions League and to be honest, there aren't many reasons on paper to sanction such a deal. But, that doesn't mean those reasons don't exist.
Coutinho is gone. He just is. He has made his position clear that he doesn't want to play another minute for Liverpool, and the last time he did that, his toxic influence could have cost Liverpool dearly. If Klopp (and it sounds like this is coming from Klopp) wants him out, then I can't blame him. Give Phil's replacements six extra months to integrate with the squad and get rid of the player who so desperately doesn't want to be there.
Again, that's not to suggest the immediate downsides won't be problematic, specifically with regards to the Champions League, but Klopp (especially under FSG) has never been one to look at the short term ahead of the medium/long term.
But Liverpool look well set to finish in the top four again this season. They have the underpinnings of an excellent squad, with the certainty of even more quality being added in the summer. Looking at the current squad, we have an exceptional front three, even without Coutinho in it. Mane was for many our player of the season last year, Bobby makes everything tick and is adding goals to his game now too, and there are not enough superlatives in the world to describe Mo Salah.
Defensively, there's no denying that adding Van Dijk is only the first step, but what a first step it is. If selling Coutinho costs us something dear in attack (which it probably will, dependent on who replaces him), then Van Dijk absolutely adds something special in terms of what he brings to the most worrying area of our team, our defence.
Emre Can in midfield is still giving his all and looking very, very impressive. We finally have two sets of competent full-backs, and with the likes of Oxlade-Chamberlain finding some form and Adam Lallana hopefully back to fitness and form soon, this all indicates that there is a level of quality to Liverpool's overall squad which means that we are absolutely going in the right direction with or without Coutinho, and don't necessarily need him to hit our target goals for the season.
Which leads me back to the issue of recruitment. Liverpool will soon have £150m burning a hole in their back pocket. On top of that, they will start next season with Naby Keita, arguably the most talented young central midfielder in Europe, at their disposal, who will bring to the table a lot of what Can and Coutinho have both brought. If he's not a direct replacement for either, he's a damn good fit.
Liverpool shouldn't be looking for a direct replacement for Coutinho because they simply won't find one. There isn't a player as good at everything as Phil is. What they need to do is use the money to reinvest in building a multi-faceted and talented side, and that looks to be what they're doing. Buying a talented attacking midfielder is on the list, and that looks to be happening in some form, but so is buying a partner for Keita in midfield, a partner for Van Dijk, and a replacement for Mignolet.
Based on the players Liverpool have been linked within this window, I'd be staggered if at least one very good attacking player to vaguely fill the Coutinho shaped hole wasn't brought in immediately, with potentially one more in the summer. In terms of central midfield and defence, that looks to be two more spots that will be filled in the summer, and the goalkeeper is anyone's guess.
Basically, if Coutinho leaves this window, then he will be replaced in some form. We will replace Emre Can in the summer. We will continue to build upon the strong base of what is now five genuine title-winning players – Salah, Mane, Firmino, Keita, Van Dijk – with good quality and good potential around them.
And if Coutinho doesn't want to be a part of that then fine. We don't need him anyway. Liverpool are building something special. This all goes back to what I said at the start about Van Dijk. Liverpool made a plan, they executed the plan. Yes, there were some hiccups along the way, but Liverpool have now secured the services of Mo Salah, Virgil Van Dijk and Naby Keita over the course of six months. That is an elite level forward, an elite level midfielder and an elite level centre-back. Klopp knew Phil was off, and the moment has been prepared for.
If you don't trust Klopp and FSG are building something special, and if you're still a doubter and not a believer after everything that has happened since the end of last season, then fine. That's your choice. But just remember, Liverpool spent less than £150m on Keita, Mane, Salah and Firmino. Imagine what we're going to do with the Phil money.
Happy 2018 everyone.
Looking for the best audio content on the Coutinho departure and arrival of Virgil van Dijk? Listen to Paul Dalglish, Jan Molby and the journalists that broke the stories as well as fan media reaction to all of the big stories in January!

There's much more with Post Match shows, the best stats show in Under Pressure and monthly interviews with Liverpool FC legends! Try it for FREE for 7 days today by joining AI:PRO!