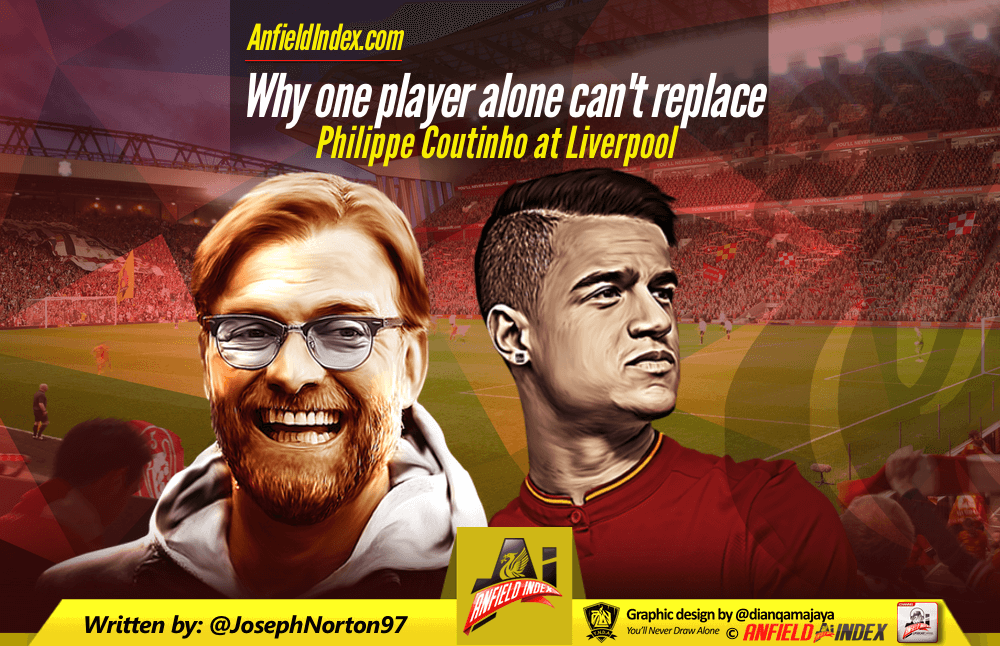 Why one player alone can't replace Philippe Coutinho at Liverpool
Philippe Coutinho is leaving Liverpool. This won't come as a surprise to many as it was pretty clear since the player went on strike in the summer that it was only going to be a matter of time. Many supporters including myself are however extremely concerned about losing Coutinho this month. The Reds are in great form, 17 games unbeaten across all competitions, comfortably in the top 4 just 3 points behind second-place Manchester United and into the last 16 of the Champions League. But selling the Brazilian without replacing him properly could seriously undo all of Liverpool's hard work so far this season. Finding a suitable replacement for Phil was always going to be difficult even in the summer where the transfer market is slightly easier to do business in and the replacement(s) would've had a pre-season to understand Klopp's system. Top quality players are unlikely to be available this month such as Thomas Lemar who has been strongly linked and they would have very little time to settle in before they need to start having a strong influence on the side. In addition to this, Coutinho is a unique player who has the ability to play in a variety of positions which emphasises just how important he was to the Reds. He can't be replaced effectively by one player.
You only have to look at the quality Coutinho possesses and his output over the last two seasons to understand why replacing him with one player who is a realistic target is near enough impossible. The great work done by Simon Brundish from AI Under Pressure shows that Phil averages a goal or assist every 71 minutes this season and a goal, assist or hockey assist (the pass before the assist) every 51 minutes. These numbers are simply phenomenal and highlight just how influential the Brazilian has been since returning to the side. Just for comparison, Mo Salah who has had a brilliant season so far averages a goal or assist every 74 minutes and a goal, assist or hockey assist every 62 minutes. Roberto Firmino is third with a goal or assist every 84 minutes and a goal, assist or hockey assist every 78 minutes, however, this drop off from Coutinho and Salah to Firmino really emphasises the elite levels those two are performing at. When we begin to compare the productivity of Phil to many people's ideal replacement Thomas Lemar, it becomes pretty clear replacing Coutinho with just one player isn't realistic. Lemar has 2 goals and 4 assists this season in 12 league games which is way off the elite level of Coutinho who has 7 goals and 6 assists in 13 league games, although it must be remembered Lemar is playing in a Monaco side who are in transition after losing several key players, the gulf in class between the two's output is pretty startling and should be used as a reminder to people who believe the Frenchmen can come in and replace the Coutinho of this season alone. I do think Lemar is a very good player who possesses a lot of the attributes required to be a great player in Klopp's system which is why I would love Liverpool to sign him. If we take a look at the productivity of both players last season where the Monaco man was playing in a side full of quality we'll see the two players are much more comparable. In 28 league games, Lemar has 9 goals and 10 assists while Coutinho managed 13 goals and 7 assists in the same amount of games. We should also remember that Phil is 3 years older than Lemar so expecting him to replicate the elite levels of Coutinho now is totally unrealistic as emphasised by the huge difference in the productivity of both players this season. Lemar alone cannot replicate the Brazilian's levels of productivity for the remainder of the season and probably for another year or so depending on his development, therefore, he cannot be realistically viewed as his replacement if we signed him, even though I would be delighted with the transfer.
When looking at replacing Coutinho we must also delve into the vast skillset he possesses which has meant he has been extremely effective when playing in a variety of positions for Liverpool as tactical flexibility is key to Klopp's footballing philosophy. The Brazilian played the majority of last season wide-left in a 4-3-3 and was very effective in this position, drifting inside linking up with his front two as well as providing space for his full-back to overlap. He is also great in 1v1 situations which meant he had the option of staying wide and isolating his full-back before beating them with his great trickery. We have also seen him play wide-left this season when Klopp has decided to rotate his front three and his performances have been extremely good again. Last season when operating predominantly on the left Phil averaged 2.3 dribbles per game, 2.1 key passes and 3.4 shots in the league in comparison to Lemar this season who has also played most of his football wide-left and averages 1.8 dribbles per game, 2 key passes and 1.9 shots in the league. Although the two have similar dribbles and key passes per game when operating on the left which would suggest Lemar could come close to replicating Phil's creativity in that position, Coutinho averages over 1 shot a game more than Lemar which means Coutinho is more likely to score goals than the Frenchman especially with the Brazillian's accuracy. Of course it must be remembered that Phil is right footed which means cutting inside onto his favoured foot and shooting from the left is much more natural to him than Lemar who is left-footed but if the Reds want someone to replace Coutinho then they must be a lot closer in terms of shots per game when operating in a wide position. Klopp could have the option of playing Lemar wide-right which would mean he could cut inside onto his favoured left foot but it remains to be seen how much of an impact this would have on the number of shots he takes. Although I do believe Lemar would bring a lot of dynamism and creativity to Liverpool's front free, when we look at the way Phil has progressed these statistics this season, suggesting the Monaco man could effectively replace Coutinho is unrealistic.

Predominantly from midfield, Coutinho in the league this season averages 2.8 dribbles per game, 2.9 key passes and 3.9 shots which creates an even bigger divide between him and Lemar. Although the improvement in these statistics could partly be down to Phil's positional change and being more involved in the game when he operates in central-midfield it should also be a reminder of how much he has improved his overall performance since last year, highlighting how difficult it will be to replace his elite levels of performance. As mentioned, if Lemar is deployed in midfield as he would be expected to be if he comes in to replace Phil, his game may evolve which would see him get closer to the numbers Coutinho reaches in these areas of the game, however, to expect him to do this within six months of him signing whether that be now or in the summer would be unfair. Another key aspect of playing in midfield for any side is the added risk losing the ball can have on your team. Because Coutinho has such great technique and the ability to operate in tight spaces he has only been dispossessed 1.9 times per game this season despite attempting 2.8 dribbles. In comparison, Lemar has been disposed 1.7 times per game this season attempting just 1.8 dribbles which is concerning if Klopp is to trust the Frenchman in midfield. Operating in Klopp's asymmetrical 3 man midfield as the most attacking player is not easy and requires creative players to not only provide an attacking impetus for the team but balance to the side in a defensive sense which includes the ability to retain the ball but also show the tactical discipline to defend in Klopp's system which Coutinho has demonstrated the ability to do. Again it remains to be seen whether Lemar would be able to do this. As highlighted, when we explore how difficult it is to not only replace Coutinho's elite levels of productivity but his unique ability to operate in several positions we begin to understand why realistic targets and quality players such as Lemar can't solely replace him. As previously stated, Lemar would bring a lot more pace and dynamism to Liverpool's side as well as the potential for a similar level of creativity but to think he could come in and replicate the influence Phil has had on this side when operating in a variety of positions is naive. One of the main areas of concern surrounding Lemar when we compare him to Phil is his lack of flair and technical ability in tight areas which is why I believe we should target a player such as Riyad Mahrez who would compliment the Frenchman when replacing the attributes Coutinho possesses.
Again we all recognise Mahrez can't solely replace Coutinho for all of the reasons stated above but as we've seen over the last couple of years Mahrez is great in 1v1 situations and possesses great trickery and flair, probably more than Phil and definitely a lot more than Lemar. Although the Algerian hasn't reached the elite productivity of Coutinho, he has still managed 7 goals and 7 assists in 21 league games this season which is fairly decent and would take some pressure off a player like Lemar if Mahrez can come into the side to score and create goals. The two would, of course, be unlikely to play together barring serious injury but having two players who can compliment each other's attributes such as with Lemar's power and dynamism and Mahrez's flair and trickery would go some way to replacing the attributes Coutinho offers. Mahrez could, of course, play wide-right but I also believe Klopp could develop his game so he could play on the right-side of central midfield in Klopp's asymmetrical 4-3-3. The Leicester winger would, of course, have to improve his awareness defensively and understand exactly how Klopp wants him to operate in this position but I believe he's got all the technical attributes to be able to play here. I'm not saying a pair of Lemar and Mahrez could perfectly replace Coutinho but finding two players who can complement each other in order to replace the attributes Phil has leading to him being so influential to our side is crucial.
Replacing a player of Coutinho's elite level and unique attributes is, of course, going to be very difficult and is unlikely top be done fully in January but finding two players who can compliment each other's attributes will help to do this effectively. I think Thomas Lemar would go a long way to replacing Phil but him alone as outlined above will not be enough to replace the influential impact the Brazilian has had on the side. It currently looks unlikely the Reds will be able to convince Monaco to part with Lemar this month, therefore, Liverpool should have at least one attacking player lined up so we can go some way to replacing the impact Coutinho had on the side even if we are not to fully replace him until the summer. If the Reds fail to sign anyone then a lot of the hard work they have done up until now could all go to waste as relying on the attackers we've got at the minute to challenge for the top 4, Champions League and FA cup would be totally unrealistic. In addition, a serious injury to Mane, Salah or Firmino would leave us at serious risk of missing out on the top 4. Liverpool football club has a massive couple of weeks coming up which will go a long way to determining the success of the rest of the season.