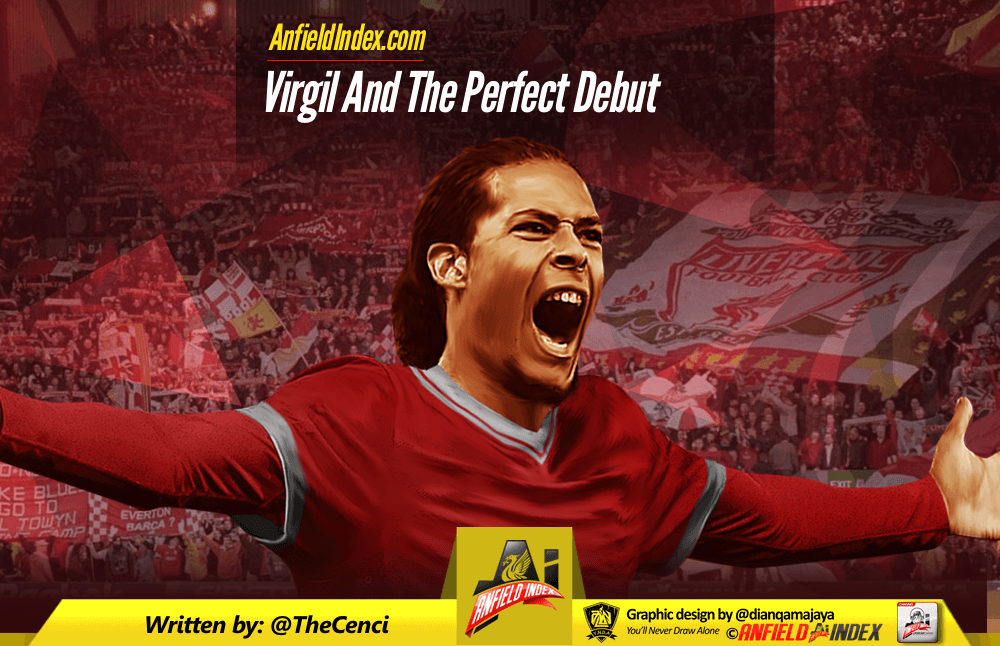 Virgil And The Perfect Debut
Nothing scares me more than the debut of a big money player.
It takes me back to the passage in Carra's autobiography where he discusses the signing of El-Hadj Diouf from Lens. 'The Serial Killer' (and we can assume that he gave himself that nickname) cost Gerard Houllier £10m – the equivalent of about three times that today – shortly before the 2002 World Cup and claimed it would have fans on the edge of their seats. Well, if that were true it would only be due to them rubbing their eyes in disbelief as Diouf dragged our name into the mud.
Mere seconds into his first Melwood training session it became clear to his new teammates that he had a fraction of the talent that his reputation advertised. Furthermore, he acted as if the world revolved around himself rather than his new club. Both Carra and Gerrard were left bemused at his inability to perform the simplest tasks and before too long the Senegalese would routinely be the last player to be selected in the customary five-a-side game which always ended the training session.

Big signings make me nervous.
It's similar to spending a month's wages on a Christmas present for a child and then being told that the gift is now outdated and don't you know anything? Or, to a lesser degree, giving a Star Wars fan a Jar Jar Binks toy without having prior knowledge of The Phantom Menace. Always a risky enterprise.
So when Virgil van Dijk took his place in the line-up in a home Derby in the FA Cup under the lights with Everton having passed the eighteenth anniversary of their last Anfield victory, you have to eye the heavens with suspicion. This is prime Sod's Law territory. Everything was set up for failure, so much so that it even looked probable rather than possible. Well, that's if you're a cynic like me who feels he is pursued by bad luck rather than good. Surely we'd go down to a last-minute VvD own goal, deflected off his extraordinary beard.
As I say – nervous.
Oh, there have been some great debuts. Collymore, Kuyt (my favourite, even though he didn't score. He just ran onto the pitch as a substitute and leathered the first ball that came to him goalwards. I knew from that moment that we'd become firm friends) and, well, Nigel Clough, but there's always a higher risk of humiliating failure with the larger transfers.
Welcome, Virgil.
For a start, I must be the only person who thought that he wasn't the best centre-half I'd ever seen and his performance for Southampton at Anfield was scratchy at best. Then there's his injury record and the embarrassing narrative about his near-transfer in August. It's one thing to buy a player who isn't up to the mark, but to actively pursue him across half a season… well, it's got hubris written all over it, hasn't it?
Then I saw his face.
Now I'm a believer.
Forget the goal for the minute (though I'll be returning to that for a 14 volume encyclopaedia at some point) and look at the defending. First to pretty much anything, telling Matip when and where to go, marshalling his fullbacks and …
And…
Telling the goalkeeper when to come for the fucking ball.
Jesus, I would have given unto half my kingdom for that alone before kick-off.
Good players come with the advantage of influence and it's my belief that the Dutchman's guidance will bring the best out of Matip. I like Joel well enough, but I think there are times when I've somehow missed on the hyped-up adulation of him. Some see a calm, unruffled defender. I see a man who can't head a ball straight to save the life and is slow to react to danger more often than not. I've always put this down to the responsibility of having to look after his partner and right back as well as the goalkeeper. Maybe Virgil's presence will put that to bed and we'll see better of him.
Virgil should have scored before the corner but maybe that would have been too predictable. Maybe we had to wait for the drama of the last few minutes rather than have him score a second in a 2-0 win. After all, where would be the glory in that? No, this was much better. Liverpool seldom score from corners – a fact that was the case even in the glory days – and we hardly use our height to our advantage. Also, that goal had Everton written all over it. Dumping it over the line thanks more to brawn than brain and, let's face it, a defensive and keeper error. Yes, that made it more beautiful.
There will never be a day when a derby victory will be overshadowed by a player leaving and this weekend will always be more about Virgil than a player signing for Nike. Liverpool's last two games have been won by centre-backs throwing their head into a dangerous area and things like that make older Reds like me very happy. Very happy indeed.
Coutinho will be missed, of course, he will, but for this weekend we can finally say that we have a no-nonsense centre-back who scores winning goals in Cup Derbies and nothing beats that feeling. True, we build statues for our heroes far too early at this club, that's a hell of a marker he's set down.
City next, Virgil. Sort that one out, will you? Cheers.