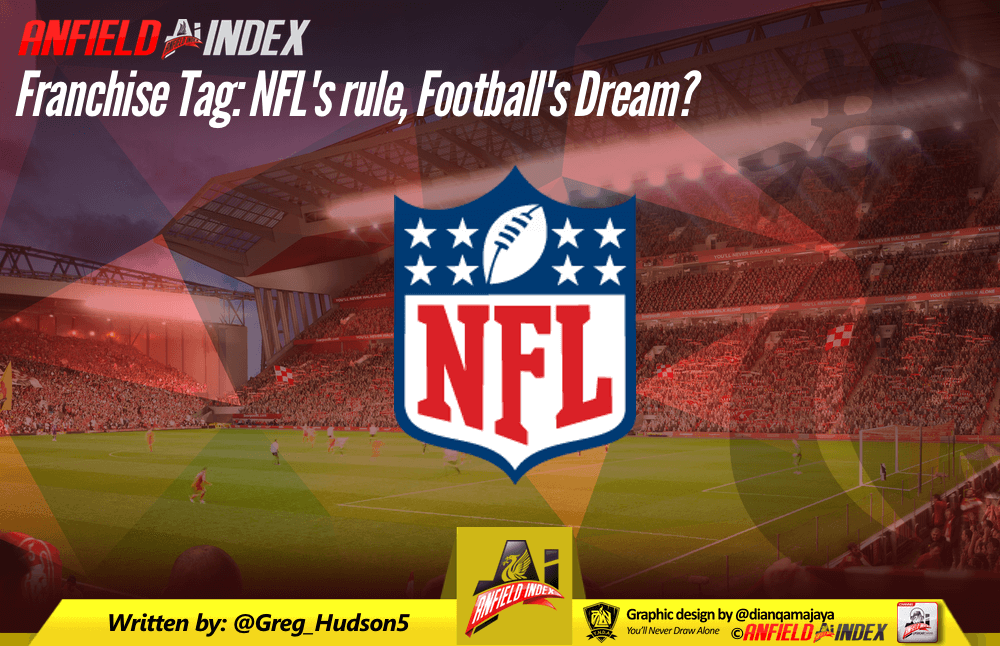 Franchise Tag: NFL's rule, Football's Dream?

As an American Red, I don't see a lot of Liverpool news, gossip and talk through popular sports media here in the U.S.
I usually seek it out myself, leading me to major UK sports media like Sky, and the meatier local and fan-run sites and YouTube channels like RedmenTV and Anfield Index.
While reading through the Coutinho transfer news back in January, I came across a piece on the Sunday Supplement panel on Sky Sports, where Henry Winter described Phil's move to Barcelona as "a huge loss for the Premier League."
At first, I didn't make too much of it. It's an unfortunate reality. If you want a challenge in the world's most competitive league, you come to England. If you want to be a global superstar, you go to Spain. And that's what Phil has done. And Suarez. And Bale. And Ronaldo. And so many others, going back decades. It's affected Arsenal, Chelsea, United, Spurs. It's particularly affected us.
Then I watched NFL playoff football over the weekend (since our FA Cup game was Friday, the weekend was wide open, so why not?). And while I was watching, I realized that this "huge loss for the Premier League," as Winter put it, doesn't have to be a thing at all.
All the FA, Premier League and EFL need to do is take a single page out of the NFL rulebook.
I know, I know. God forbid England does ANYTHING to become more like America. But this particular rule would protect English clubs and increase the quality of players in the league.
It's called the Franchise Tag.
In short, during the offseason period, each NFL club has the right to designate a single player with the franchise tag. The tag performs two main functions:
it guarantees a player a salary equal to the average of the five highest-paid players in the league in that position
it secures that player's contract and prohibits the player negotiating with other clubs
It seems simple because it is. A franchise tag gives a player a financial incentive by guaranteeing the player will receive one of the best wages in the league, while it protects the club by guaranteeing the player doesn't depart or even seek a move elsewhere.
While this rule in the NFL applies only to players who are about to enter free agency at the end of their contracts, imagine the effect such a rule could have for Premier League football.
A club that fears its star player may seek a move abroad can, while the player remains under contract, place the Franchise Tag on that player, ensuring the player must see out the whole season with the football club. During that time, any bids from foreign clubs will be automatically rejected, and the player is prohibited from any and all discussions about a transfer, including submitting a transfer request.
If you look at star players in the Premier League who have tried or succeeded in forcing moves abroad, you can understand why the FA and the different English leagues would benefit from a franchise tag.
Elite clubs like Liverpool can prevent their stars being swiped by Spanish giants, while clubs like Southampton can likewise prevent us from poaching their best talent. The rule would also benefit lower-league sides, giving them the capacity to reject bids for rising stars as they seek promotion, which would surely be of greater financial benefit than the profit on a player's sale.
Fulham, for instance, could keep hold of Ryan Sessegnon as they seek promotion. Swansea could secure the services of Alfie Mawson, should they be relegated, strengthening their chances of being promoted again next season.
The fact in football has been – at least lately – that when a player wants a move, he eventually gets his move. It always works to the benefit of the player, but as Winter observed, always works to the detriment of the league.
I'm sure the legal logistics of implementing such a clause in football bylaws in England would be monumental, but if the FA, Premier League and the EFL are concerned with maximising the quality of football on display in England, which will enhance both the profitability of the sport and English clubs' competitiveness in continental play, surely a move to protect clubs from want-away players forcing moves warrants discussion at the very least.