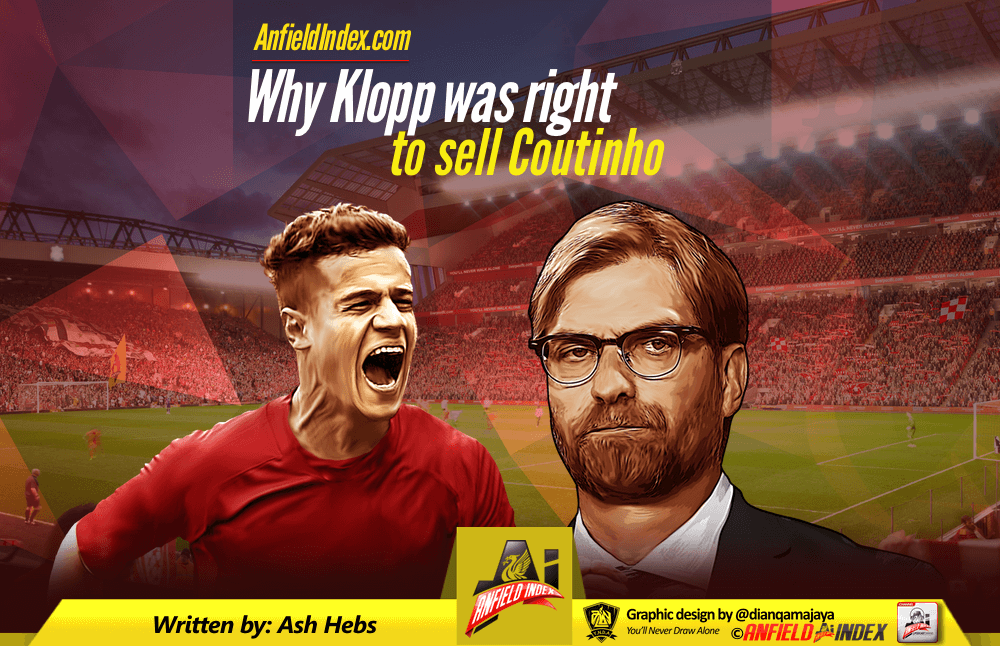 Why Klopp was right to sell Coutinho
If you are like me you're still probably feeling more than slightly irritated at the sale of Phil Coutinho. Yes, the club got good money for him and it allows Klopp to build up the wider squad. But the circumstances and manner of his departure certainly leaves a sour taste behind.
Frankly, the way Phil behaved prior to his departure was poor; it was disrespectful to a manager who values a unique team ethic and sense of togetherness in his squad. A manager that continuously supported Coutinho and, by all accounts, never showed him any disrespect. It was disrespectful to the fans that have shown him so much love and adulation. It was disrespectful to his teammates who have their own goals and targets to achieve this season.
Team Unity
It's Klopp's ability to forge a special team spirit that makes him such a box office manager in what can be a cynical industry. It explains his longevity at his past two clubs. It explains the way he is revered at those clubs long after his departure. This ability is one of Klopp's raisons d'etre as a manager.

If the reports are to be believed, Coutinho announced to his teammates his intentions to leave before the start of the season. The timing was ill-advised at best, despite his reasons behind a move is understandable. This no doubt would have unsettled Coutinho's teammates. In fact, such was the impact, that Klopp considered selling him in the summer, which speaks volumes. Klopp must have felt extremely let down by such a key player. As Sakho found out, once a line with Klopp is crossed, there's usually only one outcome.
Studies have shown that once a problematic team member starts to become a toxic influence, then that negativity can quickly spread to other members of the group. Furthermore, the constant media circus of "Coutinho to Barcelona" would have gathered more pace as we approach the end of the season. For manager and teammates, having to pretend all is well in the camp becomes very draining and distracting.
The inevitable departure
From the outside looking in it seems that Coutinho kicked up a fuss, didn't want to play for the club any longer and the club had to act. It seems the club was not in a position to bring in an immediate replacement. Whether or not there is a short-term contingency plan remains to be seen. What is clear is the club are actively seeking high-quality players, as potential options for the January transfer window or the summer.
However, this is easier said than done. Sadly there are realistically few, if any, "plug and play" replacements who can be brought in to immediately compensate for Coutinho's output, whilst being eligible for the Champions League.
One can argue that Klopp did well to manage the situation for 5 months and get the best out of Coutinho while he could. As we saw with Suarez, it's amazing what the motivation of joining your dream club can do for performance levels. Whether Coutinho could have sustained his early season form is a matter for debate. It's hard to maintain that incredible level of performance for a whole season.
But make no mistake, Klopp was right to protect his group and get rid of a disruptive influence as soon as possible. It's good basic people management.
When a player of such influence and standing is not happy, then maintaining morale and motivation is very difficult for any manager. It can jeopardise everything the manager is trying to achieve. It was a risk Klopp was not willing to take.
Pros and Cons
Replacing Coutinho was always going to be a big ask this January window. Maybe Coutinho's sale has left the club vulnerable in it's main aim for the season, namely a top 4 finish. However, it appears that Klopp's priority was to keep squad focus and maintain harmony in the ranks. It was a case of damage limitation and it's very difficult to criticise him for that. He has already shed the team of reliance on one or two players. It's about the group rather than individuals.
Nobody will dispute the fact that we will miss Coutinho's goals, his guile from deep, his positional flexibility. No doubt Bobby and Mo will miss that almost telepathic understanding they had with him.
However, we have seen signs this team can cope without Coutinho. The arrival of VVD makes us harder to beat which immediately gives us a better chance of winning games with the quality that remains. We have lost an, at times, selfish player who didn't always make the best choice of pass for the wider team. Yes, we lose quality on the ball from deep but perhaps it allows us to better utilise our pressing game.
Coutinho's departure also allows other players to have the freedom to express themselves a bit more; to take on the mantle they would have otherwise relinquished in his presence.
Conclusion
To conclude, it's hard to find any fan that is happy with the current situation. But it is what it is. In the longer term outlook, no player is indispensable and Klopp is perhaps justified in believing he can achieve top 4 with the current squad. The time to judge him will be May. Nevertheless, Klopp has acted decisively and correctly in my opinion. The manager knows his squad and deserves the benefit of the doubt.
In a matter of a few months' time, once Klopp has replaced outgoing players this team could be a mouthwatering prospect. If that happens then Coutinho will be nothing but a fading memory.