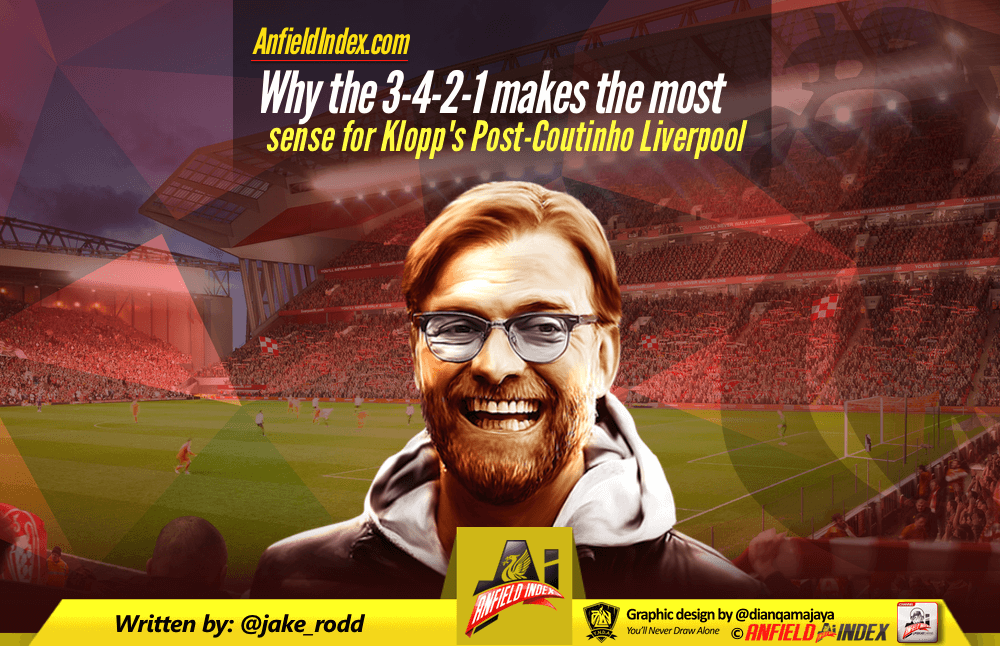 Why the 3-4-2-1 makes the most sense for Klopp's Post-Coutinho Liverpool
Like Alonso, Torres, Mascherano, Sterling and Suarez before him, Philippe Coutinho has been lured away by one of the bigger fish in world football. As a result, Liverpool and Jurgen Klopp are left with the task maintaining what is widely considered to be an upward trajectory without their most influential player.
It is fortunate, at least, that the departure of the Brazilian comes just as Adam Lallana looks ready to rejoin the midfield – Liverpool's number 20 is one of the few midfielders in Klopp's arsenal that has the natural guile to fill Liverpool's 'offensive number eight' position. Most would agree, though, that he alone is simply not talented enough to replace Coutinho like-for-like.
Alex Oxlade-Chamberlain is another rumoured candidate that comes to mind when considering replacements to fill Coutinho's ex-role and, whilst he offers pace, tenacity and a fantastic work rate, these are not the qualities that Coutinho's departure leaves the reds lacking. Much like Lallana, the Ox simply cannot be expected fill the diminutive Brazilian's shoes.

Liverpool's arrival-to-be Naby Keita is almost tailor-made for the Coutinho-shaped hole in the midfield, the keywords, however, are 'to-be' – Liverpool need a solution for the next six months if they are to finish in the Top Four again and thus this article will not delve too deeply into his prospects.
The reds need a player with the ability to beat a man, or two, and play a quick ball over the top to feed Salah, Firmino and Mane – neither Lallana or Oxlade-Chamberlain are suited to this kind of role. Assuming Liverpool do not sign a replacement for Coutinho in January, the system Jurgen Klopp has employed thus far will not work as effectively for the second half of this season.
As a result, Liverpool may need to change the system for the remainder of the 2017-18 campaign. This season has already seen the use of a 4-4-2 – this could work, assuming Salah and Firmino are flanked by Oxlade-Chamberlain and Sadio Mane, but this article will propose a rather more creative solution to Liverpool's problems: the increasingly fashionable 3-4-2-1.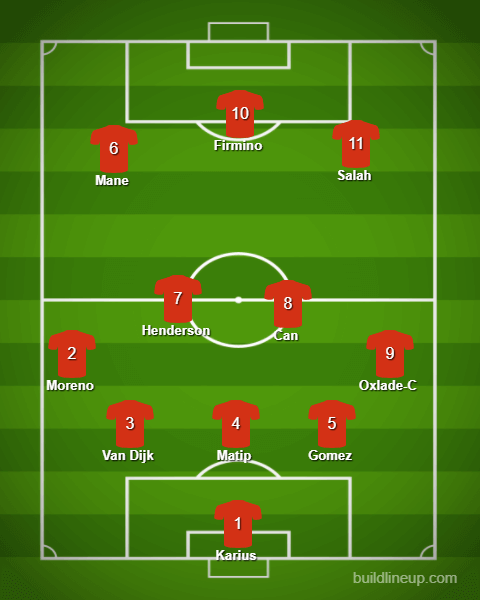 Let us begin.
The reasoning behind the choice of formation is simple: it plays to our players' strengths. Skipping over the goalkeeper entirely, we shall begin with the proposed back three: Joe Gomez, Virgil Van Dijk and Joel Matip.
Joe Gomez, having started this season at right-back, has impressed immeasurably and is widely touted for a centre-back role in the future. Moving from a full-back role to a wide centre back in a three is the most comfortable first step he could hope to make in his widely anticipated transition into a regular centre-back – such a move would benefit both his development and the side as a whole. Moreover, his pace and physicality fit in with the requirements of the role perfectly.
Virgil Van Dijk, against boasting physical power and astute defending skills, would start on the left allowing Joel Matip, who has a tendency to carry the ball forwards and does so remarkably well, could fill the center role (which allows for these movements).
Wide-backs: Alberto Moreno and Alex Oxlade-Chamberlain. Starting with the former, Alberto Moreno has silenced the plethora of critics (of which I was a part) with a string of fantastic offensive performances. That being said, most fans would feel slightly more at ease if Moreno was given a role with less defending required – the wing back role allows him to make the most of his energy, speed and offensive awareness whilst limiting any defensive shortcomings.
Similarly, Alex Oxlade-Chamberlain produced his most influential performances in an Arsenal shirt playing as a right wing-back. His natural assets (physical power and work-rate) are exactly what the role requires. The winger/midfielder/wing-back is a jack of trades yet master of none – he lacks the touch and vision to play on the wing and the awareness to play in midfield – like Moreno, the wing-back role makes the most of his considerable assets and limits the impact of his weaknesses.
The midfielders are the most difficult choice – they depend largely on strategy. A more defensive side could field Emre Can (it is worth noting at this point that this formation proposal is a response to Liverpool's need to limit Coutinho's departure until Keita's arrival in summer, thus Can remains a part of the plans) and one of Henderson, Milner or Gini Wijnaldum. A more adventurous side would see Lallana partner either of the four aforementioned midfielders.
The midfielders in a 3-4-2-1 are given a work-horse-like role rather than an attacking one (see Kante and Bakayoko) and, given that Can, Milner, Wijnaldum and Henderson are more industrious than they are skilful, this fits their profile rather well.
The front three, clearly, are Sadio Mane, Roberto Firmino and Mohammed Salah who, for all intents and purposes, would perform the role they have done until now, with the Brazilian often dropping deeper to allow for the pace of Salah and Mane to exploit the gaps he creates. It can be said, for certain, that these roles fit Liverpool's front three remarkably well.
In conclusion, the 3-4-2-1 would help Liverpool's considerable defensive roles whilst eliminating the need for an offensive eight. Making the most of the Liverpool squad's strengths and reducing the impact of their weaknesses is no-doubt a positive, too, and though the chances of Klopp adopting such a drastic change of approach is extremely unlikely, the idea is worth thinking about.