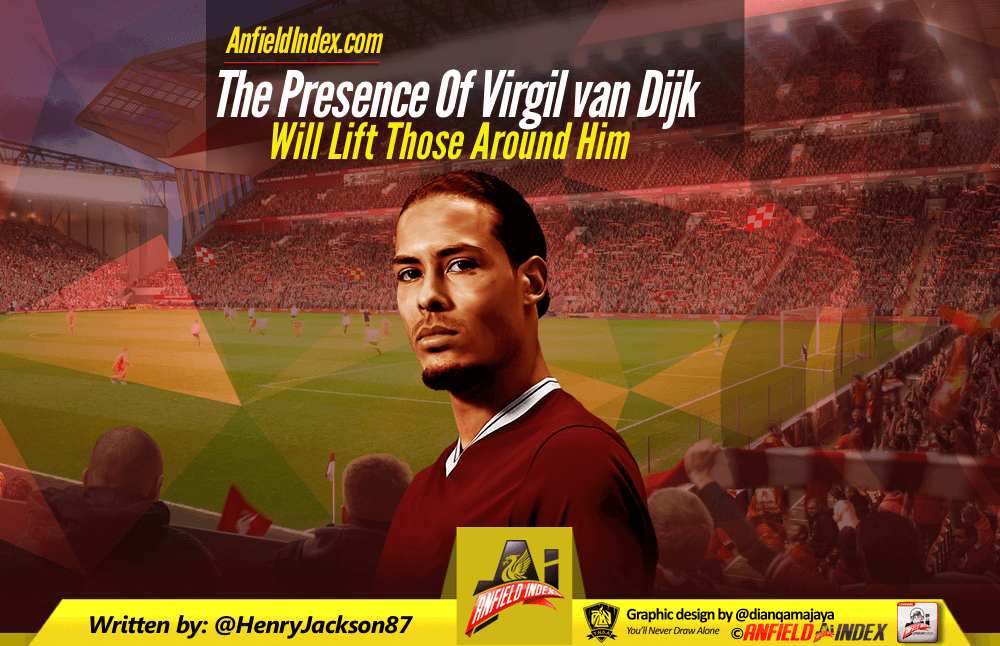 The Presence Of Virgil van Dijk Will Lift Those Around Him
Something that stands out immediately when you look at Virgil van Dijk is the authority he possesses. There is a real aura about him.
It is something that has always been evident with the Rolls Royce centre-back, whether it be as a youngster at FC Groningen, someone way ahead of the rest at Celtic or during an outstanding three-year spell at Southampton.
The 26-year-old has only made one appearance for Liverpool, so going overboard can risk future mocking, but he looks like he belongs at such a prestigious club. Not only that, he believes he is one of the best players there.

Van Dijk knows full well that he is a bordering-on-world-class player – there is a swagger to him that helps bring that aura to the fore.
He knows that everybody is watching him, all fully aware that he is the most expensive defender in history, but he is a character who thrives on being the main man. He won't shrink with that price tag on his shoulders.
The Netherlands international is a man mountain of an individual, and is someone who would stand out from the crowd if you walked past him down the street. It is actually a surprise that he is only 6ft 4in tall.
The way he carries himself, and the ease at which he wins aerial battle after aerial battle, would suggest he was a couple of inches taller.
Virgil The Game Changer
It is not often that a new signing comes along that gives off this sort of air, but every now and then, you get a player that feels like a game-changer.
Kenny Dalglish most certainly did when he replaced Kevin Keegan in 1977, despite much uproar surrounding the latter's departure to Hamburg, with the legendary Scot clearly a genius with more talent than almost any British player in history.
Jumping forward 18 years to a more random example, Stan Collymore's arrival from Nottingham Forest in 1995 felt huge, with the striker seen as someone who could guide the Reds to Premier League glory.
A debut winner only enhanced his reputation, much like Van Dijk, and had his attitude and general well-being been more stable, he could have been a superstar on Merseyside.
Fernando Torres was a truly significant purchase in 2007, much more so than Luis Suarez when he joined, and John Barnes, Xabi Alonso and Mo Salah are a few others who fall into that category.
Virgil Brings Calmness
We all know about Van Dijk's class as a footballer, from his towering presence in the air to his effortless quality on the ball, but his greatest addition to this Liverpool side may well be his ability to lift those around him.
All of a sudden, we may see Dejan Lovren eradicating the errors, Joel Matip cutting a more authoritative figure and Joe Gomez being given more opportunities centrally, learning from one of the best in business.
We may see Jordan Henderson and Emre Can play with a little more calm in front of the defence, safe in the knowledge that there is a beast of an individual shoring things up behind them.
This is something the great players do.
Virgil To Improve Those Around Him
Sami Hyypia and Jamie Carragher made individuals like Stephane Henchoz and Martin Skrtel look much better players than they were, and further up the pitch, the likes of Steven Gerrard and Torres could make anyone look at least competent alongside them.
It is a complete myth that Suarez single-handedly almost won Liverpool the Premier League in 2013/14, but he was still the catalyst, making Daniel Sturridge, Raheem Sterling and Philippe Coutinho play better in a fearsome attacking unit.
Plenty of the best English sides in history have had some fairly limited players in their ranks, but having legends of the game as teammates saw them become very effective.
Was Ray Parlour anything special? Of course not. He was excellent for Arsenal's 'Invincibles', though, surrounded by Thierry Henry and Patrick Vieira.
Darren Fletcher was never a top player for Man United, but he grew in stature with Paul Scholes and Ryan Giggs next to him. The same applies to John O'Shea, Wes Brown, Park Ji-sung and so many that Alex Ferguson turned to over the years.
Liverpool's great sides of the 1970s and 1980s did not see 11 special players take to the pitch every week – there were plenty who would never have done a huge amount for a team lower down the division.
Van Dijk can be a similar presence to those greats mentioned, making lesser players important cogs in the machine.
From the outset against Everton last Friday, in one of the most memorable Liverpool debuts in history, he shone.
Sure, he was skinned by Yannick Bolasie on one occasion early on, and he took a short time to express himself in possession, but he was barking out instructions and organising as soon as the game kicked off.
Virgil The Leader
Some players are born to be leaders – we all grew up with that one person in our team who shouted the loudest and stood tallest in moments of adversity – and Van Dijk is one of those.
Jordan Henderson is not a natural captain in the slightest, and although he does his best to get in the faces of referees, gee up those around him and cut an intimidating presence, it often feels like it is for show.
Can is one of those who definitely rallies the troops at times, but his passion can be borderline reckless, which helps nobody in the long run. There is a dearth of leaders in this Liverpool squad.
Van Dijk screams "captain material", and it would be no shock in the slightest to see him given the armband one day.
This is a truly top player that Liverpool have acquired, so much so that it is hard to find many faults to both his game and his character.
You can never predict the future in football, and for all we know, Liverpool's £75 million man could end up being a flop of a signing.
Plenty of highly-rated Liverpool newcomers have struggled in the past, so there is no guarantee that the Dutchman will be a wonderful success story.
The early evidence suggests that everything is pointing towards that, however, and he just gives you that feeling of complete confidence.
There will be mistakes along the way – even Paolo Maldini produced the odd blunder – but Van Dijk will be Liverpool's best defensive signing since Hyypia, taking the Reds to the next level in the process.
Don't come looking for me wielding pitchforks if it all goes horribly wrong.