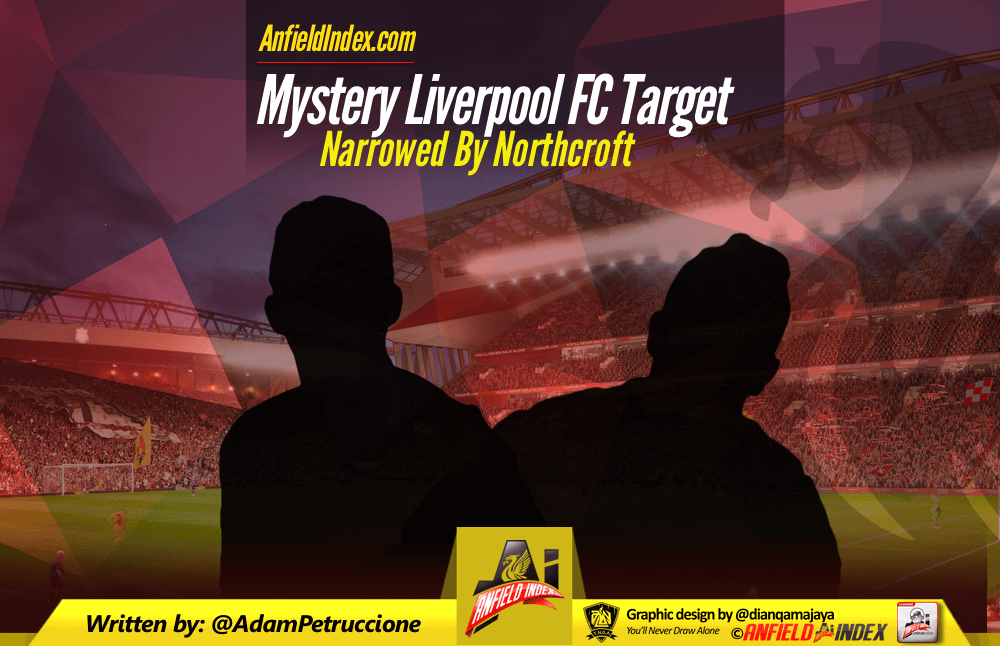 Mystery Liverpool FC Target Narrowed By Northcroft
After the untimely departure of Philippe Coutinho, Liverpool supporters are understandably anxious to pin their hopes to a replacement. The names that are repeatedly thrown out there are Leicester's Riyad Mahrez and Monaco's Thomas Lemar. However, reports have varied from tales of deals nearly done to outright dismissals of the links altogether.
Two recent journalist interviews have created a serious buzz amongst LFC supporters and may move the media microscope to an entirely different group of players. The Telegraph's Jason Burt, speaking to Sachin Nakrani on Anfield Index Pro's Media Matters podcast teased us by saying that Jurgen Klopp was lining up an "interesting" signing that was not yet being mentioned in recent media reports.
A vague statement, but if Burt is correct then that would mean neither Mahrez nor Lemar are Klopp's intended target.

A second Anfield Index Pro Media Matters interview, released last night took that ambiguous statement and brought Klopp's mystery man much more into focus. Gags Tandon asked Jonathan Northcroft of The Sunday Times to comment further on Liverpool's intended targets and the response will have ITK's scrambling.
https://twitter.com/AnfieldIndex/status/951053600456957953
NORTHCROFT NUGGETS
Northcroft dropped a couple of initial hints, stating that we will be looking for young, developmental players on the defensive end of the pitch (Sessegnon and Akanji perhaps?) and that the Lemar will be difficult to get over the line due to Arsenal's intense interest. But let's face it, another prospect at centre-back isn't going to move the needle for Liverpool fans looking for a major splash.
The big clue was Northcroft telling us that the player Jason Burt is referring to is one that has been linked to Liverpool in the past.
"It will be a longer term target… I wouldn't expect any completely fresh names. The person that Jason was talking about has been linked with Liverpool before." – Jonathan Northcroft
When you run back through all of the big Liverpool links of transfer windows past that little statement actually narrows down the list quite a bit. Remember that we can remove Mahrez and Lemar based on Jason Burt's comments. Many of our previous links have already been signed by European powers, aged or fallen off production wise.
Mkhitaryan is in Manchester, making that move impossible. Teixeira is lost in China. Mario Gotze is looking like a fortunate miss, unable to get back to his best at Dortmund.
There are lower level players we've been linked with like Quincy Promes, Mahmoud Dahoud and Piotr Zielinski, but you get the impression from Burt and Northcroft in these two interviews that Klopp's aim is for a much higher profile player than that.
The two tantalizing names that remain are Leverkusen's Julian Brandt (21) and Dortmund's Christian Pulisic (19).
Excited yet? Here's why you should be…
One of the many difficult things about losing Coutinho is his positional flexibility. Having a player that can perform so well on the left of the attacking three as well as in midfield is huge for Jurgen Klopp in terms of his in-game tactics and how he can prepare the squad match to match. Pulisic has even more positional flexibility, having split most of his starts between the left and right of Dortmund's attack, but also playing across the midfield and even wingback. Brandt is predominantly left-sided like Coutinho but is comfortable on the wing or in midfield. Both would solidify the rotation among the front three as well as the creative midfielders. That cash register sound you hear is FSG calculating how much they'll save by signing one of these multipurpose players instead of one for each role the little magician used to play for Liverpool.
COUTINHO COMPARISON
Pulisic's standard statistics don't jump off of the page; 3 goals and 1 assist in 16 Bundesliga appearances. Brandt is a shade better at 4 goals and 2 assists in 17 appearances. Compare that with Phil's 12 and 8 and you might initially think neither stacks up.
The deeper stats that Michael Edwards might be perusing on his famous laptop tell a different story though. The analytics show Pulisic and Brandt comparing very well with the outgoing Brazilian in xG90 (Expected Goals Per 90 Minutes), xA90 (Expected Assists Per 90), and xGChain90 (Expected Goal Involvement Per 90).
| | | | |
| --- | --- | --- | --- |
| | COUTINHO | PULISIC | BRANDT |
| xG90 | 0.26 | 0.26 | 0.20 |
| xA90 | 0.24 | 0.24 | 0.26 |
| xG90 | 0.62 | 0.69 | 0.65 |
From understat.com
These statistics suggest that either Pulisic or Brandt could produce on Coutinho's level given a better surrounding cast, more minutes and Liverpool's free-scoring system. The young American looks the better pressing prospect at the moment. Pulisic tallies twice as many tackles as Coutinho at 1.3 per match, while Brandt's defensive stats would merely maintain what Phil was providing.
PICK ONE
Brandt was a top target before The Reds moved on to Salah and he has a release clause that drops significantly next season, so Leverkusen could be motivated to make a move. However, given the amount of cash Liverpool are currently sitting on, the marketing possibilities for the player, his positional flexibility, pressing skills and his connection to Klopp, Pulisic has to be the main target that Northcroft and Brent are referring to.
The only negative here is that both journalists have said that this is a move that could happen in January, but that Jurgen Klopp is open to waiting until the summer. Now that the cat is at least partially out of the bag, could the ensuing media pressure facilitate a move before the deadline? After all, how could Dortmund possibly deny a player his dream move in January?
Cue the NewBalance website leak!
Looking for the best audio content on the Coutinho departure and arrival of Virgil van Dijk? Listen to Paul Dalglish, Jan Molby and the journalists that broke the stories as well as fan media reaction to all of the big stories in January!

There's much more with Post Match shows, the best stats show in Under Pressure and monthly interviews with Liverpool FC legends! Try it for FREE for 7 days today by joining AI:PRO!