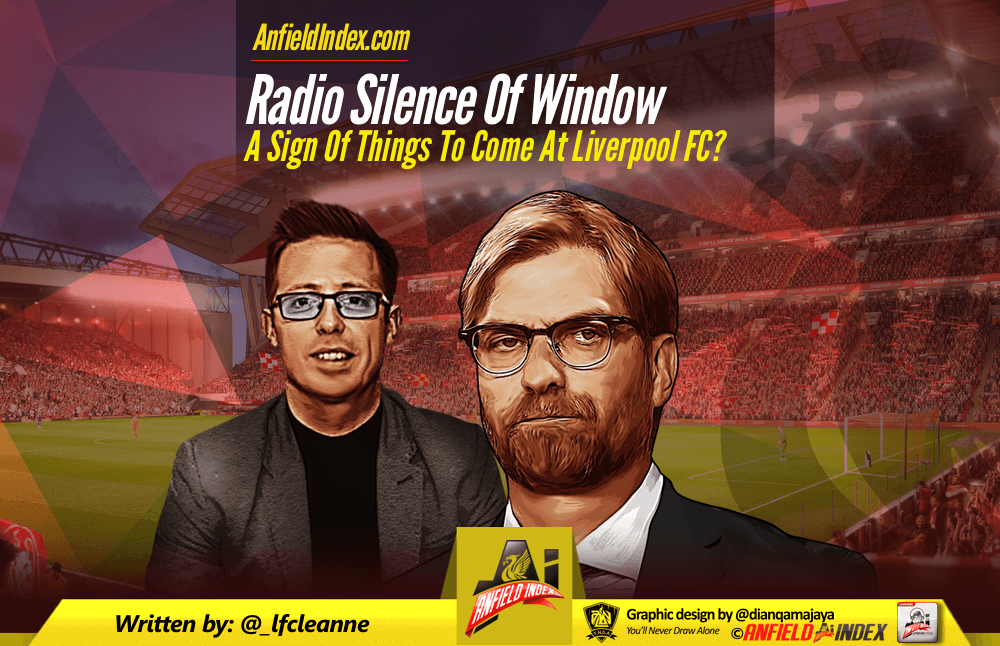 Radio Silence Of Window A Sign Of Things To Come At Liverpool FC?

Radio silence makes everyone nervous, particularly when it comes to transfers.
Having allowed Coutinho to make his highly anticipated big-money move to Barcelona midway through the season with the top-four, FA Cup and Champions League still all to play for represents a huge risk from Jurgen Klopp and the owners. Naturally, that's sent fans into meltdown over who could possibly replace the Brazilian's verve and creativity in the No.10 role.
Such unease hasn't been helped by the stark lack of reports over who the club are looking to bring in to fill the Coutinho-shaped hole in the side, with James Pearce quick to reject any and all rumours of arrivals thus far. But is this simply an indication of what's to come from Liverpool, both now and in future transfer windows?
Having watched a summer deal for Virgil Van Dijk implode in embarrassing fashion, everyone at the club will have taken measures to ensure news regarding transfers is kept airtight. None of Bayern, Barca, Madrid, Chelsea, City or United have experienced something quite like that, with their business kept behind closed doors until the player is signed, sealed and delivered. After all, the presence of such a leak almost cost Liverpool and Klopp their man.
In the summer all appeared to be heading for a happy ending when reports emerged that Van Dijk wanted to join Klopp at Anfield over Manchester City and Chelsea. Yet, tapping up via an 'illegal approach' caused the club to issue a formal statement declaring they had ended their interest in the Dutchman.
Yet, having finally struck a deal this month for a world-record £75million for a defender, Van Dijk got his move. It was kept well under wraps too, providing an indication of the new measures in place to ensure The Reds never have something so farcical occur again.
Thomas Lemar, Riyad Mahrez and Leon Goretzka have all been vaguely reported as potential replacements for Coutinho, but there remains a real lack of concrete links. The biggest hint we've had to go off came from Jonathan Northcroft on AI Pro who reported Liverpool were looking into a deal for "a player they've been interested in for a long time," but even that hardly narrows it down to a select few.
Of course, with such radio silence comes a lot of frustration. When you see your club part ways with their best player in the January window, with no need to sell having tied Coutinho down to a contract until 2022 and opting for no release clause, you're allowed to wonder what on earth the club are thinking. However, perhaps there are some positives to be had from the situation.
For years now Liverpool's business has been openly reported, with infamous 'ITKs' informing fans of who the club are targeting. Now, no one has any idea what is being done behind the scenes; no one has a clue what Klopp's plan is or his vision for a post-Coutinho Liverpool.
That's how it should be.
Of course, we all want a deal to be struck and look for reassurances that there is a desire to fill the gap in the squad having sanctioned Phil's move amid a crucial period in our season while he's in the form of his life. But the open media coverage of Van Dijk's proposed summer move so nearly proved detrimental and could threaten to do the same here, leaving Liverpool in an almighty mess.
It remains to be seen if we do get someone in but we may very well have to get used to the radio silence of transfer windows. Liverpool are on high alert after the summer and it's imperative such mistakes aren't repeated. Let's just hope the story ends in a similar way. Sign someone under everyone's noses without anyone knowing and we'll all be cheering. But botch it, and there will be some serious inquisitions for Klopp and co. to face.