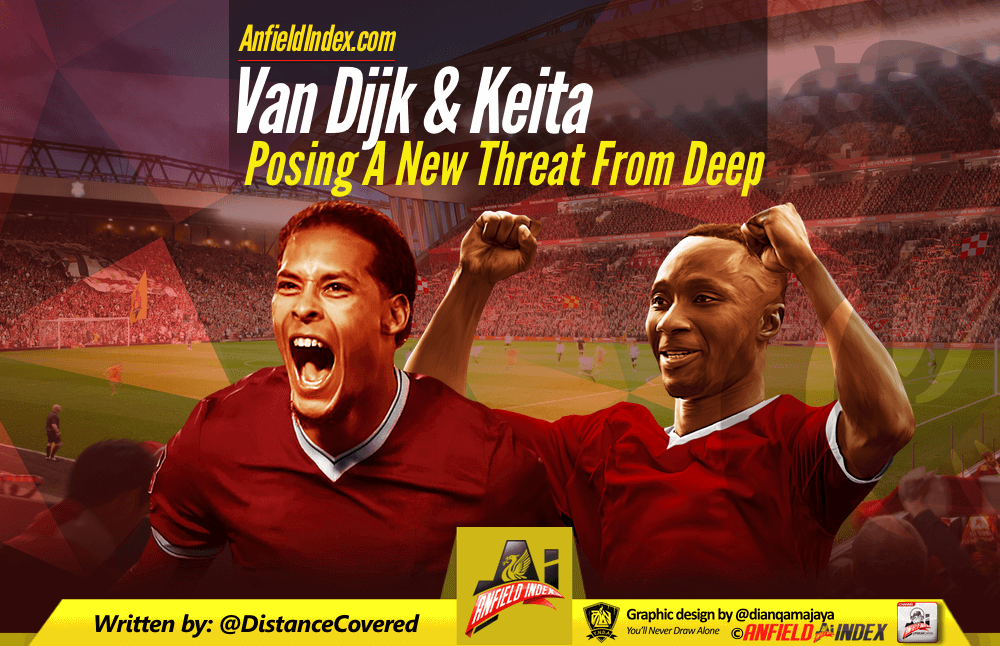 Van Dijk & Keita | Posing A New Threat From Deep
I started writing a tactical piece a few months ago which was set to be titled 'How to Stop Liverpool'. This was around the time that Liverpool suffered two bad results at Anfield in the space of a week by drawing with both West Brom and Everton despite dominating the ball in both matches. The reason I looked to write that piece was because it seemed so easy to nullify Liverpool when watching each game – by simply allowing Liverpool's deeper and more defensive players the ball. The basic tactical approaches employed by the veteran English managers Klopp faced, Sam Allardyce and Alan Pardew, seemed to completely negate the fearsome goal-scoring potential in the side.
How did they stop Liverpool? Well, the simple answer is by sitting deep, but I'll go into further detail. Allardyce and Pardew both set their sides up in a very similar manner, by encouraging them to be positioned deep which allowed no space in behind to exploit, and also by conceding possession and attacking directly through their physically capable strikers, Dominic Calvert-Lewin and Salomon Rondon. Both opponents offered very little in an attacking sense, but still managed to escape Anfield with two draws by forcing the initiative onto Liverpool's deeper and more limited players. If an opponent employs a low block against Liverpool, that then means the space in which the likes of Salah, Mane and Firmino operate within becomes crowded and flustered, so those players become somewhat ineffective. By negating Liverpool's best players in attack, the responsibility to create then shifts to Liverpool's deeper midfielders and defenders, as they're the players that will be allowed the ball by the opposition, as shown below.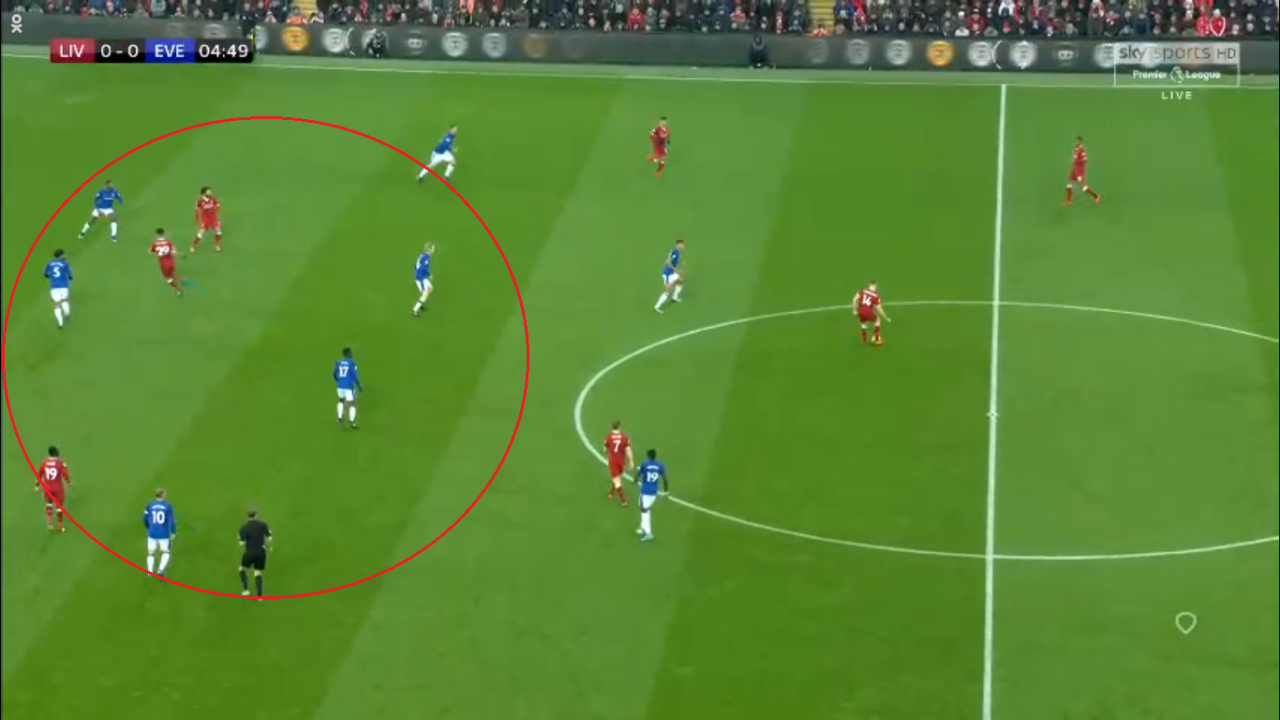 This is where Liverpool's problem became apparent, as the deeper and more central players at Klopp's disposal at the time were Lovren, Klavan, Matip, Henderson, Emre, Wijnaldum and Milner, all of whom aren't natural playmakers. Each of those players are fairly limited in possession, and concepts such as breaking lines with passing, dribbling or switching the play effectively are almost alien to them. Instead and as demonstrated in the image above, those players are more inclined to go sideways than to take risks by trying to break through the defensive structure ahead of them. Joel Matip is perhaps the only deeper player that is confident and capable on the ball, but he lacks the range in his passing to properly dictate the game from deep and act as a threat.
Once these situations arose, in which the opposition sit deep and remain disciplined, one of three narratives seemed to follow. The first is what I've previously discussed, in which Liverpool's talented attackers essentially wait for quality passes from deep that rarely come, and as a result, Liverpool end up drawing despite dominating the ball. The second situation arises when Liverpool break through, as we often end up winning by three or four goals, but the initial deadlock is frequently broken through a moment of magic or a mistake rather than a sustainable source of choreographed build-up play. The last situation occurs a lot less frequently at present which signifies Liverpool's progression, but it involves the opponent snatching the three points by scoring from a set-piece or counter-attack and winning the game 1-0.
Although I didn't finish writing that piece, it now feels relevant due to the signing of Virgil van Dijk and the hype around the potential early arrival of Naby Keita. These two players would drastically change the previously effective approach of stopping Liverpool by merely sitting deep, as they're much more capable and forceful on the ball. Virgil van Dijk is an incredibly composed footballer and has the confidence to bring the ball forward as well as the ability to execute diagonals effectively, as pictured below, without taking three or four controlling touches like the rest of his defensive teammates.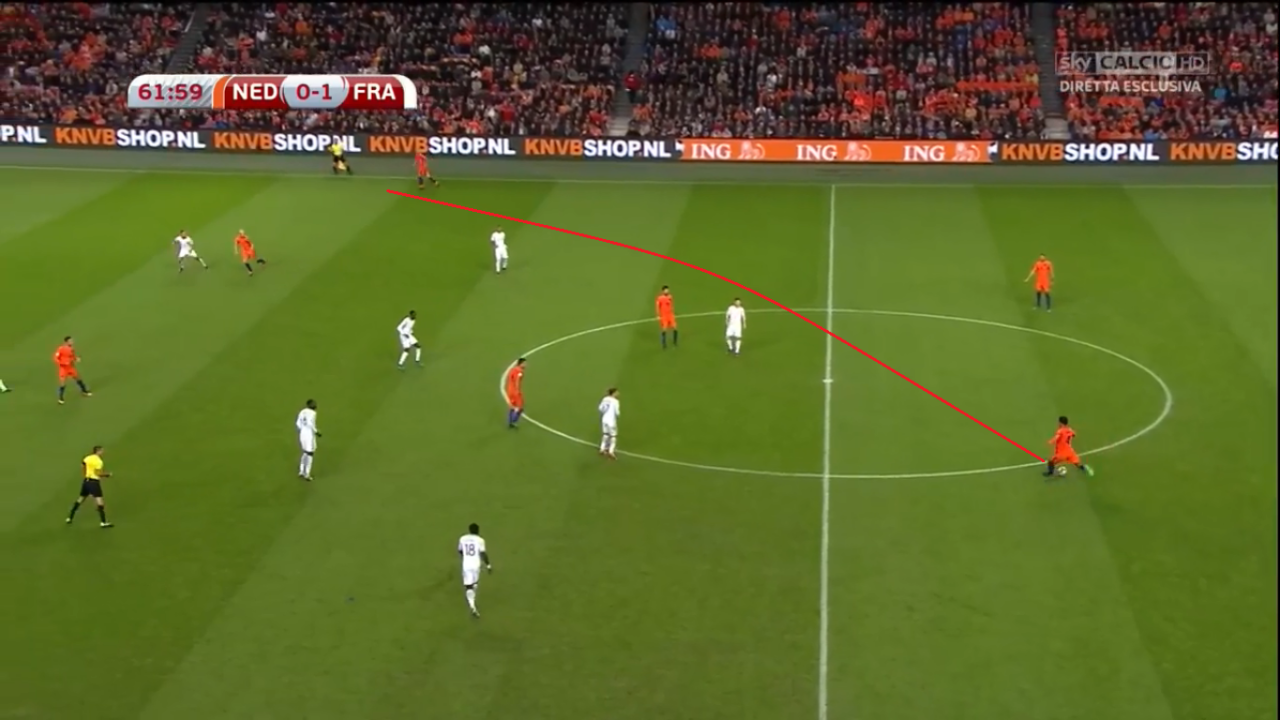 In addition to this, Naby Keita is an exceptionally unique midfielder with a complete skill set, and he'll bring numerous traits that are currently lacking in Liverpool's midfield. Keita will be Liverpool's most dynamic midfielder since Steven Gerrard, as he regular drives forward with the ball at his feet to join attacks, as well as breaking through blocks with dribbling and passing. Below is an example of this, as Keita initially received the ball about 30 yards deeper than in the screenshot, but took the initiative to drive forward with the ball rather than playing a simple pass.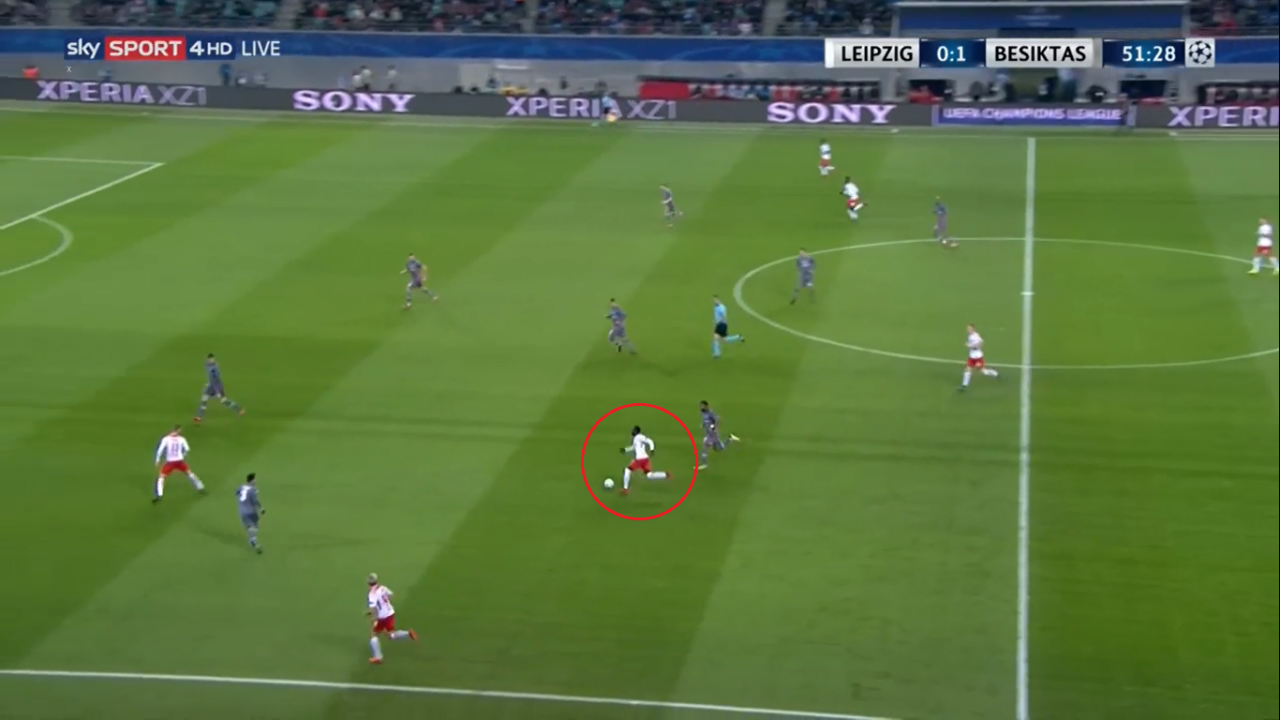 To establish how the additions of Keita and van Dijk change Liverpool's threat moving forward, let's use the 0-0 at Anfield against Allardyce's Everton as the example. In this match, Allardyce had clearly instructed his entire side to sit as deep as possible behind the ball with the odd exception of the striker and to allow Liverpool's defensive players to have as much possession as they wanted. This worked okay but the logic behind using that game plan wouldn't apply with van Dijk and Keita on the pitch. These two players CAN provide a threat on the ball, and they DO have the personality to cope with the responsibility to create, so the approach of allowing Liverpool's deeper players possession would thus be less effective.
Conclusion
To conclude, Liverpool are now much better equipped moving forward to play against defensive sides that opt to sit deep. The arrival of van Dijk and potentially Naby Keita in January will pose a new threat to inferior sides that look to shift the playmaking responsibility on to Liverpool's deeper players. Hopefully, Liverpool will be able to bring Keita in early and if they do, Klopp's team will be much more balanced than ever before with threats positioned in each area of the field as opposed to solely in attack.