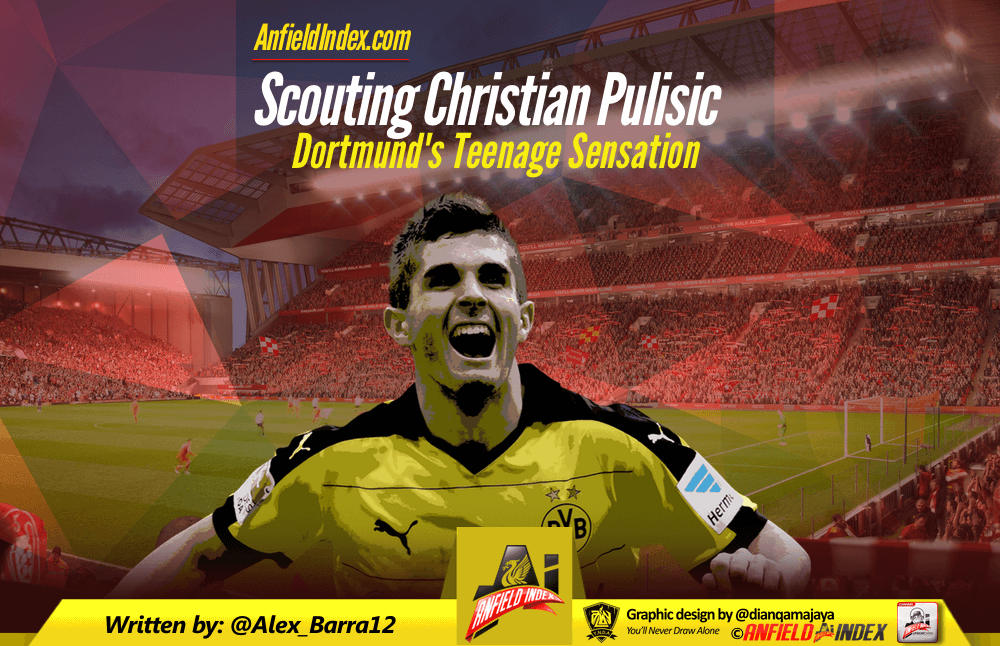 Scouting Christian Pulisic: Dortmund's Teenage Sensation

At 1-1, Dortmund's recent failures stared them in the face. Julian Nagelsmann – the manager they've been pursuing as a means of ailing all their woes suffered under previous incumbents – was about to grind out a great result at the Signal Iduna Park. Hoffenheim had taken a first-half lead but the lack of attacking impetus had come back to bite them in the rear-end as Pierre-Emerick Aubameyang nailed an equaliser in the sixty-third minute.
Then stepped up the American star who'd been shouldering the troubles of club and country for six months. Latching onto a through ball and dinking the finish over Oliver Baumann – a sublime level of composure on the head of a nineteen-year-old in the eighty-ninth minute, Christian Pulisic once again showed why the world describes him as a "wonderkid."
Yet the man himself hates the word.
"I'm not a prodigy — or a "wonderboy," as some have put it. I was always, you know, a decent player growing up. And yes, I was born with a certain amount of so-called "natural ability." But I also worked and sacrificed a lot to try to maximize what I was born with — which I think is important to point out."
He said, in an article he penned on The Player's Tribune in November following the USA's failed efforts to qualify for the World Cup in Russia.
At 19 years of age, brought through by the current manager of Liverpool and prodigious not only in footballing talent but potential marketability to the football club's owners, Christian Pulisic represents the ideal project for Liverpool to invest in, now that their Brazilian magician has departed for Catalonian shores.
Style
The above quote outlines the mentality of a simply phenomenal young player, and it's that mentality that impresses upon a view most of all – Pulisic doesn't give up a single chance to drive towards goal. He gives the ball away too often, he's also caught up in the drive towards goal when he feels like he needs to do it all himself, and he's a diamond in the rough.
Funny that similar things were said about a certain Brazilian at age 22, who just got his dream move to Barcelona.
Pulisic is a different player to Coutinho but would be ideal for what Jürgen Klopp wants to create with his Liverpool side. A drive, a determination, an uncanny blitzkrieg of fire and pace. Pulisic's evolution – from a direct, goal-hungry winger to someone who can play both wings and in the space behind the striker is emblematic of the reason esteemed German journalist Rafael Honigstein would "be very surprised if Liverpool didn't come in heavily for Pulisic" (per The Totally Football Podcast.)
There's also the matter of the "mystery target" spoken about by The Sunday Times' Jonathan Northcroft and The Telegraph's Jason Burt, who indicate that Liverpool could well be targeting a high profile replacement for Coutinho who isn't "one of the obvious names" but who has been inextricably linked with the club before.
Pulisic does fit the bill.
On top of all that, Jürgen was the man regarded as first spotting the American's talent in a first team respect, having told German media in February 2015 that Pulisic was "A great footballer, an attacking midfielder" and that "He can kick the ball around really well."
Strengths
He's only scored three and assisted once in fourteen starts so far in the Bundesliga, but those low numbers perhaps tell more a story about Dortmund's struggles than those of their mercurial youngster. Indeed, look beneath the face-value numbers and the picture becomes more interesting: Pulisic's expected assists (xA) and expected goals (xG) are practically identical to Coutinho (per Understat): his xA is 0.24 (the same as the Brazilian) and his xG is 0.25 (0.01 less than the Brazilian). That's to say, the output of a nineteen-year-old in a struggling Bundesliga club theoretically could match the output of the third most expensive player in Football history.
Why, then, is he so coveted by Jürgen Klopp and Liverpool?
Blessed with a burst of pace and a quick dribbling technique, Pulisic's main strength comes in the way he's able to use space. Less concentrated on close control and more on speeding past a man, the American unnerves defenders with his ability to get close and seemingly glide past them. His dribbling numbers are immense despite his lack of close control – 3.1 successful dribbles per game (more than Phillipe Coutinho and Bordeaux's Malcom (2.8) and considerably more than Bundesliga counterpart Julian Brandt (1.4)).
There's also the fact that he passes early, and is seemingly involved in everything Dortmund does this season. His xGChain – a stat to determine a player's effectiveness in the build-up of a team's goal (i.e. pre-assists, pre-pre assists and beyond) is 0.69 – that's more than both Phillipe Coutinho and Bundesliga counterpart Julian Brandt – which goes to show his importance to this Dortmund side when it comes to the build-up of chances.
As seen in the Hoffenheim game, he loves getting into goalscoring positions, and his work ethic is belied by his rugged class on the counter-attack. He averaged over 10.2 kilometres per game in the Bundesliga last season (per Bundesliga.com) and values speed on the ball and directness on the attack to trickery or flair.
There's also the potential – not simply behind a kid who's played more games than Lionel Messi or Cristiano Ronaldo had played at his age – but of an American poster-child for World Football. The game is a business, now more than ever, and Liverpool's American owners will certainly be looking at the signing of Pulisic as a marketing masterpiece in waiting.
Weaknesses
As mentioned above, his decision-making needs work, he's been described as rash and too direct at times.
There's also the question of his age, and whether he'd be able to adapt quickly to the Premier League – a trope that gets bandied about every time Liverpool pursue a foreign player. At 19 he's able to hold his own in the challenge and has the dogged tenacity to not lose the ball easily, so he'd likely be alright.
The challenge comes in being Phil Coutinho's replacement – his ability to slot into the front three is without question, but Coutinho was valuable in his multi-functionalism; able to operate both in the attacking midfield three and the forward line. Klopp is no stranger to forcing players to adapt to certain roles – he believes that every player should be capable in more than one position or playstyle – and thus it shouldn't be too difficult for Pulisic, should he arrive, to adapt.
The fact of the matter is he's still a teenager, and despite being lumbered with the responsibility of both club and country, he doesn't seem to be missing a beat.