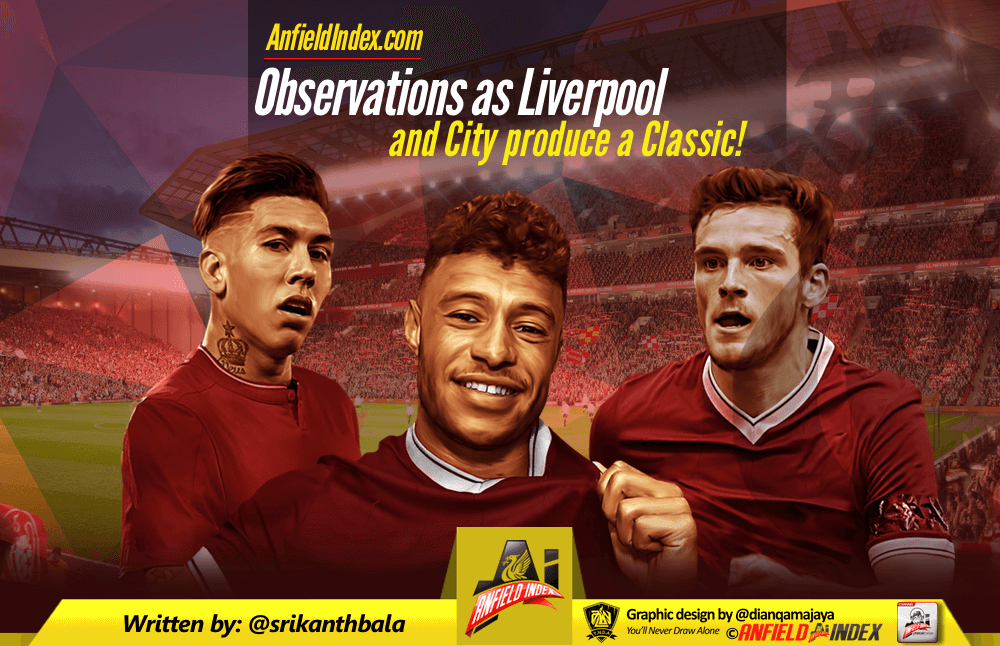 Observations as Liverpool and City produce a Classic!
Liverpool and Manchester City went hammer and tongs throughout the 90 minutes as Liverpool edged the 7 goal thriller in a game which was once again one of the best advertisements for the Premier League as a whole. Liverpool thus break City's lossless streak this season. My key observations are below:
Liverpool end the week on a sweet note
Liverpool's week off the field had not gone particularly well, especially post Coutinho's sale to Barcelona. The Reds were linked to scores of players including  'one who shall not be named,' but to no avail. The day started with Leipzig confirming that Keita would be staying in Germany for the whole season. In this backdrop, Klopp and the fans needed this win to re-affirm the belief that indeed 'all is well.'
Pressing causes Passing mishaps
Liverpool started fast and strong as they usually do and were aided by an early goal. But Liverpool's intensity did not drop at all, with the front 3 doing an admirable job pressing, and cutting the passing channels for City. It was expected that this would drop in the second half, but it did not and their tireless effort were duly rewarded with a goal for each of the front three. Each goal required a different finish, but all were aided by one common theme; desire.

Chamberlain steps up to the plate
Chamberlain's importance had been growing in his Liverpool's fledgeling career, and he once again showed why he should play in the midfield, and only in the midfield. His early goal was what one would want from a box-to-box midfielder; from winning the ball, driving with the ball and an arrowed finish into the bottom corner. He was really aggressive throughout the game and must be a sure shot starter going forward.
Robertson shines once again
Robertson has shown the fruits of playing regularly, as his form has also been consistently good. He defended extremely well on most occasions, undaunted by the form of Sterling. He cut out potential crosses early and was always ready to attack and be a provider on the overlap whenever Liverpool counter-attacked. He provided the moment of the match apart from the goals, with his tireless pressing from one opponent to another, forcing a mistake from City; a microcosm to the whole game.
Age and potential are no longer excuses
Another game, another aerial ball from wide areas, and yes you guessed it right; another mistake from Gomez. This time the youngster misjudged the flight of the ball allowing Sane to coast into the danger area. A sequence of mistakes means that this is now a glaring weakness which we can expect the opposition to exploit. His potential and age can no longer serve as an excuse.
The same applies to Karius. Fans have demanded that Karius play after a series of mistakes from Mignolet. Klopp seemed to suggest that this was Karius' position to lose and unfortunately he did not cover himself in glory. A keeper getting beaten on an acute angle shot on his near post is never a good sign.
We have seen what a series of games have done to players like Chamberlain and Robertson, but have also seen that it has not done any good for a player like Gomez. Which alley will Karius head down?