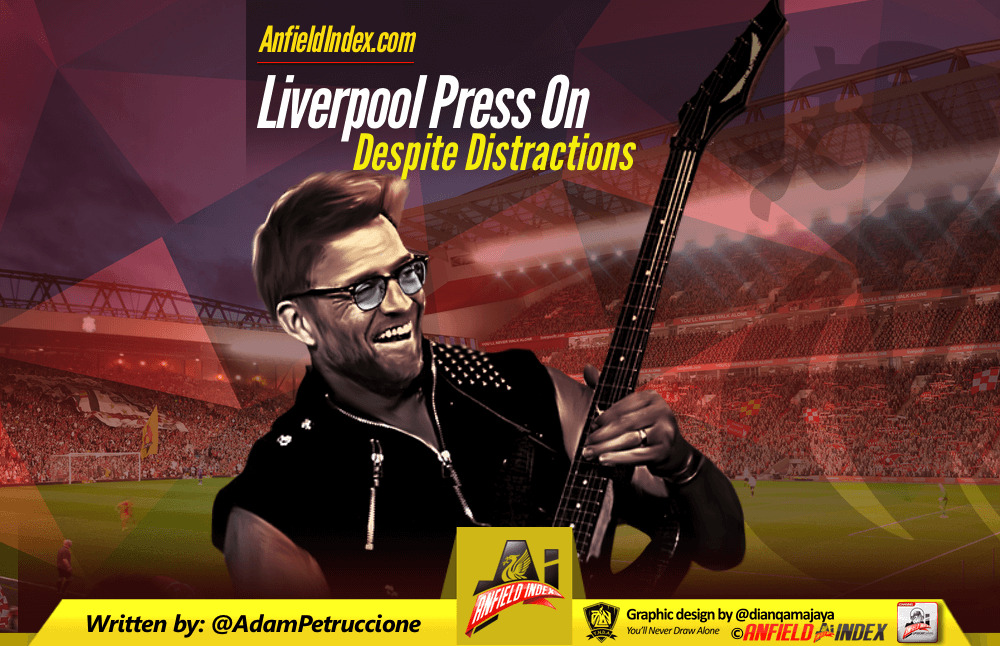 Liverpool Press On Despite Distractions
Distractions are something no manager ever wants to deal with. The narrative for so many seasons gone awry at Liverpool or anywhere in sport usually surrounds a player dispute or an underlying negative that eventually pulled the whole team down.
Back in 2015, around this time of year, reality started to set in that the Suarez replacements weren't going to pull their weight, Champions League places were going to be a one-off and it seemed any little bit of bad news, a Sturridge niggle, a Balotelli gripe, any reminder of Stevie's exit would be an excuse for poor performance on the pitch. You probably wouldn't have been confident using your bonus code 2018 on a title fight.
In the here and now, Liverpool Football Club are flying. Five wins in a row, 14 matches without a loss in the league, 18 overall undefeated.
Take a look at what's rumbling underneath and the stunning run becomes even more unbelievable.
Obviously, the club have lost their best player, the Brazilian that grew up in front of us. The record centre-back signing was out injured after only one match and even his promotional statue was up on blocks outside the stadium. Coutinho's countryman, Bobby Firmino is facing a racism charge that has yet to be dismissed by the FA while the Scouse Cafu faces even more serious assault charges involving his girlfriend and somehow is still practising with the first team. Nathaniel Clyne is training on his own while the manager claims that he's injured and social media sleuths forms their own theories. The club captain is dealing with his latest long-term injury. The aforementioned Sturridge is angling for an overdue exit. The goalkeepers are in a contest to see who can rule themselves out of Klopp's plans first… and yet… on we roll.
The morning of the match against Pep's Invincibles, Twitter was imploding as all of the transfer dominoes fell away from Liverpool's favour. Keita to stay in Leipzig. Lemar mired in Monaco. Goretzka to Bayern. Sanchez to United. Malcom to Arsenal.
Yet with all of this going on, Jurgen Klopp and his boys strode into Anfield as focused as I have ever seen this group. How are they doing it? Like an Uber corporate Christmas party, so prodigious are the profits on the pitch for Liverpool, nobody cares what's happening behind the scenes. Whatever is fueling this run, keep it going. If conflict is motivating them somehow, bring back Balotelli!
This Liverpool team played with a single-mindedness against Manchester City that was incredible to watch. The way The Reds press, rotating forwards, midfielders and even their left-back as the highest harrier up the pitch… Who does that? With the amount of running Liverpool puts in it makes sense that at times there is a rotation that allows any one of six or seven players to go flying after the opposition keeper. You just don't see it happen anywhere else.
In one exchange Joel Matip found himself in no-man's land with City charging ahead in the 15th minute. Further forward than half of his teammates, he took a glance over his shoulder, and instead of retreating back to his position as almost any centre-back would, he pressed Leroy Sané, alone, and won the ball back. One of those little wow moments in a match that left jaws agape at times.
This is not a perfect squad by any means. They make mistakes on the pitch and off. City's first goal and their third involved a myriad of errors, but others covered for them with their stellar performances. Those producing the errors were in part, stepping in for players who have either fallen to injury, dips in performance or problems in their lives outside of football.
If the club continues on this run the story will be as much about what they've overcome together as what they've accomplished. It will be about how much they've covered for each other from moment to moment, month to month and man to man. Players have made mistakes as have executives, PR staff, hell I've made a few myself, yet somehow the whole big red machine keeps pushing on.
At the end of the day, a lot of credit has to go to a group of players who exhibit more positivity than most. However, the manager, the man, Jurgen Klopp deserves the real praise in keeping the good ship Liverpool on course. Any other person faced with the challenges, the pressures Liverpool are brushing aside in this moment would not be able to keep the squad focused enough for a run of 18 unbeaten. Not even close. Now at some point, you'd hope that he could calm down these things that go on in the background, but for now, after downing The Sky Blues and ruining their unbeaten run in the process everyone should rightfully focus on the positives.
Long live Jurgen and keep it rolling Reds.