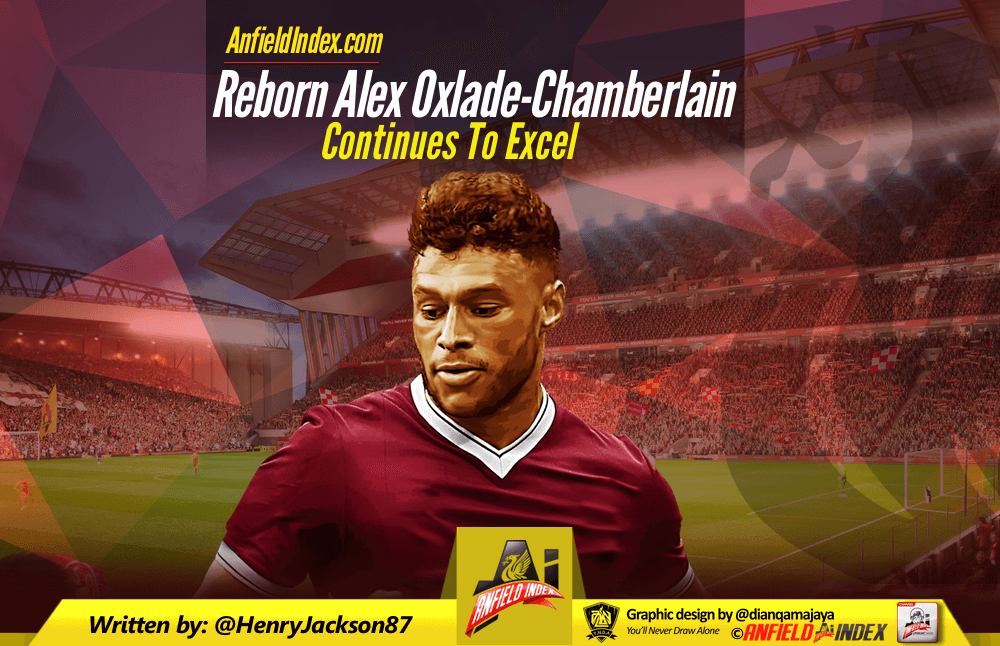 Reborn Alex Oxlade-Chamberlain Continues To Excel
If ever a day summed up why Alex Oxlade-Chamberlain's decision to trade Arsenal for Liverpool last August was an inspired one, it was Sunday.
As the 24-year-old was sat preparing for the Reds' eagerly-anticipated clash with Man City, his former club were blowing a lead and suffering defeat at Bournemouth, languishing in sixth-place in the Premier League in the process.
In a parallel universe, Oxlade-Chamberlain could easily have been lining up at Dean Court in a horribly average Arsenal team featuring Alex Iwobi and Danny Welbeck in the attack, Granit Xhaka in the middle of the park and a bunch of inexperienced youngsters at the back.
Instead, he strode out on the Anfield turf for one of the biggest matches of the season, occupying the midfield role rarely given to him in north London, in a side containing Mo Salah, Sadio Mane and Roberto Firmino.
Something aimed at Oxlade-Chamberlain throughout his career has been his ability to flatter to deceive, failing to produce consistent all-around quality, and often not turning up against top-class opposition.
It was these characteristics that left many concerned about Liverpool signing him in the summer, but he produced his best performance for the club against the finest outfit in the country, as his Reds employment continues to go from strength to strength.
The likeable Englishman is famously someone who is ultra-critical of himself, with confidence vital if he is to perform to his optimum level. That has been plain to see so often in the past, for both club and country.
A vibrant start to a match can often see him impress, and that is precisely what occurred on a balmy afternoon on Merseyside, with Liverpool running out 4-3 winners over the league leaders.
With just nine minutes on the clock, Oxlade-Chamberlain strode through the midfield and past Fernandinho with ease, before unleashing a fierce strike that nestled into the Kop net.
He celebrated in style with his teammates, and it laid the foundations for a fantastic individual performance – one that saw him voted Liverpool's official Man of the Match.
Every positive facet of the Englishman's game was on show throughout one of the best Premier League games in living memory, and he more than held his own against a wonderful midfield trio of Fernandinho, Ilkay Gundogan and Kevin De Bruyne.
Aided admirably by the equally influential Emre Can and Gini Wijnaldum, Oxlade-Chamberlain won the battle in the centre of the park and set the tempo for possibly Liverpool's best performance under Jurgen Klopp.
He snapped into tackles, showed how physically strong he is – an underrated aspect of his game – frightened City with his pace and directness, and showed composure on the ball.
His total of 67 touches was the most he has enjoyed in a game for the Reds, again highlighting his level of involvement, and he created three chances, registered an assist and sent in eight dangerous crosses.
Oxlade-Chamberlain's expertly-taken goal took his league tally to three in 2017/18 – he never scored more in a whole campaign for Arsenal, which speaks volumes. He must score more, but this is certainly a start.
This is the footballer that people rated so highly as a youngster at Southampton, but for too many years, it looked as though his career may peter out into one of mediocrity.
Things had grown stagnant at Arsenal, and the way in which Klopp has revitalised him is a huge compliment to the German, but also a major indictment of how Arsene Wenger's former magic has deserted him.
He simply wasn't getting the most out of a very gifted footballer, and Liverpool are now benefiting hugely from a superior manager doing the exact opposite.
It is easy to forget that Oxlade-Chamberlain was in the Arsenal team that got torn apart 4-0 at Anfield back in August.
The midfielder cut a disconsolate figure that day, with his future almost certainly lying away from the Emirates, but rumours linking him with a move to Liverpool were not met with universal positivity.
In the space of five months, however, Oxlade-Chamberlain has recovered from a below-par start and being unfairly mocked by rival supporters, to become a key man. With Philippe Coutinho departed for Barcelona, he has a real opportunity to nail down a regular spot.
On current form, he more than justifies being in Klopp's first-choice starting lineup – if it was the Champions League final tomorrow, he would get the nod over Adam Lallana and James Milner – and he is bringing quality and heart to the team.
At the start of Sunday, it was easy to see Arsenal finishing the day just two points adrift of Liverpool, but instead, the gap is now eight. The Gunners look perilously close to being out of the top-four battle by January.
Oxlade-Chamberlain must be overjoyed at his decision to change clubs in the summer, and he has completely silenced those who felt he would be a failure on Merseyside.
He was at a crossroads in his career but chose the right turning by some distance.
There was always a talented, effective player hidden inside him for too long, but with every passing week, the more that footballer is on show. At 24, his peak years are still ahead of him.
The City game was his best day yet in a Liverpool shirt, as he shone brighter than any player on a star-studded pitch, and there will hopefully be plenty more great performances to come.