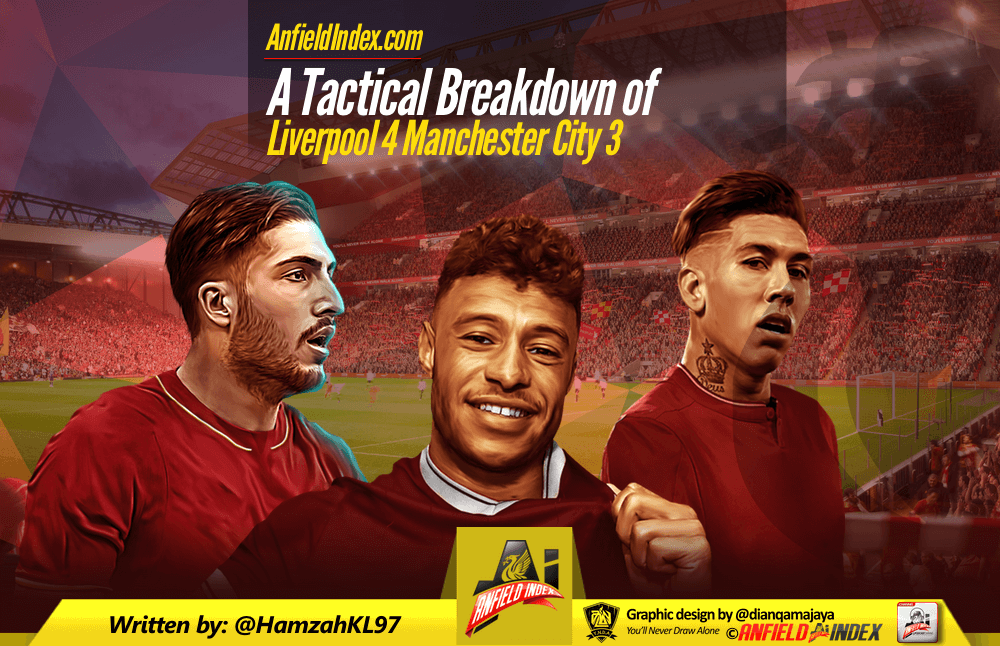 Liverpool 4-3 Man City: A Tactical Breakdown
From start to finish, Liverpool's Premier League tie with Manchester City was electric. Essentially, two very similar schools of tactical thinking came together, and on this occasion, Klopp's relentless pressing from the front, numerical overloads, and astute counter-pressing positioning came out on top.
Instead of breaking down the goals in this analysis, because a majority of them were from individual errors, we'll be looking at Liverpool's and City's shape, positioning and pressing, and how these, in themselves, created chances, and essentially shaped the story of the game.
Key to this game was ball circulation – for City, circulating the ball, from the back, into midfield and from side to side draws opposition teams out, and creates spaces for the ball, or for players to go into and exploit. What is especially important within City's system is for the ball to move from the goalkeeper to either the CBs or CDMs, who can then fire it into the "free-eights" (in this instance De Brunye and Gundogan), who can operate just behind the first line of Liverpool midfielders, allowing them to move straight onto the Liverpool CDM, or the Liverpool defenders, or even to spread the ball wide.

Liverpool's gameplan was to counter this through extremely high pressing. Usually, Liverpool press once they've lost the ball, or there's a misplaced pass or loose touch and so on; however, if the team does not win the ball back quickly, usually, the team will then drop off, reorganise, and set up in a defensive shape. In this match, Liverpool doubled down from the kick-off: the press was incessant, immediate and advanced. In almost all Manchester City goalkick situations, Liverpool's front three were attached to the City centre-backs or Fernandinho.
For most goal kicks, Manchester City would have eight of their eleven players in their half: Ederson, Walker, Stones, Otamendi, Delph (later Danilo), Fernandinho, Gundogan and De Brunye – and Liverpool would have five-six (depending upon Can's position, relative to De Brunye): Salah, Firmino, Mané, Wijnaldum and Chamberlain. Whilst City had the numerical advantage, and are known for their composure and ability to play out from the back, Liverpool seized upon uncharacteristic errors by the Manchester City players. Why? Because Liverpool forced those errors through their brilliant pressing.
Occasionally, City were able to bypass the press, and play it through, and attack from there, but on a few occasions, they opted for the long-ball, whilst in a brief 10 minute spell, Liverpool took their chances, quadrupled their goal tally – and were it not for Mané striking the post, it could have been even more.
Most touches by Oxlade-Chamberlain, in very advanced positions too.
And in general loads and loads of verticality in #LFC's passing.#passmap pic.twitter.com/IZ2BVxqLCc

— 11tegen11 (@11tegen11) January 14, 2018
This #passmap shows how much problems #MCFC had to overcome #LFC's high pressing.
Quite rare to see them operate at such a long distance from the opponent's goal. pic.twitter.com/rmtwteW0z7

— 11tegen11 (@11tegen11) January 14, 2018
Liverpool's off-ball defensive shape has been something notable this season, as there has been a clear shift from an on-ball formation to an off-ball one. Usually, we see a distinct 4-2-3-1, when Liverpool play with a 4-4-2, but in this game, Liverpool went with the 4-3-3 that served them so well in big games last season on the ball, and off the ball, went to a very tight 4-5-1. The strength of this formation was that it minimised spaces in the middle, as Chamberlain and Wijnaldum tucked in nice and tight around Can, but it also gave Liverpool the ability to press without risking too much. For example, in a few instances across the match, Emre Can burst forward, and pressed Fernandinho – instead of leaving a gaping hole at CDM though, Wijnaldum would fill in, and the other Liverpool players would either follow Can's press, and force City back, or decide to stay tight, with the four of them still resolute enough to prevent City strolling through them. Not only this, but Salah and Mané positioned themselves in the pockets in which the Manchester City full-backs like to operate in – thus allowing Robertson, in particular, to get very tight to Sterling, and force him to receive the ball, with his back to goal. Sterling's more rigid position played into Liverpool's hands though, with Sané's freer role allowing him to roam, and attack the half-spaces.
Liverpool's pressing was rarely as simple as Can driving from the centre onto Fernandinho though – essential to Liverpool's pressing were the pressing angles, i.e. the direction of the pressing approach. This is important for two reasons: the first being is that if Player A is pressing Player B, the likelihood of player A winning the ball is increased if they can force them towards a touchline, or corner, as there's less space for Player B to manoeuvre in, the second reason is more important though: if Player B has a teammate (Player C) ahead of them, they can simply pass their way through this (rudimentary for the sake of example) one-man press. However, if Player A comes from behind, or near where Player C is, they essentially cover them, and block the passing lane to them, with their "cover shadow". This, to a large extent, was what Liverpool did, with multiple players pressing at once, minimising the ability for the Manchester City players to pass out. In the second half though – as noted by Paul Dalglish on the AI Tactics Weekly pod – Can made a concerted effort to move higher up, and constantly press Fernandinho, or close him off as a passing option – it was this in particular that led to a number of ball recoveries, high up the pitch, which became chances. Essentially, on the ball, Can was a number six, but off the ball, he was a high pressing eight or ten. It was a remarkably astute and progressive tactical change by Klopp at half-time, but one which paid off, with an inspired performance from Can typifying Liverpool's brilliance across the pitch.
https://twitter.com/AnfieldIndex/status/953024728616390656
For more detailed analysis, you can listen to Daniel Rhodes and Paul Dalglish on the Anfield Index Tactics Weekly pod on our AI Pro service.
The beauty of a pressing system like this is that a team like Liverpool do not necessarily need a creative player, such as Philippe Coutinho – in open games like these – because the pressing itself generates chances.
Man City made five on-ball errors leading to shots at Anfield – the most by any team in a PL match this season. Pressed into it.

— Andrew Beasley (@BassTunedToRed) January 15, 2018
But this was not just Liverpool's game – City made a fair number of chances, through exploiting the wide areas. Kyle Walker played a crucial role in two particular chances: a cross to Agüero, from De Brunye, which he could not reach and Sané's goal. In both cases, Walker came inside, and created an overload, with De Brunye only needing a split second to forge a chance, whilst Walker's cross-field pass to Sané moved the Liverpool defence across, and allowed Sané to run straight into the box, after Gomez misread the ball.
Liverpool's on-ball efficiency was breathtaking though. With 35.7pc of possession, Liverpool made 16 shots – although, as mentioned earlier, a large number of these came from pressing, i.e. Manchester City's own possession. Unlike games in which Liverpool have dominated the ball, but struggled to break opposition teams down, the team was direct and aggressive, because Manchester City's setup allowed them to be. Unlike Burnley (at Anfield), for example, City committed a sizeable number of players in Liverpool's half, and three within the middle third of the pitch, providing space for Liverpool to run into, and players to press. Thus, expecting a similar performance against a side which sits back is unlikely, but as far as this game was concerned, Klopp's tactics were not just supreme, but perfect – it was high risk, and high reward and the adventurous decision paid off.
Curiously, the xG did not reflect the seven goals scored, but a majority of them were scored from low percentage chances, but this just illustrates how well Liverpool did in limiting Manchester City's chance creation:
xG map for Liverpool – Manchester City. A fun, well-played match made legendary by some bonkers good finishing. pic.twitter.com/7S06Glcpiz

— Caley Graphics (@Caley_graphics) January 14, 2018
A very intense match, with some sublime finishing.
Impressive performance by #LFC to keep #MCFC's offense that quiet until very late in the match.#xGplot pic.twitter.com/OTNW52eYH7

— 11tegen11 (@11tegen11) January 14, 2018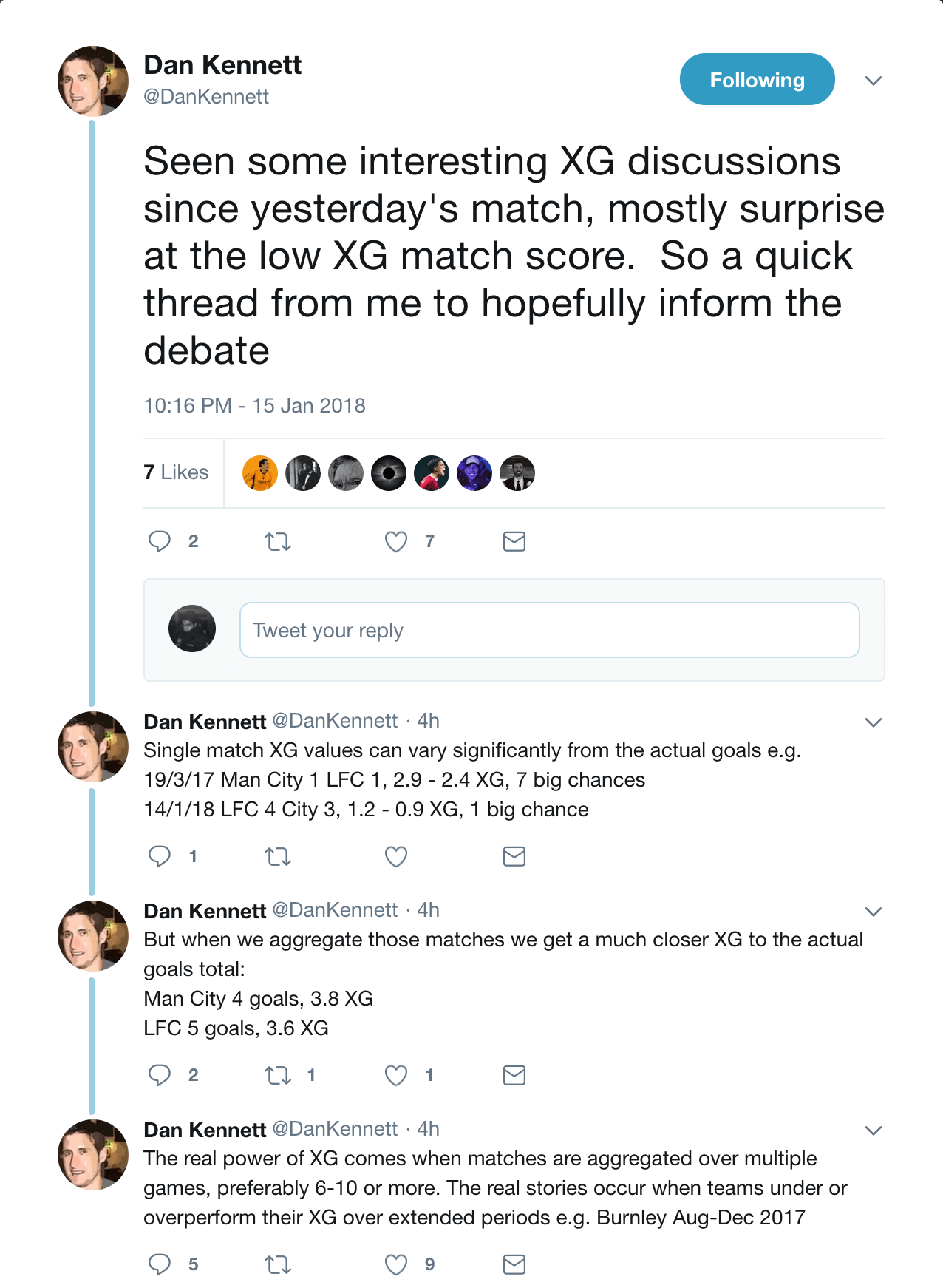 For Liverpool, this seems like a real statement of intent, especially after losing Coutinho. In some ways it was a real vindication of Liverpool's transfer policy and faith with Klopp: only three or so years ago, a number of these players, such as Can, Wijnaldum, Mané, Salah, Chamberlain and Firmino would not have been deemed good enough for Liverpool – but all of them were phenomenal and at times played Manchester City off the pitch – a total vindication of Klopp's targeted signings and training methods. Every one of the players seems to have their roles tailor-made, and the system customised to get the very best out of each individual and the team at the same time. It's a shame the scoreline did not reflect Liverpool's dominance, as Liverpool let City back in. Arguably Milner's deeper role compared to Can's higher positioning, contributed to this, but when up against one of the best attacks in Premier League history, and having played so well for the majority of the game, maybe its a tad harsh to criticise the players in one of the most intense games of the season, especially when they performed so well in the minutes preceding City's late rally.
Bobby has 7 goals 3 assists in last 637mins

64mins per Goal or assist

This is the fella I've been waiting for!!

— SimonBrundish (@SimonBrundish) January 15, 2018
Personally surprised Pep didn't opt for a back three/five like he did in the reverse fixture at the Etihad. Could have gone 3-1-4-2 with Sterling alongside Aguero, I know I would have.

— InvertedFB (@InvertedFB) January 14, 2018
Would have allowed them to bypass Liverpool's high press easier and back five = better defensive security vs a top offensive team like Liverpool

— InvertedFB (@InvertedFB) January 14, 2018
More than anything though, this was both a sign of, and accumulation of progress, under Klopp, especially this season. Indeed, Liverpool now have a point more than they did at this point in 2013/14:
Liverpool after 23 matches. Drink it in, Reds. pic.twitter.com/UvyEc34FJ8

— Andrew Beasley (@BassTunedToRed) January 14, 2018
Not only this, but Liverpool are now on the second largest unbeaten streak in Europe (behind Barcelona).
16 unbeaten in 2013/14 is Liverpool's record unbeaten run in one PL season. 15: 1995/96, 2008/09
14: 2001/02, 2007/08, 2017/18.

— Andrew Beasley (@BassTunedToRed) January 14, 2018
Most remarkable though, are the two graphs below:
Liverpool's rolling 15-game xG output.

That's what Germans call progress. pic.twitter.com/IQEXLexiBA

— Ted Knutson (@mixedknuts) January 15, 2018
We currently score more and concede less than at any point under Klopp's tenure.
The 19 game ave is better than in 13-14!

Current rate of Goal difference (43) wins us 8 of last 25 Premier League titles#Progress pic.twitter.com/J111tynazF

— SimonBrundish (@SimonBrundish) January 8, 2018
This has been a bizarrely positive piece, considering Liverpool have just sold Coutinho, and are still only third, but in this moment at least, Liverpool are in a real feel-good moment, and whilst there are concerns within the team, with the defensive and goalkeeping issues still in the air, and a question of how to break down defensive teams without Coutinho, perhaps drinking in this feel-good moment is something well-deserved, after a year of questions and negativity.