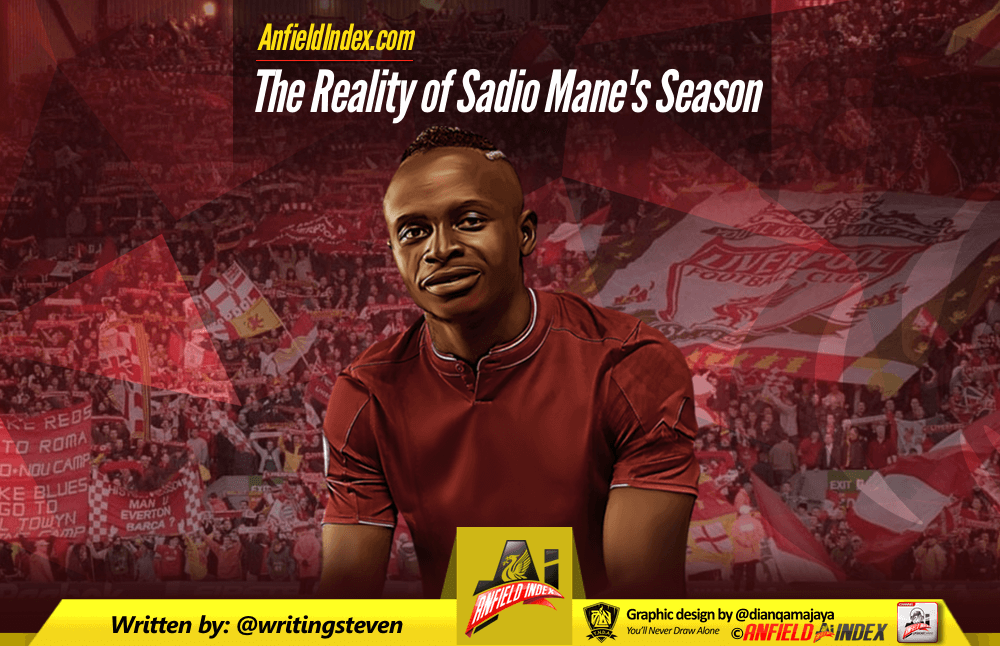 The Reality of Sadio Mane's Season

Sadio Mane is more than just the second line of a viral song about Liverpool F.C's frontline.
In 2016/2017 he was Liverpool's best player, his form reflected in his 2nd place finish – behind his Liverpool compatriot Mohamed Salah – in 2017's CAF African Player Of The Year awards. The Senegalese forward was so integral to the fortunes of his club that his departure to the African Cup of Nations ushered in a January slump of epic proportions.
In the seven games played without Mane, Liverpool recorded just one win – against Plymouth Argyle in the F.A. Cup. They were turgid; lacking in both pace and creativity. However, once Mane returned from his duties with the national team and settled back into the cut and thrust of the Premier League, Liverpool marched towards eventual Champions League qualification; aided by Mane goals against Tottenham, Arsenal and Everton along the way.
All of which served to prove that Sadio Mane wasn't just an important player, he was a player for important games and a scorer of important goals.
Given this importance, it would be fair to assume that Mane has had the same impact this season as last. But speak to Liverpool fans about his performances and they'll speak of a player not quite at his best. A player no longer the biggest threat in the team.
Until recently, last season's decisiveness seemed to have been replaced with poor decision making in the final third. Errors that would previously have been brushed aside instead loomed large in the player's mind and influenced further poor decisions that followed.
Twisting men inside and out, before rifling into the back of the net had been replaced with overplaying and scuffing shots off target. For the first time in his Liverpool career, Sadio Mane faced real criticism about the standard of his play. Most notably following December's Merseyside derby when he had the chance to kill the game off and elected to take a shot when through on goal – which was off target – instead of passing to better-placed teammates.
The perception has been of a player struggling for fitness and form, overshadowed by Mo Salah, Roberto Firmino and the now departed Phil Coutinho. Sadio Mane was no longer the first name on the team sheet. No longer trusted to play game after game after game. Mane was suddenly the odd man out.
At the time of Phil Coutinho's transfer to Barcelona, Sadio Mane was contributing the least of the so-called fab four. Coutinho, Firmino and Salah all had more goals. All had more assists too. All appeared to be playing with a confidence that Mane lacked.
Recently though, the confidence seems to be returning, so to the goals, with 2 coming in his last 3 appearances. The most recent of which was an exquisite left-footed strike against Manchester City. Prior to that, there was the backheel pass to set up Mo Salah against Leicester and a goal against Burnley that involved a great first touch, spin and left foot strike. With this returning confidence, now seems as good time as any to judge Mane's season thus far.
Taking the season as a whole and digging a little further into the numbers reveals that maybe Mane wasn't playing as badly as has been perceived. Whilst he has seemed visibly less confident in his decision making and was being undeniably overshadowed by the extraordinary performances of his teammates, statistically he has been playing almost as well as ever.
During his debut season for Liverpool in 2016/17, Sadio Mane scored a total of 13 league goals from 2,248 minutes playing time. That brought him a goal every 173 minutes. This season, he's scored 6 goals in 1,086 minutes. That's a goal every 181 minutes. Which is not only a great return in its own right, it's almost as good as the season before and far surpasses his rate at Southampton in 2015/16 – 11 league goals, 2,608 minutes, a goal every 237 minutes.
In European competition, Mane's Champions League goal return has been exceptional. He's scored 3 goals across his 333 minutes of play, giving an incredible return of a goal every 111 minutes.
When it comes to crafting opportunities for his teammates, he's actually outperforming last year, which shouldn't be a surprise given the wealth of attacking options around him. Whilst he's responsible for the exact same amount of key passes per game at 1.6, these chances are now being finished off on a more frequent basis, meaning he's been credited with 4 assists in the league already this season compared to the 5 in total for last season.
So, if the outright, tangible numbers of goals and assists are there, why has there been the perception that he's dipped below his prior levels? The short answer: he's found it a bit harder to get his goals.
Last season he needed on average only 4.3 shots per goal. This season it's risen to 5.5. Additionally, the chances he's getting are harder to score; he has a higher percentage of shots coming from outside the box. So he's missing more than before. He's also running with the ball less often than before, leading to less successful dribbles in total and giving the appearance of a decrease in dynamism.
He also appears to be contributing less to the team as a whole, because he is contributing less! Mohamed Salah is the league's second top scorer, whilst Roberto Firmino is on course to have his best goalscoring season at the club, so Sadio Mane is responsible for a smaller percentage of Liverpool's goals than in the past; down to 11.1% from 16.7%.
So whilst he's clearly not been operating with the same confidence as last season, Sadio Mane has still been delivering the goods. And now seemingly back on an upward trajectory in performance, I'd back him to have an outstanding end to the season and place himself back into the bracket of most important players for the team.