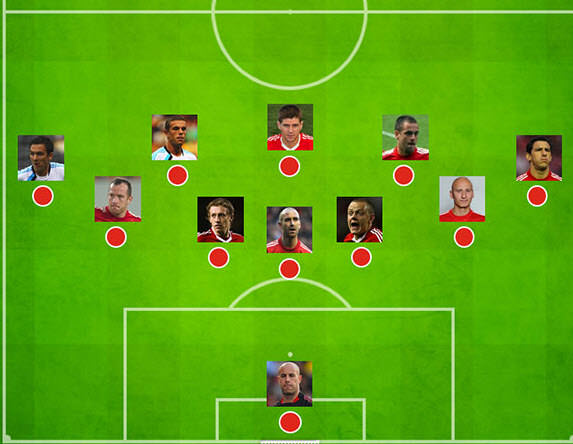 Transfer Window Review (Part 2) | Midfield
This is Part II of my Transfer Window review, and a follow up to my original articles for "What our Team Needs" which I wrote back in April. Part I (Defenders) can be found here. 
As with Part I, if you haven't read the series of "What our Team Needs" then I recommend you do read the "Central Midfielder" article that I wrote earlier this year. It goes into detail why we had the need for a new central midfield player. For those that haven't, or want to get straight into it, I will give a brief over view here.
I particularly liked this very simple graphic, which illustrates a point about our midfield in 2008/2009 (our best league performance in years).

If you was to pick your best 11 from those respective seasons, you could pretty much guarantee most would include the top 3 midfield players. At the time in 08/09, Lucas was still a bit raw in terms of his talent, and Jay Spearing had hardly any first team football experience. I find that season compares well to the midfield options we ended the last one with (maybe not in terms of talent and quality, but the gulf from first team to squad/back up options).
Gerrard had a significant spell on the sidelines, and missed most of the end of last season. However, when fit, it is hard to see him sitting on the bench. His role will no doubt evolve and change, and we briefly saw this against Manchester United in his final game of the season. Going forward, he still has plenty to offer, and as our club captain, you would expect him to start more often than not.
Lucas is invaluable to the way we play now. He is almost perfect at his job in that holding midfield destructive role. He was top of the tackles list last season (172), which was more than any other Premier League player. It says a lot about how much he has come on since those early days.  But he isn't just that, because his ball retention was one of the best in the squad last season too (open play pass completion 83%).
The final "first team" midfield player, towards the end of last season, was Raul Meireles. A player who has undoubted ability and class, but often found himself played out wide. In order to get the best out of him, I wrote on the original article, he would be better in the middle or behind the striker. However, we all know what happened with Raul. He is a player who undoubtedly our squad was better with, than without, however I am not surprised he has moved on to pastures new (more on that later). And to be honest, I am not overly worried.
After that, we were down to Spearing. Jay had a great end to last season, and I think will be an invaluable assett to the squad over the years. I compared him to a John O'Shea at United. A player who will always be involved in squads, play a fair chunk of games, but not be a guaranteed starter.
Shelvey was the young player, but unfortunately picked up an injury towards the end of last season, which saw his opportunities stall a little. He possibly could have moved out on loan to gain experience, but with Raul moving on, he has been kept at Anfield, where he will get opportunities to shine in the Carling Cup, Next Gen Series, and if we are struggling with injuries/suspensions.
So the main problem we had going into a new season, was "What  if Gerrard was injured?" (like he was at the end of the last). Spearing had to step up, and while he did a pretty solid job on the destructive side of things, our midfield lacked a creative spark. Would we re-visit targets we looked at in January, or, did Dalglish have someone new up his sleeve?
Jordan Henderson had been linked with Manchester United from as early as November 2010. He had built on a decent season with Sunderland in 09/10, and found himself as one of the mainstays of the Sunderland midfield throughout 10/11 also.
He started the season so well, he found himself playing for the full England side, alongside our very own Steven Gerrard. The whole side came out of the game with few positives, and Henderson was one of many to have a "difficult night" as described by the BBC. Henderson didn't make another England squad, but after a positive performance for the under 21's last night, I am sure he is still a player that Capello has one eye on.
It was a bit of a surprise though, when he became Liverpool's first signing of the summer. Not because of his undoubted talent, but because Liverpool had been heavily linked with another player, who looked nailed on to join (more on that later). Were Liverpool looking at two midfield players?
Depending who you believe, Henderson cost £16m, or cost £20m. The deal was initially believed to be £13million with Ngog going the other way (making the effective cost, £20million). It doesn't really matter how the deal was made up to me,  I will just focus on what we did get for our money.
To save me writing what has already been written, I suggest you read the Henderson "Player Profile" by Chris Vermuelen written in June. In summary, Henderson had excellent ball retention, was creative from open play and set pieces, and enjoyed getting forward. His goal return wasn't great (just 3), but he wasn't shy in having a go at goal either.
After just a handful of appearances in a Liverpool shirt, Henderson has grown massively as a player from game to game. A progress report can be found here, but I will give a brief summary of his first 3 Premier League games. His initial debut against his former club, was very "safe". He had excellent ball retention (88% pass completion), but struggled to get involved at the business end of the pitch (see his Guardian Chalkboard here). He was taken off after 61 minutes, and replaced by Dirk Kuyt.
Next up was Arsenal. It was a surprise to some, that Henderson retained his place with Meireles still on the bench. But again, Henderson had another solid display. Again his pass completion was 88%, but this time he was more involved in the attacking side of things. He didn't play predominantly down the right like against Sunderland, he was involved in all areas of the pitch (see Chalkboard here).
His most impressive performance to date however, is undoubtedly against Bolton at home. Not only because he got off the mark in terms of goals with a fine strike, but his general all around play was much better. While ball retention is important, it was good to see him trying to offer more creative options for the side. In his first two games, he created just two chances. Against Bolton, Henderson created three.
This tweet shows just how much he has come on already in his first three games.
"Barneystuta Neal Cross
Henderson %age of passes in final third. V Sunderland 19%. V Arsenal 33%. V Bolton 38%. Growing in confidence, more involved @AnfieldIndex"
Henderson has grown with each game, and already has shook a few monkey's off his back. Those monkeys were quick to knock the lad, mainly because of the rumoured fee(s) involved.
There is always added pressure when there is such a large amount of money exchanging clubs, but it wasn't just that pressure Henderson had to deal with. The signing of Henderson, seemingly brought an end to two fairly popular figures at Anfield. Raul Mereiles who I touched on earlier, moved to Chelsea of course. And Alberto Aquilani, a player who has some fantastic qualities, but for what ever reason, didn't fit into Dalglish's plans.
That point is key though, it is Dalglish's plan here. Meireles spent much of his time at Liverpool out wide. Fan's were screaming for him to play in the centre earlier in the season, when Roy Hodgson persisted with him on the right. When Dalglish came in however, Meireles still found himself playing from those areas in the main. Dalglish didn't fancy him in the middle it seems.
Henderson on the other hand, has spent his career playing on the right, or in the centre of course. He seems fairly comfortable in both roles so far, and with time, he will find his settled position within our set up.
So, in theory (although it didn't quiet play out this way in the transfer window), Henderson was brought in to "replace" Meireles. If that is the case, who was the player I identified earlier this year? Who was going to add that little bit of extra special creativity in the centre of midfield? Was it Henderson, or did Dalglish / Comolli have someone else in mind too?
Charlie Adam was the player I looked at as "the answer" in my original article. It was hardly rocket science that we were looking at him in January, after an excellent first half of the season with Blackpool. Even though they managed to hold onto their main man for the rest of the season, and despite a valiant performance by Adam and his Blackpool team mates on the final day, they were relegated.
Adam had left his impression on the Premier League though. Even in the final game at Old Trafford, under such pressure, he was still earning himself many admirers. He was integral to the way Blackpool played across the whole year, not only as a set piece specialist, but at starting and finishing off many of Blackpool's attacks and best moves.
The question for many though, how good was he really? And was Adam a big fish in a small pond? A "poor mans" Xabi Alonso so to speak. He divided opinion on how good he would/could be, but in first three league games for Liverpool, he certainly has been involved in the right things.
A free kick on his debut set up Luis Suarez to open up the scoring against Sunderland, which got the team off to a solid start in the game. As the game went on, Adam struggled to have a great deal of influence, certainly on the creative side, and Liverpool struggled as a team to find the second goal. But all in all, it was a decent debut. Especially when there were so many other debutantes on the pitch too.
Like Henderson against Arsenal, Adam improved in his second game. If you compare the two chalkboards, initially they look very similar. However, against Arsenal, Adam attempted more passes (and crosses) into dangerous areas of the pitch in and around the box. Against Sunderland, he created no chances in open play. Against Arsenal, he created three.
Where I felt we saw the "real Charlie Adam" though, was against Bolton. He was involved in everything we seemed to do, and was the creative engine in the midfield. He delivered the cross from a corner this time, which gave us the key second goal, for his second assist in three games. And just a minute later, Adam opened his Liverpool account with a great right footed drive, which secured the 3 points.
Some people may still have doubts over Charlie Adam, but personally I don't see them. If his name was Charlez Adomso, would people have the same doubts? He may not be the most "fashionable" as a Scottish international, but so far, he is getting the business done on the pitch and that really is the important thing for Liverpool. At the rumoured price of just of £7million, he looks one of the bargains of the window.
In the summer, we saw Poulsen, Meireles, and Aquilani (who was on loan anyway) leave the football club. We have brought in Henderson and Charlie Adam. People can argue all day if we are better or worse off, but I think we have a very good blend of different midfield options right now.
I will come onto our attacking options in the next part, which can allow us to play a range of systems/formations, but how will we get the best out of our midfield 4? (Gerrard, Adam, Henderson, and Lucas).
The simple answer is, I don't know, but like I mentioned at the start, in comparison to our midfield options beyond our first team starters, we now have much more depth.
Gerrard has still yet to start a game this season, but our midfield has looked far from weak. In fact, it has been very fluid and solid, and improved as the games have gone on. Where will Gerrard fit in? Will he replace Henderson, Adam, or unlikely, Lucas? I don't know, but it isn't it great to have some great competition in the middle of the park, and should we lose one of our main midfielders, we still have a very good option to bring in. Beyond that, we still have Jay Spearing who will give his all when called up on, and Jonjo Shelvey still has plenty of things to learn and plenty of time to develop.
In the final part of the series, I will look at our new attacking options. I identified in my original articles, the need for a winger. So, just how did we answer that need? Did we get the man I felt could be the answer? And what else have we added.