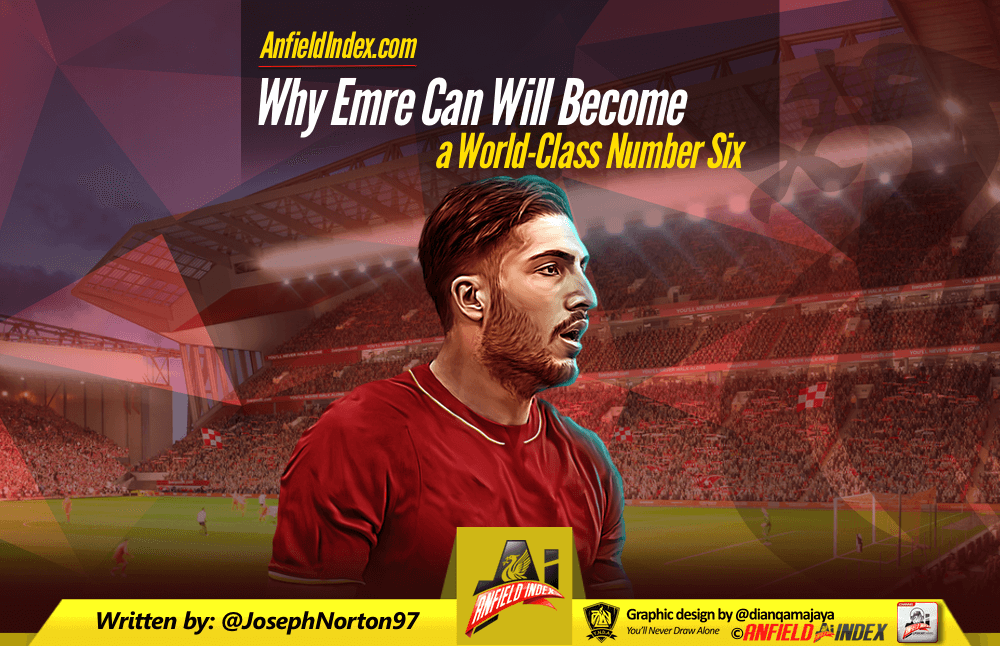 Why Emre Can Will Become a World-Class Number Six
Emre Can has been a player who has polarised the opinion of Liverpool fans, not just about how good he is but what his best position is also. Up until this season, many fans including myself believed he was most effective in the number 8 position, operating as a box to box midfielder. This role gives him the freedom to make those driving runs into the final third on a more regular basis, linking midfield with the attack without as much concern for protecting the back four. Having said this because of Jordan Henderson's recent injury we have seen the German take added responsibility and discipline, with Klopp trusting him in the number 6 role – the midfielder in front of the back four. He has grown into the role game by game and is becoming crucial to the way this Liverpool side is progressing, therefore, the potential loss of him in the summer on a free transfer is starting to become a huge concern. Can possesses all the physical and technical attributes required to become a world-class number 6 but is now demonstrating the tactical awareness to go with his skill-set. If he continues this development we could see him talked about in the same breath as elite midfielders in this position such as Sergio Busquets and Fernandinho within a year.
As mentioned Can has all the physical and technical attributes to be a brilliant number 6, he is strong in the tackle, physically imposing, good in the air, great technically in tight spaces and brilliant at playing through the lines. Having said this, possessing all these attributes doesn't make you a great player as you need tactical discipline and awareness to be effective in the number 6 position, particularly in Klopp's system where the role isn't just about protecting the back four but vacating the position and pressing the opposition at the right moments.
His performance against Man City highlighted not only how influential he is to this side but the complexities involved in playing this position under Jurgen Klopp. Despite the Reds pressuring Manchester City exceptionally well in the first half, Fernandinho was being continually used as an out-ball when they were under pressure. Although Can had a great first half, winning many of his individual duels and playing through City's press with ease, Klopp recognised this and ordered Can to be the man to pressurise the Brazilian midfielder when the time was right in the second half. This may seem a very basic detail to get right but if Can mistimed his press then Fernandinho has the quality to completely take him and Liverpool's midfield out of the game causing all sorts of problems for the Reds. However, the German international showed his tactical awareness and pressed the City midfielder at exactly the right moments resulting in the Reds forcing them to make uncharacteristically bad mistakes which resulted in three goals in 9 minutes. Of course, Can's pressure didn't force all of the mistakes but he set the tone for how the Reds were going to win the game in the second half. The two screenshots below are a perfect example of the change Klopp made at halftime. In the first, we can see Fernandinho in space in between the two centre-backs as he looks to receive the ball giving City an out ball when the defenders come under pressure. Whereas in the second which comes from the kick-off straight after Liverpool have gone 2-1 up we see Can pressing Fernandinho who has his back to goal and subsequently makes a bad pass which goes to Mane who hits the post. Emre's all-round performance against City was brilliant, ranking top for tackles (6) and joint top for interceptions (2) but his ability to implement Klopp's changed game plan at half-time was the most impressive element for me and highlighted just how good of a footballer he is developing into.

What was equally as impressive as Can's off the ball performance against City was how he used the ball when in possession. Guardiola's teams are always very good at pressing which means midfielders often have very little time on the ball and have to make decisions quickly. Emre was pressed numerous times throughout the match but used his impressive strength, power and passing ability to either dribble his way out of tight situations or move the ball onto a teammate who was in a better position. Again all this may seem very simple but in Klopp's system the number 6 often sets the tempo for the game both on and off the ball, so they must be very composed and capable of operating in tight spaces in order to play the team out of trouble, this requires both great technical ability and tactical awareness of where the opposition and your teammates are. It's very difficult for managers or coaches to improve a players technical ability, therefore, to operate in this role requires the player to already have this ability which Can has. This is a criticism which can often be labelled at Jordan Henderson, although he is a good player he lacks the composure and technical ability his German teammate possesses which results in him panicking and losing possession too easily at times when he is put under severe pressure. We saw this away at Sevilla who put the Reds under huge pressure in the second half and as Henderson was playing in the number 6 role it was up to him to get on the ball and start to control the tempo, swinging the momentum back in Liverpool's favour. Unfortunately, he lacked the confidence and composure to do what Can did on Sunday which meant the Reds faced sustained attacks as they couldn't keep the ball themselves contributing to the Spanish team's comeback. This is highlighted by Henderson's terrible pass completion rate of 56.7 % in that game, although it's difficult to directly compare the two situations, Can was under a similar sort of pressure against City but had a pass completion rate of 86.1% demonstrating his superior technical ability.
As highlighted Can has all the attributes to become a world class number 6 in Klopp's system so it's important we compare him to other top quality players who operate in similar systems to understand how good he can become. The statistics show just how close he is to this level already. I'm going to compare the German to Man City's Fernandinho, who also plays in a high energy 4-3-3 system and is having a great season as well as Sergio Busquets who has been widely recognised as the best player in this position for the last 5/6 years. Although Barcelona have played a two-man midfield in a lot of their games this season the comparison is still valid because of the Spaniard's reputation for being the best in this position and the fact Can has also played in a two-man midfield at times this season as well. The Liverpool midfielder makes more tackles per game in the league, 2.9 compared to Busquets with 2.5 and Fernandinho with 1.9 which emphasises his strong tackling ability. He also averages 1 dribble a game, which is better than Fernandinho and Busquets who both average 0.6, highlighting his ability to drive into midfield and beat players which is crucial when trying to break down a low block. Can also beats both of them when we look at key passes per game with 0.9 in comparison to Fernandinho's 0.7 and Busquets' 0.6 which again highlights his impressive ability to play through the lines and turn defence into attack. Despite having slightly fewer interceptions per game at 1.3 compared to Fernandinho with 1.5 and Busquets with 1.8 and being dispossessed the same amount of times per game as Busquets but 0.1 more than Fernandinho, Can still competes very well with these elite players. The German's slight inferiority when it comes to his interceptions could be put down to his continued tactical development as he learns the exact positions he should take up in certain situations but should he be given sustained game time as he has been in recent weeks in this position I have no doubt he will improve this area of his game. Finally, all three players impressive technical ability is highlighted by their pass completion rates, topped by the Barcelona man at 90.7%, Fernandinho with 89.9% and Can with 85.8% emphasising their importance to their respective sides. Although this statistic can be useless at times as it doesn't take into account the difficulty of the passes attempted it must be remembered none of these players would be getting away with playing the simple ball all the time because of the demands at their clubs by their teammates, managers and supporters. Overall, this comparison further highlights just how good of a number 6 Emre is developing into as he competes extremely well with two top quality players in this position. I have no doubt that if Klopp continues to use the German international in this position then we'll see him continue to develop and become a world class number 6 within the next couple of years, possessing all the physical, technical and tactical attributes to do so.
One of the main aspects of his game Can has to improve going forward when playing in this position is his use of the ball when the Reds come up against teams who play with a low block. Playing against this kind of opposition can be very difficult when operating in the number 6 as you have to control the tempo yourself as the opposition doesn't close you down like against City so you have to force the initiative. Liverpool's number 23 has the ability to do this as discussed but at times he takes too long to play the simple ball against these kind of teams and doesn't always recognise the right time to drive into midfield or take chances with his passes, taking the opposition's midfield or defence out of the game. This is one of the hardest aspects of playing in this role especially when faced with a low block which is exceptionally difficult to break down but if Can is to become an elite player in this position he needs to do this on a more consistent basis. Should the German get a sustained run of games in this position I have no doubt he will evolve his game and his influence on the team will continue to grow.
Emre isn't quite the complete number 6 yet but the Reds have a player who has all the physical, technical and tactical attributes to become exactly that. He is a perfect fit in Klopp's system with the role requiring a vast skill-set because of the variety of demands Klopp requires this player to execute. Liverpool should do all they can to keep hold of him as he has shown in recent weeks just how influential he is to this side. Emre Can will become a world class number 6 … the only question is will it be at Liverpool?