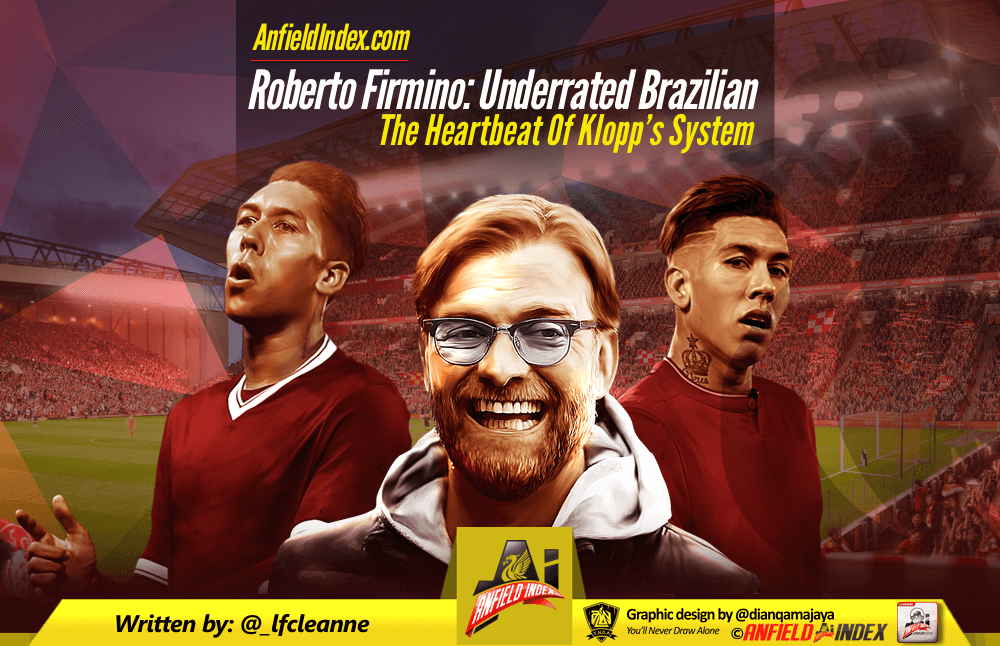 Roberto Firmino: Underrated Brazilian The Heartbeat Of Klopp's System
Philippe Coutinho was probably regarded as the most talented of the 'Fab Four' prior to his departure, with Sadio Mane the speedster of the pack and Mo Salah the marksman who's hit the ground running to provide a new lease of life to Klopp's attacking force. Yet, there can be no argument that Roberto Firmino is Liverpool's most important man.
Sunday's 4-3 thriller against Manchester City was a testament to that, with the Brazilian's goal eerily similar to Robbie Fowler's effort 22 years ago against Manchester United.
Showing brute strength to outmuscle John Stones on the left-hand side, Firmino looked upon goal and provided the most delicate of touches to dink the ball over Ederson and into the far corner, bringing his total to 17 goals and nine assists in 31 games this season.

However, his goals only paint half the picture.
Firmino brings so much more to this side than the numbers care to show; first into the press, he provides the signal for those around him, robbing the opposition of any time or space in possession. Then there's his intelligence both on and off the ball, coupled with the incisive, pinpoint movement that's created holes for Mane and Salah to exploit. The 26-year-old has got it all.
The No.9 is quintessential to Jurgen Klopp's philosophy; he is the embodiment of the German's high energy style.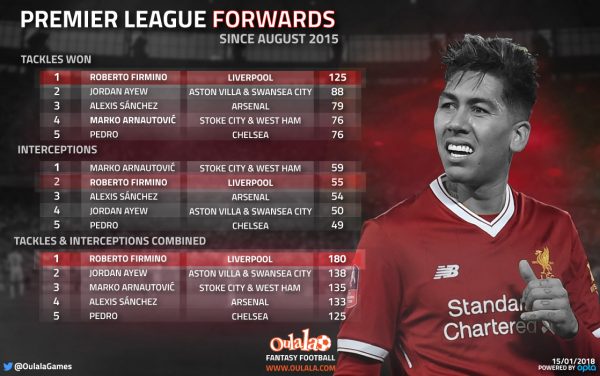 As per Oulala's statistics, Firmino has won the most tackles of a forward since 2015/16 (125), alongside 55 interceptions – bettered only by current West Ham player Marko Arnautovic.
Such strong defensive play is exactly what's put the Brazilian above Daniel Sturridge in the pecking order, with Klopp always keen to address Firmino's all-around brilliance.
As Liverpool completed a 4-1 rout at West Ham, Klopp drew attention to his underlying importance to the system in his post-match comments, stating:
"I really like to talk about these players [Salah and Mane] but please don't forget about Roberto Firmino on a day like today."
Prior to the start of the season, pundits were discounting Liverpool on the basis that they lacked the world-class forward to 'do the business'.
United went and brought in Romelu Lukaku; Chelsea signed Morata and Arsenal got Lacazette but Klopp's eye never wavered from Firmino. Now, the 26-year-old is faring far better than his counterparts, albeit without the level of approval and appreciation that he deserves.
Criminally underrated by many, Firmino may not possess the physicality of Harry Kane and Romelu Lukaku, nor the ruthless eye for goal of Luis Suarez and Sergio Aguero but he represents somewhat of an amalgamation of the lot.
"Firmino is one of the most underrated players in the Premier League – he's highly rated by Jurgen Klopp but outside Liverpool he's not mentioned when talked about top strikers," – Carragher on Firmino
The 26-year-old may not be what you'd call a 'classic centre-forward' but blessed by Suarez's work-rate and hunger along with the usual savviness and raw flair of a Brazilian footballer, his skillset is undeniable.
Mohamed Salah may get all the plaudits for a phenomenal first season at Anfield but if you ask any Liverpool fan who their first name on the team-sheet would be, 99.9% would opt for the Brazilian.
The post-Coutinho Liverpool got off to a brilliant start, confirming that the system can go out without him, yet his international compatriot is a player without which the system would most certainly fail. It should come as no surprise that Liverpool want to keep Firmino close to their chest and tie him down to a lifetime deal.