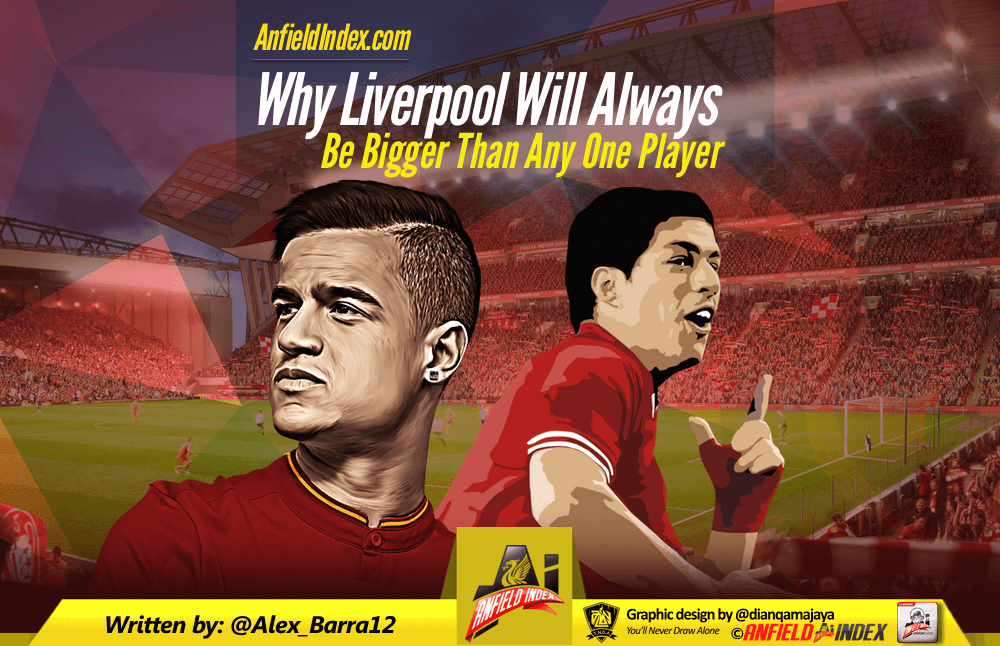 Why Liverpool Will Always Be Bigger Than Any One Player
It took all of eight minutes to remind Anfield of one very special fact.
Liverpool Football Club is bigger than any player.
Alex-Oxlade Chamberlain's driving run, emphatic finish and impassioned celebration perfectly emblemised the oft-romanticised 'Liverpool spirit' – the idea that you don't buy a great player, rather a player becomes great in the cauldron that is Anfield. Like a gladiatorial pit in Rome; Anfield's coliseum atmosphere is what decides the fate of its competitors, not their previous reputation or accomplishments.

Take the first goalscorer himself – discarded by Arsene Wenger, a career which thus-far had been laced with promise and hype and yet failed to spark. And yet beneath the lights in the Reds' most intense game of the season, all of his exploits at Arsenal were but a faded memory, pomp and circumstance ruled the day and that circumstance involved Oxlade-Chamberlain as the gladiator and Ederson as a fallen lion.
The fact that the man who scored the goal was the same whose leadership shone through midweek in an interview where he proclaimed Liverpool's need to "just move on" from the Philippe Coutinho only heightened the poetic nature of the result.
Of course, it's all well and good to say that Liverpool piercing Manchester City's veil of invincibility without Phil Coutinho was the perfect story; a triumph in what Jürgen Klopp has been saying since the Brazilian magician's departure; that Liverpool are better off with people who are one-hundred percent committed to the cause. Some would even label that as foolish idealism, that Liverpool are one poor result away from suffering from Coutinho-withdrawal symptoms.
And yet, it is Klopp who's been through this before. With Robert Lewandowski, to whom he owed many of his side's matchday victories, even a couple of Bundesliga titles: he was replaced by Pierre-Emerick Aubameyang – who had arrived before the Pole's departure, and was ready to take up the goalscoring mantle. With Mario Götze, Klopp's home-grown superstar, who provided the critical spark for many of Dortmund's counter-attacking ventures on their way to dethroning Bayern Munich. Twice. He was replaced by Henrikh Mkhitaryan, who had a twenty-assist season under Thomas Tüchel before moving to Manchester United. Speaking of which, Shinji Kagawa made a similar move; and Marco Reus arrived from Borussia Monchengladbach for (around) €18 million. Before that, there was Nuri Şahin, Klopp's midfield maestro – he was replaced with Ilkay Gündogan, who scored the third goal at the weekend – as a part of the (nearly) invincible Manchester City.
Before Roberto Firmino there was Luis Suarez. Before Suarez there was Torres. Before Torres there was Owen. Before Owen there was Fowler. Before Fowler there was Rush. Before Rush there was Dalglish. Before Dalglish there was Keegan. All were perfect representations of what Liverpool is – the essence of the club, and all moved on.
Yes, the transfer structure deserves scrutiny for its failure to adequately replace Luis Suarez. Liverpool will forever have to deal with the fact that Andy Carroll was their record transfer for more than three years.
But take a look at the players whose transfer fees broke that record: Sadio Mané – a man whose instant impact surprised many, yet is undeniable. Mohamed Salah – who is undoubtedly the bargain of the summer. Naby Keita – the best U-23 midfielder in world football at the time of purchase. Virgil van Dijk – the centre back heralded by many as the fix for Liverpool's defensive woes.
It's about time Klopp and his transfer team were given some trust. The Manchester City game is a microcosm for the bigger picture – that no player is bigger than what Liverpool represents.
Upon returning to Anfield for a charity match, Daniel Agger said: "I miss it. I bet if you ask a lot of other players they would say the same. When you leave Liverpool, you notice the grass is not always greener on the other side."
Xabi Alonso told The Liverpool Echo "I stay in contact with friends I have in Liverpool. It's not a normal club, it's so special and very important to me."
Javier Mascherano, after beating Manchester United with Barcelona in the Champions League, said in a post-match interview: "I know Liverpool supporters are a bit angry with me for leaving, but this is for them."
Fernando Torres, having been lambasted for his betrayal, offered similar yet reserved sentiments upon his return. "Those three and a half years changed my entire life and I remember every important moment there was always that song from the Kop. So to hear [The Torres song] once again is something I will never forget."
So too do most Liverpool icons fondly remember the club once they've departed, and somehow the club still gets by.
Klopp was brought in because of his deep connection to the fans, for his ability to become an idyllic figure at the helm of a collective – a mix of both fans and players all fighting for one goal.
"We must turn from doubters to believers"
That was the proclamation from the German upon his arrival at Liverpool Football Club. It is now Jürgen's time to prove that he can hold up his end of the bargain.
It's also Liverpool fans' time to prove that Klopp was right; Liverpool are a special club, bigger than any one player.