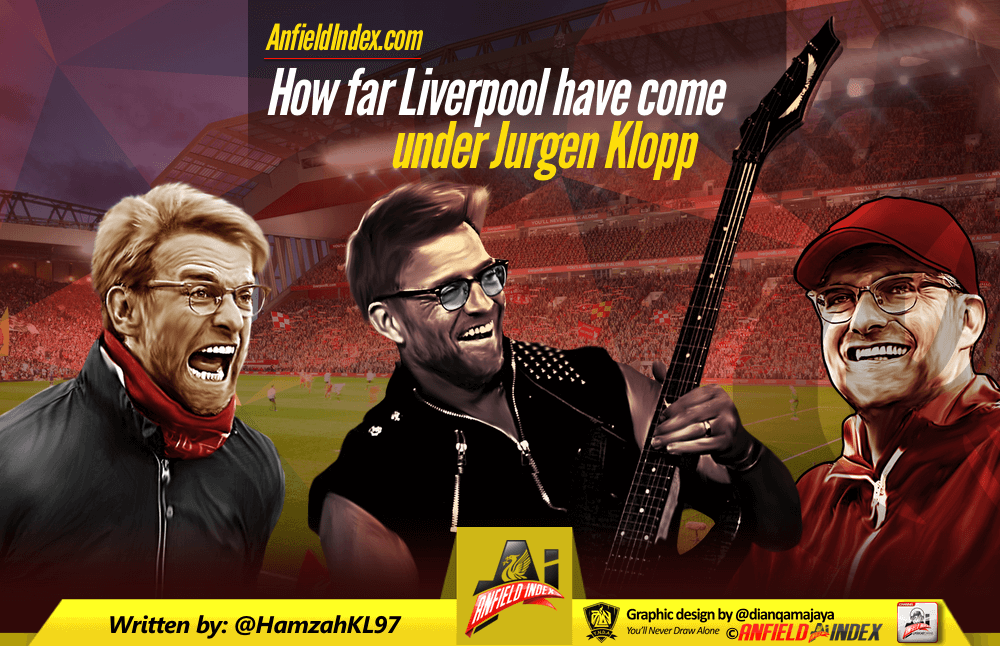 How far Liverpool have come under Klopp
With Barcelona having lost 1-0 on Wednesday night, Liverpool are now currently on the longest unbeaten run in Europe's top five leagues. Since losing 4-1 to Spurs in October, Liverpool took stock, restructured tactically, and have not just been resurgent, but prepotent.
In the 18 games following that defeat to Spurs, Liverpool have gone on to score 3 or more goals in 12 of those (66pc of games). But this is not just the story of Liverpool finally getting their act together this season, this is Jürgen Klopp's master plan finally coming into frame.
The Begininning
When Klopp joined, he famously noted how he would aim to win a league title in three seasons, we're now mid-way through his second full season, and had this been a "normal" title race in terms of average points for title winners at this stage in the season, Liverpool would be right up there, vying for the title. That being said, Klopp's ambition to win a title within three seasons was an extremely ambitious call, considering the state of the squad in terms of confidence, ability and direction. When I refer to direction, I mean specifically the idea of an identity for the players and the team: under Rodgers it was initially total football – possessional play, but this changed to fast counter-attacking, blitzkrieg styled football in 2013-14, and then a sluggish possession-based game again, before Rodgers signed Benteke, and suddenly Liverpool tried to emulate the classic 9 structure, more akin to Chelsea. However, with Klopp, there has been a clear identity from the start, and an ultimate goal which we are progressing towards, and seeing flashes of.

Liverpool after 23 matches. Drink it in, Reds. pic.twitter.com/UvyEc34FJ8

— Andrew Beasley (@BassTunedToRed) January 14, 2018
As it is though, the title is out of the question for this season, but what we are seeing is the parts of the puzzle which Klopp first encountered when he joined the club finally beginning to depict something quite brilliant.
Patience and Development
Klopp has made a number of signings over the past few transfer windows, and has reasserted his belief in developing players: nowhere is this clearer than the case of Roberto Firmino, who has now developed into one of the best forwards in world football – he is now Liverpool's most important player, and as of this moment has already outperformed his best ever season for Hoffenheim.
Roberto Firmino outperforms Antoine Greizmann in xGChain/90, xGBuildup/90, xA/90 & this is additional to the tackles and interceptions mentioned above. Essentially Greizmann only outperforms Firmino in G/xG (as expected). Hence Firmino is not just good, but an elite-tier forward. pic.twitter.com/TLlS4Mkndy

— Hamzah (@HamzahKL97) January 17, 2018
Klopp, for the most part, has been patient though. He persisted with Mignolet, then gave Karius a shot, before Mignolet earned the shirt back with some fantastic performances in the second half of the 2016-17 season, and has now given Karius until summer to prove himself or face the boot. The same can be said of the centre-backs too, with Virgil Van Dijk's signing a manifestation of Klopp's considerable patience and faith running out, and his willingness to confront realities.
Most spectacular though, is what Klopp has done with Liverpool's forwards. If three years ago, I asked you to make a threesome of the most devastating forward lines in Europe, Roberto Firmino, Sadio Mané and Mohammed Salah would not have ever really been considered by many fans or pundits. Yet Klopp not only sought out Mané and Salah, but he tailored their roles within the team to them and had his scouting team pick out players that would suit his style of play – which he believes is the best way to play football – and from this work over time, Liverpool now have a front line that would dare to go toe-to-toe with any other team in Europe, and this is after losing Philippe Coutinho, a player who was hitting unbelievable figures in terms of goals and assist contributions per game.
But this is reflective of a mentality shift that Klopp has brought to Liverpool; Liverpool no longer shop at Morrisons for players, Liverpool shops at Harrods. There is an elite mentality that now runs through the club – from the top to the bottom. The owners have stumped up the money for Klopp, so he can get who he demands. Coutinho was denied his move in the summer because the owners said so. Klopp went out and bought one of the best midfielders in Europe, Naby Keïta. Emre Can and Gini Wijnaldum have developed into masters of their craft, as we saw against City. Players like Oxlade-Chamberlain have moved from a side which has won 3 FA Cups in the past 4 seasons, to play for Liverpool, because they see something building. Anfield is one pending redevelopment away from being one of UEFA's top tier stadiums. Steven Gerrard's academy team is reaching new heights.
Progress
Everywhere you look, there's ambition and direction. That's not to say Liverpool will win everything or anything – but with Klopp at the helm, they're giving themselves the best shot of winning. And the progress that Liverpool have made so far, is not even close to the finished article, to what Liverpool could really become under Klopp, should things keep progressing.
Take a look at the two figures below.
Liverpool's rolling 15-game xG output.

That's what Germans call progress. pic.twitter.com/IQEXLexiBA

— Ted Knutson (@mixedknuts) January 15, 2018
We currently score more and concede less than at any point under Klopp's tenure.
The 19 game ave is better than in 13-14!

Current rate of Goal difference (43) wins us 8 of last 25 Premier League titles#Progress pic.twitter.com/J111tynazF

— SimonBrundish (@SimonBrundish) January 8, 2018
Liverpool are making real progress. We just have to keep backing the team, manager and club until it comes to that inevitably sweet fruition.