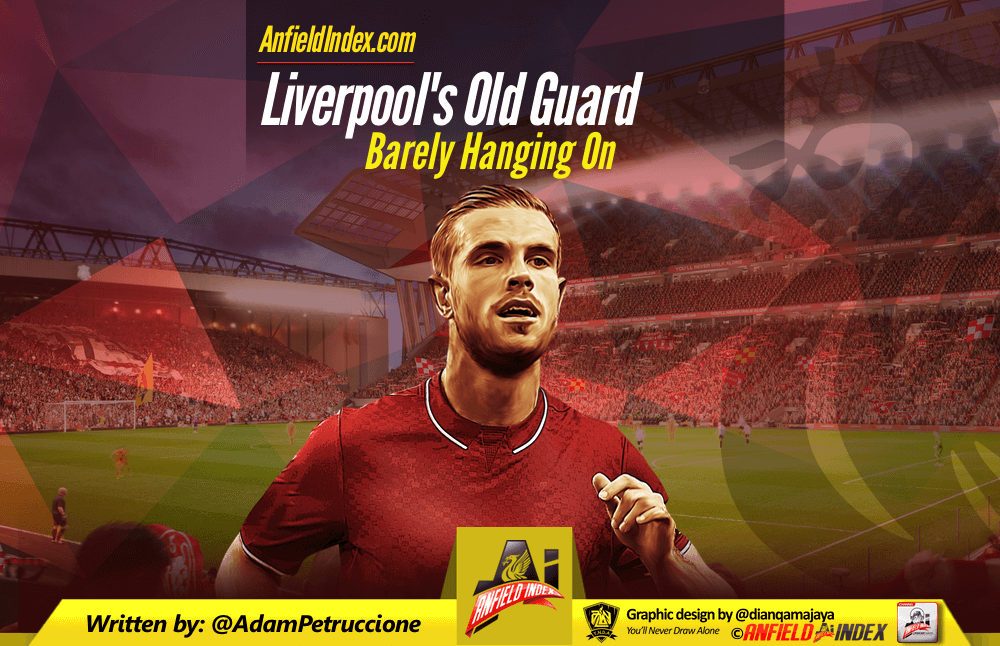 Liverpool's Old Guard Barely Hanging On
For Liverpool supporters, transfers can never come fast enough. We always want to push that revolving door a little faster until we find a combination of players that starts filling up the trophy cabinet again.
However, glance at the squad from 2013/14 season, just four years ago and you'll notice that only a few faces remain.
The crocked club captain; Jordan Henderson.

The want-away striker; Daniel Sturridge.
The freshly sentenced right back; Jon Flanagan.
And the benched 'keeper; Simon Mignolet.
The common thread with these four, aside from their presence on the '13/14 club portrait is that they are on their last legs as Liverpool players. Flanagan, once a local inspiration, now cannot be distanced from the club fast enough and was loaned to Bolton last night, a real shame that it was not a permanent move. Mignolet did improve after Klopp's arrival but the door must have closed for good on his Liverpool career after picking the ball out of his net five times against West Brom. Sturridge has seen the signs that he's never going to be a significant part of the attack again and this week moved to West Brom on loan as this summer's World Cup approaches.
Jordan Henderson is the only likely holdover, the only one with any chance to remain with the club through 2018/19, but even that is not guaranteed. Had Henderson been available against Chelsea in 2014 who knows how that season would have ended. Unfortunately, we know how things played out and injuries in the intervening years has left a gigantic door for Emre Can to walk through and take over the 'six' without much of a fight from Liverpool's club captain.
Even when Henderson has been on the pitch, the stats don't lie, and he simply hasn't measured up to Emre Can. This year Can has 18 appearances to Henderson's 16, but that's the only category where they're comparable. Can has double the aerial duels won (122/55), double the tackles won (42/19), double the interceptions and clearances (48/24) and triple the assists (3/1).
With a statistical disparity like that one wonders how Henderson will ever win back more than a squad role in the future for Liverpool. But, he's basically it, the only remaining bridge to the halcyon days of Suarez and Brendan Rodgers.
RED TRANSITION
The loss of Luis Suarez to Barcelona started The Reds on a methodical, sometimes painful path towards a complete squad turnover. How did we sign an entirely new squad in four years? Here is the breakdown.
2014/15: Lallana, Markovic, Lovren, Moreno, Can, Origi
2015/16: Clyne, Firmino, Ings, Grujic, Gomez, Milner, Bogdan, Ward, Ojo
2016/17: Mané, Wijnaldum, Karius, Klavan, Matip
2017/18: Salah, Robertson, Solanke, Oxlade-Chamberlain, Van Dijk
The pace of change on Merseyside, as with most revolutions these days, can be frustrating. But, in reality, the roster turnover has been about as rapid as anyone could ever responsibly attempt. An AC Milan or Everton *shudders* type wholesale change does not seem feasible while remaining competitive in the short term.
What has helped the process along is the impressive hit-rate of the additions since Klopp's arrival. The largely untested Loris Karius is the only Klopp signing that is still met with more than a minimal level of scepticism at this point which adds to supporter anticipation for the manager's next move.
Virgil Van Dijk marked Jurgen Klopp's 10th permanent signing with Liverpool. Each one seems to build on the last, so after breaking the defender transfer record for 'big Virg,' expectations are massive going into the final weeks of the January window.
Liverpool's four most expensive signings, Van Dijk, Naby Keita, Mo Salah and Oxlade-Chamberlain have all occurred this season, which is remarkable compared to any other top club in Europe. As the revolution continues we can expect even more selective, targeted signings at the top end of the market (Jan Oblak perhaps?), hopefully with a high ticket addition before the January window closes. In the meantime, expect Michael Edwards and his team to continue to unearth value at the opposite end of the market as they have with Anderson Arroyo and Tony Gallacher in this window following the signings of Dom Solanke and Andy Robertson in the summer.
2021/22 Liverpool
Four years from now we'd like to imagine that several of our favourites will still remain productive members of the squad, but Liverpool don't tend to hold onto 30ish players for very long. If we look back at the 2017/18 squad photo in four years and there are 8 or more players who are still in the team they would have had very successful careers. Trent Alexander-Arnold, Joe Gomez and Dom Solanke might be candidates based on their age and talent, but then we would have thought the same of Raheem Sterling and Jordan Ibe.
More importantly, how many trophies will these players have accumulated in the next four seasons since the last four haven't delivered any. As the quality of the acquisitions continues to rise for Liverpool along with performances on the pitch our chances for silverware are looking better by the day. Whoever the club captain ends up being post-Henderson I expect that player will raise silverware above their head multiple times in the Klopp era.
Up The Reds.