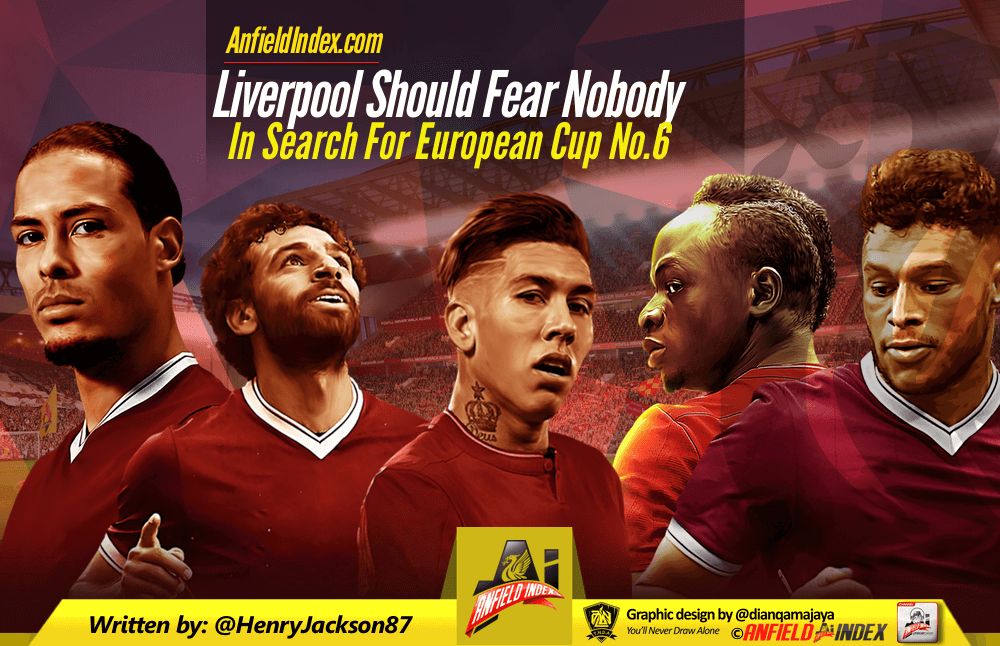 Liverpool Should Fear Nobody In Search For European Cup No.6
Liverpool just stuffed the so-called 'best team in Europe right now'.
They didn't fluke a win against them – in fact, the eventual 4-3 scoreline was very generous on a Man City side who actually performed quite well. It was a victory that showed exactly how far the Reds have come with Jurgen Klopp in charge, and there is a growing feeling that something special is on the horizon at Anfield.
Although the Premier League title has once again evaded Liverpool, the return of a great friend lies happily on the horizon: the Champions League. Europe's premier club competition brings out special moments when it comes to the Reds, both in its current guise and when it was simply known as the European Cup. Liverpool have lifted the trophy five times in their history, and the unbelievable triumph in 2005 remains one of the club's greatest ever achievements, if not the best.

It is a competition that has brought us so much joy, from all those final wins to the many dramatic evenings in quarter-finals, semi-finals and even group stages, and it feels more attainable than the long slog for league success.
The best team in Europe doesn't always win the Champions League – far from it – and momentum, form and a few slices of fortune can suddenly see you in contention by the time Easter arrives.
That 2005 team was actually a pretty average outfit by Liverpool's standards when you dissect it. They had no right to win the competition and did so through defensive resilience, heart and moments of individual quality.
Jerzy Dudek was a flawed goalkeeper, and while his penalty heroics understandably turned him into an Anfield legend, he had bad days at the office. Diego Forlan, anyone? Steve Finnan, Jamie Carragher and Sami Hyypia are three players we would love to see in the current team, but left-back Djimi Traore was a million miles away from being Liverpool-quality. The brilliance of Steven Gerrard and Xabi Alonso speaks for itself, as does the calming influence of an ageing Didi Hamann, but the rest of the midfield and attack that featured in 2004/05 was nothing special in the slightest. Luis Garcia provided moments of brilliance, ensuring him cult hero status, but he was an extremely erratic footballer who could go from sublime to ridiculous at the click of a finger. John Riise was a very divisive figure who could blow hot and cold, and Igor Biscan, Harry Kewell, Vladimir Smicer, Milan Baros, Djibril Cisse, Florent Sinama Pongolle and Neil Mellor were certainly not without their faults.
This season's Liverpool team is a superior one to the side that tasted glory almost 13 years ago – they are polar opposites, in terms of style and where their true quality lies – so why can't they go all the way?
It is worth remembering that the Juventus, Chelsea and AC Milan outfits that Rafa Benitez's Reds conquered were arguably better, or at least on a par with, anything in this season's competition.
There isn't a truly outstanding team this year – one year that looks to be on another stratosphere to anyone else.
Pep Guardiola's Barcelona aren't around to run riot; Zinedine Zidane's Real Madrid are fading; Man United aren't at the peak of their powers under Alex Ferguson anymore.
Is there anybody that Liverpool should legitimately be scared of, as their trip to Porto on Valentine's Day slowly approaches?
As stated, Madrid have lost a spark, having won it in three of the last four years, with Cristiano Ronaldo showing genuine signs of becoming a fading force.
The same applies to Barca, who may still possess the world's best player in their ranks, but don't look as unbeatable as they once were. You can rattle them.
Jupp Heynckes has steadied the ship at Bayern Munich since replacing Carlo Ancelotti, but the nucleus of Mats Hummels, Jerome Boateng, Arturo Vidal, Franck Ribery, Arjen Robben, Thomas Muller and Robert Lewandowski are not getting any younger.
Paris Saint-Germain are clearly a fantastic team whose main incentive is to become European champions, and many are tipping them for glory. It is not difficult to understand why.
With the frightening attacking triumvirate of Neymar, Kylian Mbappe and Edinson Cavani ably supported by a classy midfield and solid defence, they could easily go all the way.
City's quality is there for all to see, and it is understandable why the bookies make them the current Champions League favourites. With Guardiola at the helm and some wonderful football being played, it will take a top side to eliminate them.
Liverpool will not be fazed if they are drawn against the Premier League leaders, though, given Sunday's evidence.
The other English sides should also not be written off, given Jose Mourinho and Antonio Conte's ability to grind out wins, and Tottenham's continued growth as a club. Chelsea take on Barca and Spurs face another strong contender in Juventus in the next round, though, which may spell the end for the London pair.
Whatever happens, nobody will want to be drawn against Liverpool if they go through, which says all you need to know about their chances of sealing European Cup No.6 in May.
They aren't among the favourites, on paper, which is wholly understandable, but their style of play will be a nightmare for whoever they come up against.
As touched upon in an attacking AI Under Pressure podcast earlier this week, teams are more likely to take the game to Liverpool in the latter stages of the Champions League, backing their attacking quality to shine through.
As the City game showed, though, this Reds side is at its very best against similarly attack-minded opponents, which may see them shine more than against lesser Premier League teams who park the bus at every given opportunity.
For all we know, Porto might dump Klopp's men out at the last-16 stage, and it will be time to focus on a top-four finish, but there is a sense of drama in the air.
Liverpool could easily find themselves in the quarter-finals before they know it, and who's to say they can't go further.
Their football is breathtaking, their pressing game is horrible to play against and the City game proved how switched on they can as a unit.
If that limited 2005 side can be crowned kings of Europe, so can this brilliant bunch.