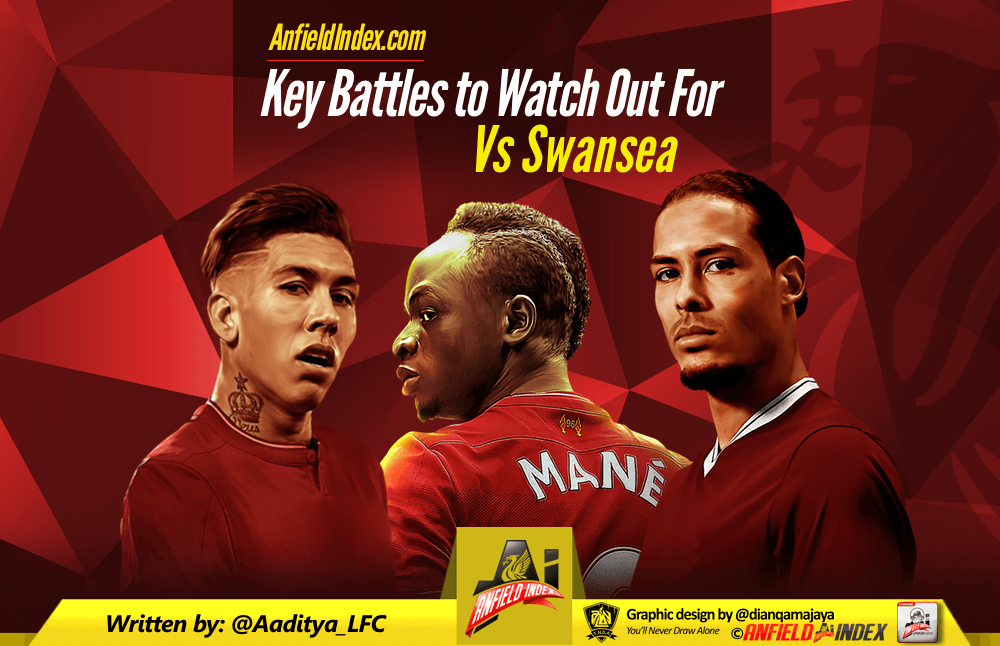 Liverpool vs Swansea Preview | Key Battles
After a glorious week of fans still not coming back to earth after the hitherto invincibles were beaten at Anfield, Liverpool get back on the road in the Premier League on Monday, with a trip to Swansea City, who are bottom of the table.
The Swans have one win, one draw and one loss in three Premier League games under Carlos Carvalhal, who was appointed to replace Paul Clement at the helm of affairs at the end of December.
For Liverpool, Virgil van Dijk is back from a minor thigh injury, while Jordan Henderson and Alberto Moreno might see this game come a bit too soon to resume first-team involvement.
Mo Salah, Dejan Lovren and Ragnar Klavan were taken ill during the week but they should all be ready to play, if needed on Monday night.
Here are the key individual battles that will decide the outcome of the game:
FEDERICO FERNANDEZ v ROBERTO FIRMINO
Firmino scored twice when the Swans visited Anfield on Boxing Day. And he has done his confidence no harm last weekend as he bullied John Stones and sumptuously chipped the ball past Ederson to put Liverpool back into the lead against Manchester City.
Swansea will be a team that sits back and allows Liverpool to have the ball, not allowing any space for runners to go in behind. In that scenario, Firmino's importance is further amplified, if it could possibly be. He will have the task of moving the Swansea defenders around and getting them to lose their shape allowing the likes of Salah and Sadio Mane to use their pace to get in behind the defence.
Firmino's end-product has been questioned very often, but his goal return this season could well and truly put that to bed, with only Salah's freak season so far overshadowing Firmino.
Swansea need a strong showing from Fernandez, in the knowledge that their best chance in this game will lie in not allowing Liverpool too many chances to score.
In the form the Reds are in, they will fancy themselves if they are allowed the space by Swansea, as shown in the 5-0 Boxing Day drubbing.
Firmino is "the system", as many people would put it, and with good reason. It is his pressing, ability to keep the ball and play those neat touches in tight spaces that allows Liverpool to use the explosive pace around them.
It is that explosive pace that the Swans don't want to see.
KYLE NAUGHTON v SADIO MANE
There have been many doubters about Mane's form recently, but those have been emphatically blown away with the advent of the New Year, as two left-footed blockbusters against Burnley and Manchester City have been enough evidence that Mane is not tapering off.
In fact, all of his numbers (expected goals, expected assists, goal involvement) have all been higher this season, and therefore there is only an illusion that Mane isn't playing well. It is just that his season has been buried under the magnificence that is Salah's season.
Naughton is, at best, a steady performer at right-back, but if he has shown anything over the years, it is that he doesn't generally concentrate for a whole 90-minute period, and that could well be his undoing against an attack as fearsome as the Reds' forward line.
There was ample proof from the game against Manchester City that the front three don't mind switching positions, and doing it at the speed they do is not easy to deal with, especially for a side as low on confidence as Swansea have found themselves all season.
Naughton cannot afford to switch off because there is also likely to be the rapid Alex Oxlade-Chamberlain drifting wide with pace as well, in addition to the three big attacking players.
JORDAN AYEW v VIRGIL VAN DIJK
The big Dutchman is expected to be back from injury to make his second appearance for the Reds. I think it can be safely said that the heights of the first appearance will be near impossible to match.
But Liverpool's win over Manchester City just papered over the need for a commanding presence at the back. In the last ten minutes, despite the tiredness from putting in a massive shift throughout the game, the Reds lost their way at the back and lost their calm at the back in the face of pressure from City.
That is one of the situations where van Dijk will come in handy.
From his first game against Everton, van Dijk showed that he talks to players around him, he organises the defence and isn't scared of telling other players when they go wrong. That is a presence Liverpool have lacked since the exit of Jamie Carragher.
The Dutchman's presence could also come in extremely handy for Loris Karius, who has been given the vote of confidence by Jurgen Klopp. If van Dijk can organise those in front of him and keep communicating with those around him, it is only bound to ease Karius's nerves.
Ayew scored the Swans' opener against Newcastle last weekend, only for Joselu to equalise for the Toon, but he has looked the only player for the Welsh outfit to provide a consistent threat on goal. That aside, Ayew also will have payback on his mind.
It was him dwelling on the ball that gave Liverpool the opportunity to break and hand Philippe Coutinho the opportunity to smash one of his trademark curlers to break the deadlock at Anfield.
Coutinho is long gone now, but Ayew will still want to set things right to his own fans, but in van Dijk, he will be up against a man who will not make things easy for any striker that comes his way.