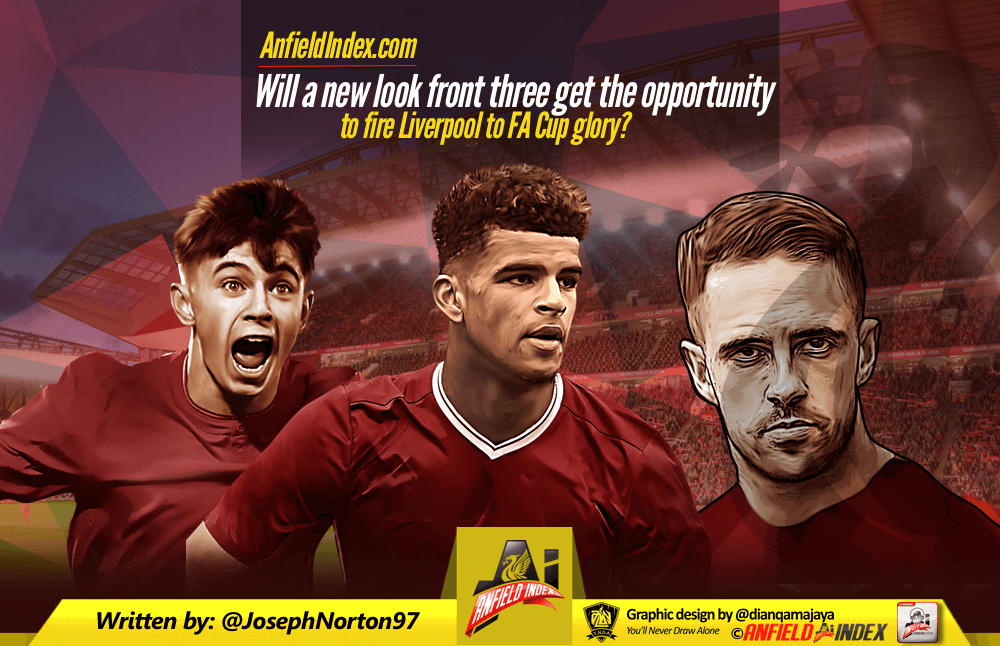 Will a new look front three get the opportunity to fire Liverpool to FA Cup glory?
The loss of Philippe Coutinho to this Liverpool side was always going to be big, however, with the FA cup returning this weekend will the biggest impact of his loss be on the team we see challenge for the cup? As well as being a world-class player, Phil's greatest attributes was his ability to play in several positions in this Liverpool side allowing Klopp to rotate to great effect. But with Coutinho gone Klopp's options possess neither the quality or versatility of the Brazilian, therefore, we are unlikely to see the German rotate as much up until the end of the season. As a result, it is both likely and essential that Klopp uses the FA cup to rest his key players who have already played a lot of game time this season. Roberto Firmino and Mo Salah have amassed a huge amount of minutes already this season and will be crucial to the Reds finishing in the top four and potentially going far in the Champions league, therefore, playing them in the cup can't even be contemplated. As for Sadio Mane his game time has been managed very well by Klopp thus far but with 5 games between now and February 15th, he will also need a rest at some point which suggests the boss may use the cup as a chance to rotate him out of the side also. Although there is the potential for Mane to feature in a few FA cup games this season it is highly likely we'll see a new look front three on Saturday night…..in fact it's essential.
The big question is which players will replace our dynamic, fluid and irresistible front three. With Daniel Sturridge seemingly close to leaving and Oxlade-Chamberlain forcing his way into Klopp's preferred 11, there is every chance Dom Solanke, Danny Ings and Ben Woodburn will be the Reds most attacking players on Saturday night. It's been a frustrating season for all three thus far, Solanke despite featuring several times in the league hasn't been able to score his first goal for the club even though his overall performances have been pretty impressive. Danny Ings hasn't been able to force his way into Klopp's thinking, only making the bench for the league on a handful of occasions and Ben Woodburn hasn't been allowed to play regular first-team football away from Anfield. Despite this, all three players possess great quality which makes them perfect for the FA cup and provides Liverpool with the opportunity to go far in the competition. Should Klopp choose to play all three in the competition then he must change from his 4-3-3 formation and return to the 4-2-2-2 to get the best out of these players. Dom Solanke has all the attributes to be a top striker for Liverpool, his movement is very good, he holds the ball up well and has great technical attributes, all that has been lacking is his finishing, however, in a changed team playing Dom up- front on his own would be a waste as he is likely to get isolated as we saw against Everton in the league and Leicester in the league cup earlier this season. Danny Ings also has great movement and is usually a very good finisher but his strengths don't lie with his ability to hold the ball up, therefore, he is not suited to playing as a lone striker. All of this points to the fact a Solanke-Ings partnership could work very well in the cup as their attributes complement each other extremely well. It seems as though Klopp wants to keep Woodburn in this transfer window despite strong interest from a number of Championship clubs to take the Welsh international on loan, as a result, he needs game time to aid his development. Having watched Woodburn evolve as a player over the last year or so it is becoming apparent that he is not quick enough to play out-wide in a 4-3-3 and not physical enough to play as the lone striker, therefore, his best position is in a box-box or attacking midfield role in a 4-3-3 or as a narrow winger in a four-man midfield. Woodburn's quality lies with his vision, awareness and super technical ability in tight spaces which makes these positions perfect for him. If Klopp decides to play Solanke and Ings up-front together then a return to the 4-2-2-2 would be likely, therefore, playing on either the left or right of the two players behind the striker would be perfect for Woodburn. If Mane is fit enough then the boss may choose to play him on the other side to Welshman which would give this team another dimension, however, it is likely either Adam Lallana or James Milner will occupy the position on the opposite side to Woodburn. This would place added emphasis on our full-backs possibly Trent and Moreno to get forward and provide the width which plays into their strengths. Although this team may look pretty weak on paper, if Klopp can find a formation to get the best out of the likes of Solanke, Ings and Woodburn then they have the potential to hurt opposition teams who will no doubt be resting players and not be at full strength also.
The FA Cup provides the boss with the perfect opportunity to rest key players, whilst giving those who haven't had the opportunity to impress to do exactly that, as well as being a brilliant opportunity for him to win his first trophy at the club. If Klopp can find a formation to get the best out of Liverpool's squad players then there is no reason why the Reds can't win the competition and it shouldn't be underestimated the impact this could have on the short and long-term ambitions of the club. It is essential Klopp rests key players in the FA Cup but the onus is on the likes of Solanke, Ings and Woodburn to take the opportunity they should be given, forcing themselves into the long-term plans of Jurgen Klopp as this may be the best chance they'll get in their careers at Anfield. Opportunities like this don't come around that often at Liverpool, they have to take their chance.