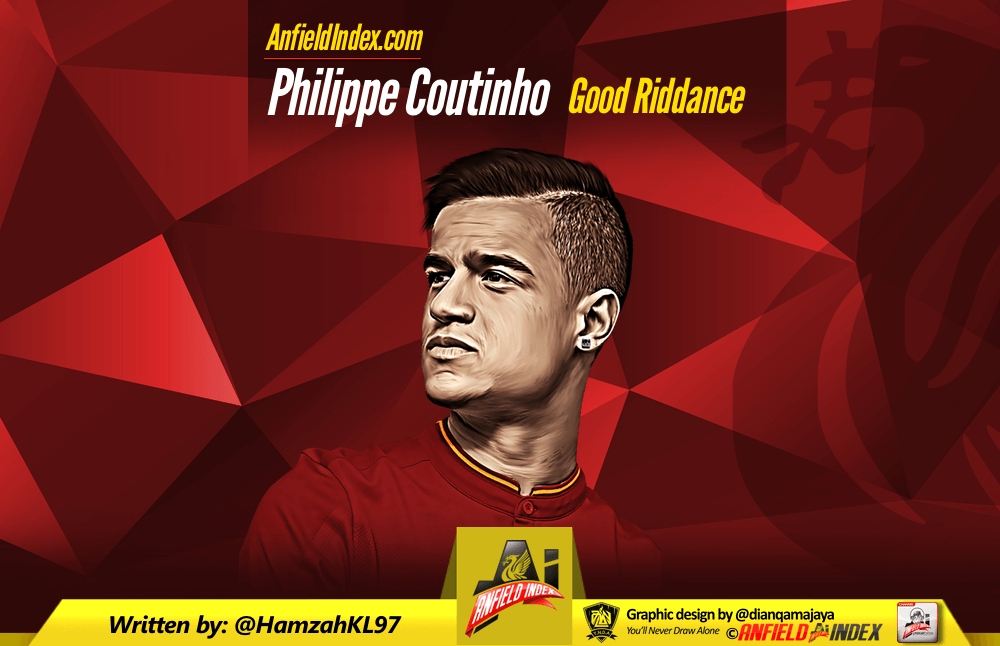 Philippe Coutinho: Good Riddance

The 4-3 victory over Manchester City provided the Liverpool fanbase with a great deal of relief following the departure of Philippe Coutinho for £142 million only a few days prior. And to me, that was the end of the matter. Cheers for those stunning goals, it was a delight seeing a young Brazilian talent, once written off, develop into something special.
But another transfer story in recent days – that of Alexis Sanchez, from Arsenal to Manchester United – was one which I watched closely. One of the debates about Sanchez struck me as bizarre though, whether or not to cheer or applaud Sanchez when he inevitably plays at the Emirates next, for Arsenal's biggest rival for the past 25 years.
I then discussed this with a fellow Liverpool supporter, and was aghast to find out he agreed with those Arsenal fans who would applaud Sanchez, and he went on to say, should Coutinho return to Anfield, in Barcelona colours, he would applaud him too.
I then quizzed him about how he felt about Michael Owen.
"**** Owen." was the response.
I then went on to stress that Michael Owen attempted a number of times rejoin Liverpool, and he left with comparatively little fuss, to Coutinho and his "injuries".
"Yeah, but he joined Manchester United." was the riposte.
At this point, I asked, what did Coutinho really want? Money? Trophies? A Champions League medal?
If the answer was money: he could have accepted one of Liverpool's extremely generous new contracts.
If he wanted the Champions League he's chasing impossible dreams, because he's cup-tied.
If it was trophies, he really has no excuse. Coutinho could well have won two trophies for Liverpool – but like most of the rest of the team, he went missing in the second half of the Europa League final, against Sevilla. And whilst he did score against City in the League Cup final, he could have at least held his nerve instead of dishing up a weak penalty in the shootout.
Too harsh I hear some of you say. Not at all. A player who feels he is worth more than the wage packets on offer from Liverpool, and who is valued at £142 million by his new club should, by all means, be world-class, and capable of performing on the biggest of stages, and scoring penalties. After all, in big games, teams look to their best players for leadership.
I'm not dismissing Coutinho's ability or quality by any means – if you look at my pieces on him over the past two years, you'll no doubt find praise galore, as I sweep over any shortcomings. Of course, players can miss penalties from time to time, even top players, indeed, with respect to the penalty, I'm probably being sanctimonious and pernickety. But, what I am criticising though, is his mindset and ego.
If you follow me on Twitter, you may have seen a particular article which I've referenced a number of times. It details the attitude of the New Zealand All Blacks, perhaps the greatest sporting side of all-time.
If the greatest sporting team of all time refuse to put up with individuals (including staff) that think too much of themselves. There's no reason why #LFC shouldn't do so either.

— Hamzah (@HamzahKL97) January 6, 2018
Strangely though, I was comfortable with the idea of Barcelona buying Coutinho back in 2014. It seemed inevitable that he would head there, but the manner in which he left has not just left a bitter taste, but a downright vile one.
In the summer, Coutinho feigned a back injury, and refused to play. The timing of the transfer request seemed almost perfectly timed to disrupt Liverpool's season. Coutinho would miss one of the biggest games in any season – the Arsenal fixture – but that mattered little to him. So too ruining a summer's worth of preparation and squad structuring. If he put the request in at the start of the window, or maybe if he made his intentions clear, a few months previous – when he signed a new contract without a release clause – the club could have prepared or reacted accordingly.
But despite this, the club was still accommodating for the Brazilian: after having his backed scanned, and with no injury present, the club decided to play along, and accepted his "injury" as a legitimate excuse for not training or playing.
Coutinho then shot off to Brazil, and promptly joined the international squad, where he trained and then played – as if he had not brought enough disrepute to the club already.
Coutinho soon returned to the first-team, and put in some spectacular performances, with his numbers exceeding anything he had previously done: Liverpool were now flying in the Champions League after a rough patch, and had finally picked up some momentum.
Then, more rumours came, about a January move: surely not? Players usually go in the summer, besides, what's the point of making a move mid-season, with him ineligible to play in the Champions League?
Still, the rumours persisted, as Barcelona players and legends commented on the move, as if it was already confirmed. Then, a new issue: Coutinho had informed Jürgen Klopp he was unwilling to play. That was it. No regard for the FA Cup derby match, or the Manchester City fixture.
But the club still wouldn't give up. A new contract offer came and was passed by. The offer of the captaincy was also refused. And remarkably, an offer to sign for Barcelona, and stay at Liverpool on loan for the rest of the season was not even given consideration. What would he really miss out on if he took this offer? At Liverpool he had a shot at making history with the FA Cup and the Champions League, and putting successive world-class performances together over a season for the first time in a Liverpool shirt, instead of joining a Barcelona team, and claiming a La Liga winners medal which he can gain minimal satisfaction from, knowing the league was already won, before he joined.
Coutinho had not just scuppered Liverpool's plans, and the hearts of fans, but he was being unreasonable – and this is why I refuse to applaud him, should he ever make his way back to Merseyside, in a Barcelona jersey.
Coutinho had disrespected his manager, his teammates, and the club through his actions. If a player wants to leave with decorum, there's a way to do it. For instance, Emre Can, has gone about it in the right and proper manner. Whatever his issue, be it wages, playing time, a release clause or a long-standing desire to play in Italy, Can has not kicked up a fuss, instead he's put his head down, played, and conducted himself as a professional should. There's nothing wrong with handing in a transfer request either, or voicing to the club and manager that you've got your own personal aspirations, which you'd like to meet: Riyad Mahrez, for example, did just this, but conducted himself in a manner befitting of a professional.
But, if a player wants to leave in an abrupt and contemptuous manner: Coutinho embodies it precisely. But not only did he act in this manner, he then had the gall to pen this message:
"Since the moment I arrived in Liverpool, me and my family have been made to feel so welcome and have made so many friends.

On the pitch and off the pitch, we have experienced the beauty of this club and its fans. In turn, I hope I have delivered memories and moments that have brought happiness to the Liverpool supporters.

Moving to Liverpool, I knew the club's greatness and history but what I did learn during my time was the unique heart and soul of the place. It has its own personality and character.

I leave Liverpool because Barcelona is a dream for me. Liverpool was a dream that I was fortunate enough to realise and I have given five years of my life to it. A career on the pitch only lasts for so long and to play for Barcelona as well as Liverpool is something I want to experience and enjoy while I am blessed enough to be able to do so.

I hope the supporters understand that choosing to experience something new is not about diminishing their importance to me or the club's importance. Nothing will ever diminish that in my heart.

I wish Jürgen and the team nothing but joy and success for the rest of this season and beyond. This is an amazing team and they are getting better and better all the time.

There are too many people I want to thank, but I cannot name everyone individually.

To all the amazing club staff who have been part of my life in Liverpool – I will miss you. To the owners, whom have tried so hard to bring success, and to the football recruitment staff for showing faith in me to bring me here and rewarding me during that journey, and to my incredible teammates, past and present, who have helped me grow and improve as a player and a person, I would like to say thank you to you all. Anything I have achieved here would not have been possible without you.

And finally, to the most important people of Liverpool – the Liverpool supporters. I can never thank you enough for what you have given me during this time and no matter where I go in the world, for the rest of my life, I will always cherish Liverpool in my heart. You, the club and the city will always be a part of me.

You'll Never Walk Alone.

Philippe."
As the adage goes, actions speak louder than words. And whilst some of you may feel different and want to applaud him, I would ask you to think of whether you implicitly support the sort of steps Coutinho took to force a move, or instead whether you'll stand with the team and the club above any other single player.
He may have been a phenomenal player, but his attitude was toxic. Liverpool, as the All Blacks preach, don't need dickheads, and so to Coutinho, I say good riddance.