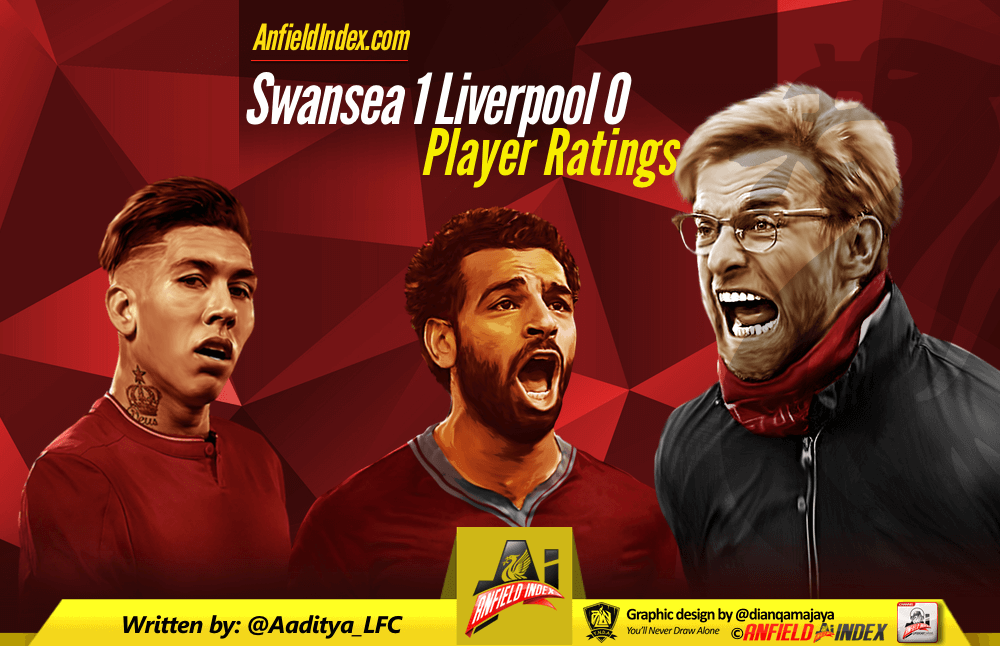 Swansea 1-0 Liverpool | Player Ratings as Liverpool do a Liverpool
Typical Liverpool eh? Beat the Premier League leaders one week, lose to the league's bottom the next. It was a disjointed Reds side up against a spirited Swansea outfit, who displayed tremendous team-spirit and character to come out with a 1-0 win that ensured Liverpool couldn't extend their advantage over Spurs to more than two points.
Here's how each player fared.
Loris Karius – 6/10

He had two saves to make. One was a catch, which he caught. The other was the most crucial kick of the game, which nestled into the bottom corner of his goal.
Joe Gomez – 5/10
Swansea's approach meant that Gomez had very little to do defensively. And he was like a deer caught in the headlights while moving forward. On hindsight, Jurgen Klopp will probably think that he might have started Trent Alexander-Arnold ahead of Gomez.
Joel Matip – 7/10
Matip played well, dealing with what he had to defensively. He also made himself an extra man in attack against a packed Swansea defense.
Virgil van Dijk – 6/10
Some will blame him for the Swansea goal, but he stayed in his zone and got his header. If Firmino and Can hadn't drifted away from their own zones, the second ball would have been dealt with.
Andrew Robertson – 6/10
Robertson didn't play well. He didn't go forward with any purpose. He wasted several promising crossing positions despite doing well to work those positions.
Emre Can – 6/10
On his captaincy debut, he was sloppy. His touch deserted him and his passing was not as good as we know it can be.
Georginio Wijnaldum – 5/10
Wijnaldum. In an away game. What generally happens next? He puts in a shambolic performance. What happened today? He was shambolic.
Alex Oxlade-Chamberlain – 5/10
His worst game in a long time. He tried a little too hard to make an impression on the game. And that ensured he was not doing the simple things right.
Mohamed Salah – 5/10
Salah once again got into promising positions, and on another day, would have had a goal to show for his efforts. But he made some terrible decisions, with the ball at his feet. A rare off day for him.
Sadio Mane – 6/10
Mane made some fantastic movements and had a chance towards the end of the first half. But he lost his footing at the crucial moment and the shot didn't go as planned.
Roberto Firmino – 5/10
Pressed brilliantly. On the ball, he was a let-down, like most of the Liverpool side. Had the big chance right at the end, that he banged on to the post.
SUBSTITUTES
Adam Lallana – 4/10
His link-up play was okay for the most part, but the low rating is just for the shambolic nature of the miss right at the end.
Danny Ings – 5/10
He showed desire, and some neat touches. He had a nice shot right after he came on, but he looked eager and that is a semblance of a positive from the game.